T-Mobile deems February 13 "National Break Up with Your Carrier Day"
Ricky, 11 February 2019
T-Mobile and NationalDayCalendar.com have established that the day before Valentine's day will hereby be known as National Break Up with Your Carrier Day. In honor of the new National Day, T-Mobile is launching offers for new customers who switch from other carriers.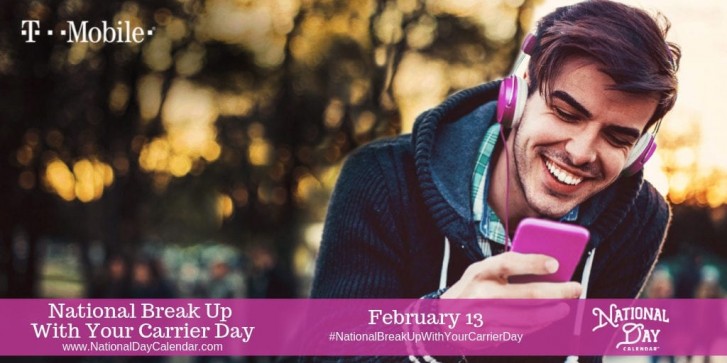 NationalDayCalendar.com decides days of the year to observe seemingly random ideas and events to raise awareness or purely for marketing purposes. For example, there are 7 observations for February 11 alone.
National Make a Friend Day
National Don't Cry over Spilled Milk Day
National White Shirt Day
National Shut-in Visitation Day
National Peppermint Patty Day
National Inventors' Day
National Clean Out Your Computer Day (Second Monday in February)
Breakups are hard to do, but if you're ready to make the switch, there's a dedicated team of experts waiting to make your Valentine's Day lovable again. Visit your local T-Mobile store or http://t-mobile.com for special offers on this day. And use #nationalbreakupwithyourcarrierday to share on social media.
Alright, now that you get the point of these "National _insert_anything_here_ Day"(s), let's take a look at what T-Mobile is offering switchers.
For those who switch, T-Mobile offers two unlimited lines on its "Essentials" plan for $100/month with AutoPay enabled. This monthly rate also includes any two of the following phones: T-Mobile REVVL, REVVL Plus, REVVL 2, LG Aristo, Aristo 2 Plus, K20 Plus, and Motorola E5 Play.
The Essentials plan does not include perks like free International 2G-data roaming, T-Mobile Tuesdays, and a Free Netflix account. If you'd rather have all those perks, the carrier is also offering two unlimited T-Mobile One lines for $130/month with two of the aforementioned smartphones.
The only catch for these promotions is that the Essentials deal doesn't factor in taxes and fees. Also, the phones are free after 24 monthly statement credit fees - so if you were to cancel service, you'd owe the remaining balance on both handsets.
Source: T-Mobile | National Day Calendar
Related
Your better off going for the t mobile one plan its 70 for the first line and right now if you get a 3rd line its free 120 for 3 lines of service with unlimited talk text data and high speed data with a free netflix account.
While in France there's a promotion for a 45euros unlimited 4G+ Data plan for the first year and 60euros the second year with a phone like Samsung s9 for 49euros and 8euros every month for 2 years Netflix included and other perks like Napster for fre...
$100 per month seems expensive for those crap phones(not in US so I dont know)
Popular articles
Popular devices