T-Mobile's new 'Forever Upgrade' program for the iPhone 13 isn't really forever
Enrique, 15 September 2021
On the evening following Apple's iPhone 13 announcement, T-Mobile unveils its Forever Upgrade program. This means that anyone who purchases any new iPhone 13 model with or without a trade-in is [loosely] guaranteed [up to] an $800 trade-in credit every time you turn in that iPhone for a new one. This sounds enticing enough, but there are a few significant caveats.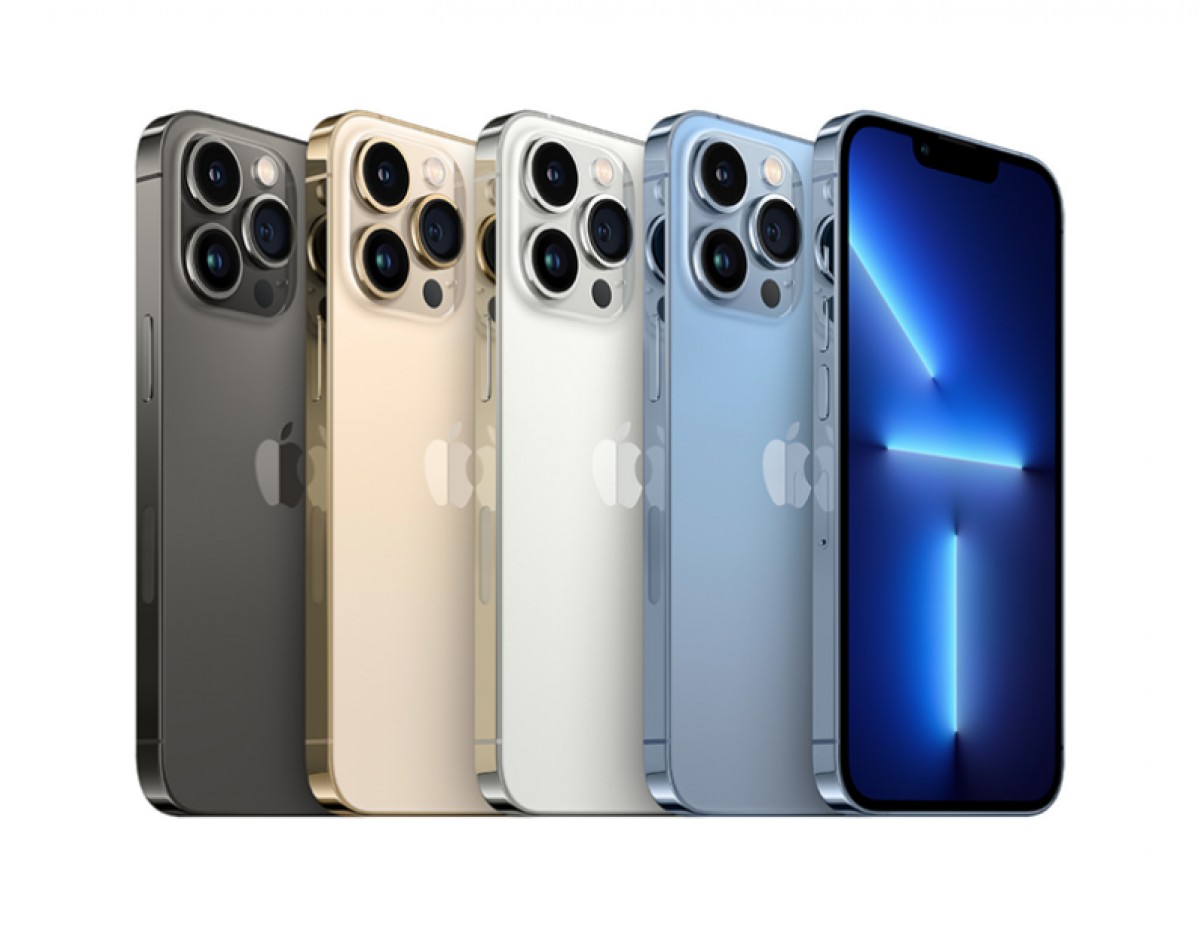 To start, T-Mobile's trade-in promotion to trade up to an iPhone 13 gets you up to $1000 off a new iPhone. An iPhone 12 Pro, 12 Pro Max, 11 Pro, or 11 Pro Max gets you the full promotional amount. You can get $800 off if you trade in an iPhone 12, 12 mini, 11, X, XR, XS, XS Max, Samsung Galaaxy S20, S20+, S20 Ultra, S20 FE, S21, S21+, Note10, Note20, Note20 Ultra, Z Flip 5G, Z Fold2, Moto razr 5G, OnePlus 8 5G, or 8T. Check the terms below for all the devices eligible.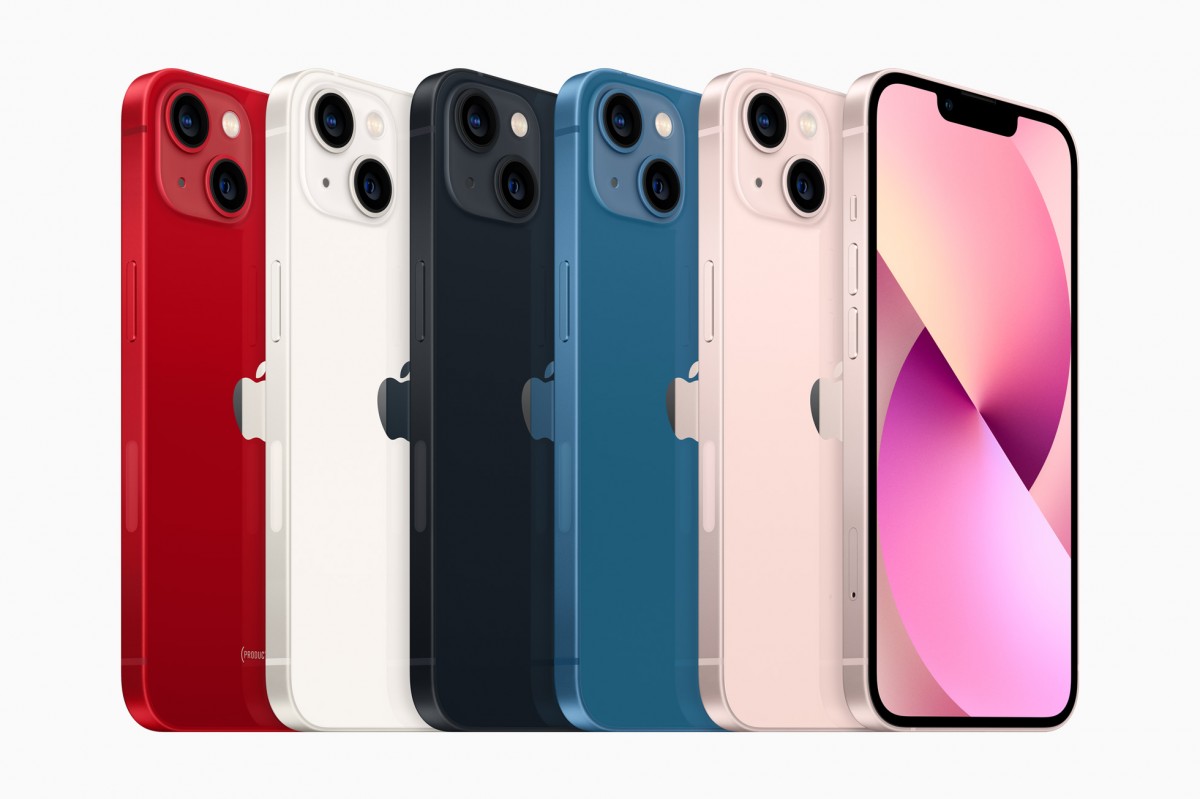 You'll need to be on an eligible Magenta Max or T-Mobile One Plus plan along with the trade-in to be eligible for the promo.
Now, on to the "Forever" Upgrade program. Although T-Mobile mentions the word "Forever" several times in the announcement post, the terms and conditions of the program mention "Program may end & is subject to change at any time." So "forever" isn't really forever.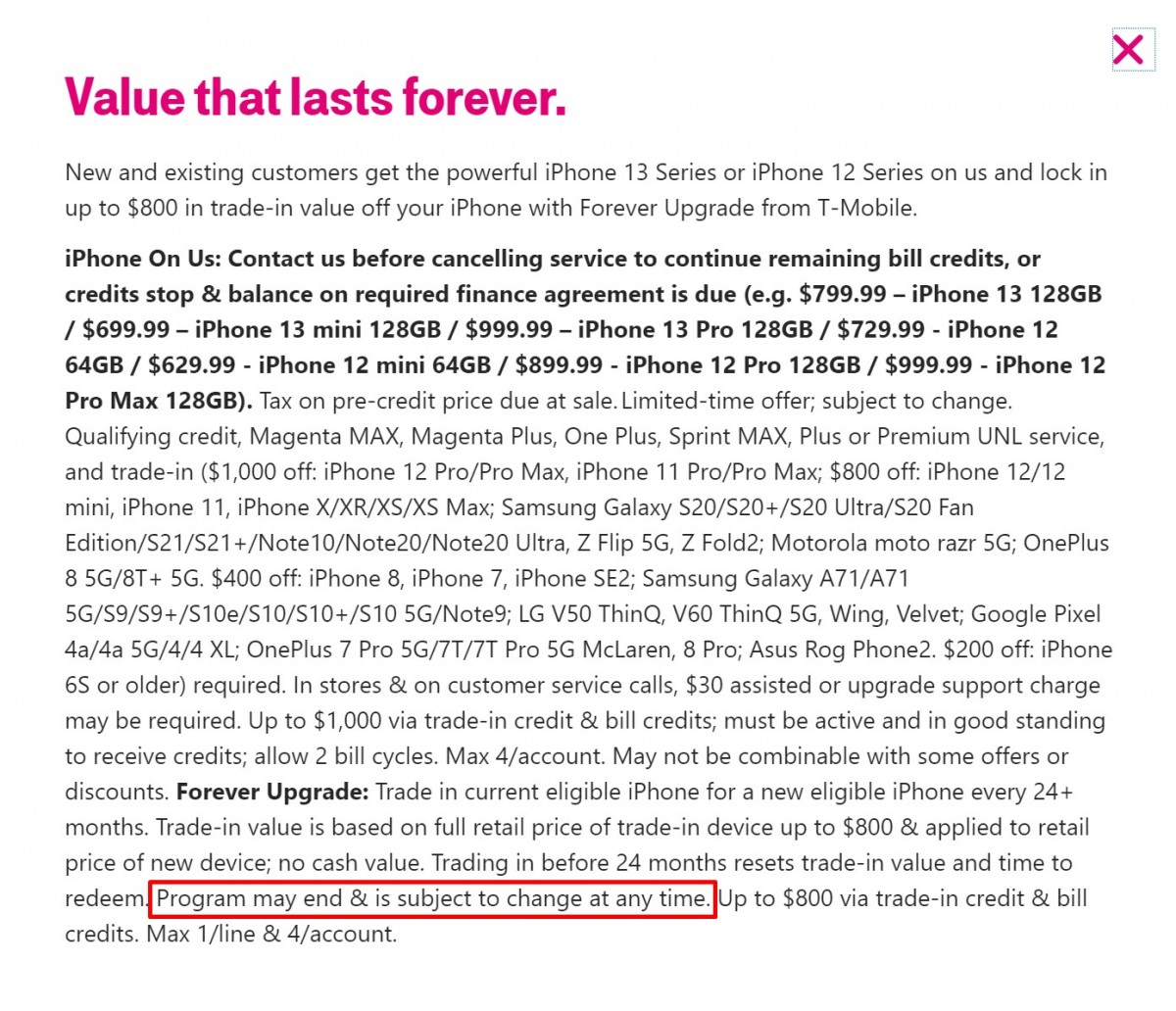 Also, in order to be eligible for the program, you'll need to be on of the more recent Magenta MAX plans, which are more expensive than T-Mobile's previous ONE plans. T-Mobile promised it wouldn't raise the prices of its customers plans as part of its merger with Sprint, but if customers upgrade to the Magenta MAX plan then they are signing up for a slightly higher rate. Of course, the Magenta MAX plans do offer more features and less restrictions than T-Mobile's previous ONE plans.
You'll receive up to $800 credit depending on which iPhone you get. If you get an iPhone 13 Pro, the credit will max out at $800 regardless of the phone's $999 retail price. Likewise, if you buy an iPhone 13 mini for $699, you'll only be eligible for the $699 credit when it's time to upgrade.
It's great that T-Mobile is offering trade-in deals and an opportunity for folks to save when upgrading their iPhones, but the terms of the program leads us to believe that this is more of an incentive for customers to update their plans. Although it's mentioned in the terms, we hope that T-Mobile doesn't pull the rug from under its customers on the Forever Upgrade program.
It's always a good idea to do thorough research and ask your carrier representative the right questions before signing into a trade-in promotion or upgrade program like this. Make sure you know what you're getting into and whether the promotion is beneficial to your needs.
Related
Kay money
16 Aug 2023
XBx
Is good
Popular articles
Popular devices
Electric Vehicles