Top 10 phones of 2017: Best screens
Peter, 09 December 2017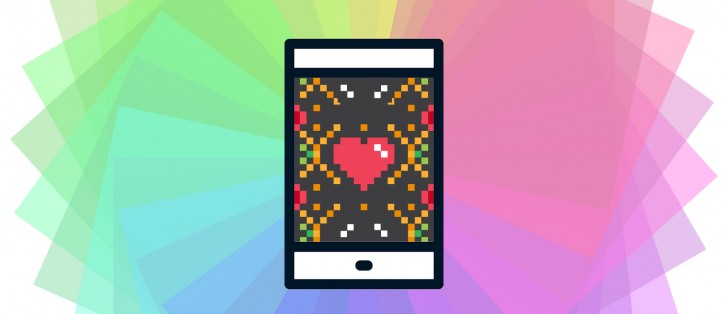 The screen is the foundation stone of a smartphone – you can't frame a photo without it, the powerful chipset needs it to show the cool graphics, LTE connection will go unused with nowhere to display a web page.
So obviously you want a great screen and we're here to help you pick it out. This Top 10 list covers the very best, but also keeps price in mind and offers several solid options at just about every price range – going all the way down to the sub €300 range.
A bit of explanation is in order before we begin. Sunlight legibility shows the practical legibility in bright light – the higher the number the better.
Then there's the color deviation (average deltaE), it shows how far off colors are from the ideal. Here lower is better and you want a number under 5 for an accurate screen.
The other numbers should be self-explanatory. Also note that the phones are not ordered in any particular order.
Samsung Galaxy Note8 - the all-rounder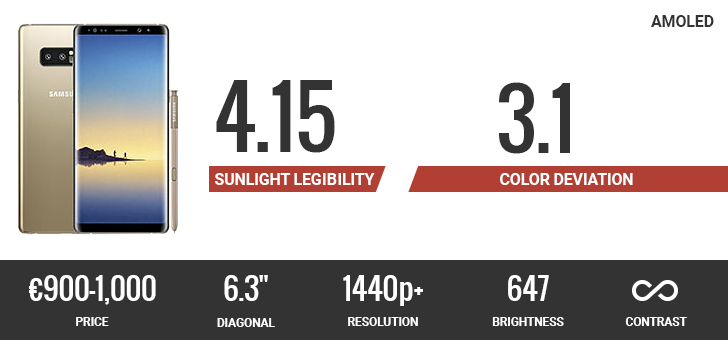 The Samsung Galaxy Note8 screen does it all. For one, it's one of the largest screens around, giving you more room to work with. It also has great sunlight legibility and color accuracy, typical of Samsung's AMOLED panels (the company has several customers on this list).
The S Pen stylus is unique – it gives you the option to write and sketch. The freedom of expression goes well beyond an on-screen keyboard and emojis. Once you make a habit of it, the convenience is great and it's no wonder it has many die-hard fans.
The DeX station lets you work in a desktop-like environment, which road warriors may appreciate. Sure, the need for a desktop monitor is a bit limiting but a hotel's TV would do in a pinch.
The Always On Display is another neat feature, always giving you at-a-glance view of what's happening.
Apple iPhone X - fun in the sun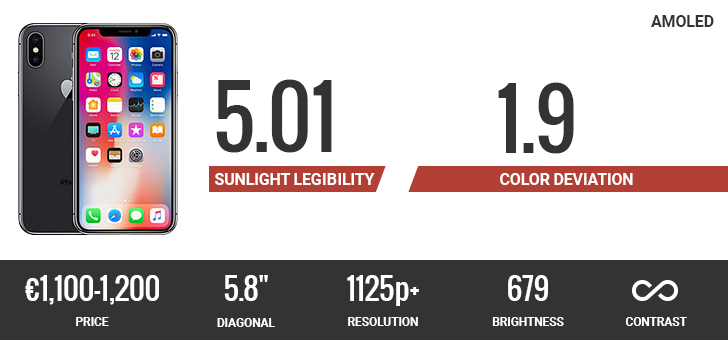 The Apple iPhone X has the best sunlight legibility of any 2017 phone we've tested, beating even the Samsung's panels. It helps that the screen is quite bright. Also, color accuracy is better than the Note.
The X screen is an odd shape – starting with the 19.5:9 aspect ratio and ending with the cutout. App devs are starting to adapt and users grow accustomed to the lack of a Home key.
The iPhone X screen refreshes at 60Hz as usual, but the capacitive touch sensor works at 120Hz for instant reaction time.
Sony Xperia XZ Premium - the movie buff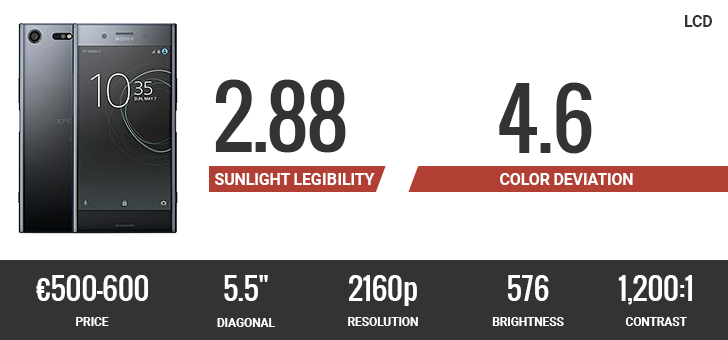 Sure, both the Galaxy and iPhone have HDR support, but no phone on the market has HDR support at 4K resolution – except the Sony Xperia XZ Premium. The phone supports the major video streaming services, which offer HDR content. Adaptive Tone Mapping (borrowed form BRAVIA TVs) makes sure content keeps looking good even in bright ambient light conditions.
At 5.46" big, this is by far the sharpest screen on the list. It could have made the perfect companion to a Daydream VR headset, but sadly Sony didn't see things this way. Unfortunately, the sunlight legibility is not great so you'd better watch movies inside.
Huawei Mate 10 Pro - the better half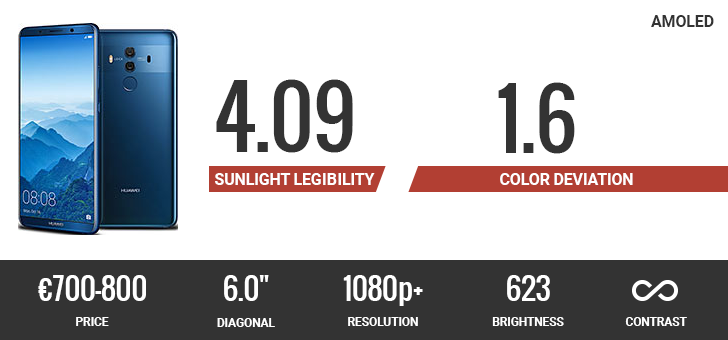 Impressively thin bezels surround a high-quality AMOLED display – that's a recipe for success. With HDR10 support and amazing color accuracy, the Pro shines brighter than the regular Mate 10.
Huawei built its own desktop mode, called Projection, to rival Samsung's solution. There's no stylus, but the knuckle gestures are helpful on occasion. Keep in mind that Huawei stayed out of Samsung and Apple's price one-upmanship so this one is fairly well priced for a 2017 flagships.
Xiaomi Mi Mix 2 - true to life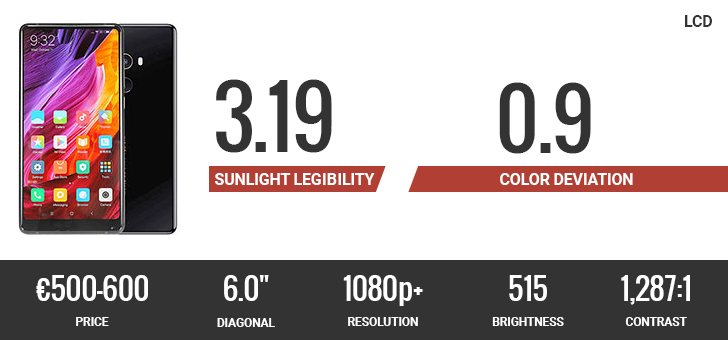 The original Mix wowed with its bezel-less design and presaged the move to taller-than-16:9 screens. The Xiaomi Mi Mix 2 screen is smaller in size and taller still, but that makes the phone more compact.
You get more screen than an iPhone 8 Plus in a smaller body, how cool is that? Okay, the Mix 2 is not an uncontested screen-to-body ratio champ (it matches the LG V30, for example), but it impressed us in a surprising way.
Our tests peg the Mi Mix 2 screen as the most color accurate screen – the average deltaE is under 1.0! Anything under 5 is "good enough", but this tops even the iPhones.
OnePlus 5T - the challenger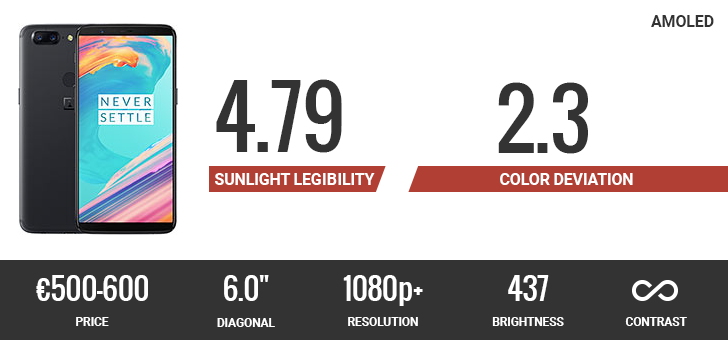 OnePlus won people over with great features at a reasonable price and hit the 5.5" sweet spot on their very first try. With the OnePlus 5T it updated things a bit – to 18:9, making the screen taller but not wider. Despite being more affordable than most of the flagships it competes with, the 5T has a surprisingly good screen.
The sunlight legibility is better than the Galaxy Note8 and a match for the S8. The screen isn't the brightest, but low reflectivity makes a world of difference.
OnePlus also added DCI-P3 support (hey, Apple) and the color accuracy of its screens is great (competitive with the Samsungs). Note that this is a 1080p+ screen, but we have no issues with its sharpness.
Samsung Galaxy J7 Pro - the budget option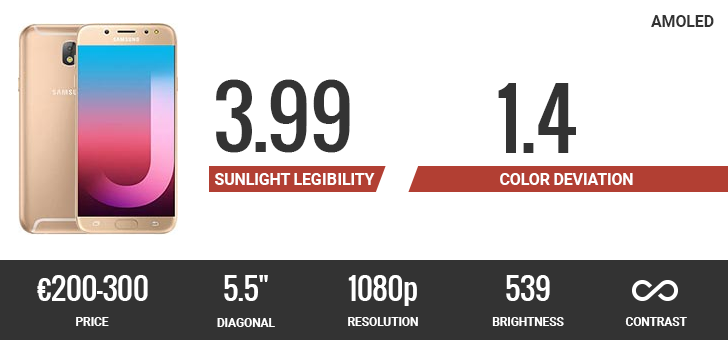 The Samsung Galaxy J7 Pro has a very impressive screen and is our budget pick, costing under €300. Its Super AMOLED screen has stellar color accuracy – among the best of all phones, not just on this list. And sunlight legibility is up there as well.
The J7 Pro is a regional model, however, so here's an alternative if you can't find one near you. The Galaxy J7 (2017) has similar sunlight legibility and slightly worse color accuracy (still great, though).
Motorola Moto Z2 Force - the unbreakable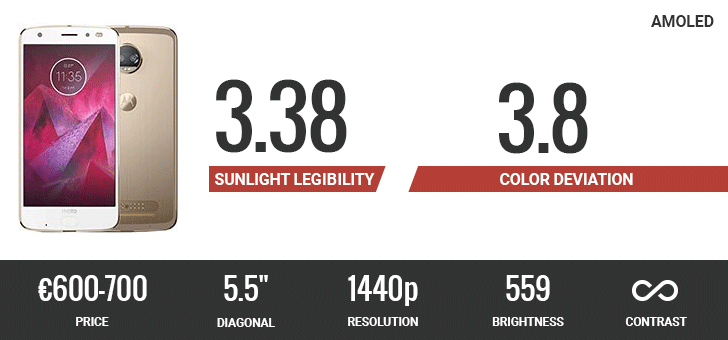 Most phones brag about their hardened glass, but the Motorola Moto Z2 Force wants you to see the benefit of using plastic – namely, plastic doesn't shatter when you drop the phone. Sure, it scratches more easily, but that is an aesthetic concern (and can be solved with a cheap, flat screen protector).
This Moto is also splash resistant. So, don't submerge it, but it will survive most encounters with water (Motos in the past have been conservative in their ratings), boosting its rugged image.
Razer Phone - the gamer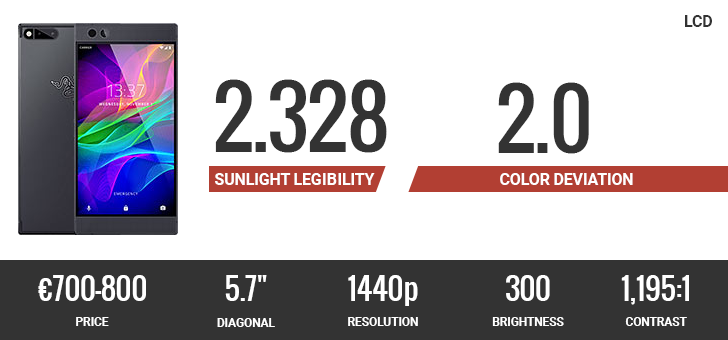 There's a popular genre called twitch gameplay – any game where success and failure are separated only by your lightning-fast reactions. It's usually first-person shooters and fighting games, which covers some of the most popular games at the moment.
Most twitch players will tell you a 60Hz screen doesn't cut it. The Razer Phone is thus far unique with its 120Hz screen (not counting tablets, otherwise Apple's iPad Pro is an option). The screen also supports Wide Color Gamut.
Streaming mobile games on Twitch is rising in popularity (bonus points if you know where the site got its name), so if you've switched from TV to livestreams you may also want to switch from desktop to mobile.
Meizu Pro 7 Plus - the two faces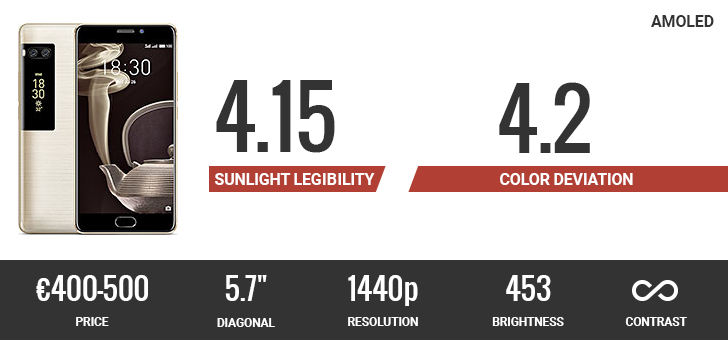 We wanted to include something wacky, because the difference between deltaE 2.3 and 3.1 is often lost while the appeal of a second screen is much more immediate. And we're talking about a screen on the back – yes, it's the Meizu Pro 7 Plus.
It has an extra AMOLED screen below the rear dual camera and can be used for selfies. Some phones have good selfie cams on the front, but none can match this dual 12MP shooter.
When not used for vanity, this small Always On display keeps you updated with constant notifications, shows music controls or counts your steps.
Related
AnonD-723884
05 Jan 2018
gNR
Iphone X,I am using and Samsung note 8 and they both are Note 8 is slightly better but they came from money and its very hard to achieve the money,respect and Other requirements
So you are trying to say, that samsung make the better display panels for the iPhone x, than it's own Note 8.............................?
Popular articles
Popular devices
Electric Vehicles