Ulefone Armor 7 review
GSMArena team, 21 Feb 2020.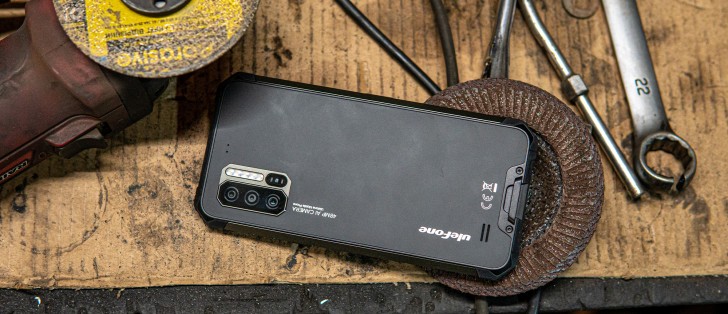 Design
The Ulefone Armor 7 is best described as ruggedly handsome. Sure, it's one heavy slab of metal and rubber, but you can't wear an armor and be lightweight, can you?
The design of the Armor 7 is the definition of ruggedness. The frame is shockproof and made of hardened metal, while the top and bottom sides are covered in thick rubber with some extra security around the corners for better shock absorption.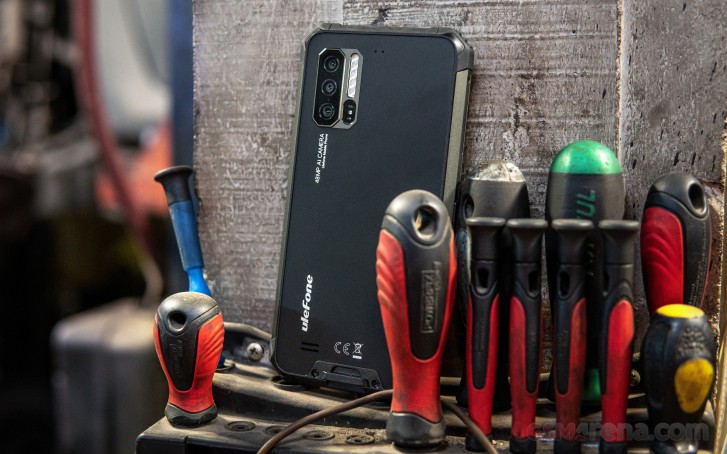 The back is made of special flexible plastic and is screwed to the internal chassis. Then it is covered with another layer of flexible plastic for additional protection against drops and water. Everything is additionally sealed by a special waterproof glue.
In fact, Ulefone says it has used this waterproof glue as insulation on pretty much everything around the Armor 7. All sides and panels are screwed to the chassis, and then everything is sealed with this special glue.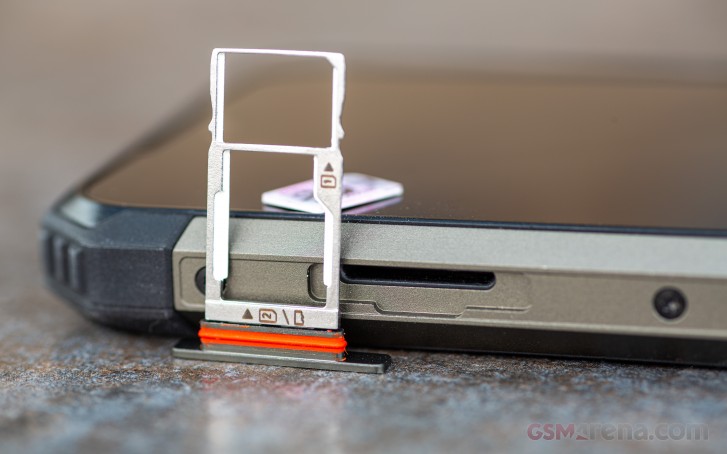 Using glue instead of rubber should provide for longer water resistance. The rubber insulation most companies use loses its flexibility and becomes stiff over time, especially when the phone is exposed to high temperature amplitudes - from freezing cold of winter you enter your warm house (this could easily be 40C-50C amplitude achieved in mere seconds). So, by using this new glue Ulefone may have prolonged the water-resistance expiration by miles.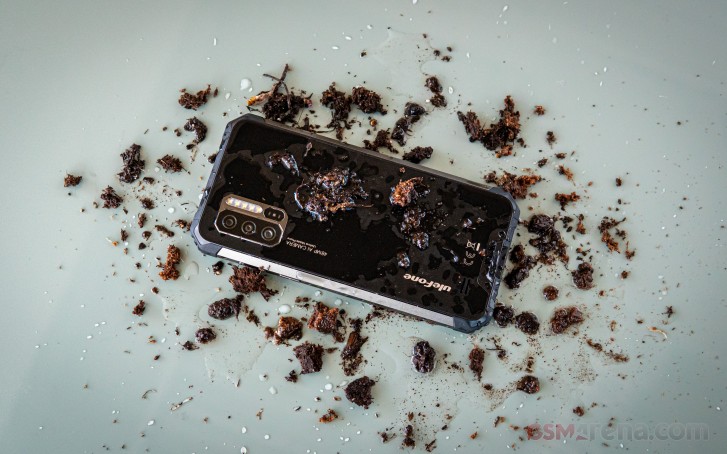 Let's take a closer peak on the Armor 7. The front is occupied by the 6.3" IPS LCD display of 1080p resolution. It has a small droplet-shaped notch for the 16MP selfie camera. The screen is far from bezel-less - it has prominent black bars all around.
The earpiece grille is above the selfie shooter, thin enough, and hidden underneath is also a multi-color notification LED light.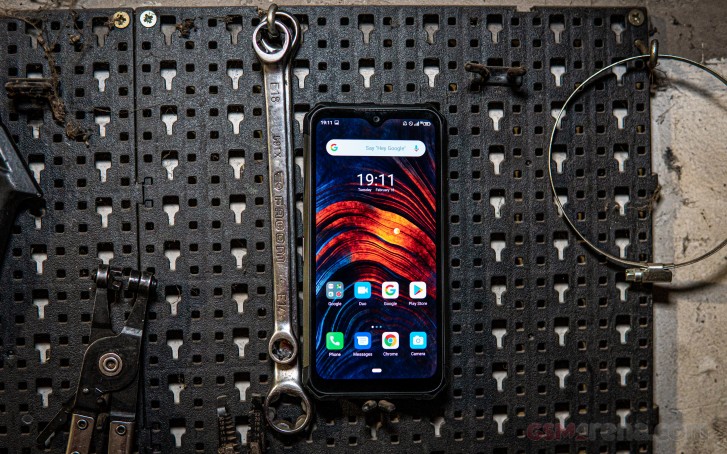 The whole front is covered by a scratch-resistant glass and shatter-proof rated at 7H harness. There is also a thick screen enclosure, that's building enough to not allow scratches for when the Armor 7 is lying on its screen.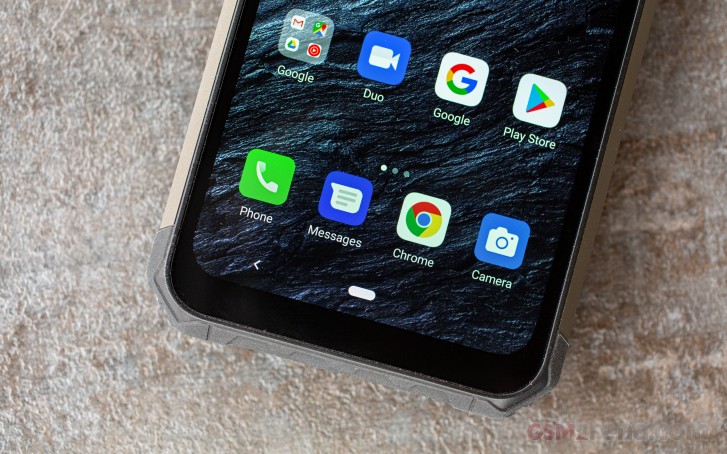 Ulefone is supplying an additional tempered glass protector that's rated at 9H hardness, meaning it is even more scratch-resistant and shock-proof. This glass is also fingerprint-resistant, which is a nice touch - usually, these protectors are big smudge magnets.
The back of the Ulefone Armor 7, as we already mentioned, is made of two layers of flexible plastic. The trio of cameras is sharing a single glass deck, which is flush with the back. There is a minor metal framing around the glass for some protection.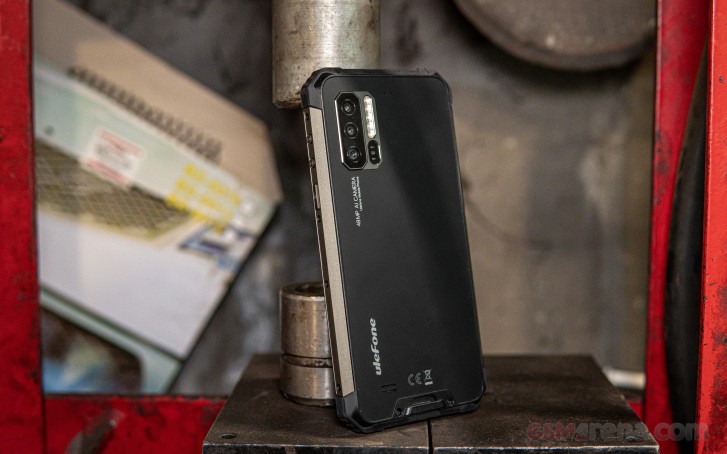 The five LEDs are right next to the triple camera, and so is the heart-rate scanner. It's definitely not the fastest sensor we've tested so far, but it does the job it was designed to do.
The Ulefone Armor 7 also features a large hook at the bottom of the back, screwed securely to the back and you can attach here the provided sling if you want. Thea loudspeaker grille, sealed against water, is also around.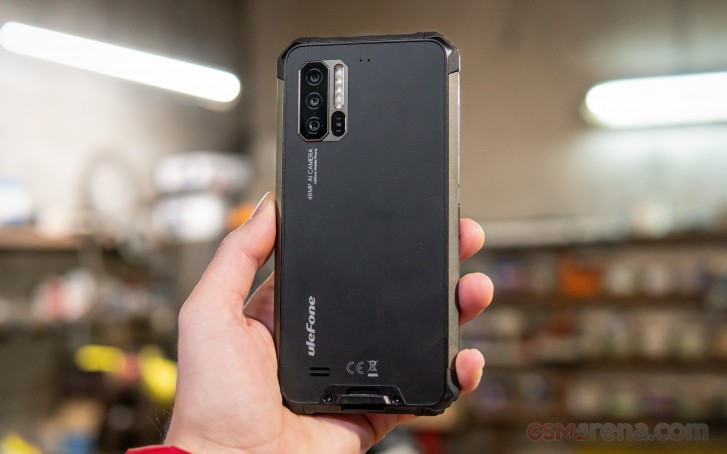 Now, let's talk about those metal sides. Both of them have a flat part and two huge and sharp chamfers, making for perfect grip and once again - drop resistance. You can see a total of eight screws on these sides, which holds them securely to the chassis. Glue is applied around the edges for sure.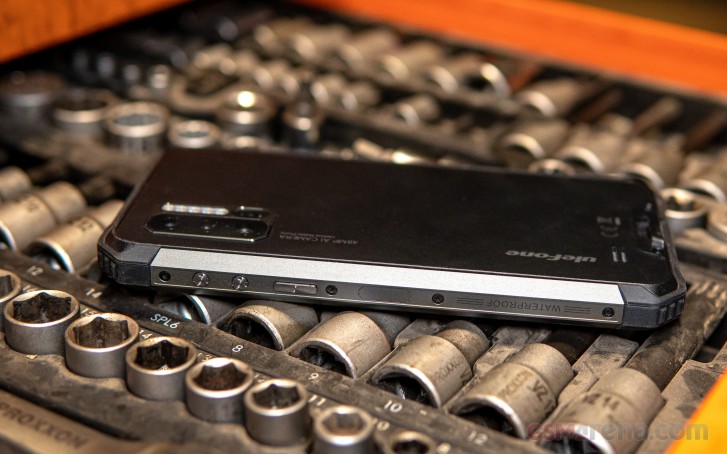 So, the right side has two round keys for volume control, followed by the power/lock key, and finally the fingerprint reader is where usually your right thumb falls. It is always-on and mostly accurate, but we'll get back to this in a minute.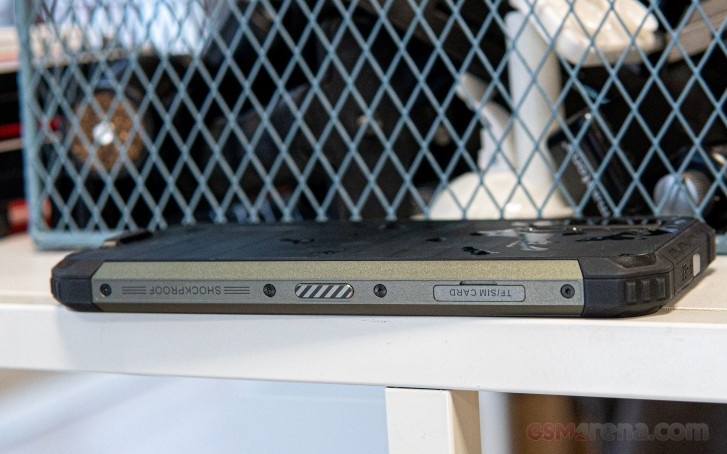 On the left is the SIM/microSD tray, which you can either pop with your fingernail or use the provided ejection tool. And below is the function key, which was designed to be used for PTT communication, but you can assign pretty much anything to it - it supports single press, double press, and press and hold shortcuts. It is big enough and has a specific carbon pattern. And it is partition exactly under the thumb of your left hand.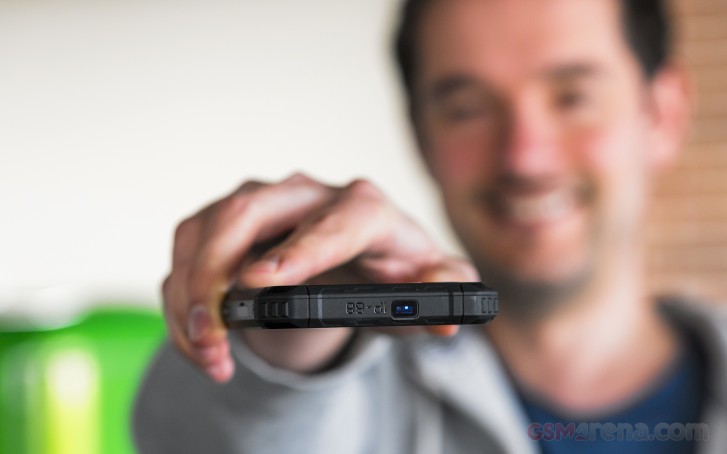 The rubber top and bottoms are quite interesting. On the top there is a small piece hiding the ambient light sensor. An IP-68 inscription can also be seen here. The phone is indeed fully IP-68 compliant for dust and water resistance, but it in fact goes further - up to IP69K. The IPx9K is an expansion over the IPx8 for resistance against pressurized water instead of expanding on submerged time or depth.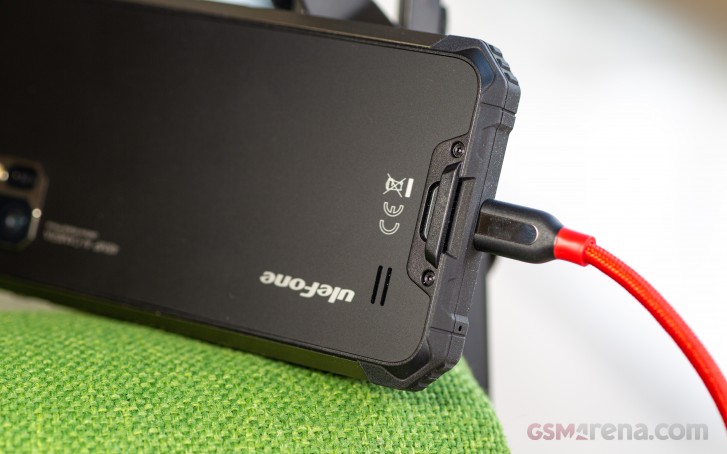 The bottom has the mouthpiece and the USB-C port. Due to the extra layers of rubber, the port is actually deeper than it should be and regular USB-C cables won't fit or would do but barely. The provided cable within the retail box was designed to properly fit in the hole, so it's a good idea (though a bad design decision) to have it with you at all times.
Finally, we want to talk about the handling. The phone is one solid brick and it provides for excellent grip and sense of security. Plus, with all protections going for it, you know it will survive a lot.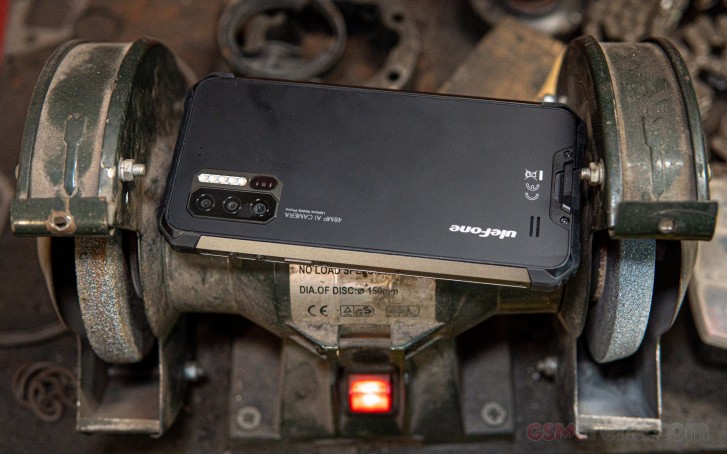 The Armor 7 have two very annoying design flaws though and those got us frustrated on numerous occasions through our daily routine.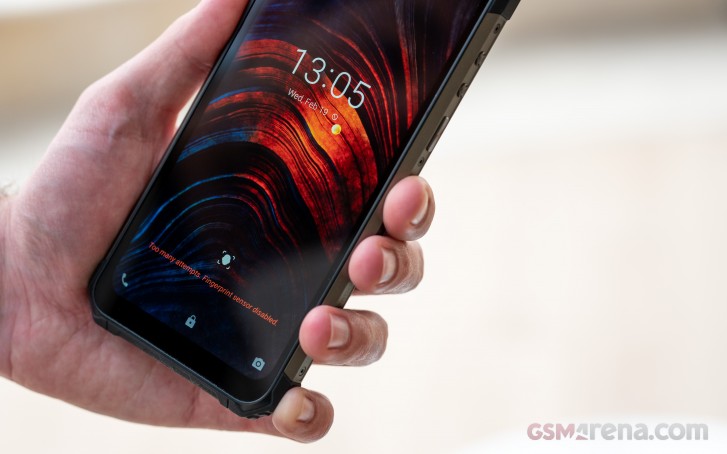 First - the fingerprint scanner. Since it is always on - it reacts on skin immediately and upon five trigger attempts it locks the phone and you must enter your PIN. So, take the phone out of your pocket - strike one and two. Rotate it to the proper position - strike three and four. And you will probably touch the sensor one more time either accidentally or by misaligned fingerprint - and you are locked out. This happened to us all the time. We eventually had to opt-out of the fingerprint sensor as we would have rage smashed the phone and break a building or something.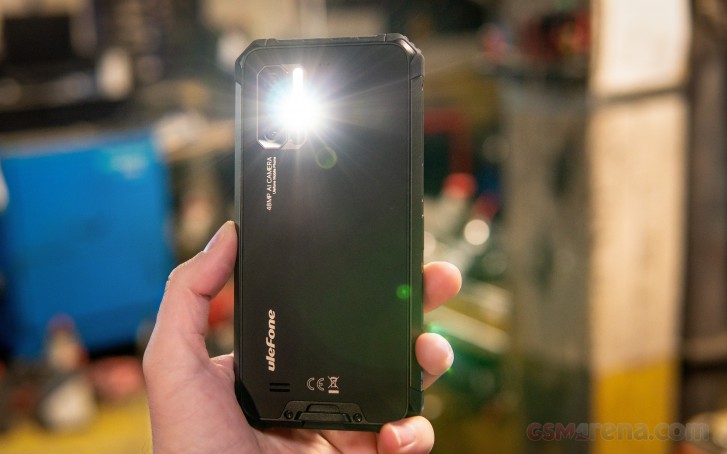 Then the Function (PTT) key. Whatever you assign on its one press trigger (we did torch) - you will trigger it a lot. In fact, the key is so trigger-happy, that it gets pressed in backpacks, pockets, even when you are getting the phone out of the pocket. Or just by holding it. Placing this key under your thumb was a terrible decision. So, our advice - disable the single-click functionality ASAP.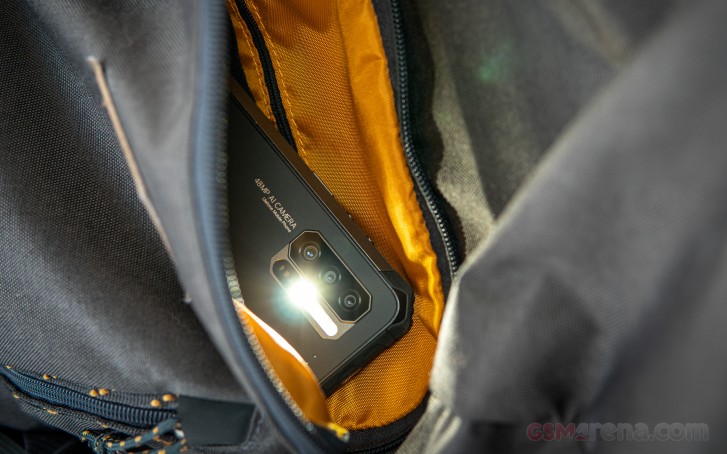 Without the fingerprint scanner and function key getting in the way, we had a very positive experience with this rugged beauty. The industrial design and attention to both internals and externals deserve praise, which makes the fingerprint and function key nonsense even more staggering.
The weight of the phone is heavier than any phone I've had... (Don't expect light... Wear a belt if ya have it in your trouser pockets) The c-type charger port is also shared as the head phone port). The screen is incredibly bright... E...
Don't make me laugh. Gorilla glass is a joke. Do some research before you make such comments.
Read the Wikipedia article on Gorilla glass. It explains how this glass is made so tough.