Update your GSMArena account
GSMArena Team, 10 May 2018
Important information for current GSMArena account holders
To ensure that we're GDPR compliant by May 25 we need to ask for your consent to store your email address, password, nickname, and to additionally confirm that you're aged 16 years or older.
During this process, we're changing the way that you log in to your GSMArena account. We'll stop using your existing Facebook or Google accounts.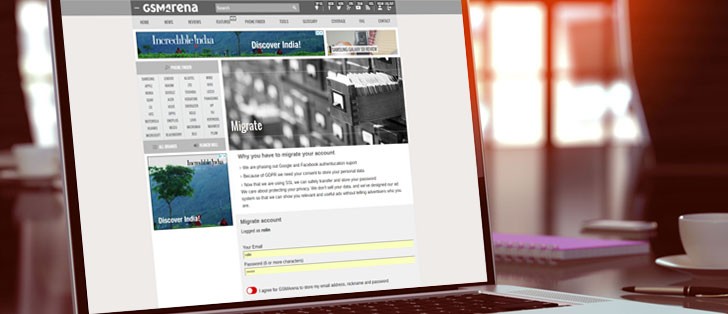 Migration should only take you a few seconds. You merely need to provide us with or confirm (if you log in via a Google account), your email address and a password. We'll carry over your nickname from your current account automatically. To migrate, click on the 'Migrate my GSMArena account' button below.
You have up until May 24 to complete your account migration. If you haven't migrated your account, we will have no choice but to delete it, resulting in any previous Comments and Opinions becoming anonymous, and the loss of your nickname.
Following the migration process, any personal information that we may have stored previously will be permanently deleted.
And if you haven't registered an Account with us so far, now might be a good time to do it. It will let your comments make it to the site faster, let you edit them after they are published and mark phones as Favorites to have quicker access to them. You can register a new account here.
We would like to take the opportunity to apologize for any inconvenience this may cause you, but your privacy is important to us and we believe this is the right way to go.
Related
KwabenaGHGhostSniper
15 Oct 2022
xjH
Yeah
Hw can I fix the net work 3 to 4 G
Popular articles
Popular devices
Electric Vehicles