vivo V11 review
GSMArena team, 05 September 2018.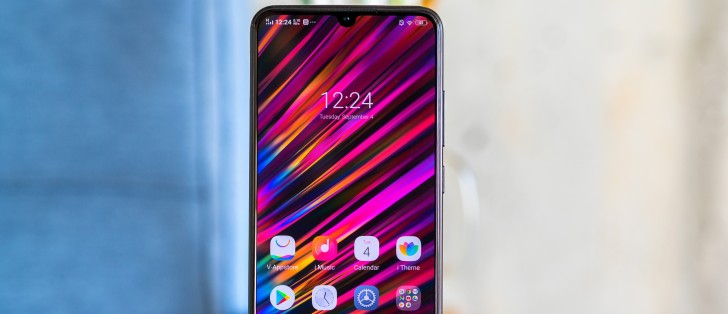 Software
The vivo V11 runs on Android 8.1 Oreo with vivo's custom Funtouch v4.5 overlay on top. As with most other Chinese manufacturers that means a single-tiered interface with no app drawer. Funtouch is heavily influenced by Apple's iOS, but over time vivo has managed to add many interesting features to it.
As for the iOS "borrowing" part of the mix, Funtouch OS is still in a weird place. With things like a Command Centre, instead of a quick toggles above the notifications and app settings scattered through the main settings menu, it is definitely as close to iOS as you can get. But Funtouch is highly customizable - one of the reasons we'd refrain from calling it an outright ripoff.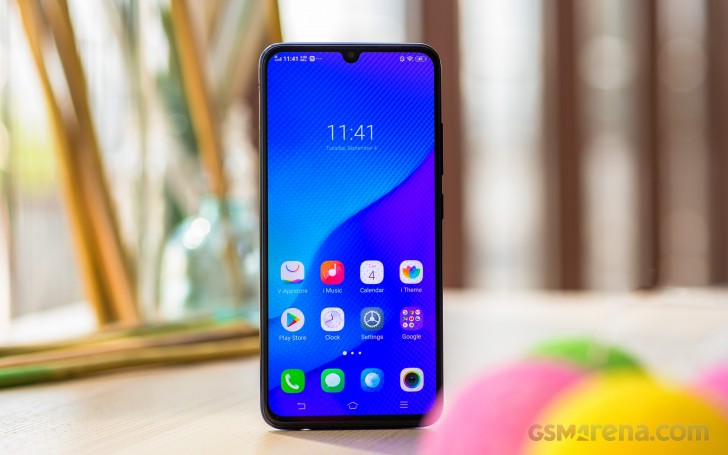 For starters vivo offers the "Lockscreen Poster" option. It cycles through a set of nice images, so every time you wake up the device, you get to see something different.
There is also an Always on Display, which pairs nicely with the Super AMOLED panel. It is quite convenient as well since it lends itself to some customization and can be put on an auto timer. If you opt to use the cool-but-slow under-display fingerprint reader, you will be spending quite a bit of time on the lock screen, so you might as well set it up to have something entertaining to look at as the fingerprint recognition experience is a hit and miss.
The reader itself is unreliable and inconsistent. Even registering a new print takes an annoyingly long time and feels sketchy. Trying to hold the phone naturally and mimicking various potential scan angles for your thumb during setup seemingly helps consistency later on (at least to some extent).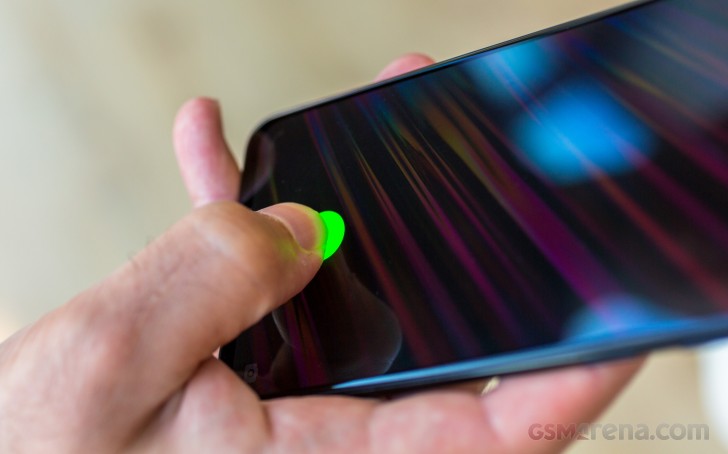 Luckily, you can enable Face Unlock in addition to the fingerprint security. While not as secure, the Face recognition is way faster and it can nicely complement the V11 fingerprint scanner - the phone unlocks the device upon successful authentication with one of the two options.
The face recognition can be fast or regular. The fast option indeed recognizes your face quicker, but it can be fooled by a picture. The other one relies on a more in-depth facial recognition algorithm and vivo says it's more secure.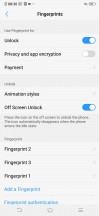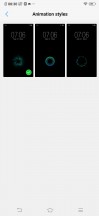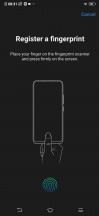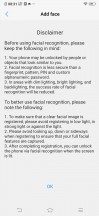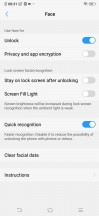 Fingerprint settings • Animations • Add a print • Face unlock • Face settings
Some of the other advanced Funtouch features include App Clone, Smart Split, Smart Motion, there is even Motorbike mode. For navigation you get virtual keys, but you can enable navigation gestures and get rid of those.
The lockscreen is pretty basic outside of the changeable wallpapers - there is a clock and two shortcuts. It is a part of the theme support, though, so you can freshen it up from the Themes app.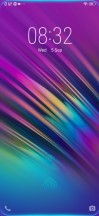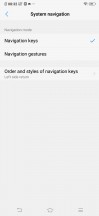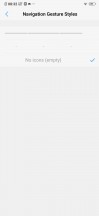 Default lockscreen • Navigation options • Gesture navigation
Past the lockscreen you get a single-tier interface with no app drawer. Meanwhile, swiping up from the bottom edge brings out a combined toggles/brightness/tasks drawer, reminiscent of the old iOS Control center. Closing apps works with a cheerful "Speed up" button.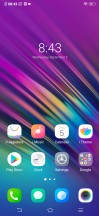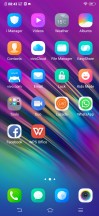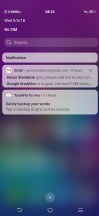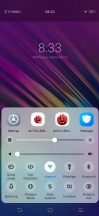 The homescreen • It doubles as an app drawer • Notifications • Toggles
The V11 has its own Themes app and you can choose from a very rich theme store. The theme-able elements are the wallpapers (lock and homescreen, dialer, messenger), and the system font.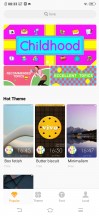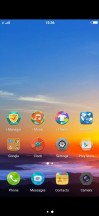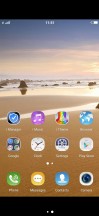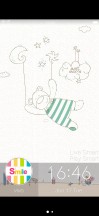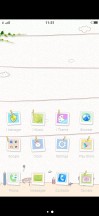 Theme app • a theme • a theme • a theme • a theme
The vivo V11 comes with extensive gesture and motion functionality, found in settings under Smart motion. Smart wake works with the display off and lets you draw letters to launch specific apps, unlock with an upward swipe without lighting the screen beforehand, or launch the camera with a downward swipe. There are multiple settings for flashlight or camera launch with the volume keys, too.
Smart Split allows you to split the display and launch two apps side-by-side. This is only limited to the few supported messaging apps - Messages, Facebook, Whatsapp, and Viber. It works only when you are within one of these messengers, say Facebook, and receive a notification from some of the others, say Whatsapp. Then you can expand the Whatsapp floating icon into the full-blown app, which will share the screen with Facebook.
There is also Manual Split - if an app is compatible, you can swipe down with three fingers and it will go into split screen mode. Supported apps include all popular social apps and Google's native apps.
App Clone is available, too, for when you need two active social accounts on a single network.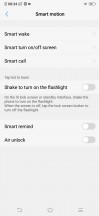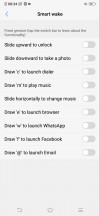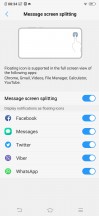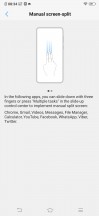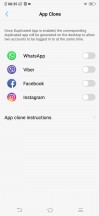 Smart Motion • Smart wake • Smart Split • Manual Split • App clone
vivo has kept things under control regarding preloaded applications and, besides the nowadays obligatory Google suite, there are few pre-installed apps. Also, the things that are included in the mix are well executed, nicely styled and convenient. We won't explore the mandatory calendar, calculator, clock, and voice recording apps, but they are all here.
Funtouch OS has a central management hub, called iManager. It is designed to keep your phone in top shape and does a pretty good job of it. It can clean your RAM and storage on request and naturally manage applications.
The phone also comes with a very intuitive file manager. It automatically groups files according to type but also allows traditional folder browsing, as well as searching. Multiple file operations are now possible too.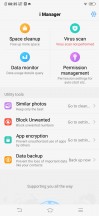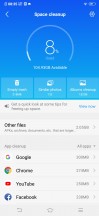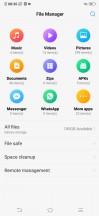 iManager • iManager • • Intuitive file manager
Naturally, multimedia is handled by vivo's default apps. There are feature-rich Gallery, Music player, Videos, and even FM radio.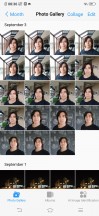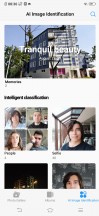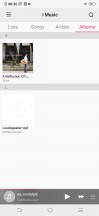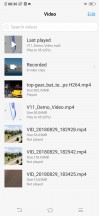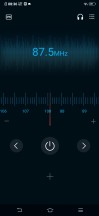 Albums • Albums • iMusic • Video • FM radio
Performance and benchmarks
The vivo V11 is employing the Snapdragon 660 with AI chip by Qualcomm - it packs an octa-core Kryo 260 CPU in a 4x2.0GHz + 4x1.8GHz configuration. The Adreno 512 GPU should be a fine performer for 1080p screens, while the V11 also packs 6 gigs of RAM.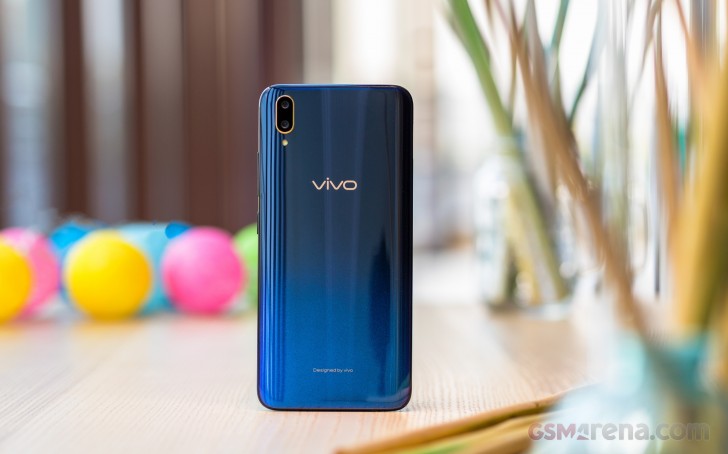 As usual we'll start our benchmark tests with Geekbench. We noticed the high-speed Kryo quartet is clocked at 1.96 GHz, while most of the S660 bunch on the market have it set at the maximum 2.2 GHz. That's the reason the V11's processor scores a little bit lower than the same one on the Oppo R15 Pro.
A single of those Kryo 260 cores is only bested by the 2.4GHz A73 one inside the Honor Play's Kirin 970, and the most current Kryo 385 inside the Pocophone's Snapdragon 845. The Kryo 260 is still one of the better CPUs to have in charge of your daily Android operations.
GeekBench 4.1 (single-core)
Higher is better
Xiaomi Pocophone F1
2438
Honor Play
1899
Xiaomi Mi 8 SE
1890
Meizu 15
1620
Xiaomi Mi A2
1617
Oppo R15 Pro
1612
Samsung Galaxy A8 (2018)
1532
Oppo Realme 1
1511
Oppo F9 (F9 Pro)
1497
vivo V11
1457
Huawei P20 Lite
938
Xiaomi Mi A1
877
vivo V7+
767
Multi-core operations are hassle-free on the vivo V11. The only phone that's noticeably faster than the vivo is the Pocophone, which is expected as it packs the latest Snapdragon 845.
GeekBench 4.1 (multi-core)
Higher is better
Xiaomi Pocophone F1
9003
Honor Play
6696
Xiaomi Mi 8 SE
5908
Meizu 15
5877
Oppo R15 Pro
5809
Oppo Realme 1
5741
Oppo F9 (F9 Pro)
5673
vivo V11
5535
Xiaomi Mi A2
4625
Samsung Galaxy A8 (2018)
4418
Xiaomi Mi A1
4292
vivo V7+
3912
Huawei P20 Lite
3756
The Adreno 512 GPU is a solid mid-range performer - its performance falls somewhere between the flagship graphics of the S845 (Pocophone) and the mediocre punch of the S625 (Mi A1).
GFX 3.1 Manhattan (onscreen)
Higher is better
Xiaomi Pocophone F1
53
Honor Play
36
Xiaomi Mi 8 SE
22
Meizu 15
15
Xiaomi Mi A2
14
vivo V7+
13
vivo V11
12
Oppo R15 Pro
12
Oppo Realme 1
12
Oppo F9 (F9 Pro)
11
Samsung Galaxy A8 (2018)
8.7
Xiaomi Mi A1
6.3
Huawei P20 Lite
4.9
GFX 3.1 Car scene (onscreen)
Higher is better
Xiaomi Pocophone F1
31
Honor Play
21
Xiaomi Mi 8 SE
12
Meizu 15
9.2
Xiaomi Mi A2
8.6
Oppo R15 Pro
7.6
Oppo Realme 1
7.5
vivo V11
7.4
vivo V7+
6.6
Oppo F9 (F9 Pro)
6.5
Samsung Galaxy A8 (2018)
5.2
Xiaomi Mi A1
3.5
Huawei P20 Lite
2.8
It's probably the lower multi-core performance that sets the V11 back in BaseMark OS, where the other S660 devices are able to outrank it.
Basemark OS 2.0
Higher is better
Xiaomi Pocophone F1
3713
Honor Play
3294
Xiaomi Mi 8 SE
2658
Meizu 15
2485
Oppo R15 Pro
2438
Xiaomi Mi A2
2240
vivo V11
2218
Samsung Galaxy A8 (2018)
2007
Oppo Realme 1
1940
Huawei P20 Lite
1455
vivo V7+
1290
Xiaomi Mi A1
1262
The vivo V11 is a very dependable performer thanks to its Snapdragon 660 chip. It's as great for gaming as it is for daily operations and browsing the social media. The Android OS and is Funtouch launched are fast and fluid and we saw no lag even when using Split Screen or App Clone.
Some heat builds up after running multiple benchmarks and some modest amount of throttling occurs, but it's nowhere near the worst offenders in this respect.
Overall, the vivo V11 offers great performance for the class and nobody should be experiencing hiccups of any kind whatever the tasks at hand.
Anonymous
14 Mar 2022
YQ8
Hi friends I think I have never seen such a wonderful phone in my life I m addictive to games also I ll be use phone for 12 hours till date I couldn't feel any problem with my phone it's really awesome Rarest of the rare gem
Y I can't use a wireless headphones to my v11 it's said I have to install the device but I don't know what kind of device I should install to connect my Bluetooth wireless headphones please help me thank u