vivo V25/X80 Lite review
GSMArena Team, 29 October 2022.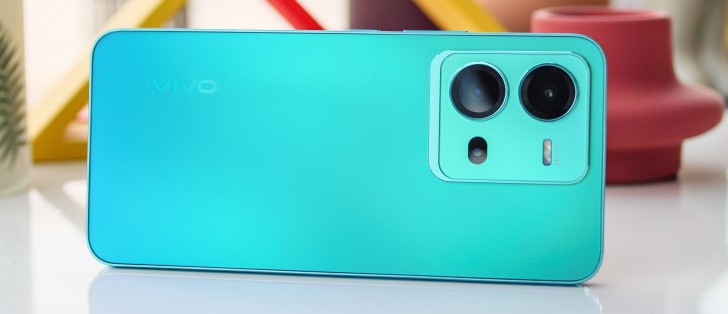 6.44-inch, 90Hz, HDR10+ AMOLED
The vivo V25 has a decently-sized 6.44-inch display with a FullHD+ resolution of 1080 x 2404 pixels. That's a 20:9 aspect ratio that works out to a crisp 409 ppi. Bezels around the display are a bit on the thicker side, but other than that, the display wouldn't be out of place on a far more premium phone.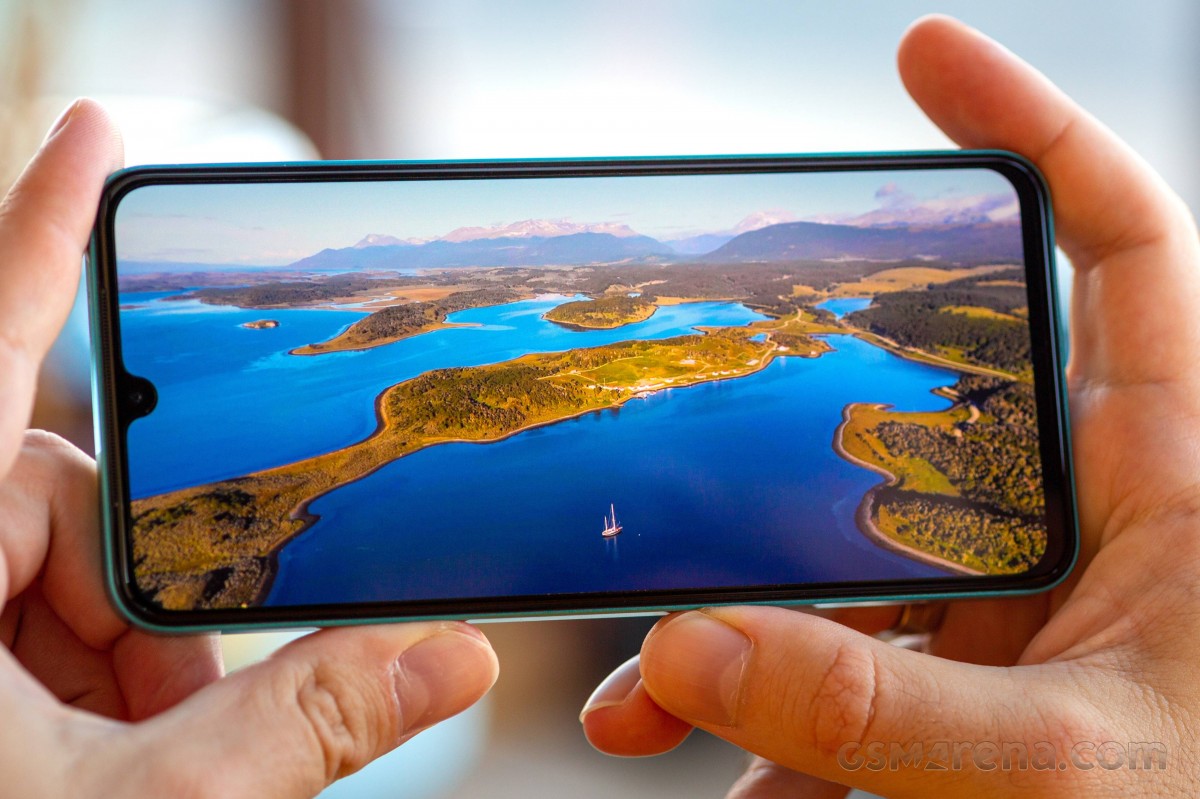 The vivo V25 display performs well, too, with a maximum brightness on the manual slider of 496 nits. There is a max auto mode beyond that for really light-intensive conditions, which we measured to top out at around 781 nits. That's not quite the 1300 nits that vivo is advertising, but we assume that figure is also true, but only achievable when lighting up a very small portion of the display. In any case, the V25 is perfectly usable outdoors.
Display test
100% brightness
Black,cd/m2
White,cd/m2
Contrast ratio
Poco F4 (Max Auto)
0
1003
∞
Google Pixel 6a (Max Auto)
0
876
∞
Samsung Galaxy A53 5G (Max Auto)
0
830
∞
vivo V25 Pro (Max Auto)
0
805
∞
vivo V25 (Max Auto)
0
781
∞
Xiaomi Redmi Note 11 Pro+ 5G (Max Auto)
0
760
∞
Xiaomi Redmi Note 11 Pro (Max Auto)
0
746
∞
Xiaomi Redmi Note 11 Pro 5G (Max Auto)
0
746
∞
Xiaomi Redmi Note 11 (Max Auto)
0
736
∞
Samsung Galaxy A33 5G (Max Auto)
0
728
∞
OnePlus Nord 2T (Max Auto)
0
636
∞
vivo V23 5g (Max Auto)
0
629
∞
Realme 9 Pro+ (Max Auito)
0
613
∞
Poco F4
0
530
∞
Google Pixel 6a
0
505
∞
vivo V25 Pro
0
500
∞
vivo V25
0
496
∞
Xiaomi Redmi Note 11 Pro+ 5G
0
479
∞
Xiaomi Redmi Note 11 Pro
0
470
∞
Xiaomi Redmi Note 11 Pro 5G
0
470
∞
Xiaomi Redmi Note 11
0
465
∞
OnePlus Nord 2T
0
449
∞
vivo V23 5g
0
435
∞
Realme 9 Pro+
0
433
∞
Samsung Galaxy A53 5G
0
427
∞
Samsung Galaxy A33 5G
0
407
∞
The V25 falls a bit short in the color accuracy department. There are a total of three color modes to choose from in display settings.
Standard and bright modes target the DCI-P3 color space and don't bother trying to be overly accurate. Instead, both crank the saturation up so you can get that signature OLED "pop". Professional mode targets sRGB instead but fails to meet the criteria for what would be considered "color accurate". Blues and reds are still a bit oversaturated.
On a more positive note, the display on the V25 is certified for HDR10+ content reproduction. On a software level, the phone reports support for decoding HDR10, HDR10+ and HLG, with just Dolby Vision missing from the list.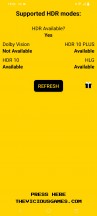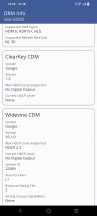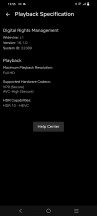 HDR capabilities • Widevine • Netflix playback capabilities
We were also happy to see that Widevine L1 is present on the V25, which means that streaming services such as Netflix are more than happy to offer up FullHD streams to saturate the native resolution of the display.
High refresh rate handling
The vivo V25's display has a 90Hz native refresh rate. Its display settings menu includes a total of three refresh rate modes - 60Hz, 90Hz and Smart Switch.
The first two act like fixed modes and basically lock the refresh rate at either 60Hz or 90Hz. We found the latter to be great for gaming since auto mode didn't always switch to 90Hz in games that we know can render beyond 60fps. Once you remember to manually toggle into 90Hz mode, though, high refresh rate gaming works perfectly fine on the V25.
Smart Switch mode can be a bit wonky at other times as well. Generally, when it comes to the phone's UI, it keeps the refresh rate at 90Hz and then lowers it down to 60Hz once you stop interacting with the phone for a few seconds. That would be considered a rather basic switching logic, but it works well enough.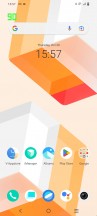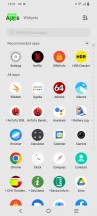 UI working at 90Hz and dropping down to 60Hz
Most web browsers we tried, including the vivo one and Google Chrome, work at a fixed 60Hz refresh rate, which is neither here nor there. We would have appreciated the smoother scrolling action, but beyond that, most web content doesn't really benefit from over 60Hz.
Most other apps we tried on the V25 in Smart Switch mode also ended up working at 60Hz. That includes things like social networks. Though, that logic isn't set in stone since Facebook still ran at 90Hz.
Most of the video playback apps we tried, like TikTok, YouTube, and Netflix, as well as local video playback, all worked in 60Hz mode automatically, which is the desired behavior to save on battery.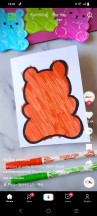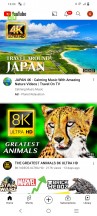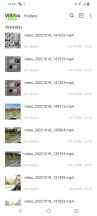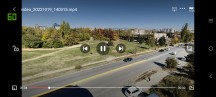 Video playback usually works at 60Hz
Overall, the Smart Switch refresh rate behavior on the vivo V25 is serviceable, though a bit simplistic and at times robbing of you some extra smoothness. If you want to get the most out of the experience while gaming or ensure you are not wasting power while watching a video, it is advisable to go in and manually switch to 90Hz or 60Hz mode accordingly.
Battery life
The vivo V25 has a 4,500mAh battery. The Dimensity 900 is a pretty efficient 6nm chip, and in combination with the AMOLED panel, it makes for great battery life. The vivo V25 managed an excellent total endurance of 120 hours in our testing with both great off-screen and on-screen test results.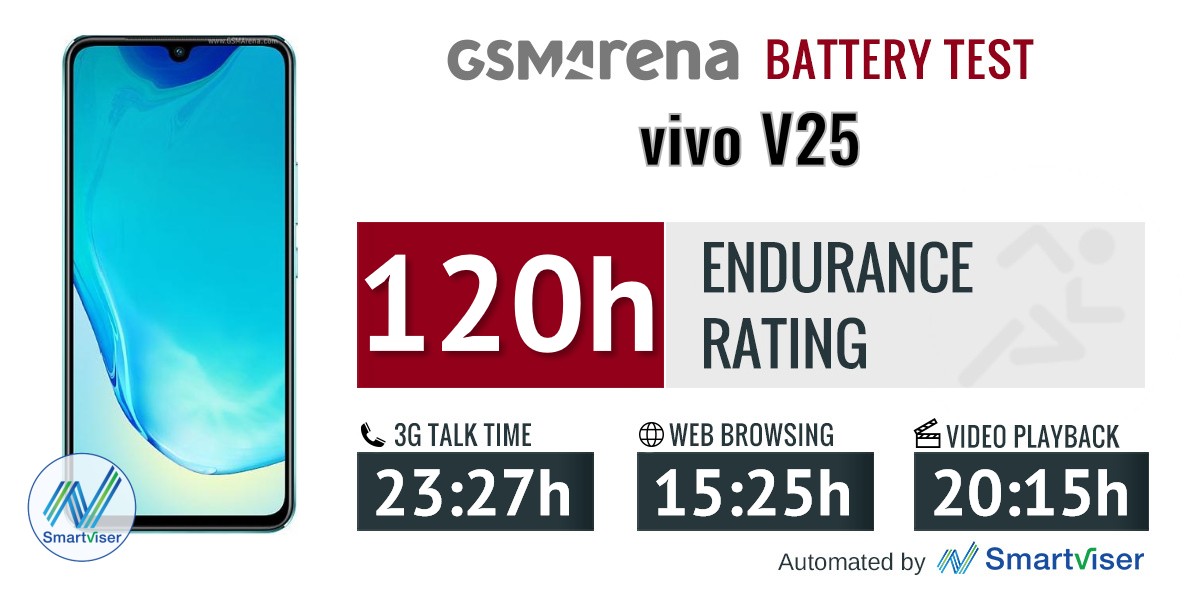 Our battery tests were automated thanks to SmartViser, using its viSerDevice app. The endurance rating denotes how long the battery charge will last you if you use the device for an hour of telephony, web browsing, and video playback daily. More details can be found here.
Video test carried out in 60Hz refresh rate mode. Web browsing test done at the display's highest refresh rate whenever possible. Refer to the respective reviews for specifics. To adjust the endurance rating formula to match your own usage patterns check out our all-time battery test results chart where you can also find all phones we've tested.
Charging speed
The vivo V25 is not a particularly speedy charger in its peer group, but it's no slouch. It is equipped with support for the company's 44W FlashCharge technology. A compatible charger is in the box, rated for outputs of 5V@2A, 9V@2A and 11V@4A. While it uses a USB Type-A to Type-C cable to charge, it is not a proprietary cable, which is great to see since it can be easily replaced.
Thirty minutes on the charger take the V25 from dead to approximately 53%. A full charge takes around an hour and ten minutes. Not too shabby, even if far from chart-topping.
30min charging test (from 0%)
Higher is better
Xiaomi Redmi Note 11 Pro+ 5G
100%
OnePlus Nord 2T
99%
Poco F4
92%
Oppo Reno8
90%
vivo X80 Pro
88%
Xiaomi Redmi Note 11 Pro
78%
Realme 9 Pro+
77%
Poco X4 Pro 5G
75%
Xiaomi Redmi Note 11 Pro 5G
74%
vivo V23 5g
60%
vivo V25 Pro
57%
vivo V25
53%
Realme 9 Pro
52%
Xiaomi Redmi Note 11
51%
Samsung Galaxy A33 5G
50%
Realme 9
50%
Tecno Camon 19 Pro
47%
Samsung Galaxy A53 5G
45%
Google Pixel 6a
42%
Infinix Zero 5G
30%
Nokia G21
22%
Time to full charge (from 0%)
Lower is better
Xiaomi Redmi Note 11 Pro+ 5G
0:16h
OnePlus Nord 2T
0:32h
Poco F4
0:38h
vivo X80 Pro
0:39h
Oppo Reno8
0:42h
Xiaomi Redmi Note 11 Pro 5G
0:45h
Xiaomi Redmi Note 11 Pro
0:48h
Poco X4 Pro 5G
0:49h
Realme 9 Pro+
0:49h
vivo V23 5g
1:03h
vivo V25 Pro
1:07h
vivo V25
1:11h
Realme 9 Pro
1:14h
Samsung Galaxy A33 5G
1:15h
Realme 9
1:16h
Xiaomi Redmi Note 11
1:18h
Samsung Galaxy A53 5G
1:24h
Tecno Camon 19 Pro
1:28h
Google Pixel 6a
1:51h
Infinix Zero 5G
1:55h
Nokia G21
2:49h
Loudspeaker
There is a single bottom-firing speaker on board the vivo V25. It is not a particularly impressive unit by any means. It only managed to get an AVERAGE score in loudness in our standardized testing, and its frequency response curve is a bit deflating. While highs come through reasonably well, voices are often a bit distorted, and there is practically no bass. You can get much better-sounding phones in this price range.
Use the Playback controls to listen to the phone sample recordings (best use headphones). We measure the average loudness of the speakers in LUFS. A lower absolute value means a louder sound. A look at the frequency response chart will tell you how far off the ideal "0db" flat line is the reproduction of the bass, treble, and mid frequencies. You can add more phones to compare how they differ. The scores and ratings are not comparable with our older loudspeaker test. Learn more about how we test here.
I'm using a y21T for a week as a temporary phone as my Poco X3 NFC bit the dust. I'm getting realme GT master on monday but I've a few things about vivo I'd like to mention. Even though fun touch os is a bit bare bones on thi...
Anonymous
19 Dec 2022
3Rs
i dont use google software because itself is spyware .
now google tells us some apps on playstore have spyware and bad codes,looks like google is finally going spyware hunting,about time