vivo X50 Pro review
GSMArena team, 16 July 2020.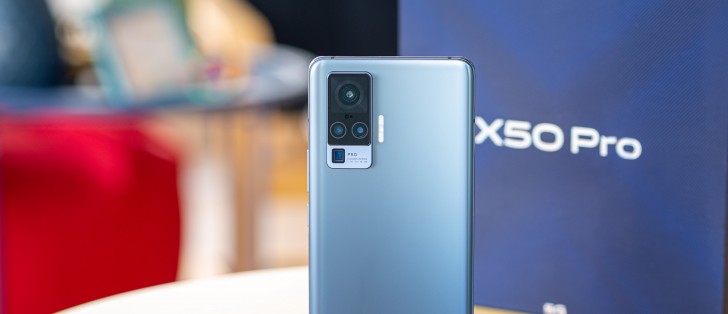 Premium quad-camera with gimbal stabilization system
The vivo X50 Pro features a quad-camera on its back with a 48MP primary, a 13MP portrait, an 8MP telephoto, and an 8MP ultrawide snappers. Laser-assisted autofocus is available on all cameras, there is gimbal stabilization on the main shooter and optical stabilization on the 5x telephoto cam. A triple-LED dual-tone flash is also around.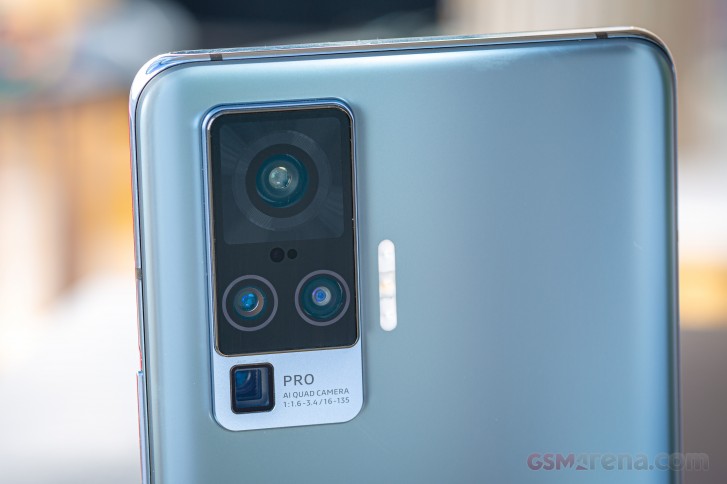 Let's take a closer look on this 4-camera setup.
The main camera is the star of the show for sure. It uses a 48MP Sony IMX598 custom sensor with Quad-Bayer color filter, 0.8µm pitch, and f/1.6 25mm lens. Laser-assistance and PDAF are available, naturally. The whole thing is stabilized with a micro-gimbal system that should provide 3x better stabilization over regular OIS setup.
The ultrawide camera uses an 8MP 1/4.0" sensor with 1.12µm pixels and f/2.2 16mm lens. Thanks to the laser-assisted autofocus, you can also shoot macro photos from as close as 2.5cm away from the subject.
The is also a 13MP camera with f/2.5 50mm lens for 2x optical zoom. Vivo calls this a portrait camera.
Finally, you also get an 8MP camera with periscope f/3.4 135mm lens for 5x optical zoom over the main camera. Four-axis Optical Image Stabilization is available for this camera.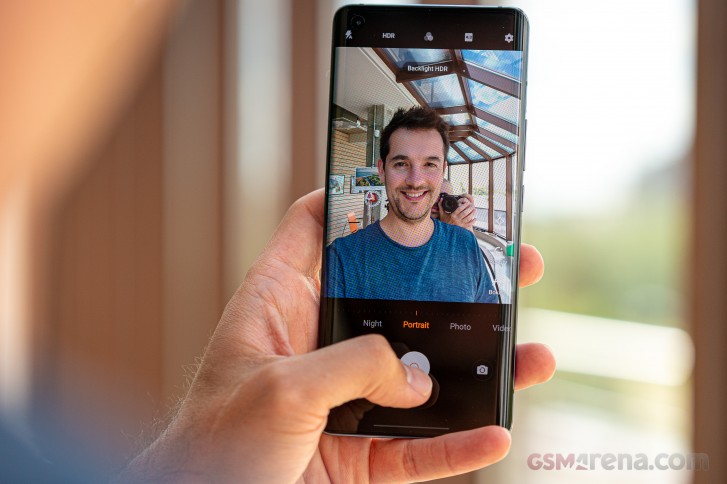 The selfie shooter uses a 32MP sensor behind f/2.45 25mm wide lens. The focus is fixed.
Let's circle back to the micro-gimbal system as this is the first time we see it on a smartphone. It takes five times more space than a regular OIS setup, and that's why vivo had to settle for a smaller sensor as the IMX598 and not huge one like Huawei, Samsung, or Xiaomi. It promises to make up for that in quality, so fingers crossed.
Vivo is officially calling this a miniature gimbal camera. It offers exceptional stabilization over a single axis and it took months for vivo's R&D team to miniaturize the module. It still takes 5 times the surface area of the average smartphone camera and 3 times the area of the already mainstream periscope snappers.
The mechanism uses dual ball suspension and voice coil motor, dual S-type FPC lines, T-FPC, magnetic frame, and protective cover. As vivo explains it - the whole thing delivers mechanical-motion compensation by electro-magnetic induction - it moves in the opposite direction of the shaking motions.
Well, it is mechanical indeed and sometimes when the mechanism is calibrating or having a hard-time compensation for your movement you can both feel it and hear it moving and swirling.
You can enable the Gimbal Radar tool from settings to be always visible on your viewfinder, and we recommend doing that. It is an onscreen moving ball within a circle on the viewfinder that reflects gimbal's movements. And when you keep the ball within the circle, this means the gimbal is doing a perfect job and the image/video will remain still. This feedback is especially useful no matter what you are shooting and will easily return you pro-grade stills and videos.
Vivo claims the gimbal system is doing a 300% better job than regular OIS. That's because the traditional OIS anti-shake angle correction is compensating for movements up to ±1°, while the gimbal platform's anti-shake angle correction on the X50 Pro is ±3°.
The camera app is the same one we've seen on vivos in recent months. You have a zoom selector (0.6x/1x/2x/5x) in the viewfinder and a separate 'lens' selector (Super wide-angle/Bokeh/Super macro) is confusing. The 'Super wide angle' option is effectively the same as the '0.6x' from the zoom selector. Then the 'Super macro' mode is a digitally zoomed-in view from that very same ultra-wide camera - it makes you think you're getting a larger magnification, but it's just a crop, which is then upscaled back to 13MP. But wait, there's more - the 'Bokeh' mode locks you in the 1x main cam and is a different thing than the dedicated 'Portrait' mode, from the proper mode selector on the bottom, which also has face altering features besides the bokeh. Urgh.
Anyway, the chief modes are switched with side swipes as on most other phones, and the 'More' tab lets you access less common modes. From there, you can also customize the modes you have available in the viewfinder, which is a nice touch that only Samsungs seem to offer.
There's a Pro mode that lets you tweak photographic parameters yourself. You get to select ISO (50-3200), shutter speed (1/12000s-32s), white balance (presets and a temperature slider), focus distance (no focus peaking), and exposure compensation (-3/+3EV in 1/3EV increments), with easily accessible auto buttons on all and a global 'restore' button to revert everything to auto. An electronic level is also available in addition to the gimbal view, a histogram view is available as well.
The Pro mode is available on all four cams, you need to use the lens switcher, which in Pro mode offers Super Wide-angle, Medium telephoto, and Telephoto. The 1x switch is not a switch at all, but a zoom slider.
The settings menu offers some of the usual controls like disabling the simulated shutter sound, geotagging, and the option to mirror your selfies, and it's here that you'll find the self-timer (as opposed to the viewfinder). The vivo X50 Pro offers eye autofocus which we haven't seen on any other phone except the Sony Xperia 1 and the vivo's own iQOO 3 5G.
Daylight image quality
The main camera saves 12MP photos by default and those we took in broad daylight turned out very good. They excel in everything but resolved detail. The photos present superb contrast, dynamic range and lively even if over-saturated colors. The sharpening is not aggressive, and the noise is kept reasonably low.
The resolved detail could have been better, especially outside the center, but it is far from bad. It's just that we expected a bit more, that's it.
We noticed the algorithm may overdo the image stacking and that might result in a bit unnatural HDR effects, but if this bothers you then you can turn the Auto HDR off and avoid that.
There is a high-res 48MP mode, and it does a splendid job. The 48MP images look very detailed (if a bit noisy), with great contrast and colors.
Note that shooting in 48MP takes a couple of seconds and one photo weighs about 20MB.
But can you get better 12MP shots from downsizing the 48MP ones? Short answer - yes.
If you want to get a more detailed image, then shooting in 48MP and then manually downsizing to 12MP is the way. Is it worth the hassle? Well, the extra detail is artificially created by the algorithm, and you may notice some artifacts in the foliage. And even then, when the added detail is an illusion, it is still a good illusion, but we will leave that for you to decide.
And here are the untouched 48MP photos.
The 8MP shots from the ultrawide camera present mediocre resolved detail and poor sharpness, but otherwise are contrasty and have an accurate color presentation. Noise is left here and there, but it's no biggie.
Finally, the automatic distortion correction does a good job straightening the corners.
We've seen better ultrawide shots, but we've seen worse, too. Vivo needs to improve its image processing, as some detail is most probably lost during the multi-image stacking.
Thanks to the presence of autofocus, the ultrawide camera can also be used for shooting macro photos from as close as 2.5cm distance. There is a dedicated Ultra Macro mode, but DO NOT use it - it crops and upscales from a regular ultrawide shot.
Anyway, the samples we shot at close distance are pretty good with lots of detail and punchy colors, and will do for showing the occasional bug or cactus on Facebook.
The X50 Pro has a dedicated 13MP camera for 2x zoom, also known as Portrait camera. It also snaps good photos with high contrast and dynamic range, accurate colors, but rather average resolved detail.
Despite the not-so-good detail and sharpness, we still liked the images we shot, and we do think most of the people will be happy with them, too.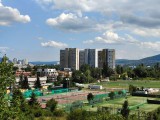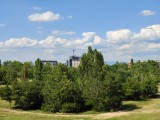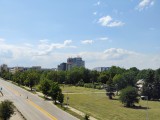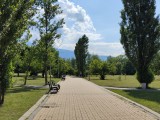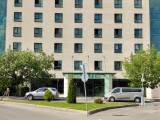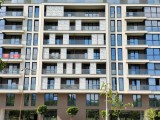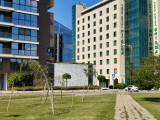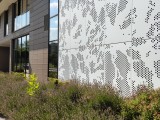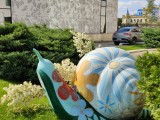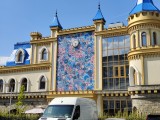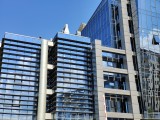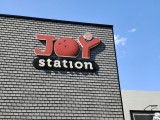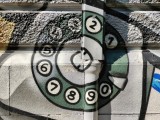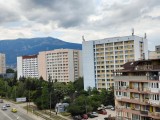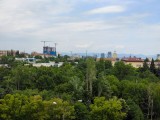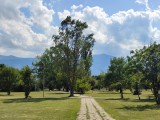 Portrait camera, 2x zoom, 13MP
The Portrait Mode uses the Portrait camera, of course. It is quite proficient in separating the subject from the background and the blur looks nice. The detail is enough, though vivo's beautification options are at play and we just couldn't disable all of them.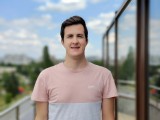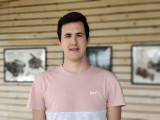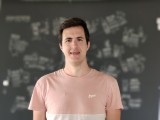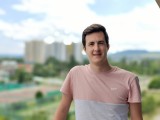 Portrait camera, portrait mode, 13MP
Finally, the 8MP shooter behind the 5x zoom lens saves good photos as well, even if not on par with Huawei's long-range shooters. The detail is enough, the colors are true to life, and the contrast is okay, too.
They can benefit from some more potent noise reduction or extra sharpness, but even at this state - they do a brilliant job at zooming in.
Please don't buy, many of my friends purchased this phone, and after almost one year green vertical lines appear on screen. Very pathetic.
You can use any image resizer app on Android. On Windows, you can simply use MS Paint as I did. You can even use Photoshop or Photopea, which is a browser-based open-source alternative to Photoshop if you want more freedom.