Weekend poll: LG G5 vs. Samsung Galaxy S7 edge
Peter, 28 February, 2016
If you think about it, Samsung and LG are to "blame" for the current dominance of huge-screen handsets. Samsung got the ball rolling with the Note, LG killed off the phone/phablet distinction with the G3.
This year, however, both companies pulled back and their new flagships are smaller than their predecessors: from 5.7" S6 edge+ to 5.5" S7 edge, from 5.5" G4 to 5.3" LG G5. Their screens have another thing in common too, Always On mode.
The two diverge when it comes to the camera. The G5 has a secondary wide-angle camera while Samsung focused on low-light shooting and ultra-fast focus locks.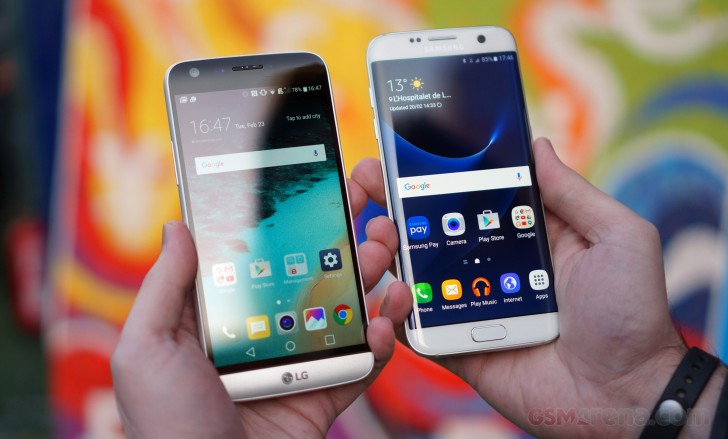 The Galaxy S7 edge is not nearly as locked down as the S6 before it. No, you still can't change the battery, but you get your microSD slot back and water resistance too (IP68).
The LG G5 went all metal and LG used a unique process to hide the unsightly antenna lines. The killer feature, however, is modularity - currently, a camera battery grip (with extra hardware controls) and a hi-fi DAC from Bang & Olufsen give you the option to upgrade your G5 even after purchasing it.
Well, you've probably read our thoughts on the LG G5 vs. Samsung Galaxy S7 edge, now we want to hear what you think. Vote away!
You have until next weekend to vote.
Related
AnonD-20306
03 Apr 2016
qWP
A removable battery is a great bonus for someone like myself that can't get to an outlet to charge for the course of an extended workday. A quick charge feature is useless to me since I can't use a charger while working. You're right about using a ba...
AnonD-509799
04 Mar 2016
Y2}
It's funny to me that people are still complaining about the battery not being removable in Samsung devices. In an age were we can charge our phones anywhere using an external battery pack it's really an unnecessary feature especially if they are gi...
Seihiro Kaneda
04 Mar 2016
YUI
I think LG G5 going back to 5.2" from 5.5" was a good choice. I always felt that the 5.5" and 5.7" were a tad too big for my trouser pocket comfort. And it was always just a bit too big for one hand operation. The detachable battery is ...
Popular articles
Popular devices
Electric Vehicles