Weekly poll: did Microsoft outsmart Android makers with the Surface Duo?
Peter, 06 October 2019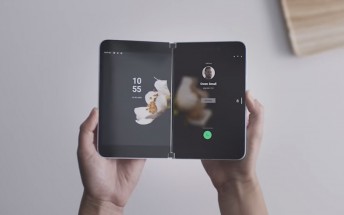 We have to give it to Microsoft – what seemed like a regular event about laptops set the Internet abuzz about dual screen devices. The Surface Duo in particular got people excited about the mix of Microsoft's hardware aesthetic combined with Androids mobile app ecosystem.
The Surface Duo will have two 5.6" screens with a hinge between them. This isn't a foldable display and that's a good thing as it avoids all the issues plaguing their fragile screens. And it can fold 360°, which offers the best of both worlds – you can close it to keep the screens safe, open it to use both screens or flip it 360° to use just a single screen one-handed.
There are no more details about the Duo, other than it will run Android instead of some form of Windows. The phone isn't slated to come out until late next year, so it's hardware configuration is yet to be decided. Microsoft announced it early so that it can start cooperating with software developers to make sure the dual screen experience is ready for prime time.
But what did Microsoft get right that LG and Asus didn't? We certainly didn't see such excitement about the LG V50 and its second screen or the similar accessory for the Asus ROG Phone II.
Maybe it was the Surface Neo. Despite a nearly identical form factor, this is a larger device – it has two 9" screens – and targets ultrabooks. And it will run a Windows 10X, which is the secret ingredient to its success.
Windows debuted over 30 years ago and even Windows 10 couldn't fully shake the decades-old assumptions of one screen, keyboard and mouse. The 10X user interface will be designed specifically for dual screen devices and some clever accessories.
The keyboard can be laid on top of one screen for faster typing speeds. The clever thing about it is that it leaves a part of that screen visible, sort of like a touchbar on steroids (or it could simply work as a touch pad). The keyboard attaches to the Surface Neo using magnets, which can also hold a slim stylus.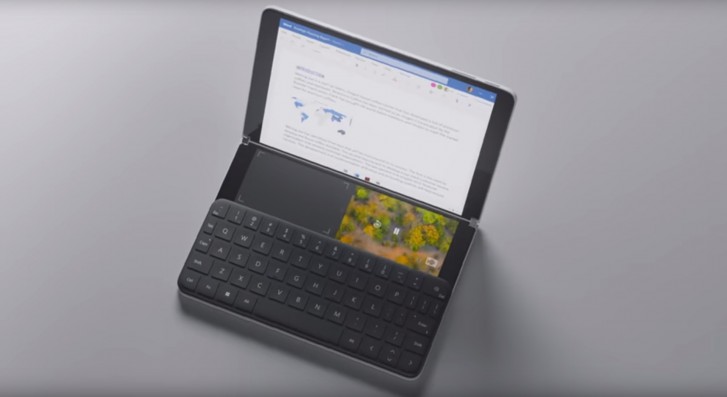 Again, the Surface Duo will run Android, but any clever interface ideas for the Neo could be ported over to the Duo as well. And Microsoft really seems to be trying to do something novel here.
Foldable phones are just a compact way of having a larger screen. Apple's iPad is trying hard to be a laptop with its Smart Keyboard and the MacBook touchbar is much maligned. Whatever LG and Asus are doing with their dual screen add-ons isn't resonating with consumers.
Keep in mind that it was the Surface that popularized folio keyboards and Microsoft was ahead of the curve with the Origami project (where the screen cover/keyboard hybrid originated, along with other ideas like the split on-screen keyboard).
What do you think? Can Microsoft become the Android maker to beat or is this a gimmick that will be forgotten before its supposed launch date (which is more than a full year away)?
Related
Nope, iPadOS cannot still do it. It has USB-C, yes, file transfer, yes. It even has AV editing SW, but it still doesn't have a torrent client or a capable video encoding SW yet, AFAIK. So, iPadOS is still FAIL for me. Windows can handle Android apps ...
don't understand why Microsoft is using Google Android OS on the Surface Duo, i would of expected them to use the new OS WIndows 10X and emulate android apps via emulation. Do you agree wouldn't that be a better approach?
Who you? The design police? It really is just 2 screens with a hinge. Sony has done it years ago so yes, it's not clever or original at all.
Popular articles
Popular devices