Weekly poll: OnePlus 3T, an amazing upgrade or needles price hike?
Peter, 20 November 2016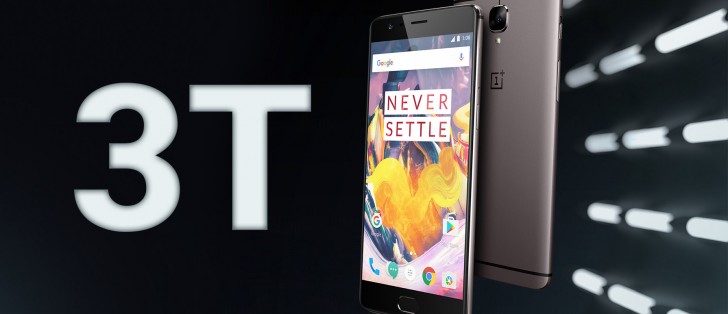 OnePlus was careful not to set off a runaway hype reaction for the 3T - we've seen people's opinions turn sour when a phone can't live up to the impossible hype. That was good, but is the OnePlus 3T underwhelming?
The chipset was upgraded from Snapdragon 820 to 821, which brings small improvements to performance and battery life. Speaking of, the battery now has 3,400mAh capacity (up from 3,000mAh) without affecting the thickness and weight of the phone.
The OnePlus 3T selfie camera is now a 16MP shooter, though it has smaller pixels than the 8MP camera it replaces - 1µm from 1.4µm. This should improve daylight selfies, perhaps at the cost of low-light ones. There's now a 128GB option, but OnePlus did not add a microSD card. Also, the USB Type-C keeps the super-fast Dash charging, but for data it's still on USB 2.0 speeds.
The phone features a new gray color with a new darker one - Gunmetal instead of Graphite - the Soft Gold color option appears the same, but this is starting to feel like we're scrambling to find new features that justify the $40/€40/£30 upgrade over the original OnePlus 3, which is no longer available in the US and Europe (and is not coming back either).
It's almost half a year later, we were kind of expecting the price of the 3 to drop and the 3T to take up the $400 slot. That isn't happening now, so are the upgrades worth the extra cost or is OnePlus no longer competitive (and keep in mind that in half a year, the OnePlus 4 will launch).
Related
do not like your polls. answers are often everything or nothing. i think it is good whenever choice options increase. what is harm of another phone in market??? is it good: yes will it put oneplus on top: No will it sales like oneplus 3: not ev...
I think too they should have bumped the rear camera, but the front canera is good now.. Anyway i somehow agree with your point now as they discontinued the 1+3
Popular articles
Popular devices
Electric Vehicles