Weekly poll results: HTC 10 might be just what the doctor ordered
Chip, 08 May, 2016
HTC desperately needs its new flagship to work if it's to overcome its financial difficulties and according to your feedback the 10 might be just what the doctor ordered. After the review went live 68% of you said they'd be willing to get the HTC 10, which bodes well for its market prospects.
The approval rating has dropped a bit since the announcement – back when it launched 84% of you said that the HTC 10 is a hot piece of hardware. Still a two-out-of-three approval rating is excellent and certainly better than what most other flagships get in these polls.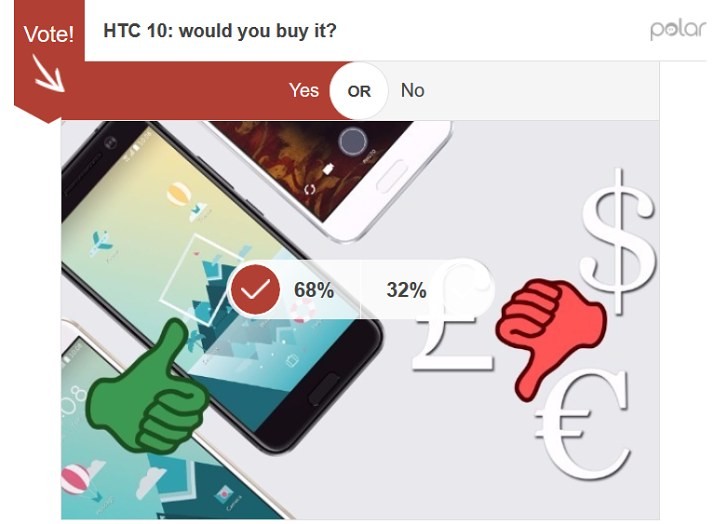 Hopefully, HTC will finally put its days of declining sales and losing money behind it and will return to its former glory. We'll get a clearer picture once the Q2 financial results start coming in.
Related
Anonymous
11 May 2016
d%t
Looks like some countries like India will get a downgraded HTC 10, dubbed HTC 10 Lifestyle.
Anonymous
10 May 2016
d%t
They will never release the HTC 10 in a much cheaper price than other markets. Never. I didnt tell HTC was a BMW. That was just an example. My point was you cant get a high end car at the price of a low end. Don't tell me you didnt understand my ex...
Anonymous
10 May 2016
d%t
So what is the BMW in Android? Dont tell me its Huawei (xD) Anyway i just used it as a example. Not a real life comparison. You anyway got my point
Popular articles
Popular devices
Electric Vehicles