Xiaomi 13 Ultra review
GSMArena Team, 28 April 2023.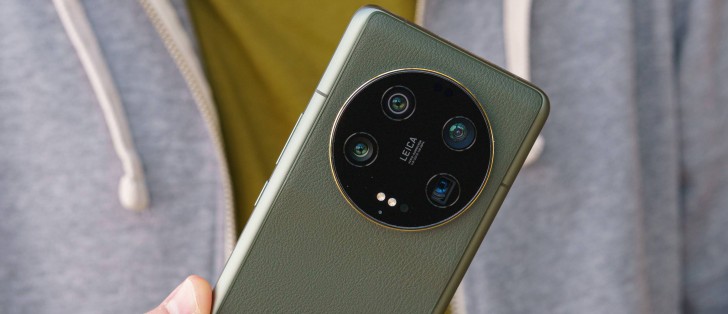 6.73 inches of OLED greatness
The Xiaomi 13 Ultra is equipped with a 6.73-inch OLED display that's all sorts of great. With a 1,440x3,200px resolution, a 120Hz adaptive refresh rate, 1920Hz PWM dimming, and Dolby Vision support, there's really nothing missing on this one.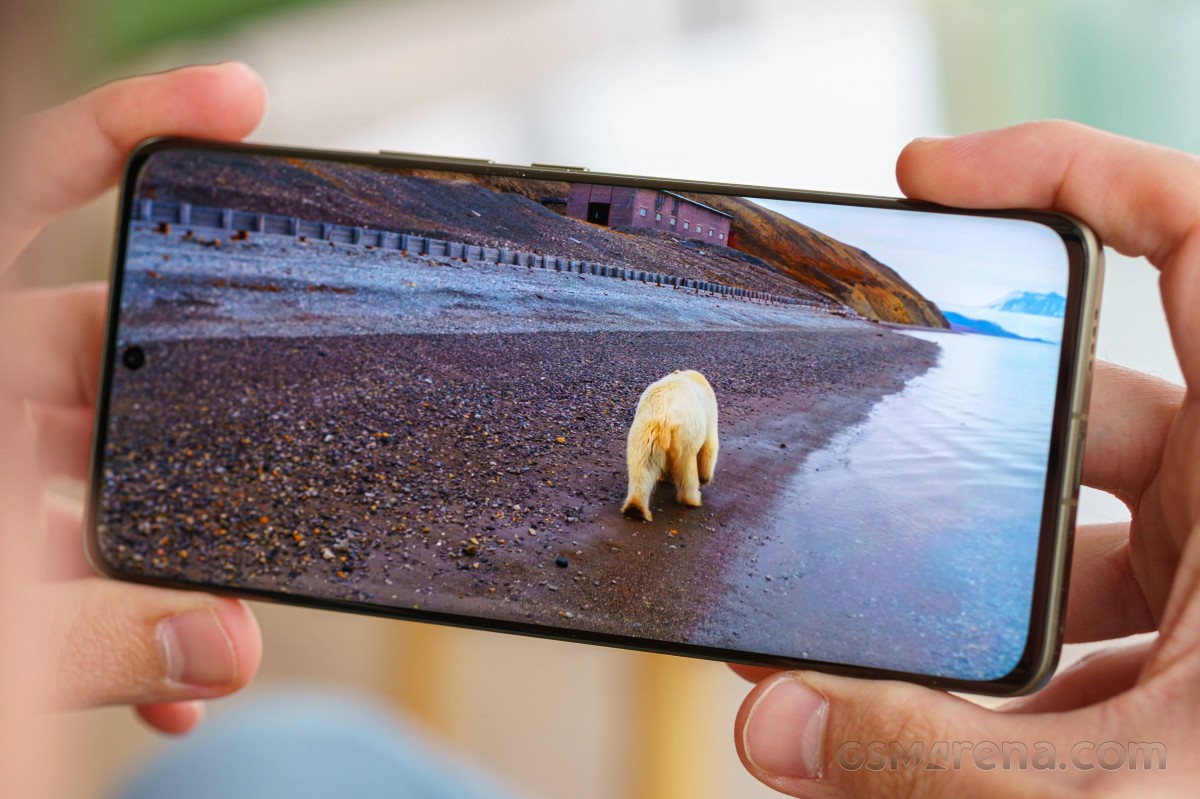 When it comes to brightness, the 13 Ultra was good for just over 1,200nits in adaptive brightness mode - some 100nits lower than the Find X6 Pro and a few dozen less than the Galaxy S23, but let's face it - 1207nits isn't going to have anyone complaining. Admittedly, the iPhone can go way brighter, though one has to wonder how much is enough, and how much is too much.
With around 500nits available on the slider without the sun blasting at its ambient light sensor, the Xiaomi falls into the 'regular' category, so to speak. Some phones let you access around 800nits manually - the iPhone, of course, but also the Find, the Galaxy, and even the Magic. Again, it hard to call out the Xiaomi for being inadequate in terms of brightness with its 500/1200 results, it's just that there are proper overachievers amongst its rivals.
Max display brightness test
White test pattern, 75% fill (nits)
Sort by
Manual mode
Auto mode
iPhone 14 Pro Max

1760

828

Oppo Find X6 Pro

1318

803

Galaxy S23 Ultra

1274

517

Xiaomi 13 Pro

1253

527

Honor Magic5 Pro

1227

761

Xiaomi 13 Ultra

1207

492

Xiaomi 12S Ultra

1065

512

Motorola Edge 40 Pro

1050

516

Xiaomi Mi 11 Ultra

943

514

vivo X90 Pro

934

517

OnePlus 11

767

487
Color accuracy
The 13 Ultra has the familiar Xiaomi color settings menu, but with a twist. The Original color mode is now PRO, and it's the default mode as opposed to the usual Vivid. The latter is also present, of course, as is Saturated mode, and three extra ones under the Advanced settings submenu.
We won't be surprised if this arrangement is limited to the Chinese software version and the global one ends up with a 'non-PRO' Original color mode and Vivid is the default - as was the case on the China-only 12S Ultra and as is the case on the international 13 Pro.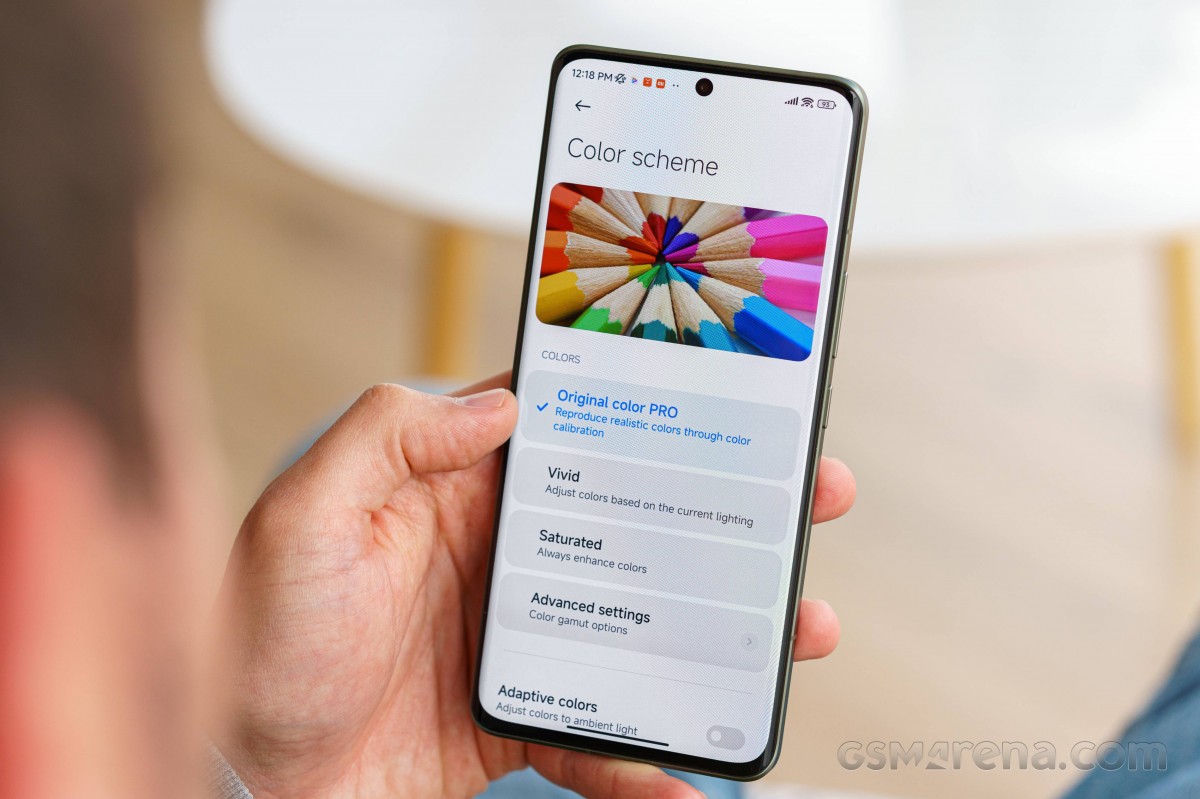 Anyway, Original color PRO mode returns okay results for sRGB test swatches (it's not a wide-gamut mode) with the usual bluish whites and grays. Switch to the Warm temperature preset, however, and you'd get an essentially perfect sRGB rendition - we measured an average dE2000 of 0.6 (!).
Vivid mode (targeting DCI-P3) was similarly off in its default state, and the Warm temp preset only partially fixed things. Setting a custom point on the color wheel high in the yellows got us to an average dE2000 of under 2.0, which is also impressive. We wish Xiaomi had calibrated that well the screen at the factor.
As we've experienced before, the named sRGB and P3 modes in the Advanced settings menu didn't get us accurate readings for the respective color swatches.
Refresh rate and resolution
Similarly to other recent Xiaomis with 1440p screens, the 13 Ultra lets you choose whether the phone should render in its native resolution or a lower 1080p, the presumption being that the lower-res setting would be less taxing on the battery and in graphics-intensive tasks. When you're in 1440p mode, there's also a toggle that allows the phone to automatically switch down to 1080p when it decides it's appropriate.
The display supports up to 120Hz refresh rate, and there are two refresh modes - Custom (choose between 120Hz or 60Hz refresh ceilings), and Default (automatic switching behavior).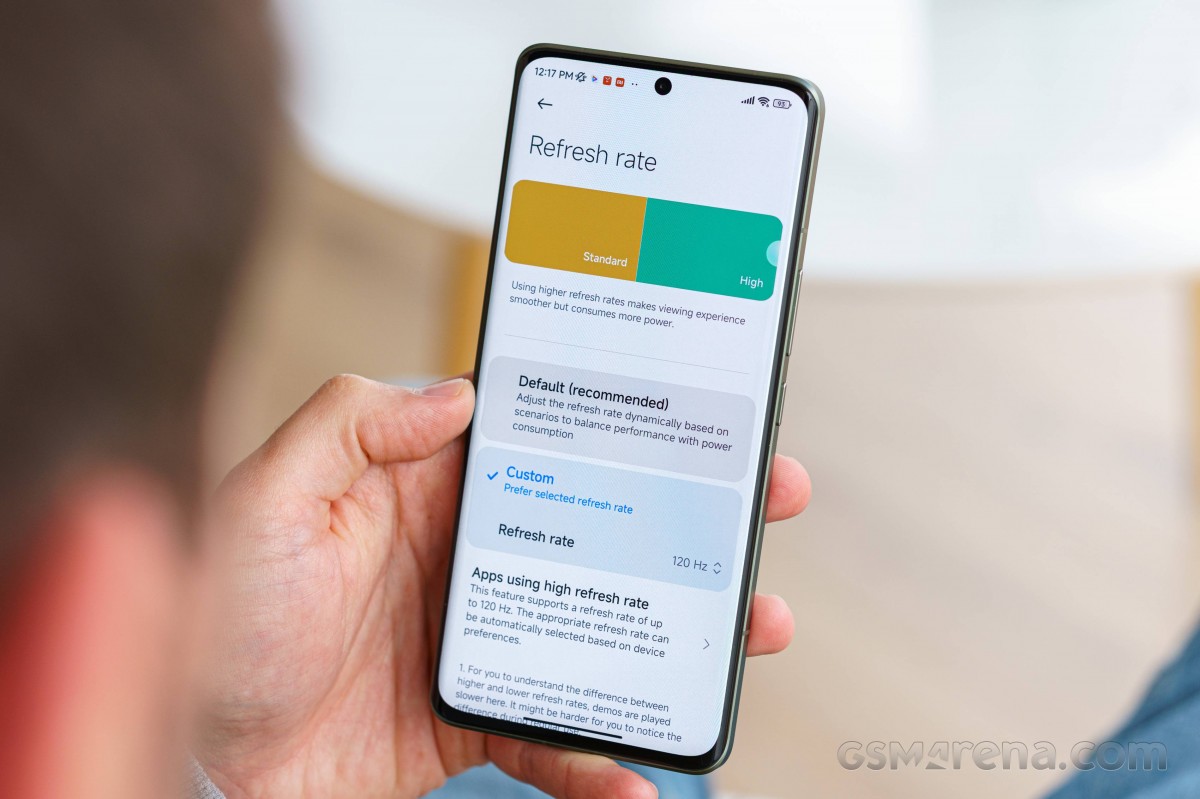 The adaptive refresh rate works as expected - it drops down to 1Hz when the screen shows static content and can be incredibly dynamic (constantly changing between 10Hz and 120Hz with no fixed steps) in games or browsers. The few scenarios where we saw it go for fixed refresh rates, besides 1Hz for static picture, were 24Hz for 24fps videos, 30Hz for 30fps clips, and 60Hz for HFR clips and apps, which are incompatible with dynamic refresh rate adjustments.
The always-on display uses 30Hz, and on a couple of occasions, we saw static content display at 10Hz - as we mentioned, the screen is indeed as dynamic as it can be these days.
There is a twist, though. The minimum refresh rate depends on the screen brightness. If the brightness is below 100nits or so, the refresh rate will be kept at maximum (60Hz or 120Hz), depending on the occasion, and the only time it will drop below these maximums is for specific video fps (24 or 30 fps).
On the positive side, the display supports high-frequency 1920Hz PWM dimming so it shouldn't bother anyone sensitive to the usual low-frequency PWM brightness control on OLED screens.
HDR and streaming
The Xiaomi 13 Ultra comes with Widevine L1 DRM support, and Full HD streaming with HDR10/10+ and Dolby Vision support is available across popular platforms. Our review unit being the Chinese version, it doesn't get HDR in Netflix, though if the global 13 Pro is any indication, the global 13 Ultra should have it eventually.
Xiaomi 13 Ultra battery life
The 13 Ultra has a 5,000mAh power pack inside, as do most of its competitors. It's sort of an upgrade over the 12S Ultra's 4,860mAh number, which in turn was sort of a downgrade from the 11 Ultra's 5,000mAh capacity.
The phone returned respectable numbers in all of our tests and showed improvement across the board over the previous generation.
The 15:29h web-browsing result is a bit below the average for the class, while the 19:13h we got while looping videos is on par with the Find X6 Pro, and better than the vivo X90 Pro, if not quite as good as the Galaxy.
The voice call longevity was a few hours shorter than the Galaxy's, but better than most, at 36:31h.
All in all, the Xiaomi 13 Ultra earned an Endurance rating of 108h.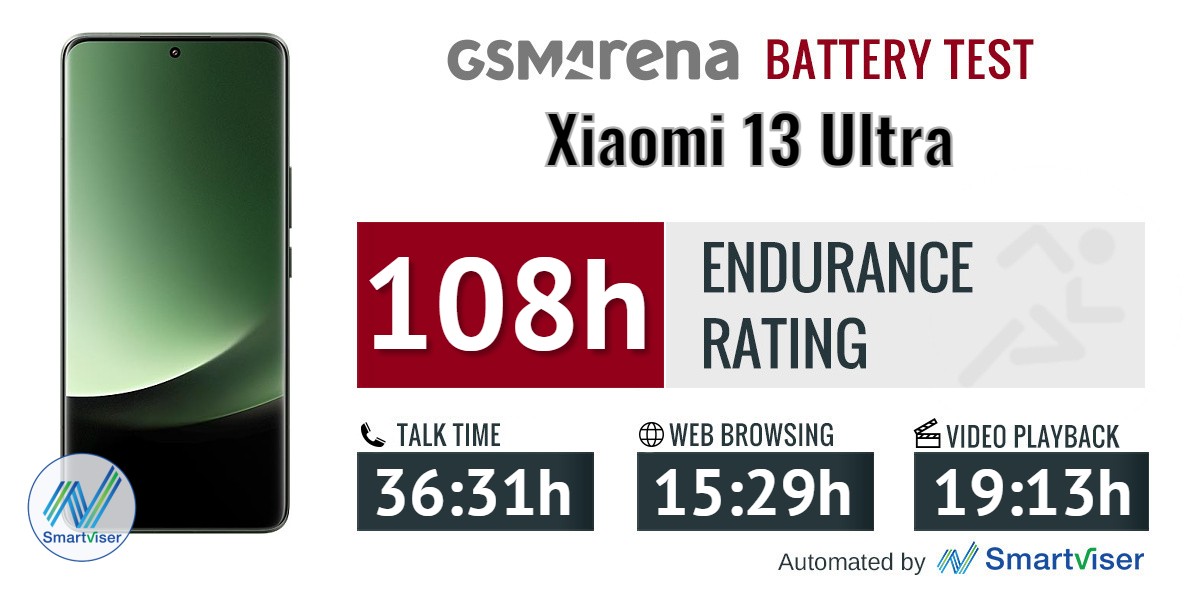 Our battery tests were automated thanks to SmartViser, using its viSerDevice app. The endurance rating denotes how long the battery charge will last you if you use the device for an hour of telephony, web browsing, and video playback daily. More details can be found here.
Video test carried out in 60Hz refresh rate mode whenever possible. Web browsing is carried out at the display's highest refresh rate whenever possible. Refer to the respective reviews for specifics. To adjust the endurance rating formula to match your own usage - check out our all-time battery test results chart.
Charging speed
The 13 Ultra supports USB PowerDelivery 3.0 and Qualcomm QuickCharge 4.0 and is rated for charging at up to 90W. That's also what it says on the included charger. In our testing, the power meter maxed out at around 77W, and we'd say that's close enough.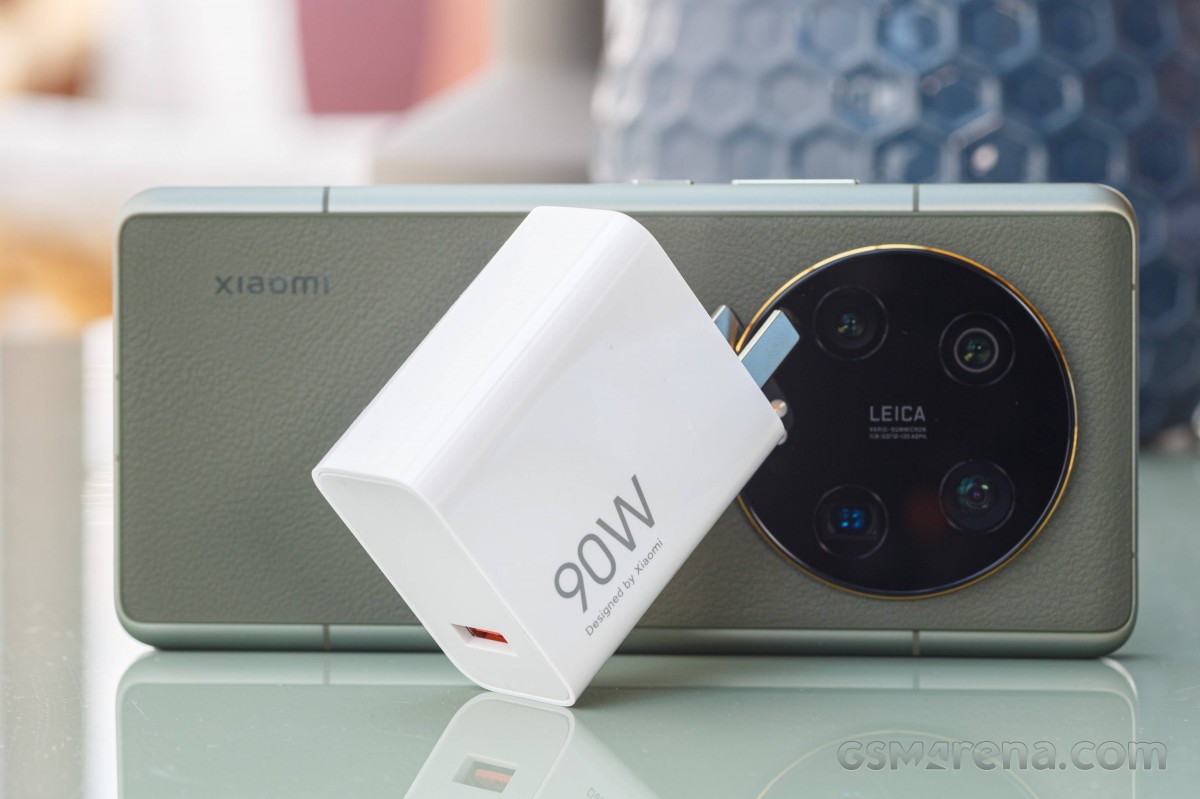 Xiaomi says the 13 Ultra should charge from flat to full in 35 minutes, while we measured that to take 40 minutes - perhaps their number is achieved when the phone is turned off, while we test with the device switched on. We were looking at 91% at the half-hour mark.
In any case, the results are what you could call average when it comes to fast charging in the high-end class. Big-name Chinese competitors are quicker, as is Xiaomi's own 13 Pro, while Galaxies and iPhones are slower - nothing new, really.
15min/30min charging test (from 0%)
Higher is better
Sort by
15 min time
30 min time
Motorola Edge 40 Pro

100%

83%

iQOO 11

100%

83%

Xiaomi 13 Pro

100%

81%

vivo X90 Pro

100%

79%

OnePlus 11

100%

77%

Oppo Find X6 Pro

100%

64%

Xiaomi 13 Ultra

91%

58%

Honor Magic5 Pro

75%

45%

Xiaomi 12S Ultra

73%

51%

Galaxy S23 Ultra (45W)

68%

40%

iPhone 14 Pro Max

48%

27%
* Tap/hover over the device names for more info
Time to full charge (from 0%)
Lower is better
| | |
| --- | --- |
| Xiaomi 13 Pro | 0:22h |
| OnePlus 11 | 0:22h |
| iQOO 11 | 0:22h |
| Motorola Edge 40 Pro | 0:23h |
| vivo X90 Pro | 0:24h |
| Oppo Find X6 Pro | 0:30h |
| Xiaomi 13 Ultra | 0:40h |
| Honor Magic5 Pro | 0:48h |
| Xiaomi 12S Ultra | 0:50h |
| Galaxy S23 Ultra (45W) | 0:59h |
| iPhone 14 Pro Max | 1:52h |
* Tap/hover over the device names for more info
The 13 Ultra supports wireless charging, both in and out, but there's no listing for it on WPC's site (not that those are overly informative). Xiaomi says the phone can be charged wirelessly at up to 50W and should reach 100% in 49 minutes, but we haven't been able to test that.
In the other direction, the phone is specced to be able to output up to 10W so you could easily recharge a wearable or TWS headphone case if they support standard Qi wireless charging.
Speakers
The Xiaomi 13 Ultra has a stereo speaker setup with one driver firing out the bottom, and another one at the top directing sound both forward through the earpiece and out through a grille on the top plate. There's no Harman/Kardon branding like there was on Ultras past, but there's still Dolby Atmos support.
The top speaker gets the left channel in vertical orientation, and channels are switched to match the landscape orientation. The two speakers each output their respective channel, but also an attenuated version of the opposite channel - you get the stereo separation alright and a guarantee you won't be missing anything in case you completely block one speaker with your hands.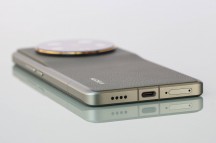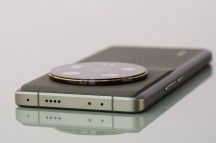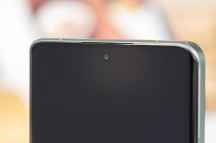 Bottom speaker • Top speaker • Earpiece
In our testing, the 13 Ultra earned a 'Very Good' rating for loudness, essentially on par with all the high-end competition. It sounds a whole lot like the 12S Ultra, and that's no bad thing - we're getting balanced output with solid low-end thump, pleasing vocals and well-defined treble. It's one of the best speaker experiences you can get.
Mind you, that's in the default state, with Dolby Atmos turned on. Switching it off results in a noticeably toned down low-frequency response.
Use the Playback controls to listen to the phone sample recordings (best use headphones). We measure the average loudness of the speakers in LUFS. A lower absolute value means a louder sound. A look at the frequency response chart will tell you how far off the ideal "0db" flat line is the reproduction of the bass, treble, and mid frequencies. You can add more phones to compare how they differ. The scores and ratings are not comparable with our older loudspeaker test. Learn more about how we test here.
Anonymous
30 Nov 2023
Nsy
WTF is this sorcery?
ToughAura04
08 Nov 2023
3Y7
The noise reduction in microphone during video recordings is too strong. It's almost like you can only hear the voice of the one taking the video. I wished there is an option to adjust the strength.
BlackDigger
17 Oct 2023
pSX
When I'm reading conclusion concerning 50MP photos... I will say these last are extremly good compared to Huawei Mate 50 Pro that doing very ugly photos... DXOMark put Mate 50 Pro as pratically first place... It's really paid tests... M...