Xiaomi Mi 10 Ultra review
GSMArena team, 04 September 2020.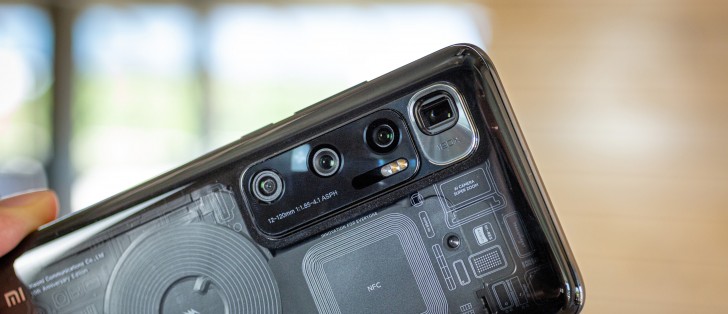 The display has everything
The 6.67" OLED screen is a real showstopper, and the Ultra has every right to brag with its TCL panel. It is with the same size, curves, and extended 1080p resolution as on the Mi 10 and Mi 10 Pro, but the similarities end here.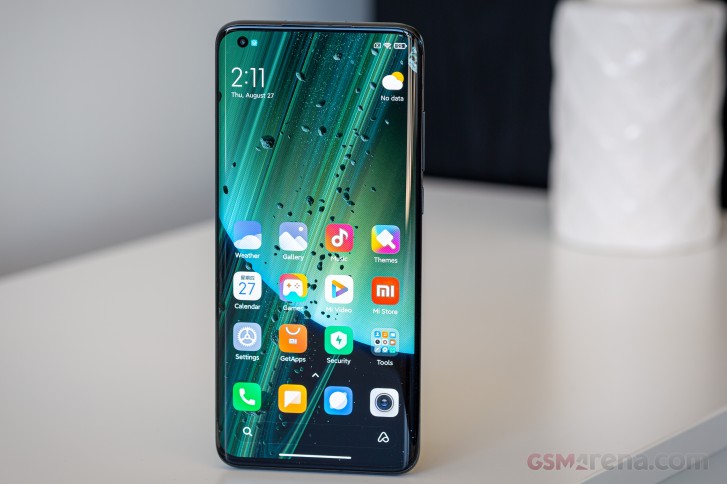 The Ultra's display supports 120Hz refresh rate, meaning it can show up to 120 frames per second. Everything looks super smooth, indeed. The 120Hz option works dynamically - it is always showing 120fps throughout the UI and all system apps, but it reverts to 60Hz when the picture is static. You can't see this switch unless you use an FPS counter, and that's good - the phone saves battery whenever possible and but you can't tell it.
The touch sensors are working with a super-sensitive 240Hz sampling rate, which should be appreciated by gamers mostly. The screen responsiveness is among the best you can get today.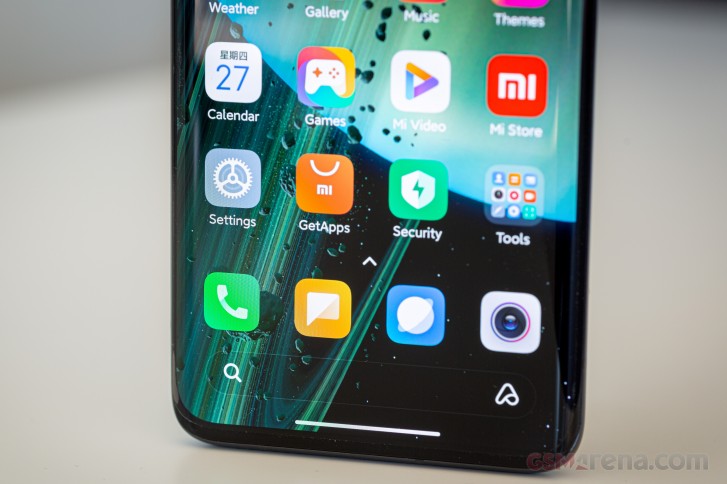 There is support for HDR10 and HDR10+ so that you can enjoy HDR content from streaming and the likes. The phone supports Widevine L1 DRM - meaning will serve the highest streaming quality.
Another cool thing about the Mi 10 Ultra is the native support for 10bit color, meaning the screen can show 1.07 billion colors vs. 16 million on most other phones.
Finally, the Mi 10 Ultra display should be much brighter than the rest of the series. It promises 800 nits of brightness and 1120nits of peak brightness when watching HDR content.
We can attest the 800nits brightness, 811 nits to be exact - when the screen is set to Auto Brightness or when you turn the Sunlight Boost when in Manual Brightness Mode. The maximum brightness at the end of the brightness slider is 500 nits.
The promised peak brightness of 1120 nits is just that - peak brightness - with just a small part of the screen occupied by content - likely when you are playing back HDR video.
We can tell you the minimum brightness though - mere 1.2nits - a thoroughly impressive one.
Display test
100% brightness
Black,cd/m2
White,cd/m2
Contrast ratio
Xiaomi Mi 10 Ultra
0
498
∞
Xiaomi Mi 10 Ultra (Max Auto)
0
811
∞
Xiaomi Mi 10 Pro
0
510
∞
Xiaomi Mi 10 Pro (Max Auto)
0
858
∞
Xiaomi Mi 10 5G
0
522
∞
Xiaomi Mi 10 5G (Max Auto)
0
854
∞
Xiaomi Mi 10 Lite 5G
0
442
∞
Xiaomi Mi 10 Lite 5G (Max Auto)
0
610
∞
Huawei P40 Pro
0
425
∞
Huawei P40 Pro (Max Auto)
0
531
∞
Huawei P40 Pro+
0
455
∞
Huawei P40 Pro+ (Max Auto)
0
760
∞
Samsung Galaxy Note20 Ultra 5G
0
504
∞
Samsung Galaxy Note20 Ultra 5G (Max Auto)
0
1024
∞
Samsung Galaxy S20 Ultra 5G
0
398
∞
Samsung Galaxy S20 Ultra 5G (Max Auto)
0
894
∞
Apple iPhone 11 Pro Max
0
820
∞
Sony Xperia 1 II
0
333
∞
Sony Xperia 1 II (Max Auto)
0
538
∞
OnePlus 8 Pro
0
538
∞
OnePlus 8 Pro (Max Auto)
0
888
∞
Realme X50 Pro 5G
0
525
∞
Realme X50 Pro 5G (Max Auto)
0
635
∞
Xiaomi offers three different Color presets - Auto, Original, Saturated - each one representing a specific color space.
The Auto option fully covers the DCI-P3 color space, but it also adjusts the colors to correspond to your current lighting (like Apple's True Tone). In normal daylight conditions in our office, we measured an average deltaE of 3.9. It can get a bit more or less absolutely accurate depending on the type of ambient light.
The Original setting corresponds to sRGB, and we also recorded an average deltaE of 1.2 for the color accuracy, meaning it is an excellent one.
Finally, the Saturated makes the colors pop, and they are no longer as accurate to DCI-P3.
There are also Advanced Settings, where you can specifically choose between DCI-P3, sRGB, Original (Auto Detects color gamut), or Enhanced. The last one shows everything in the widest possible color gamut.
Battery life and fast charging speeds
The Xiaomi Mi 10 Ultra is powered by a graphene-enhanced Li-Ion battery with a capacity of 4,500 mAh. The battery is split into two cells of 2,250 mAh connected in series, which is essential for the fast wired and wireless charging technologies the Ultra employs. More on that in a bit.
First, let's talk about battery endurance. The Ultra posted a good score of 85 hours in our suite of tests - it did a marvelous job when it comes to on-screen tests but was uninspiring when it comes to calls and standby performance.
Note: All screen-on tests were carried in 60Hz refresh rate since there is no way of forcing 120Hz and the phone dials down the refresh rate to 60Hz during fullscreen video playback and when there is no touch input for the web browser.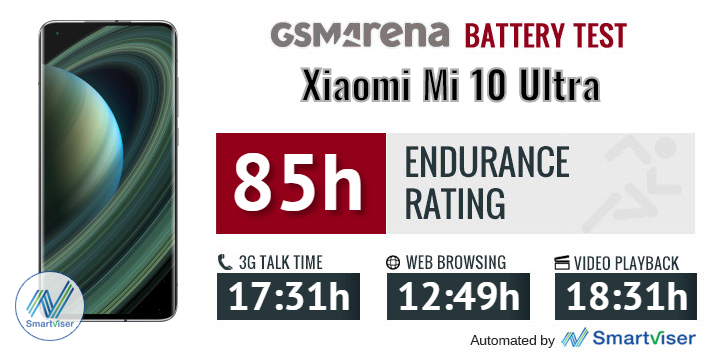 Our battery tests were automated thanks to SmartViser, using its viSerDevice app. The endurance rating above denotes how long a single battery charge will last you if you use the Xiaomi Mi 10 Ultra for an hour each of telephony, web browsing, and video playback daily. We've established this usage pattern so that our battery results are comparable across devices in the most common day-to-day tasks. The battery testing procedure is described in detail in case you're interested in the nitty-gritty. You can check out our complete battery test table, where you can see how all of the smartphones we've tested will compare under your own typical use.
And now, back to the battery charging. The Mi 10 Ultra is the first phone to support the whooping 120W fast wired charging. It comes bundled with a 120W brick and a proper 6A-certified USB cable. Xiaomi promises this combo will recharge 41% in 5 mins and 100% in just 23 mins.
Well, that's the first thing we put to the test. The charger indeed replenishes 40% in just 5 mins, while it took 26 mins for a full charge. Very impressive!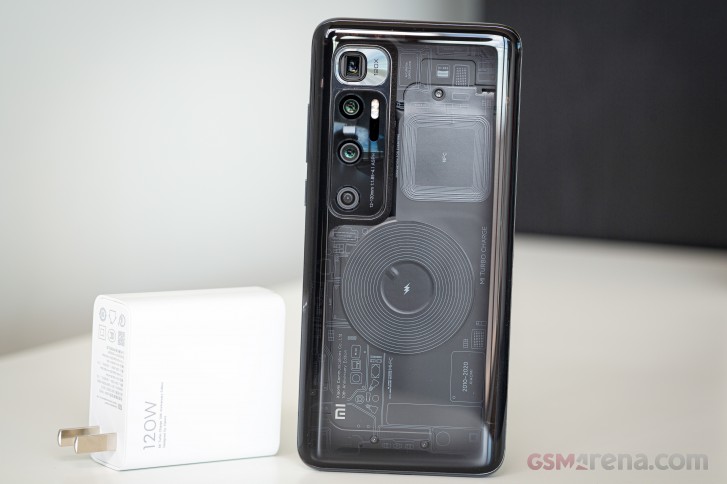 This is 3 minutes longer than what Xiaomi promised, but we guess ambient temperature may have something to do with that as well. See, the Mi 10 Ultra gets very hot while charging. It is one of the hottest phones (while charging) we've handled in a while, and our room temperature wasn't exactly ideal - about 25C. Maybe if it were in a cooler room, it would have reached 100% even faster. Not that 26mins is not blazing fast for such a large battery!
The Mi 10 Ultra also supports 50W fast wireless charging. If you want to enjoy it, you need to purchase the new 55W Xiaomi wireless charger. The Wireless charger comes without a power adapter but you can use the 120W that comes with the phone.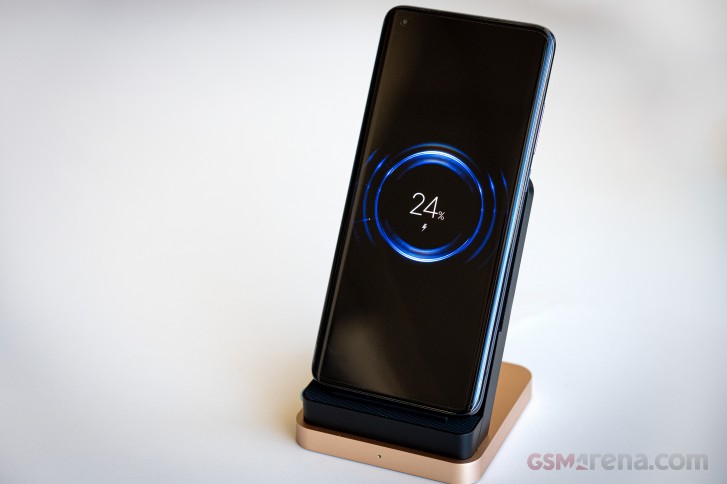 Xiaomi promises the Mi 10 Ultra fully will recharge in full in 40 minutes on the wireless charger. That's half the time the P40 Pro+ recharges its 4,200 mAh battery with the 40W SuperCharge Wireless Charging Stand.
We put that to the test as well. It takes exactly 41 minutes for the Ultra to go from 1% to 100%!
There is a catch though. If the battery is completely dead, it will take an extra 6 minutes for the phone to wake up, and it is only then that the Mi 10 Ultra actually starts charging fast on this wireless charger. Until the Ultra boots MIUI 12, it is slowly charging at 5W.
Stereo speakers
The Xiaomi Mi 10 Ultra has a hybrid stereo speaker setup - the earpiece acts as one, and another one at the bottom of the phone.
The Xiaomi Mi 10 Ultra offers Very Good loudness. The earpiece provides mostly mid-tones and is a bit quieter when compared to the bottom speaker. But the two pieces are tuned just right and work great together, providing a good balance.
Use the Playback controls to listen to the phone sample recordings (best use headphones). We measure the average loudness of the speakers in LUFS. A lower absolute value means a louder sound. A look at the frequency response chart will tell you how far off the ideal "0db" flat line is the reproduction of the bass, treble, and mid frequencies. You can add more phones to compare how they differ. The scores and ratings are not comparable with our older loudspeaker test. Learn more about how we test here.
Anonymous
29 May 2023
pf7
I wont change my 9T until they make a something similaire or smaller would be even better