Xiaomi Mi 10 Ultra in for review
Peter, 28 August 2020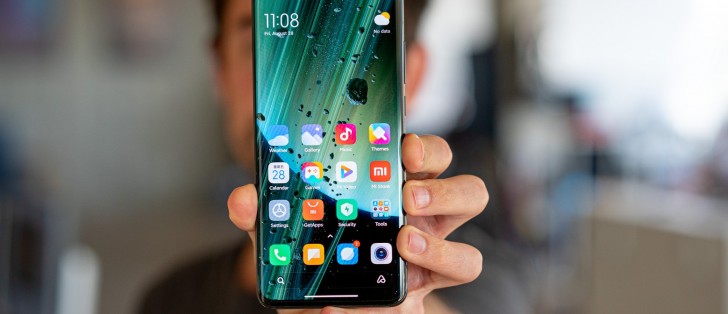 This is how tech companies flex in front of their peers – the Xiaomi Mi 10 Ultra is outstanding in several categories, it feels designed to impress. Unfortunately, this commemorative edition phone (which celebrates Xiaomi turning 10 years old) will not be available outside of China, meaning that for most of the world it's something to gawk at but never touch.
We did receive a review unit, so (if you don't mind) we'll now tell you what you're missing out on. We'll start with the charging as this is the first 100+ Watt phone that we've handled – indeed, it is the first on the market (beating the iQOO 5 Pro by a week).
The power brick is imposing. It's about the size of a laptop power adapter and it delivers the impressive 120W. A full charge will take only 23 minutes, the 0-41% time is a mere 5 minute sprint. So says Xiaomi, anyway, and we're eager to test those claims.
Since this is a special edition phone, Xiaomi loaded up the retail box with goodies. This includes a tiny but mighty 100W car charger, so you can have instant top ups on the go, not just at home. There's also a wireless charger you might, say, bring to the office – it's faster than most wired chargers we've handled, outputting a whopping 55W. But we can spend the whole day talking about charging.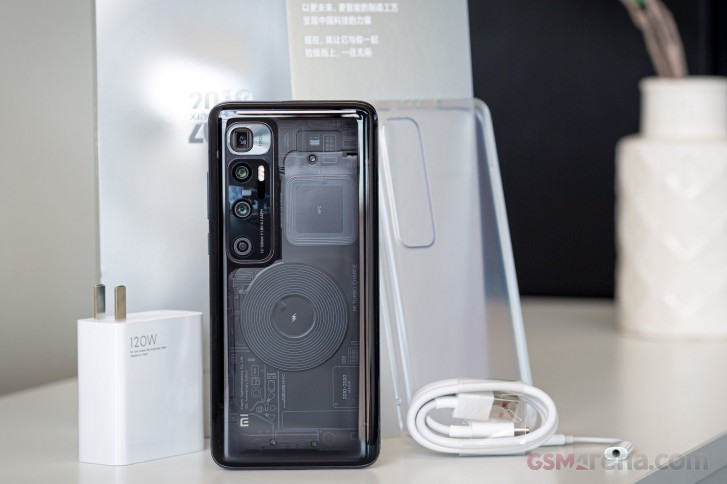 Let's look tat the phone itself. The transparent back instantly draws attention. And this time it's an actual glass window into the phone's internals, not just a creative sticker like on the Mi 9 Explorer. And while it looks cool, you might be convinced to cover it up with the carbon fiber case, which feels quite premium (it came in a separate box, there's also a transparent case so you can still see what's inside).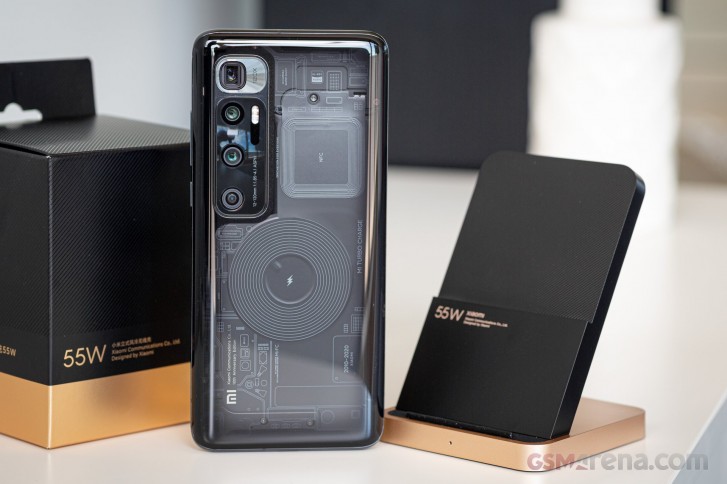 But the real reason we moved off charging so quickly is to talk about the cameras. The rear cams may be the best smartphone cameras money can buy – or (as established) can't buy, unless you're in China.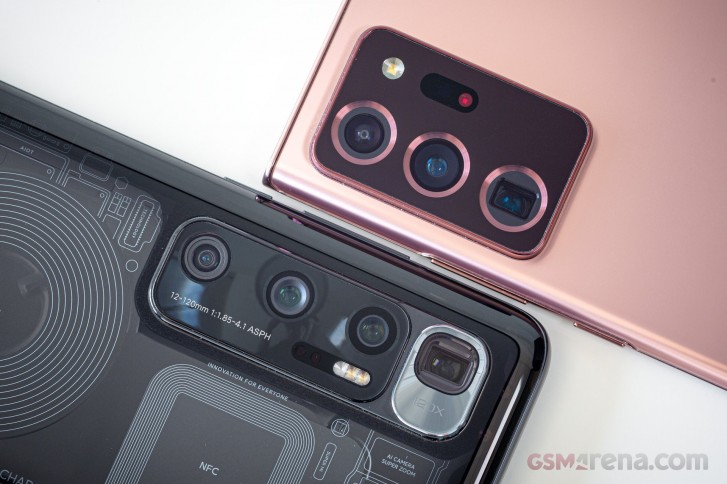 The main cam takes a balanced approach. It has a large 1/1.32" sensor, one of the largest put in a phone ever – the 48 million pixels measure 1.2µm each, much larger than the 0.8µm on most high-res smartphones these days though not as large as Galaxy S20's 1.8µm pixels. However, the extra resolution enables pixel binning and single shot HDR, which boost image quality in both day and night scenes. The S20 needs to take multiple shots to construct an HDR image.
The 48MP sensor in the telephoto camera has the same size as that in the Galaxy S20 Ultra, though the periscope lens offers a bit more magnification – 5x instead of 4x. This is at the cost of a darker aperture, however, f/4.1 vs. f/3.5. Xiaomi brags about the 120x digital zoom enabled by the long lens and high-res sensor, but it feels more like a marketing gimmick to have three 120 numbers - charge, zoom, refresh rate. We'll still give it a shot if you'd excuse the pun.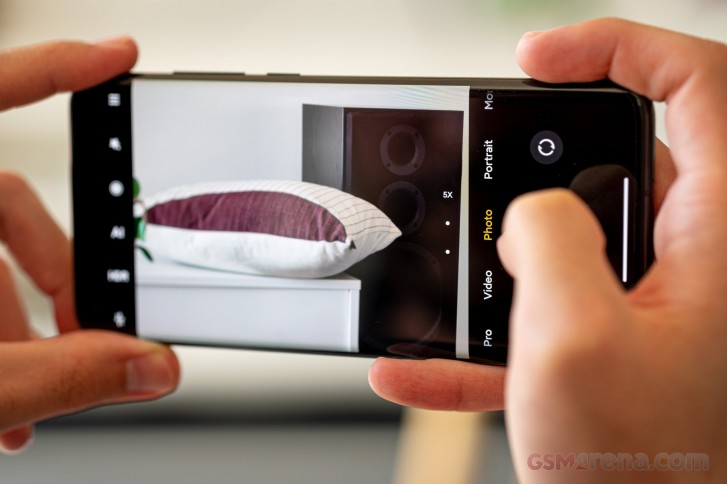 One thing that no other phone on the planet can do is that this tele cam can record 8K video. Even though few people have 8K TVs around, the ability to zoom in and pan into a shot while still outputting high quality 4K footage is unrivaled. Okay, not everyone does video editing, but this phone isn't just for everyone. Both the tele and wide cameras can record HDR10 videos and offer a cinematic 2.35:1 aspect ratio, aka CinemaScope.
There's also a 50mm portrait cam on board with Dual Pixel autofocus. This type of sensor usually produces buttery-smooth bokeh, so we're keen to take it for a spin. The ultra wide-angle (128°) has a wider FoV than most, but Xiaomi designed a special 7P lens to minimize the distortion typical of wider lenses.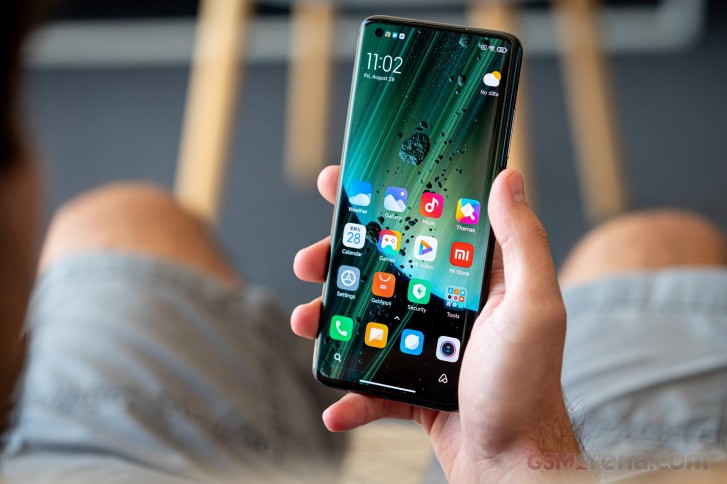 The 6.67" AMOLED screen has resolution is 1080p rather than 1440p, however it is very bright so it pops even under the bleaching sun. HDR10+ support means you can enjoy your photos and videos with full fidelity.
The 120Hz refresh rate and 240Hz touch sampling rate are just short of the best gaming phones right now. Not that this is advertised as a gaming phone. Also, the Snapdragon 865 chipset is not the plus version, so you lose some single-threaded CPU and GPU performance compared to H2 2020 flagships. Xiaomi does promise great sustained performance with layers of graphite and graphene, plus a vapor chamber.
If you couldn't tell, there's a lot to talk about – the Xiaomi Mi 10 Ultra review will be a long one. We're already at it, so expect our findings on the charging, camera and performance soon.
Related
I hope Xiaomi adds bands 20+28, so it becomes useful in Europe...
It's 2020. Move on boomer
Popular articles
Popular devices