Xiaomi Mi 10T Pro 5G review
GSMArena team, 09 October 2020.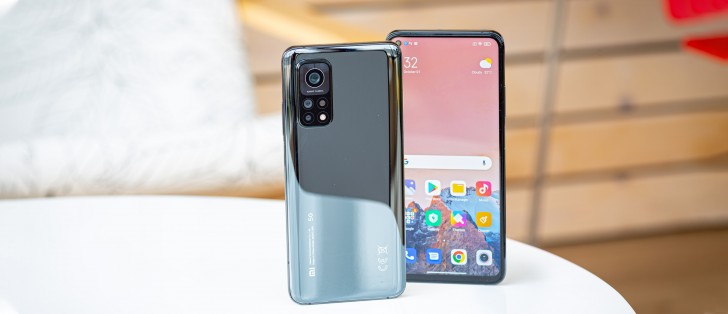 MIUI 12 based on Android 10
Arguably the best part of having a Xiaomi phone is the MIUI. And we are not talking about the user experience as this is strongly subjective. We are talking about updates. Even the low-end and mid-range phones receive more than two major MIUI updates after its launch and most often than not, the next MIUI version is packed with most of the features that the latest Android version has. Case in point, MIUI 12 already offers a couple of features intrinsic to the Android 11 such as one time app permissions. Even though most Xiaomi phones are running MIUI 12 based on Android 10.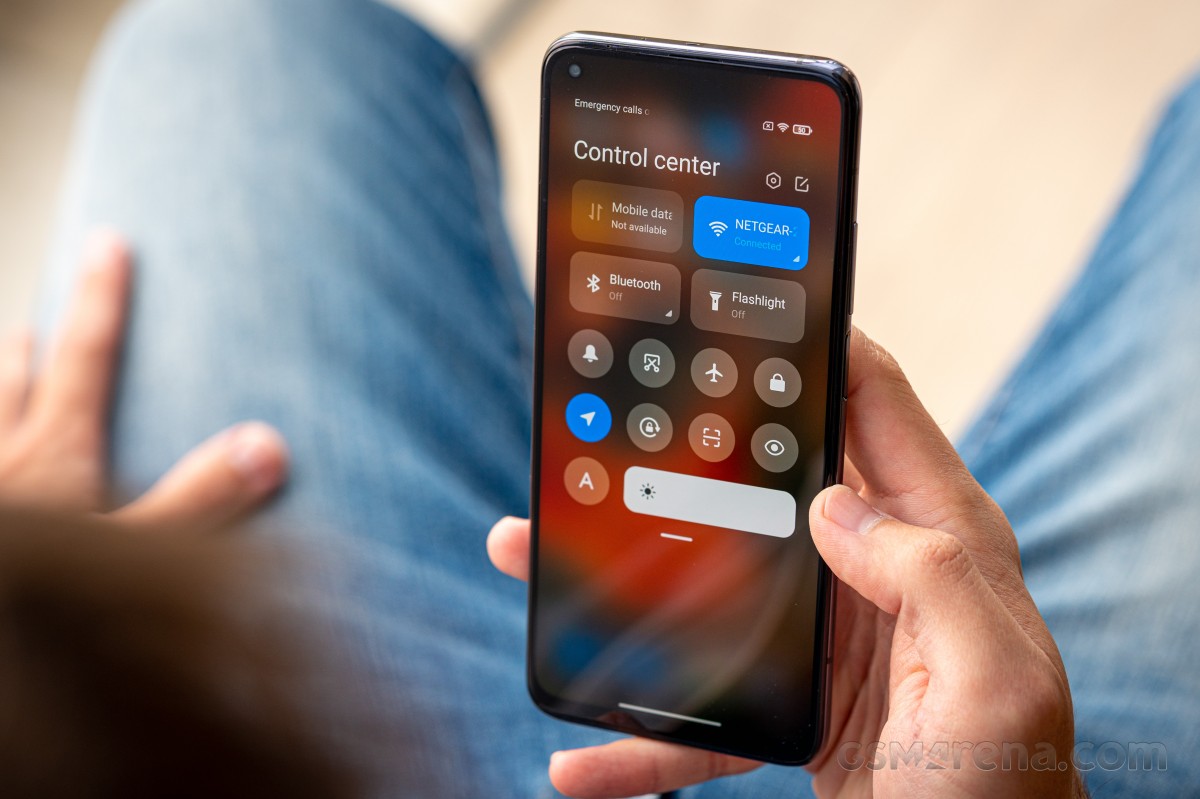 But enough about that as we have a lot to cover with the new version of MIUI. The first thing to notice here is the revamped notification shade or should we say, the separation of the notification shade from the quick toggles. Swiping down from the upper-left part of the notification shade will open up all the notifications while swiping from the right opens up the so-called Control Center. This functionality is straight up from iOS and we find it pretty cool. We also see this being implemented by more than one OEM. The best part is that you don't have to reach for the top bezel, the swiping action can be performed from the center anywhere on the display as long as you are on the home screen.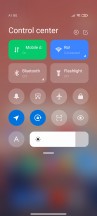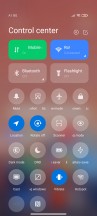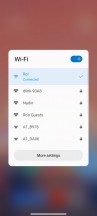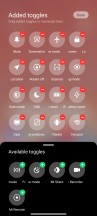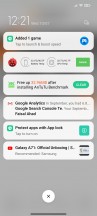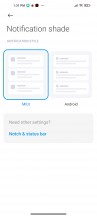 Control center and notification shade
We would be lying if we said it's not confusing when you start using the new Command Center but we can definitely see how this is considerably more convenient. Additionally, the notification cards can be customized to appear in a typical Android fashion or adopt the MIUI looks. The Command Center, on the other hand, is rather limited in terms of customizations. Most of the quick toggles can be re-arranged, added or removed but there are four, highlighted toggles that can't be re-arranged or customized. That's the mobile data, Wi-Fi, Bluetooth and flashlight. You can't swap the flashlight for the airplane mode, for example. The Wi-Fi and Bluetooth have small triangle icons in the lower-right corner of the switch and when you tap on it, the system opens up a new dialogue where you can manage your Bluetooth or Wi-Fi connections on the fly. We find this to be really neat and useful. In any case, if you find this to be too complicated, MIUI 12 still gives you the option of using the good old notification shade.
Another noticeable difference are the transition animations, which aren't excessive or slow - quite the opposite. They give the impression of the system working super fast and smooth. The 144Hz refresh rate really does help with that too.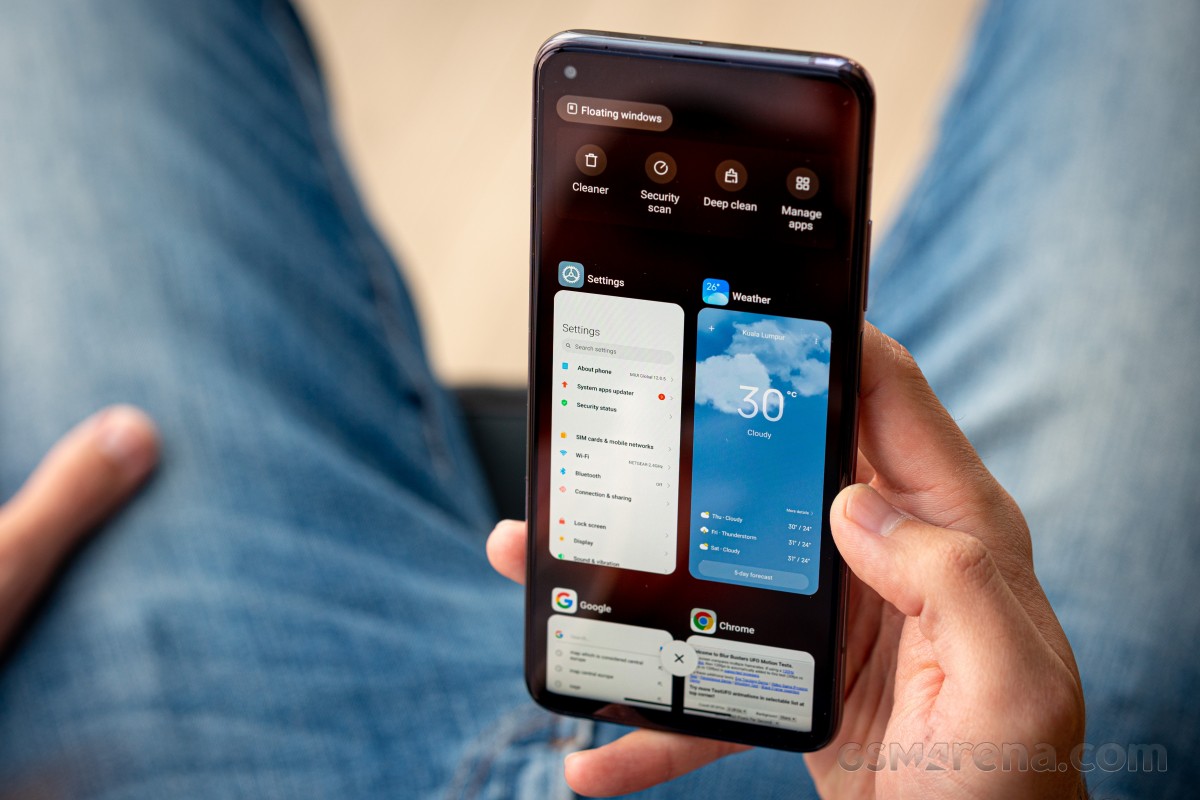 That's not necessarily new but we believe starting with MIUI 12, Xiaomi wants to bring the option of choosing between a simplified home screen and one with an app drawer. While not all MIUI 11-powered smartphones have the app drawer, it will probably come baked in to all MIUI 12 devices. It's hidden within the Home screen settings. And the app drawer itself is a bit different. You have the search bar at the bottom of the display so you can easily reach it and there are app categories, which can be customized, removed or added. Customization of the app drawer's background is also an option along with the scroll bar, which can be default or A-Z type of scroll bar.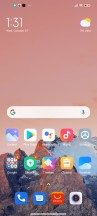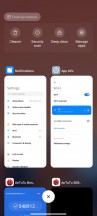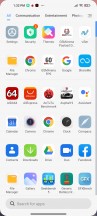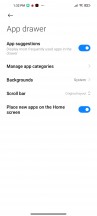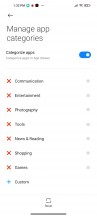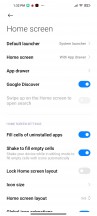 Home screen, recent apps, app drawer
Since the display is LCD, the Always-on display feature isn't available and even though you won't benefit from the dark system theme, you might like the black aesthetics of it more and also ease some of the strain on your eyes when using the phone at night.
While we are still on the display settings, the available refresh rate options are 60, 90 and 144Hz, with the latter consuming the most energy. There's also a pretty useful toggle called Sunlight mode in the Brightness level sub-menu, which can boost the display's brightness even if the brightness control has been set to manual. A strong light source or very bright environment is required to trigger the feature.
A few words about the haptic feedback - it's nothing short of amazing. The haptic engine inside is very precise and strong if it needs to be. There's a slider in the Sound and vibration settings menu that gives you granular control over how strong you want it to be. Subtle and pleasant vibrations give you tactile feedback when you perform a gesture or interact with certain UI elements in the system. So kudos to Xiaomi for not cheaping out with an inferior vibration motor on this rather affordable flagship.
Setting up the fingerprint reader is simple and fast while the fingerprint reader itself is really accurate and snappy. You can even set it up to unlock the phone with a touch or a press of the button. Going for the last option is advisable because we often find ourselves with accidentally locked smartphones from all the accidental touches of the side fingerprint when handling the device. It's a bit annoying and that's the biggest downside of the side-mounted fingerprint scanners.
The battery settings menu has been enhanced with a couple of new features. For instance, the Ultra battery saver mode will restrict pretty much everything on the phone, including the energy-sipping 5G connectivity. Only the cellular and network connections won't be affected. The phone enters into a simplified mode that allows you to use only a couple of apps of your choice. Animations are disabled and almost all of the phone's features too.
More granular control over apps is also a thing on MIUI 12. Each app can be set to always run in the background, let the system decide which processes are important and keep them on, restrict some of the background activity (push notifications may be affected) or kill the app completely as soon as you close it. Might be useful for rogue apps, which you still need on the system.
The only new feature under the Additional settings tab is the "Clear speaker" option, which plays a sound at maximum level for 30 seconds. You can use this if you find the speaker jammed with dust or water, Xiaomi says you should run this multiple times if needed.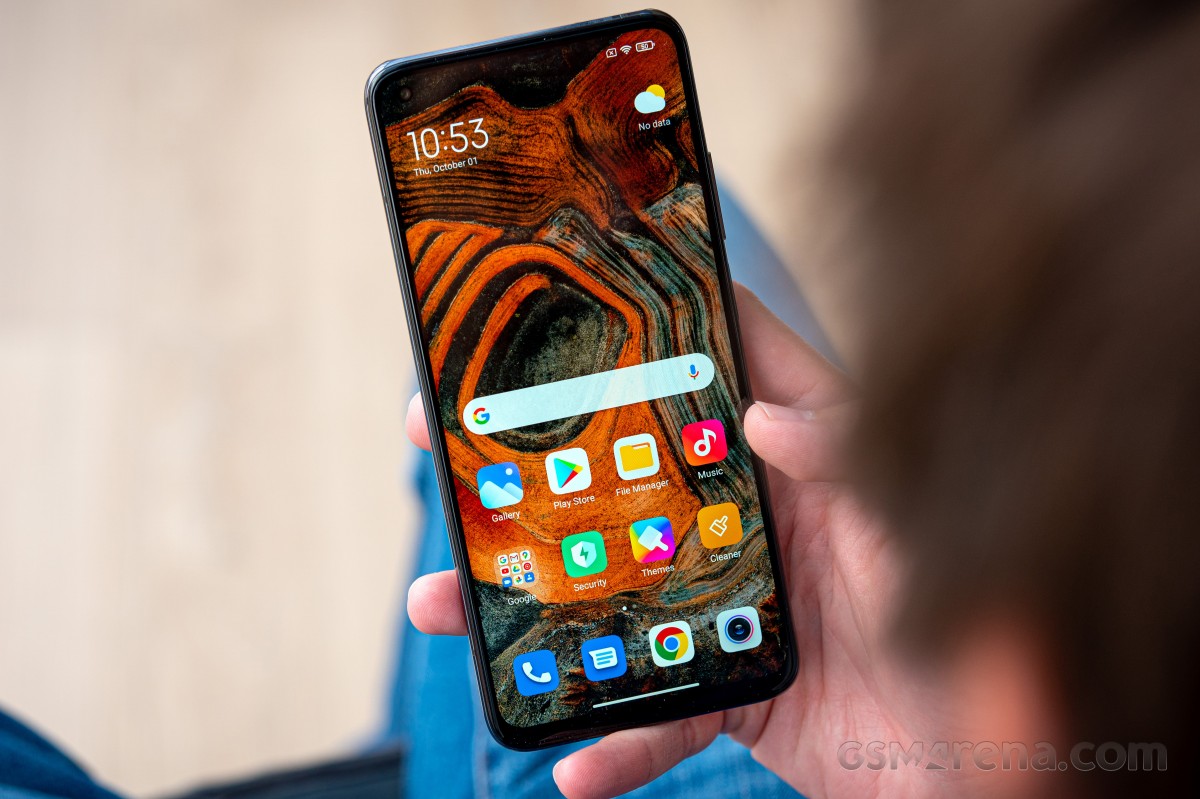 Forgive us if we missed some features you would like to read about. MIUI 12 is packed with obscure and not so obscure features so it's really hard to cover them all in one page. But the whole user experience is nothing short of fluid, versatile and somehow mature too. MIUI 12 is Xiaomi's best MIUI iteration yet and it's really clean, snappy and good-looking. The 144Hz refresh rate and the excellent haptic feedback are just some small details that add to overall user experience.
Performance
It may not be the Plus variant but if that allowed Xiaomi to cut some costs, we are definitely on board with that decision. After all, the difference between the Snapdragon 865 and 865+ aren't big and the former is still a relevant chipset in late 2020. It packs an octa-core CPU (1x2.84 GHz Kryo 585 & 3x2.42 GHz Kryo 585 & 4x1.80 GHz Kryo 585) and an Adreno 650 GPU taking care of the graphically-intensive tasks. The chipset is built on the 7nm+ EUV technology allowing for a low power consumption.
And unlike its predecessor, the Mi 10T Pro's base variant offers 8GB of RAM and 128GB of storage while the beefier version bumps up the storage to 256GB. And while the storage is doubled, it's also a lot faster than before now employing the latest UFS 3.1 standard. Unfortunately, there's no microSD card slot.
As far as actual performance is concerned, it's nothing short of excellent rivaling phones that are a lot more expensive with the same or similar chipsets. The benchmarks are here to attest.
GeekBench 5.1 (multi-core)
Higher is better
OnePlus 8
3399
Xiaomi Poco F2 Pro
3332
Xiaomi Mi 10 5G
3322
Xiaomi Mi 10T Pro
3311
Samsung Galaxy S20 FE
3296
Realme X50 Pro
3175
Redmi K20 Pro/Mi 9T Pro
2732
Galaxy S20+ (120Hz, 1080p)
2703
GeekBench 5.1 (single-core)
Higher is better
OnePlus 8
919
Xiaomi Poco F2 Pro
916
Realme X50 Pro
911
Samsung Galaxy S20 FE
906
Xiaomi Mi 10T Pro
901
Xiaomi Mi 10 5G
895
Galaxy S20+ (120Hz, 1080p)
886
Redmi K20 Pro/Mi 9T Pro
744
AnTuTu 8
Higher is better
Realme X50 Pro
592447
Xiaomi Mi 10 5G
578056
OnePlus 8
564708
Xiaomi Mi 10T Pro
563961
Samsung Galaxy S20 FE
543986
Xiaomi Poco F2 Pro
538221
Galaxy S20+ (120Hz, 1080p)
500114
Redmi K20 Pro/Mi 9T Pro
437823
GFX 3.1 Car scene (1080p offscreen)
Higher is better
Samsung Galaxy S20 FE
52
OnePlus 8
52
Xiaomi Mi 10T Pro
51
Xiaomi Poco F2 Pro
51
Realme X50 Pro
51
Galaxy S20+ (120Hz, 1080p)
50
Xiaomi Mi 10 5G
50
Redmi K20 Pro/Mi 9T Pro
42
GFX 3.1 Car scene (onscreen)
Higher is better
Xiaomi Mi 10T Pro
46
OnePlus 8
46
Samsung Galaxy S20 FE
45
Realme X50 Pro
45
Galaxy S20+ (120Hz, 1080p)
42
Xiaomi Mi 10 5G
42
Xiaomi Poco F2 Pro
40
Redmi K20 Pro/Mi 9T Pro
36
Aztek Vulkan High (onscreen)
Higher is better
Samsung Galaxy S20 FE
30
OnePlus 8
30
Realme X50 Pro
30
Xiaomi Mi 10T Pro
29
Xiaomi Mi 10 5G
29
Xiaomi Poco F2 Pro
28
Galaxy S20+ (120Hz, 1080p)
26
3DMark SSE Vulkan 1440p
Higher is better
OnePlus 8
6720
Xiaomi Poco F2 Pro
6660
Samsung Galaxy S20 FE
6605
Xiaomi Mi 10 5G
6490
Realme X50 Pro
6472
Xiaomi Mi 10T Pro
6412
Galaxy S20+ (120Hz, 1080p)
6354
Redmi K20 Pro/Mi 9T Pro
5000
You can download True Phone Dialer and manage yourself what buttons you want,I left only speaker and dialpad. Even you can set where to place them. I know it was frustrating evreytime the mute button is touched. I had you same idea no Xiaomi...
Jesus Christ
21 Jan 2022
pTf
It's not Xiaomi's fault,open google phone app and go to settings in the app in the first row touch caller id and open it then disable that
Cameras are great. Check the cinematic videos on YouTube from various content creators. The 8K clips that are downsampled to 4k are extremely detailed. I don't know why the sample photos here are soft; especially the studio images. Probably a ...