Xiaomi Mi 11 Ultra review
GSMArena Team, 27 April 2021.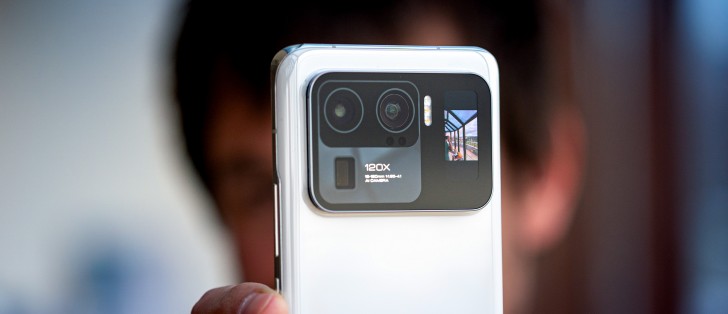 Spectacular 6.81-inch AMOLED
The Mi 11 Ultra is equipped with a 6.81-inch AMOLED display, and it's probably in the running for best smartphone display on the market, period. It ticks nearly all boxes - high resolution, high refresh rate, extreme peak brightness, HDR capability, color accuracy - finding something to complain about it is practically impossible.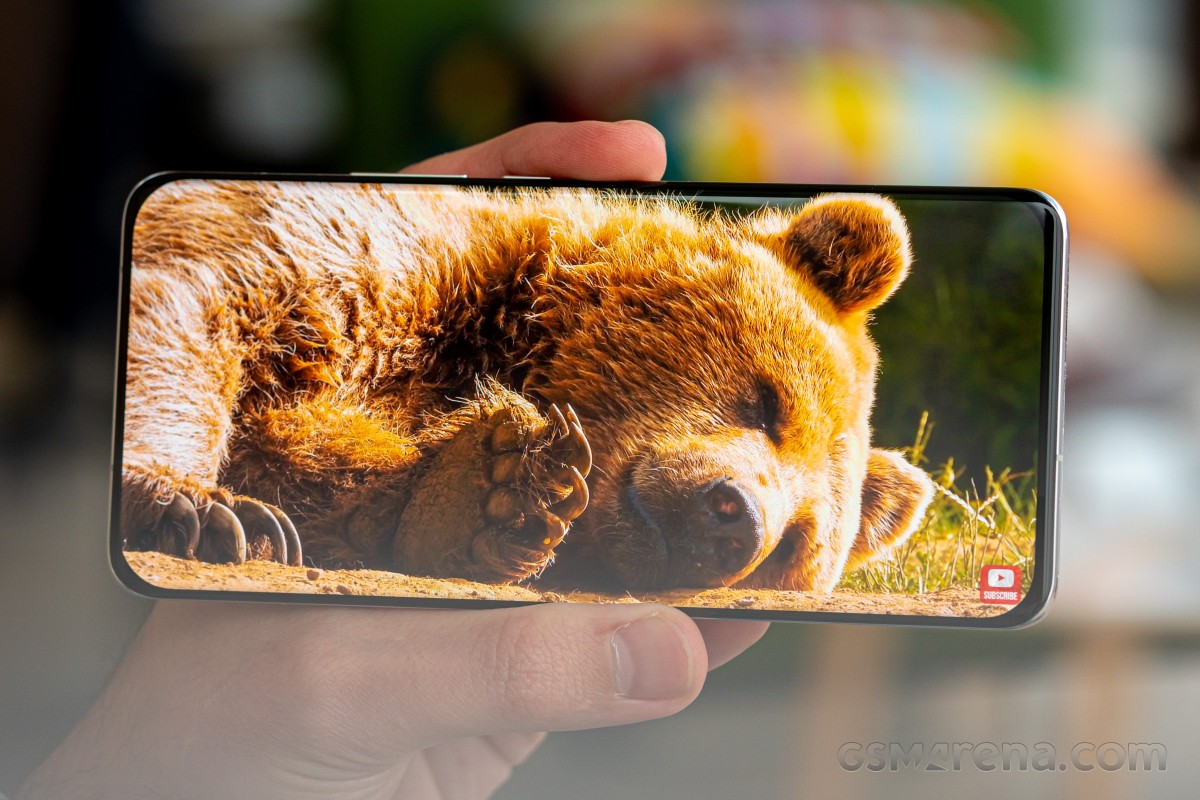 The panel on the Mi 11 Ultra has a 1440x3200px resolution in a 20:9 aspect ratio, and the pixel density works out to 515ppi. Key competitors at this absolute highest level, like the Galaxy S21 Ultra or Oppo Find X3 Pro all have comparable 1440p displays.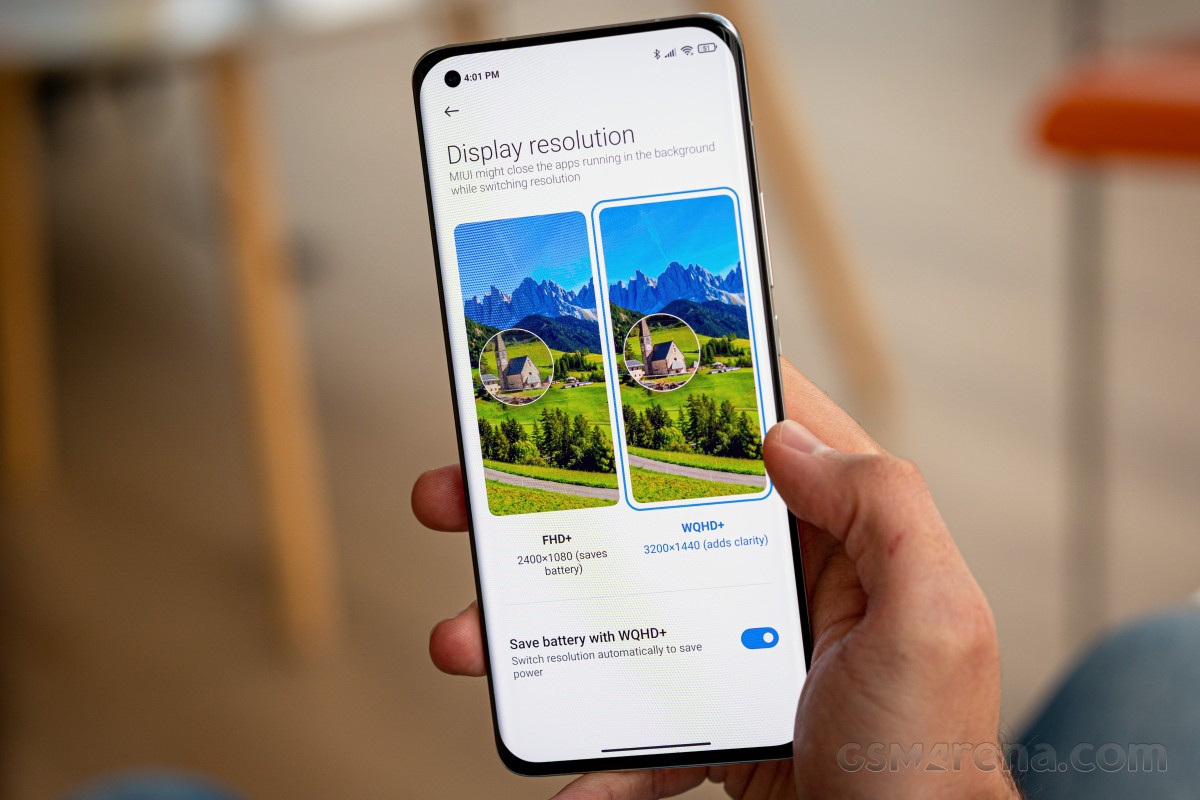 The refresh rate of the Mi 11 Ultra can be set to either High or Standard. Standard is your usual 60Hz mode where the phone won't attempt to adjust to content or activity and just stay locked at 60Hz.
High is the 120Hz capable mode and, according to the press materials, the Mi 11 Ultra is capable of dynamically switching between 30, 60, 90, and 120Hz, depending on what's being displayed and how you're interacting with the phone. The phone also features a 480Hz touch sampling rate for blazing-fast registering of touch input.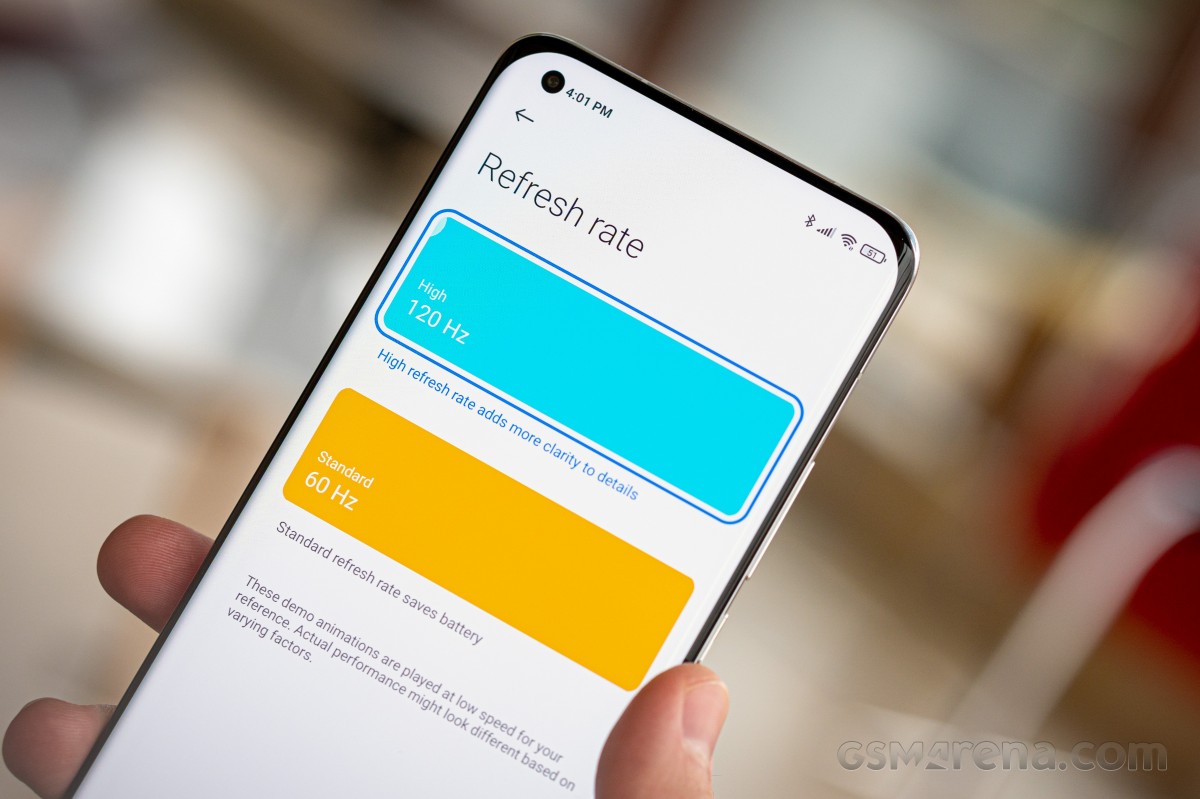 With the tools at our disposal - Android 11's native refresh rate counter and an in-house app we've had since HRR became a thing, we weren't able to see a 30Hz reading. We've been trying to get to the bottom of this whole auto-refresh rate switching, but we wouldn't call our efforts successful. Anyway, we did get 90Hz in two very specific situations - the task switcher, and when playing back video in a window, PiP style.
That aside, when in High mode, you'd be getting 120Hz throughout the UI and all system apps, as long as you're touching the display. Otherwise, it reverts to 60Hz when the picture goes static for battery-saving reasons. That's not a switch you can see with your eyes, but you can observe it if you've enabled the Android 11's FPS counter.
Video playing apps will almost certainly default to 60Hz as soon as you open them - Netflix, Prime Video, YouTube, the in-house Mi Video player - they all do that. A more nuanced approach we've seen on other devices is to keep the HRR for the app's UI and only switch down to 60Hz when viewing the actual video in fullscreen mode, but that's not the case on this Mi.
As for specific apps and games, these tend to vary wildly from phone to phone. On the Mi 11 Ultra, social apps generally observe the 120-60Hz behavior where they'll maintain 120Hz when you're swiping around and switch down to 60Hz when idling. We tried Facebook, Instagram, TikTok, and Pinterest - they all did that.
Games were all over the place. For a number of titles we know to have high frame rate support, the Android tool would report 120Hz for the display while the MIUI Game Turbo tool would be stuck at 60fps - indicating mostly that the Game Turbo tool wasn't reporting correctly, a deduction we confirmed by running GFXBench. Meanwhile, other games we've seen run in 120Hz on other phones would be kept in 60Hz on the Mi Ultra.
The Mi 11 Ultra's display supports HDR10+, but also Dolby Vision - you don't get that on the Mi 11 proper. Streaming services like Netflix, Amazon Prime Video and YouTube do serve HDR content on the Mi 11 Ultra. The phone features native support for 10bit color, meaning it can show 1.07 billion colors vs. 16 million on most other phones, so you should be getting the smoothest possible tonal gradients with no banding and such.
Xiaomi quotes some outstanding figures for the Mi 11 Ultra's brightness, with a peak value of 1700nits in HDR content vs. the Mi 11's mere 1500nits. In general use, the high brightness mode (or when the phone is under direct light) should be able to go as high as 900nits.
Our testing confirmed the second number - we got 943nits. In regular ambient conditions and with the auto boost disabled, the Mi 11 Ultra's screen was good for up to 514nits.
Display test
100% brightness
Black,cd/m2
White,cd/m2
Contrast ratio
Xiaomi Mi 11 Ultra
0
514
∞
Xiaomi Mi 11 Ultra (Max Auto)
0
943
∞
Xiaomi Mi 11
0
498
∞
Xiaomi Mi 11 (Max Auto)
0
926
∞
Xiaomi Mi 10 Ultra
0
498
∞
Xiaomi Mi 10 Ultra (Max Auto)
0
811
∞
Samsung Galaxy S21 Ultra 5G
0
458
∞
Samsung Galaxy S21 Ultra 5G (Max Auto)
0
1023
∞
Apple iPhone 12 Pro Max
0
822
∞
Oppo Find X3 Pro
0
493
∞
Oppo Find X3 Pro (Max Auto)
0
774
∞
vivo X60 Pro+
0
477
∞
vivo X60 Pro+ (Max Auto)
0
816
∞
OnePlus 9 Pro
0
525
∞
OnePlus 9 Pro (Max Auto)
0.038
871
22921:1
Asus ROG Phone 5
0
492
∞
Asus ROG Phone 5 (Max Auto)
0
806
∞
Samsung Galaxy Note20 Ultra 5G
0
504
∞
Samsung Galaxy Note20 Ultra 5G (Max Auto)
0
1024
∞
Color reproduction is handled in a rather complex way on the Mi 11 Ultra, as was the case on the Mi 11. There are three predefined Color schemes - Auto, Saturated, and Original color, with a temperature wheel and three temperature present on top of that. Then there's the Advanced menu, where you get a few more presets - Enhanced, Original, P3, and sRGB, plus a handful more sliders.
In practice, the Original mode returned essentially perfect results for sRGB calibration - we measured an average dE2000 of 0.6 for our set of swatches. That wasn't the case with the dedicated sRGB mode from the Advanced menu, go figure.
While Auto does cover the DCI-P3 color gamut, it offers so-so color accuracy and bluish whites. Fooling around with the color wheel did get us within an average dE2000 of 2.0 for the DCI-P3 test swatches and brought a neutral white. Again, the dedicated Advanced/P3 mode wasn't very close to target.
Xiaomi Mi 11 Ultra battery life
The Mi 11 Ultra has a 5,000mAh power pack inside, an upgrade over the 4,500mAh capacity of last year's model. The Mi 11 Ultra matches the Galaxy S21 Ultra in this respect, the two having bigger cells than the Find X3 Pro and OnePlus 9 Pro, each at 4,500mAh.
We clocked about 11 hours of Wi-Fi web browsing on the Mi 11 Ultra, virtually the same as on the Mi 11. We got the same voice call longevity as well, at 28 hours. In offline video playback the Mi 11 Ultra was good for 15 hours, an hour more than the Mi 11. Ultimately, the Mi 11 Ultra's endurance worked out to 95h - nowhere as good as the Galaxy, better than the Find X3 Pro and OnePlus 9 Pro.
Note: The web test was carried in 120Hz refresh rate, while video playback - at 60Hz as most video apps, including the Mi Video player, always default to 60Hz no matter what.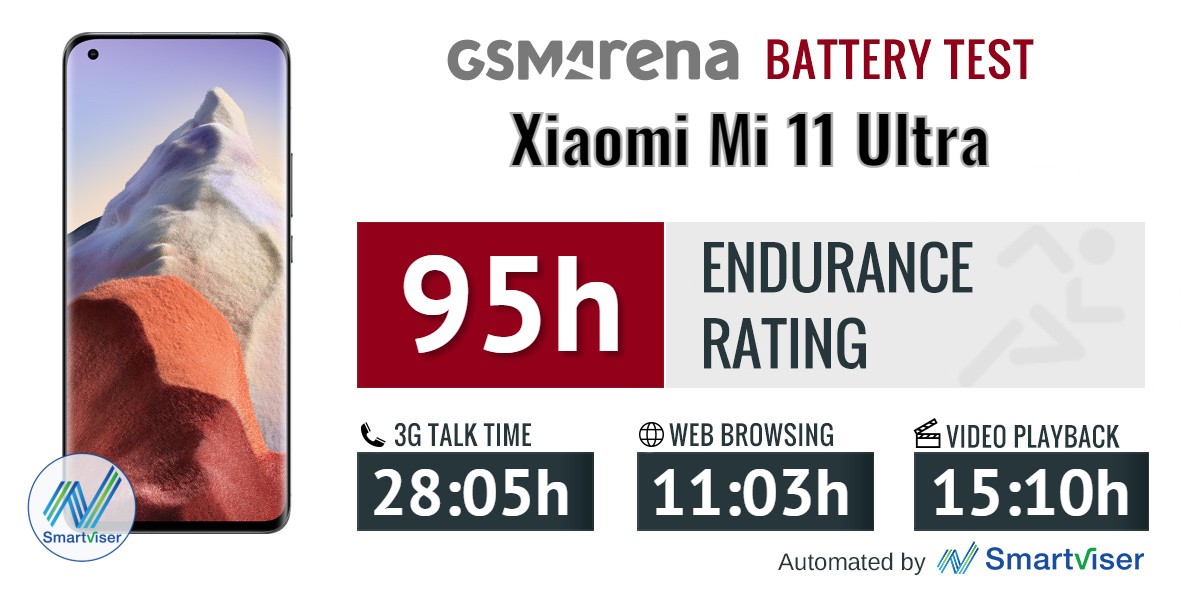 Our battery tests were automated thanks to SmartViser, using its viSerDevice app. The endurance rating denotes how long the battery charge will last you if you use the device for an hour of telephony, web browsing, and video playback daily. More details can be found here.
All test results shown are achieved under the highest screen refresh rate mode. You can adjust the endurance rating formula manually so it matches better your own usage in our all-time battery test results chart where you can also find all phones we've tested.
Charging speed
The bundled 67W charger might be a downgrade in terms of maximum output power compared to the Mi 10 Ultra's 120W unit, but how much wattage is too much wattage, really? In our testing, the Mi 11 Ultra took 37 minutes to reach a full charge starting from flat, while the battery indicator showed 89% at the half-hour mark, and we reckon that's anything but slow.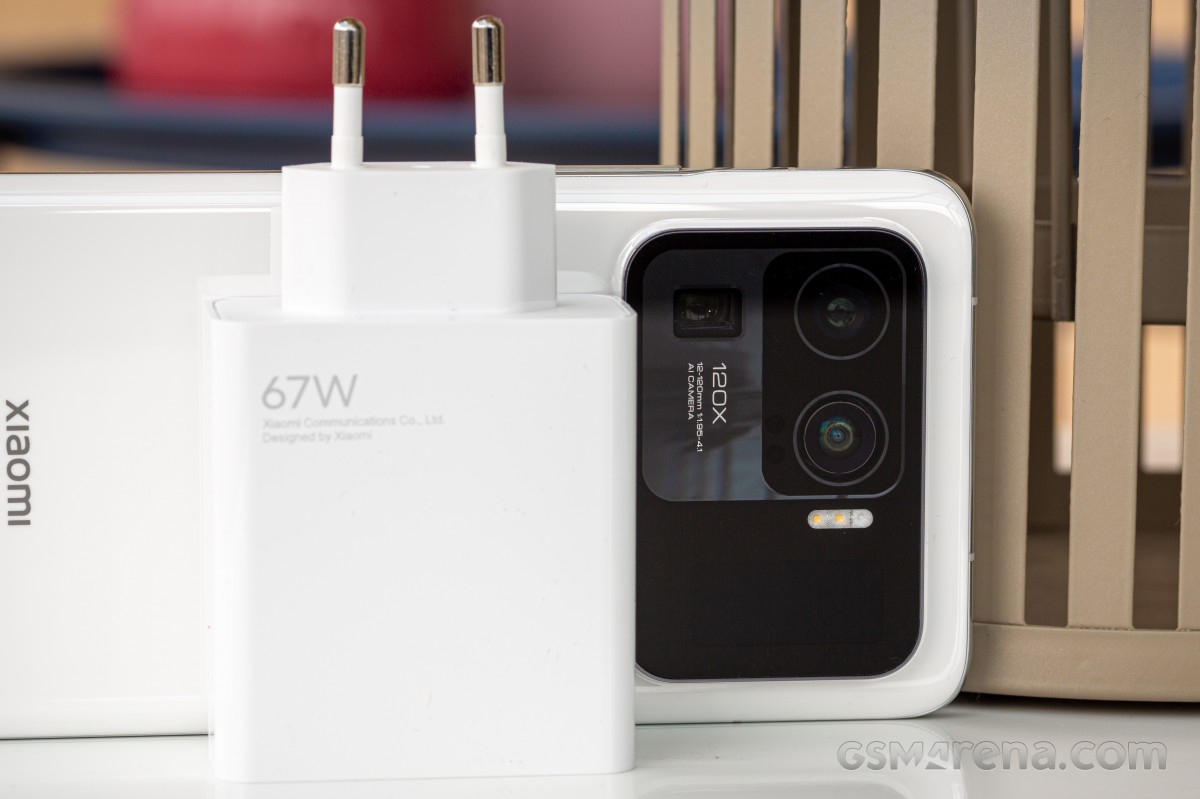 Both the OnePlus 9 Pro and the Find X3 Pro are slightly quicker in both disciplines, as is the Mi 10 Ultra. Meanwhile, the Galaxy S21 Ultra is nowhere near the Mi's numbers.
30min charging test (from 0%)
Xiaomi Mi 10 Ultra
100%
Oppo Find X3 Pro
100%
OnePlus 9 Pro
99%
Xiaomi Mi 11 Ultra
89%
vivo X60 Pro+
84%
Xiaomi Mi 11
83%
Xiaomi Mi 10 Pro 5G
77%
Asus ROG Phone 5
70%
Xiaomi Mi 11 Lite 5G
58%
Apple iPhone 12 Pro Max
55%
Samsung Galaxy S21 Ultra 5G
54%
Time to full charge (from 0%)
Xiaomi Mi 10 Ultra
0:27h
Oppo Find X3 Pro
0:28h
OnePlus 9 Pro
0:32h
Xiaomi Mi 11 Ultra
0:37h
vivo X60 Pro+
0:42h
Xiaomi Mi 11
0:50h
Xiaomi Mi 10 Pro 5G
0:50h
Xiaomi Mi 11 Lite 5G
1:04h
Asus ROG Phone 5
1:05h
Samsung Galaxy S21 Ultra 5G
1:11h
Apple iPhone 12 Pro Max
1:32h
Speaker test
The Mi 11 Ultra features stereo speakers, much like a lot of Mis in various price brackets. The high-end 11s do get Harman/Kardon branded ones to make you feel special.
The top speaker is ported both forward through a slit above the display and up through four circular openings in the frame. That means that there is some sound spilling out when on a voice call, but on the upside makes for a better balance between the left and right channels when playing movies or music.
The top gets the left channel in portrait mode, and channel output will adjust to match the orientation in landscape.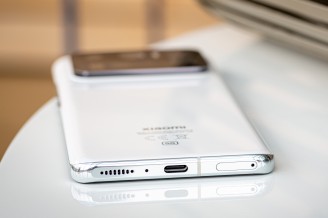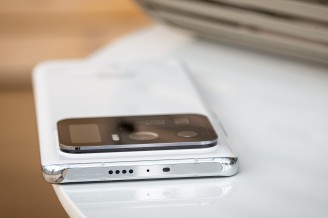 Bottom speaker grille is groovy • Harman/Kardon branding up top
The Mi 11 Ultra scored a 'Very Good' rating for loudness in our test, the same as the Mi 11 and the Mi 10 Ultra. It sounds better than both of them, however, with more presence in the lows, crisper treble and generally more pleasing vocals. The Mi 10 Pro, however, remains notably more bassy than all other Mis, without much sacrifice elsewhere. Comparing against most direct rivals, we'd say the Mi 11 Ultra wins comfortably.
Use the Playback controls to listen to the phone sample recordings (best use headphones). We measure the average loudness of the speakers in LUFS. A lower absolute value means a louder sound. A look at the frequency response chart will tell you how far off the ideal "0db" flat line is the reproduction of the bass, treble, and mid frequencies. You can add more phones to compare how they differ. The scores and ratings are not comparable with our older loudspeaker test. Learn more about how we test here.
Anonymous
29 Sep 2023
3Z5
Steady video, non-HDR support 4k 60Hz.
And with compromised quality of shake reduction and inability to switch lenses during filming.
Xiaomi was never blocked on google apps