Xiaomi Mi 6 box says 30MP camera inside
George, 01 April 2017
The Xiaomi Mi 6 is due to be unveiled sometime this month (April 16 has been mentioned) and there's no shortage of leaks claiming to detail the upcoming top-end device. Well, here's a new one.
What is allegedly the Mi 6's retail box comes with a full specsheet on the back, and we're immediately drawn to that 3000 number. Our fluency in Chinese is debatable (not really, we don't know the least bit of it), but we've learned enough to know that in this context it stands for a 30MP camera, and that's a lot of pixels.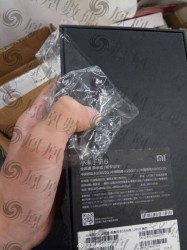 Alleged Xiaomi Mi 6 retail box
We hadn't heard that particular detail about the Mi 6 and we're not quite sure what to make of it. Sony used a 24.8MP sensor in the Xperia Z5 generation and then the XZ, and that's about as high a pixel count as we've seen lately. And even the Japanese company switched to a lower-res 19MP imager for the XZs and XZ Premium, so megapixels aren't what they once were. And that 24.8 sensor was one of the largest already (Type 1/2.3"), so 30MP certainly means either tiny pixels or a (relatively) huge sensor with implications that brings on lens design and body dimensions. Alternatively, and that would an odd way of presenting it, there could be 2x15MP cameras - dual cameras on the Mi 6 are a possibility.
We'll keep dwelling on that for a couple more weeks, but in the meantime, back to the box. Another interesting number, and that's a more universally appealing one, is the battery capacity - 4,000mAh for the 5.15-inch Mi 6 promises pretty great battery life. That and the 10nm Snapdragon 835 that should be inside. The pictured box also states that this particular unit comes with 6GB of RAM and 128GB of storage, so a top-specced one it is - a 4GB variant should exist as well.
Related
I have had Lumia 1020 with 41MP excellent camera for already 5 years or more. Welcome to 2017, gsmarena, bhahahah!
The_maker
03 Apr 2017
04N
How come the production date down on the right is 2016/02 ? Pretty much photoshop.
Anonymous
03 Apr 2017
xqG
having a larger sensor doesn't mean you'll have bad low light quality even if the aperture in't big this can be compensated with image stabilization for anyone who knows anything about photography knows that the main way of enhancing low light perfo...
Popular articles
Popular devices
Electric Vehicles