Xiaomi Mi 8 long-term review
GSMArena team, 04 February 2019.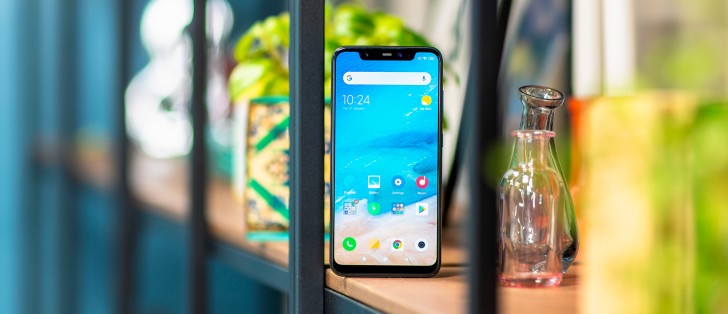 Performance
The Mi 8 was Xiaomi's flagship smartphone when it launched, and you can feel this in the way it performs even today. The Snapdragon 845 chipset is by no means a slouch, and it's paired with ample amounts of RAM. So you'd expect performance to be great, right? It is.
The phone feels fast no matter what you do, stutters are very, very rare, and overall there isn't a feeling of lag at all, regardless of what you throw at it. The Mi 8 is very smooth, and while it doesn't quite reach the new Pixel levels of smoothness it does come very close. That's the highest amount of praise we can bestow upon an Android smartphone at the moment, so don't think of it as being a small thing. This handset simply flies.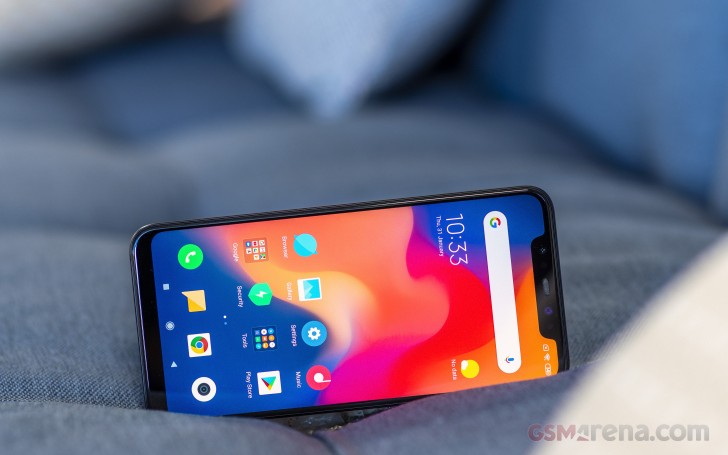 As this is a long-term review we're basing this assessment purely on how we felt during the extended period of time when we used the Mi 8 as our one and only smartphone. Benchmark results may or may not paint a different picture, but there's a reason for the word "synthetic" in the phrase "synthetic benchmark" - none of them emulate day to day use very well.
Battery life
While the Mi 8's battery capacity isn't small by any stretch of the imagination, it's also lagging behind a lot of its Android-powered competitors'. We've finally reached a stage where expecting to see a 4,000 mAh cell (or thereabouts) in a flagship smartphone isn't unrealistic. So from that point of view you may be slightly disappointed to see that Xiaomi has fitted the Mi 8 with a 3,400 mAh battery.
However, in day to day use battery life has been very good, while obviously not matching the endurance of any device which has a beefier cell. Overall we have been very satisfied with what the Mi 8 can provide from this point of view, but with our usage we did have to charge it every single night. Afternoon top-ups occurred only during days in which we had a lot of mobile data and GPS use going on.
Normally, our use case scenario involves around 12 to 16 hours off the charger, with Wi-Fi on and connected for most of that save for an hour or two of 4G/LTE. Bluetooth is always on and streaming music for a couple or so hours every day, while location is set to the most accurate option and we have about 30 minutes to an hour of GPS navigation through Waze or Google Maps. In such a normal day, we've seen upwards of 7 hours of screen on time before we got to 10% left, and getting at least 6 hours of screen on time is what we came to expect.
Again, with a different mix, involving less time on Wi-Fi and more time searching for a GPS signal, these numbers will definitely go down. Your mileage will obviously vary, but we're trying to keep the use case consistent for these long-term reviews so that you at least get to make reasonably accurate comparisons between different devices that have been put through this process.
Software
The Mi 8 launched on Android 8.1 Oreo but it has been updated to Android 9 Pie recently. That's less important with a Xiaomi phone than most devices from other manufacturers because the company's skin, MIUI, is so all-encompassing that most user-facing changes come from MIUI updates and not the underlying Android version a phone happens to run.
MIUI 10.2 is what the Mi 8 currently boots, and our unit has the December 2018 security patch level. That's obviously not current, but while you shouldn't expect the Mi 8 to receive security updates as soon as Google pushes them, Xiaomi is still decent at not allowing it to fall very far behind.
MIUI 10 is probably the company's most friendly skin towards Western audiences ever, but it still has quirks. For one thing, the default launcher on the Mi 8 has no app drawer, so if you don't like that you'll need to use a third-party app. If you want to stay loyal to Xiaomi, you can even download the Poco Launcher that ships with the Pocophone F1 from the Play Store and get an app drawer in an app that still has a quintessentially MIUI look.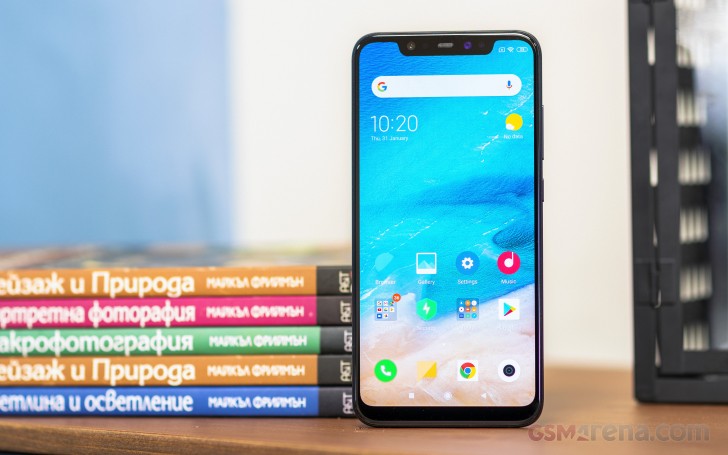 We're not going to dive into the skin's design because that's a matter of personal preference. Plus, you can get different themes for it if you don't enjoy the default one.
The way MIUI 10 works, however, that's another story. Quick example: you can swipe right to dismiss a notification, but swiping left won't do that, instead revealing a couple of option buttons. In Google's interpretation of Android, those show up regardless of the direction of your swipe, if you pause for a bit. And yes, in that case you can swipe both ways to dismiss any notification.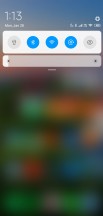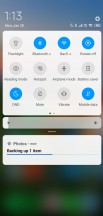 Notification pane • Quick settings
This is a very small thing, but the example is meant to show you that Xiaomi's UI overlay is still far from 'stock', and not just in looks but functionality-wise too. On the other hand, it does bring with it a huge number of options in Settings that you never had if you've used 'stock' Android before. So it's a case of winning some things and losing others.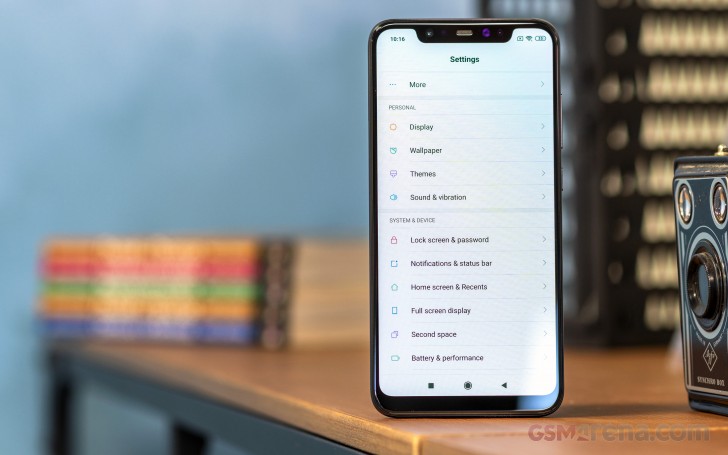 Here's an example of where MIUI is miles ahead of Google - the gesture navigation system. Plainly put, Google's efforts in this space so far make absolutely no sense. The point of such a system is to free up more of the display area to show you an app's UI, but Google's implementation still has a navigation bar so it doesn't accomplish that at all. On the other hand, Xiaomi's full screen gestures are a joy to use and when you enable them you do actually get some extra display real estate.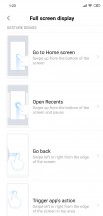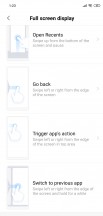 Full screen gestures explained
A lot of the things MIUI does differently can be loosely traced back to its beginnings as a software skin developed for the Chinese market, which has some unique challenges. You can find a more detailed explainer of that on this page of our Pocophone F1 long-term review, so we're not going to reiterate all of those points.
If you approach it with an open mind and are willing to put in some work (if the need should arise) to get all apps to do what they're supposed to, then MIUI will be a good interface for you.
If you want everything to magically 'just work' out of the box however, and not be forced to think about app permissions not being granted by default hence hindering their behavior sometimes, then you'll be in for a rough ride at times. Whether that's a small or huge price to pay is obviously up to you.
The main thing you probably need to come to grips with regarding MIUI in its current state on the Mi 8 is how it handles notification icons, and for more on that make sure you jump to the next page of this review, which is all about possible downsides, the point being not that this isn't a very good phone but that there are some things you may need to keep in mind if you want to buy one.
You had a 1 off personal experience. It happens. Doesn't make this a bad phone. You were unlucky is all. Give it up hater. Everyone else says different to you, so who's right and who's wrong? Hmm mm, I wonder... Top phone. Read reviews. Have ow...
I have been using it for over 1 year and have no problem tho
By far the worst mi phone, I have used all mi models from Mi 3 onwards. The battery almost exploded after 3 months use, the replacement didn't last even a month.