Xiaomi Mi 9 SE review
GSMArena team, 03 July 2019.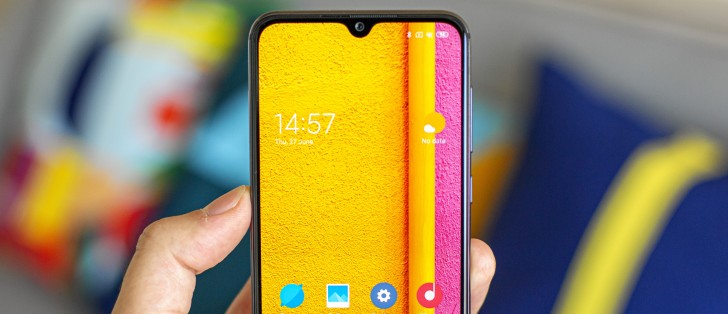 MIUI 10 on top of Android 9.0
The Xiaomi Mi 9 SE runs on Android Pie with Xiaomi's own comprehensively customized MIUI overlay on top. The version on the SE we had for review was 10.2, a notch behind what the 9T was running, which mostly meant minor differences in the camera app, and little else. In any case, MIUI updates typically arrive promptly and reach the majority of Xiaomi devices, so we have no reason to doubt the Mi 9 SE's software future.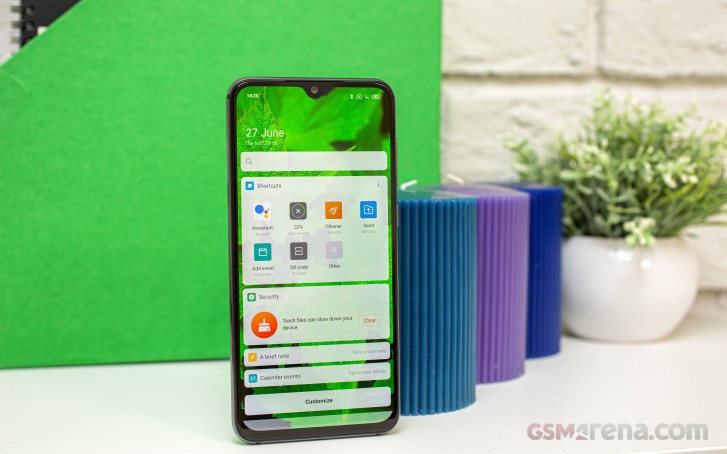 A recent addition to MIUI is the always on display feature, and the Mi 9 SE has that too. You get the usual options to schedule it or leave it on/off all the time. There are various themes you can choose from and make it yours.
You can unlock the screen via the improved under-display fingerprint scanner. Improved it is, indeed and after the easy setup it works quickly and reliably, making it our preferred option for unlocking the phone. You can also set up face unlock in addition to it - it's equally fast, though not as secure. Note that the face unlock option may not be available in all regions.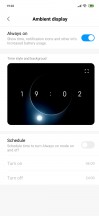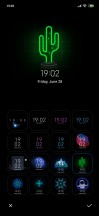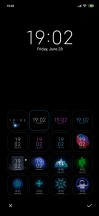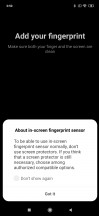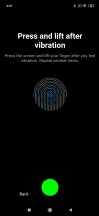 Always-on display • fingerprint reader setup
Introduced on the Mi 9, Dark mode is present on the Mi 9 SE as well - it will switch all system colors from white to black helping you save precious milliamps of power draw. Not all apps support the dark mode, but the majority do.
The Mi 9 SE also comes with various live wallpapers including the cool 24-hour wallpaper - it changes depending on the time of day. Perhaps having a few other scenes to choose from would be even nicer.
Themes are supported too, but the app appears only when the phone is set to a supported region. Otherwise, it's a very limited selection available from the settings menu with no option to download more.
There is no app drawer in MIUI, so all your apps are just sitting there on your homescreen, but you can still add them to folders to get things organized. Of course, the option to install a third-party launcher to get an app drawer is always there.
On the Mi 9 SE's default homescreen is a weather widget in the upper right corner across from a large clock widget. There is a Quick Card pane, to the left of the leftmost home screen. It contains different cards with relevant information - recent apps, step counter, notes, calendar events, the weather, and favorites, among others. You can configure what shows up here, or you can disable this altogether.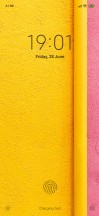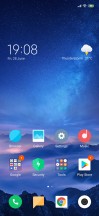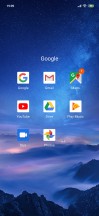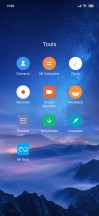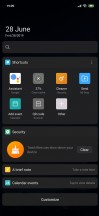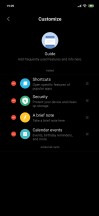 Lockscreen • Homescreen • Folder view • Tools • Quick Card • Settings
MIUI comes with one of the nicer implementations of gesture navigation around. Swiping from the bottom takes you to the homescreen, swiping and holding brings up the task switcher, and swiping in from either edge is a universal back action. That last one does clash with the side drawers of some apps, and you may need to make a point of swiping in higher than usual to get the drawer as lower swipes will trigger the back command.
SGetting used to the MIUI task switcher takes some time, but you'll soon start to appreciate it. Or we did, at least. It shows all of your recent apps in two columns. Tap and hold on a card for the split-screen shortcut, or just swipe it left or right to close it.
The notification shade is very sleek and all, but the fact that you can't just tap anywhere on the brightness slider but to grab it and drag it is irritating - you'll learn to live with it, but it's not ideal. Same with the one-way dismissal of notifications - to the right for making it go away, to the left for settings. Another one of the MIUI quirks that you either love or hate but get used to.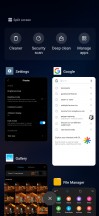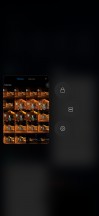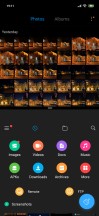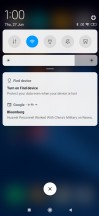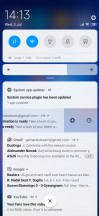 Recents • Task options • Split-screen • Notifications
MIUI also offers a Security app. It can scan your phone for malware, manage your blacklist, manage or restrict your data usage, configure battery behavior, and free up some RAM. It can also manage the permissions of your installed apps and allows you to define the battery behavior of selected apps and applies restrictions only to the apps you choose.
MIUI also offers proprietary Gallery, Music, and Video player. In some regions, the music and video app include paid streaming options. With the Mi 9 SE's IR blaster, you can also control your choice of appliances, old and new, thanks to the Mi Remote app.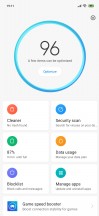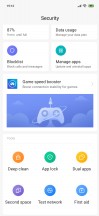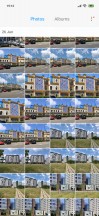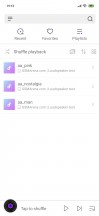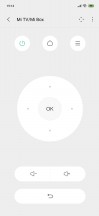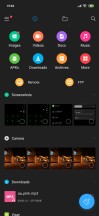 Security app • Security app • Gallery • Music • Mi Remote • File Manager
Synthetic benchmarks
Powering the Mi 9 SE is the Snapdragon 712 chipset - essentially a 710 with minor tweaks, among them a whopping 0.1GHz higher potential clock speed on the high-performance cores. Those would be Cortex-A75-based Kryo 360-branded cores, two of them, ticking at up to 2.3GHz. The other six cores are Cortex-A55 derivatives, clocked at up to 1.7GHz. There's been no upgrade to the GPU for the 710-to-712 transition, and it's still the Adreno 616, if those numbers really mean anything.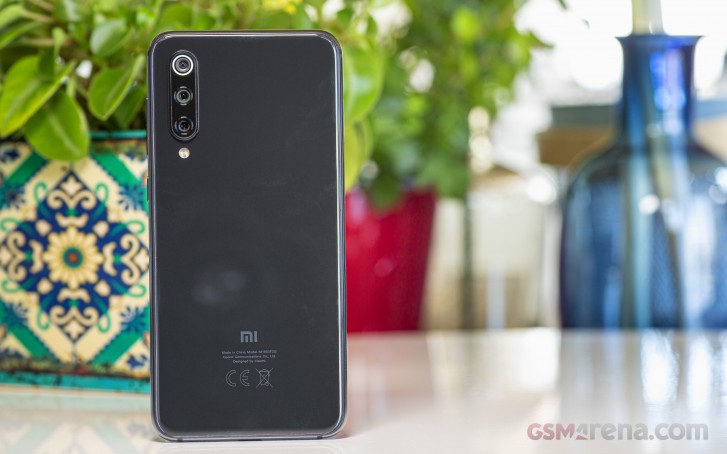 With that premise, it's no surprise that the Mi 9 SE puts out very similar results to the 710-based Mi 8 SE, for example. In GeekBench, the Mi 9 SE is right on par with the phone it replaces in single-core tasks and marginally ahead in multi-core. The Realme X and 3 Pro which both have the same chipset score noticeably lower in the single-core test, while mostly matching the 9 SE in multi-core. Snapdragon 675 devices like the Moto Z4 and Galaxy A70 offer significant improvement under single core-load and some improvement in multi-core. The Mi 9T and Galaxy A80, a Snapdragon 730 in each, are another step up the CPU performance ladder.
GeekBench 4.1 (single-core)
Higher is better
Xiaomi Mi 9
3503
Xiaomi Mi 9T
2537
Samsung Galaxy A80
2516
Xiaomi Mi 8
2431
Xiaomi Redmi Note 7 Pro
2404
Samsung Galaxy A70
2391
Motorola Moto Z4
2371
Xiaomi Mi 9 SE
1905
Xiaomi Mi 8 SE
1890
Oppo RX17 Pro
1835
Samsung Galaxy A50
1715
Huawei P30 Lite
1534
Realme X
1475
Realme 3 Pro
1471
GeekBench 4.1 (multi-core)
Higher is better
Xiaomi Mi 9
11181
Xiaomi Mi 8
8494
Samsung Galaxy A80
6934
Xiaomi Mi 9T
6863
Xiaomi Redmi Note 7 Pro
6620
Samsung Galaxy A70
6584
Motorola Moto Z4
6515
Xiaomi Mi 9 SE
6017
Oppo RX17 Pro
5944
Realme X
5915
Xiaomi Mi 8 SE
5908
Realme 3 Pro
5881
Huawei P30 Lite
5523
Samsung Galaxy A50
5396
In Antutu, the Mi 9 SE shows a small improvement over the Mi 8 SE, with the 9T being a more significant distance ahead. The Moto Z4 and the Galaxy A70 are a little behind the latest SE, with the Realme 3 Pro further down.
AnTuTu 7
Higher is better
Xiaomi Mi 9
372006
Xiaomi Mi 8
217298
Xiaomi Mi 9T
211915
Samsung Galaxy A80
207502
Xiaomi Redmi Note 7 Pro
180754
Xiaomi Mi 9 SE
180057
Motorola Moto Z4
173234
Xiaomi Mi 8 SE
170218
Samsung Galaxy A70
167750
Realme 3 Pro
155647
Oppo RX17 Pro
154861
Samsung Galaxy A50
144574
Huawei P30 Lite
129887
The Snapdragon 712's Adreno 616 GPU is the same as the one that's part of the 710, but the Adreno 618 in the Snapdragon 730 isn't any more powerful, at least not in the Mi 9T's implementation - the 9 SE and the 9T post virtually identical scores. The Galaxy A80 does have an extra 1 or 2 frames per second in the GFXBench benchmarks, but it's anything but a night and day difference. For a true step up in the graphics department, last year's Mi 8 is still a good idea, and the Snapdragon 855-powered Mi 9 is the obvious choice - at a price premium, of course.
GFX 3.1 Manhattan (1080p offscreen)
Higher is better
Xiaomi Mi 9
70
Xiaomi Mi 8
53
Samsung Galaxy A80
30
Xiaomi Mi 9T
27
Xiaomi Mi 9 SE
26
Xiaomi Mi 8 SE
23
Oppo RX17 Pro
23
Realme 3 Pro
23
Xiaomi Redmi Note 7 Pro
17
Samsung Galaxy A70
15
Motorola Moto Z4
15
Huawei P30 Lite
14
Samsung Galaxy A50
14
GFX 3.1 Manhattan (onscreen)
Higher is better
Xiaomi Mi 9
56
Xiaomi Mi 8
50
Samsung Galaxy A80
26
Xiaomi Mi 9 SE
24
Xiaomi Mi 9T
24
Xiaomi Mi 8 SE
22
Realme 3 Pro
20
Oppo RX17 Pro
19
Xiaomi Redmi Note 7 Pro
15
Motorola Moto Z4
14
Huawei P30 Lite
13
Samsung Galaxy A70
13
Samsung Galaxy A50
13
GFX 3.1 Car scene (1080p offscreen)
Higher is better
Xiaomi Mi 9
42
Xiaomi Mi 8
33
Samsung Galaxy A80
17
Xiaomi Mi 9T
16
Xiaomi Mi 9 SE
15
Xiaomi Mi 8 SE
13
Oppo RX17 Pro
13
Realme 3 Pro
13
Samsung Galaxy A50
9.2
Xiaomi Redmi Note 7 Pro
8.7
Samsung Galaxy A70
8
Huawei P30 Lite
7.7
Motorola Moto Z4
7.2
GFX 3.1 Car scene (onscreen)
Higher is better
Xiaomi Mi 9
35
Xiaomi Mi 8
33
Xiaomi Mi 9 SE
14
Samsung Galaxy A80
14
Xiaomi Mi 9T
13
Xiaomi Mi 8 SE
12
Oppo RX17 Pro
11
Realme 3 Pro
11
Motorola Moto Z4
8
Samsung Galaxy A50
8
Xiaomi Redmi Note 7 Pro
7.9
Huawei P30 Lite
7
Samsung Galaxy A70
7
We've been really happy with the Snapdragon 710 in the past and the 712 in the Mi 9 SE, being practically identical, has also left us feeling positive. The Mi 9 SE has more than enough potential for both day-to-day tasks and gaming and going for the 730-powered Mi 9T on the grounds of performance alone doesn't seem warranted.
I'm using this Phone for like 28 months and thebonly flaw it's the battery, it's tl small...
Anonymous
05 May 2021
XRM
GPS problem in this phone is very annoying.
Same feeling here. The size is just perfect for me. Bought it on 1st day it available here in Malaysia about 2 years ago. If only Mi 11 Lite come with the same display size, then we got replacement for it.