Xiaomi Mi Note 10 review
GSMArena team, 06 Nov 2019.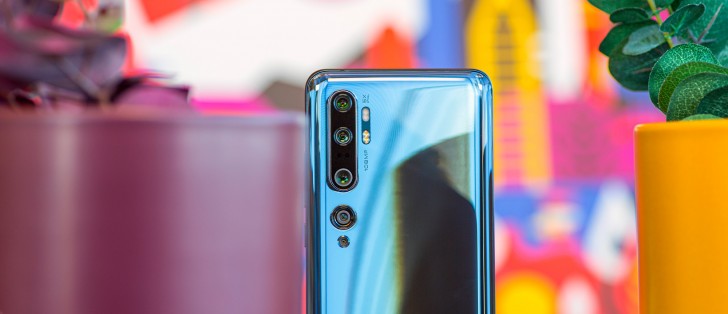 Penta camera has us moderately confused
The Mi Note 10 is equipped with Xiaomi's first penta camera array and for all its versatility and impressiveness, it leaves a few puzzling questions to be answered. Like, how and why does the 5x zoom 5MP telephoto camera take 8MP photos, and how did they fit a 5x zoom lens without employing a periscope?
Maybe we're getting ahead of ourselves though, let's start with the biggest number. The Mi Note 10 is the first phone to come out with Samsung's 108MP sensor in what is the phone's 'primary' camera module. It's a massive 1/1.33" inch imager that's bigger than anything else currently on the market.
Part of a family of Quad Bayer sensors that starts at 32MP units used for selfie cams (you know, like the selfie cam of the Mi Note 10), the 108MP version has the same 0.8µm individual pixel sized. As with all Quad Bayer sensors, it's designed to output images at a quarter of the nominal resolution, and we can see 27MP being easily enough for any use case we can think of.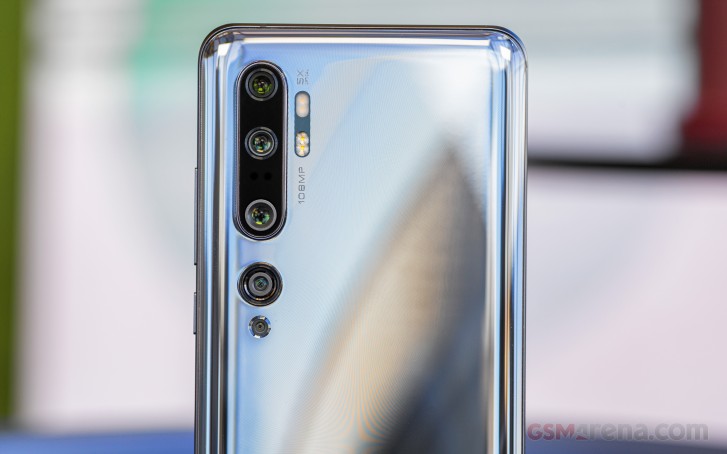 The sensor is paired with a 7-element lens that is stabilized and has an f/1.7 aperture. You should know that the Note 10 Pro has an 8-element lens in front of the same sensor for what it's worth. Xiaomi specs say f/1.69, the embedded value in the EXIF data is f/1.65. It covers a field of view of 82 degrees which in our world equates to a 25mm equivalent focal length in 35mm film terms (sure enough, it says 24mm in EXIF data).
Next up is the telephoto camera - the first one of those. A 12MP sensor with 1.4µm pixels and dual pixel autofocus sounds pretty impressive for a zoom camera, and that's before we even get to the f/2.0 aperture - compare it to the Galaxy Note10's 12MP-1.0µm-f/2.1 setup. That said, the Mi Note 10's 2x module isn't stabilized.
The 5x one is, though - we're back to that one. Xiaomi lists its resolution at 5MP and says it has an f/2.0 lens. The only 5x module we've seen around is a periscope type employed in one form or another on the Huawei P30 Pro and the Oppo Reno 10x zoom (don't even get us started on that name). The P30 Pro quotes it at 8MP f/3.4, while the Reno 10x Zoom is more impressive at 13MP f/3.0. Well, the Mi Note 10's lens is over a stop brighter than the Reno's, and there's no periscope in sight. Ah, and it takes 8MP photos.
We've seen a similar peculiarity on the OnePlus 7T Pro - it has an 8MP 3x zoom camera that is a 13MP 2.2x snapper and an 8MP crop from the center is how OnePlus delivers 3x magnification. The Mi Note 10 uses a similar approach - it has an 8MP sensor instead of 5MP with provide that provides 3.7x or so magnification by default. The algorithm then crops the 5MP center of this 8MP image and voila, you now have a 5x zoomed photo. Why Xiaomi then decided they should upscale this photo to 8MP is beyond us.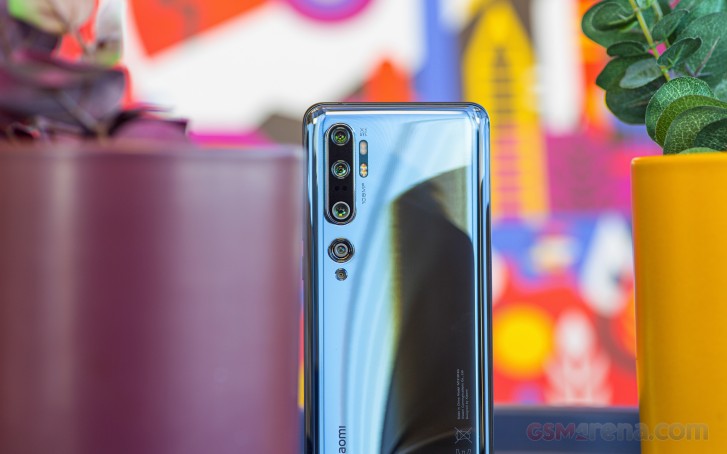 No multi-camera is complete without an ultra wide-angle module these days (right, Pixel 4?) and the Mi Note 10, sure enough, has one. It's got a 20MP sensor mated to a (13-ish mm equivalent) lens that covers a 117-degree field of view. The aperture is a less impressive f/2.2, but more importantly, this ultra-wide cam has autofocus, unlike the bulk of the ultra wides out there. This means it can also do closeup photos and videos.
Which brings us to the tiniest module on the back of the Mi Note 10 - its 2MP macro camera. Capable of focusing in the 2cm to 10cm range, it takes closeups that you may not be able to replicate with the other cameras, though admittedly you'd need a cooperative subject.
It seems there are two snappers on the Mi Note 10 that can do macro shots - the 20MP ultrawide and the 2MP dedicated macro. Xiaomi says the dedicated macro mode uses the 2MP snapper for closeup photos, but the ultrawide for videos. If you want to focus on something closer than 2cm, say 1.5cm, the phone will use both of these cameras to do the shot. Note 10 also happens to be the first smartphone to break the 2cm minimum focus distance.
In between the 1x and 2x cameras, there are a couple of barely visible windows for the laser autofocus.
Meanwhile, in the auxiliary hardware department, a total of 4 LEDs are at your disposal for illuminating subjects in the dark - 2 of them are regular bright LEDs, the other two are placed behind a diffuser to serve as soft lights.
Hybrid zoom is available up to 10x thanks to all the available snappers. The 108MP primary is used for up to 2x zoom, the 12MP tele camera is used between 2x and 3.7x magnification, and the 5MP is responsible for the 3.7x shots and above. The 10x magnification uses the 5MP (or, you know, 8MP) sensor and stacks a bunch of shots for better quality.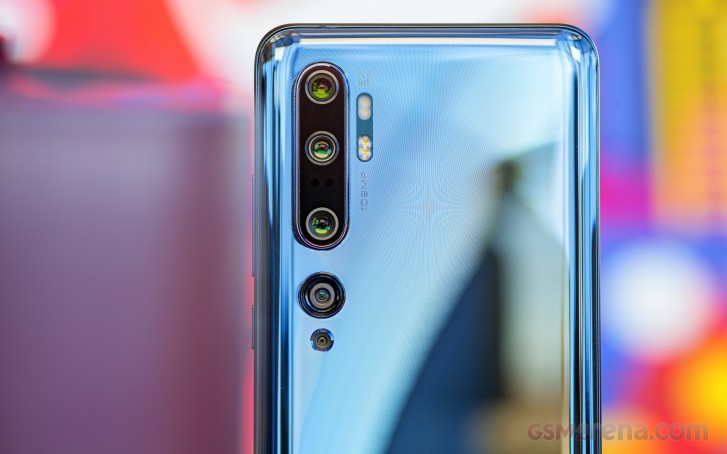 Over on the front, the Mi Note 10 has a 32MP camera for selfies. Itself a Quad Bayer sensor, this one only spits out images at the nominal resolution as opposed to 8MP. Xiaomi specifies an f/2.0 aperture but omits the focal length, and we're not buying the 21mm in the EXIF.
The camera app is a rather straightforward implementation. You swipe from side to side to change modes, and you can also tap on the ones that you can see to switch to those directly, though they don't all show up in one screen. Up and down swipes don't work for switching between the front and rear cameras, only the toggle next to the shutter release does that.
On the near end, you have the rear camera switch that operates in one of two fashions. The first one is simply tapping on the circle with the active magnification to cycle between four out of five cameras - main 1x, tele 2x, tele 5x, ultra-wide 0.6x - leaving out the macro module. Alternatively, you can tap on the respective dots for direct access to each module - that's neat because the cycle-only implementation would have been particularly time-consuming with such a number of cams. Not that it's overly convenient on the triple-cam Xperia 1 and 5, but we digress.
On the opposite end of the viewfinder, you have a flash mode switch (Off/Auto/On/Torch/Soft light), an HDR switch (Off/Auto/On), an AI toggle and a magic wand with beauty effects and filters. Behind a hamburger menu, you'll find some more options, plus the shortcut to the settings. What you won't find is an option to set the output resolution for any of the cameras.
There's a nicely capable Pro mode, where you can tweak shooting parameters yourself. You get to pick one of 4 white balance presets or dial in the light temperature with a slider, there's a manual focusing slider (arbitrary units 0-100), and shutter speed and ISO control with ranges depending on which camera you're using. That's right, best of all, you can access each of the five cams in Pro mode. There's also a focus peaking toggle up top, as well as a metering mode selector.
That seems more than enough for a preface, join us on the next page for some samples.
Well, first of all, that phone has a 60hz display. Second of all, it's from 2019 and you'd be hard pressed to find a phone from that year that didn't have a 60hz display. The only one I can name off the top of my head is the OnePlus 7 ...
Hlo bro do u know how much is the refresh rate of mi note 10 pro.. cuz i wanna buy it plz bro just tell me the refresh rate I can't find it anywhere