Pocophone F1 by Xiaomi review
GSMArena team, 22 August 2018.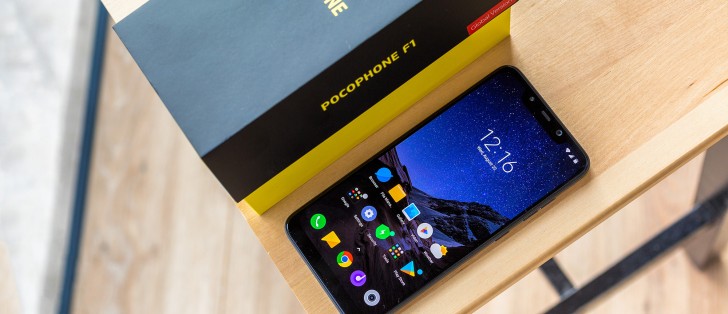 MIUI 9 for Poco with Android 8.1, updates on the way
The Pocophone boots Android 8.1 Oreo. Being a Xiaomi phone, however, it's got a thoroughly customized proprietary layer of MIUI on top, version 9.6, but now it's called MIUI for Poco. The difference - there is a new Poco default theme, which is very reminiscent of the Nova Launcher, plus faster UI animations and app launch compared to the regular MIUI. Essentially, this means that Poco F1 comes with a cleaner, more stock looking Android than regular Xiaomi phones. But it's only about looks and perceptions - all the extra proprietary features are still there.
MIUI 10 is right around the corner and Xiaomi has promised Android Pie will arrive within the next four months.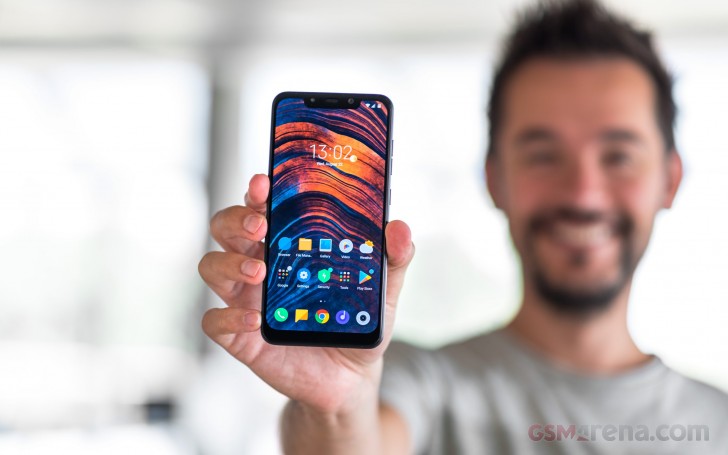 Let's start with navigation. There's an entire Full screen display menu where you get options for gesture navigation. You can replace the navigation bar with a set of swipe actions - swipe up from the bottom for Home, swipe up and hold for the task switcher, and swipe in from either edge to go back. And if you think that last bit would interfere with apps that use the swipe-in gesture to access a drawer menu, it doesn't - just swipe in a little higher and you'll get the drawer.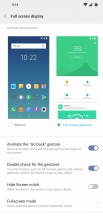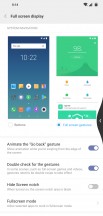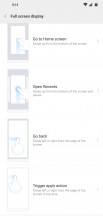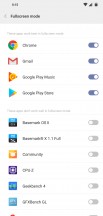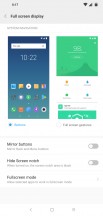 Full screen mode a.k.a. gesture navigation
Inside the notch is Xiaomi's quasi Face ID system - it utilizes an infrared illuminator and a camera for facial recognition instead of just the selfie camera as regular phones do it.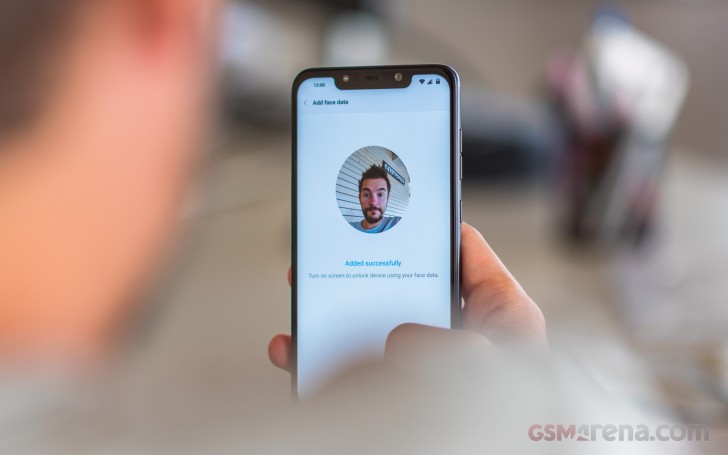 Mind you, it's not the same as Apple's Face ID in that there's no 3D mapping going on here - that's available on the top-tier Mi 8 Explorer. In any case, we found the face recognition to work super-fast with only a minor difference in speed in dark environments. Additionally, it's somewhat more secure than some other implementations because it does require that you have at least one eye open to unlock the phone.
However, and Xiaomi warns you of it, the F1's face recognition isn't as secure as fingerprint recognition, so it's a good thing then that the phone has that too. The sensor is on the back, enrollment is quick, and unlocking is near instant.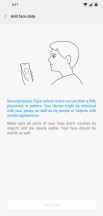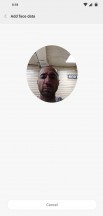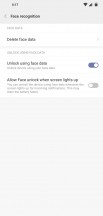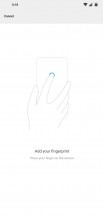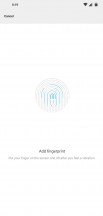 Face enrollment • Face enrollment • Face Unlock • Fingerprint enrollment • Fingerprint enrollment
There is no app drawer on MIUI by default, but the default Poco for MIUI theme has one. We rarely resorted to it and we chose to ditch it for another theme, but it's there if you prefer Android this way.
Here are the default home screens on the Pocophone F1 with its Poco for MIUI theme. There's a clock on the first page with a couple of shortcuts. The Quick Card pane - the leftmost one - is here to stay. It's quite similar to Today's page in iOS and contains different cards with relevant information - recent apps, step counter, notes, calendar events, the weather, and favorites, among others. You can configure what shows up here, or you can disable this altogether.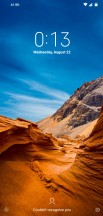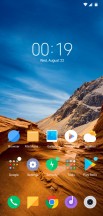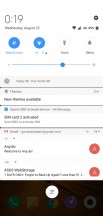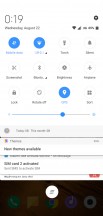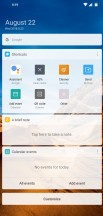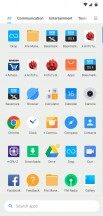 Lockscreen • Home • notification • toggles • quick card • app drawer
The opened apps visible in the Task Switcher are represented by appropriate thumbnails, and there is an additional key for the Split Screen mode. MIUI 9 adds native support for multi-tasking via the new Split Screen feature. It allows you to launch two apps side-by-side. All native apps support it and, luckily, all third-party apps with support for any kind of split screen mode work flawlessly on MIUI 9 side-by-side view.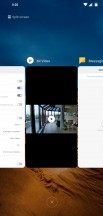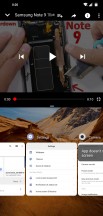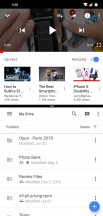 App switch • multi-window • multi-window
Themes are available in MIUI for Poco and you can opt for the default MIUI look from the Theme Store.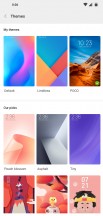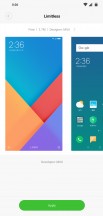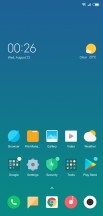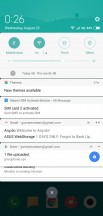 Themes • MIUI theme • MIUI theme • MIUI theme • MIUI theme
MIUI v9 also offers a Security app. It can scan your phone for malware, manage your blacklist, manage or restrict your data usage, configure battery behavior, and free up some RAM. It can also manage the permissions of your installed apps and allows you to define the battery behavior of selected apps and applies restrictions only to the apps you choose.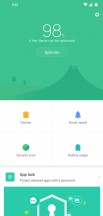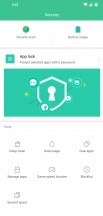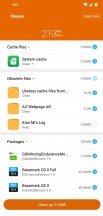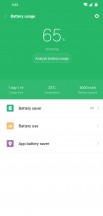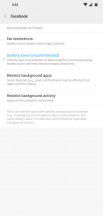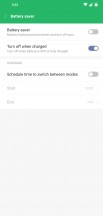 Security app • Security app • Cleaner • Battery management • Managing a single app • Battery Saver
MIUI also offers proprietary Gallery, Music, and Video player, and File manager. FM radio is available, too.
Performance and benchmarks
One of the Pocophone's major objectives is to be the Master of Speed ('Flagship Killer' was already taken we guess). And the best way to claim that title is to offer the most current Snapdragon chipset on the cheap, cheaper than the OnePlus 6. Indeed, the Pocophone F1 employs the latest Snapdragon 845 and is available with 6 or 8 gigs of RAM depending on your needs (and wallet).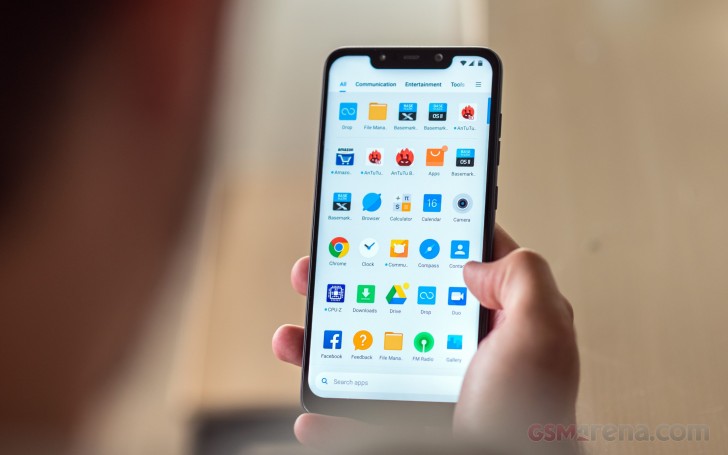 Integrating the S845 SoC is easy but making it work well - not so much. We've encountered many phones that throttle the performance after a while to prevent the internals from overheating. This won't be very appropriate for a Master of Speed, would it?
It seems Xiaomi was serious with that slogan, as it has opted for a high-end cooling solution for the Poco F1. There is a vapor chamber with a think copper pipe running along the surface of the most important chips inside the F1. When the processor gets hot, the liquid in the chamber evaporates and moves to the cooler end of the pipe where it recondenses into liquid transferring the processor heat in the process. This should keep the temperature in check and helps the phone provide a sustained level of performance. So, the Pocophone might be affordable, but it's still a proper flagship on the inside.
Well, we guess Xiaomi didn't have much choice though, as the phone is all-plastic, there is not even a metal frame to help dissipate heat. So, the copper pipe cooling was probably a must-have for the F1 anyway.
Now, it's benchmark time! In the single-core test, the Pocophone F1 scored in line with its S845 peers. The Kryo 385 core is among the top performers on the market right now, bested only Samsung's Mongoose M3 and Apple's Monsoon.
GeekBench 4.1 (single-core)
Higher is better
Apple iPhone X
4256
Samsung Galaxy S9
3759
OnePlus 6
2450
Xiaomi Pocophone F1
2438
Xiaomi Mi 8
2431
Xiaomi Mi 8 SE
1890
Nokia 7 plus
1634
Meizu 15
1620
Xiaomi Mi A2
1617
Oppo R15 Pro
1612
Oppo F7
1531
Xiaomi Mi A2 Lite
881
In the multi-core test the Poco F1 once again posted a number similar to its S845 fellows' scores.
GeekBench 4.1 (multi-core)
Higher is better
Apple iPhone X
10215
OnePlus 6
9011
Xiaomi Pocophone F1
9003
Samsung Galaxy S9
8830
Xiaomi Mi 8
8494
Xiaomi Mi 8 SE
5908
Oppo F7
5901
Nokia 7 plus
5893
Meizu 15
5877
Oppo R15 Pro
5809
Xiaomi Mi A2
4625
Xiaomi Mi A2 Lite
4388
The Adreno 630 GPU, just like the CPU, is also among the best mobile GPUs right now, handling everything effortlessly even when running on 1080p, or even 1440p screens.
Basemark X
Higher is better
OnePlus 6
44229
Xiaomi Pocophone F1
43652
Xiaomi Mi 8
43285
Samsung Galaxy S9
42645
Xiaomi Mi 8 SE
27560
Xiaomi Mi A2
21378
Nokia 7 plus
21063
Meizu 15
20836
Oppo R15 Pro
20693
Oppo F7
11873
Antutu is among the more popular tests as a single tell-all number, and in our testing the Pocophone F1 score is the same as the OnePlus 6's and among the best so far.
AnTuTu 7
Higher is better
Xiaomi Pocophone F1
265314
OnePlus 6
264200
Samsung Galaxy S9
250156
Xiaomi Mi 8
217298
Xiaomi Mi 8 SE
170218
Oppo R15 Pro
146526
Nokia 7 plus
140820
Oppo F7
139414
Xiaomi Mi A2
130927
Meizu 15
125444
Xiaomi Mi A2 Lite
77964
We can only praise the Pocophone F1 for its great, sustained performance. MIUI is well optimized and doesn't bog down Android since it is lean and smooth. Running a benchmark repeatedly doesn't slow the phone at all.
The Poco F1 equipped with the fastest chip available today, runs smooth and lag-free, the interface is snappy, and there is no throttling and overheating. Great job, Xiaomi!
4 years and still my favourite
Jeremiah c
27 Dec 2021
Nuw
How can I restart my phone
I love my poco f1 , excellent phone, good display ( 3 year use) good for gaming 👍, better than my iPhone xs