Xiaomi Redmi 10 review
GSMArena Team, 29 August 2021.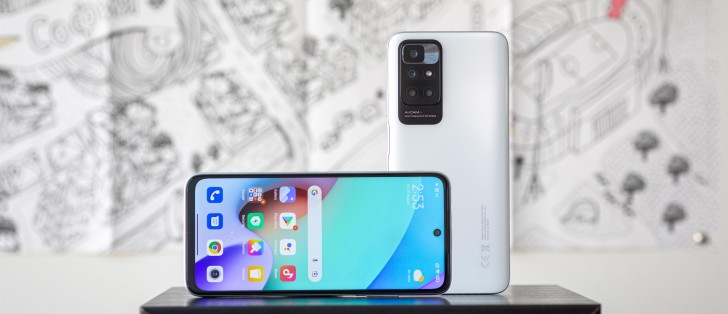 MIUI 12.5 with Android 11 under the hood
Naturally, the Redmi 10 comes with the latest MIUI iteration, which in this case is the 12.5. Xiaomi has a good track record of keeping its low-end and even old devices up to date, at least when it comes to MIUI. Core Android updates come a bit later on in one's life cycle.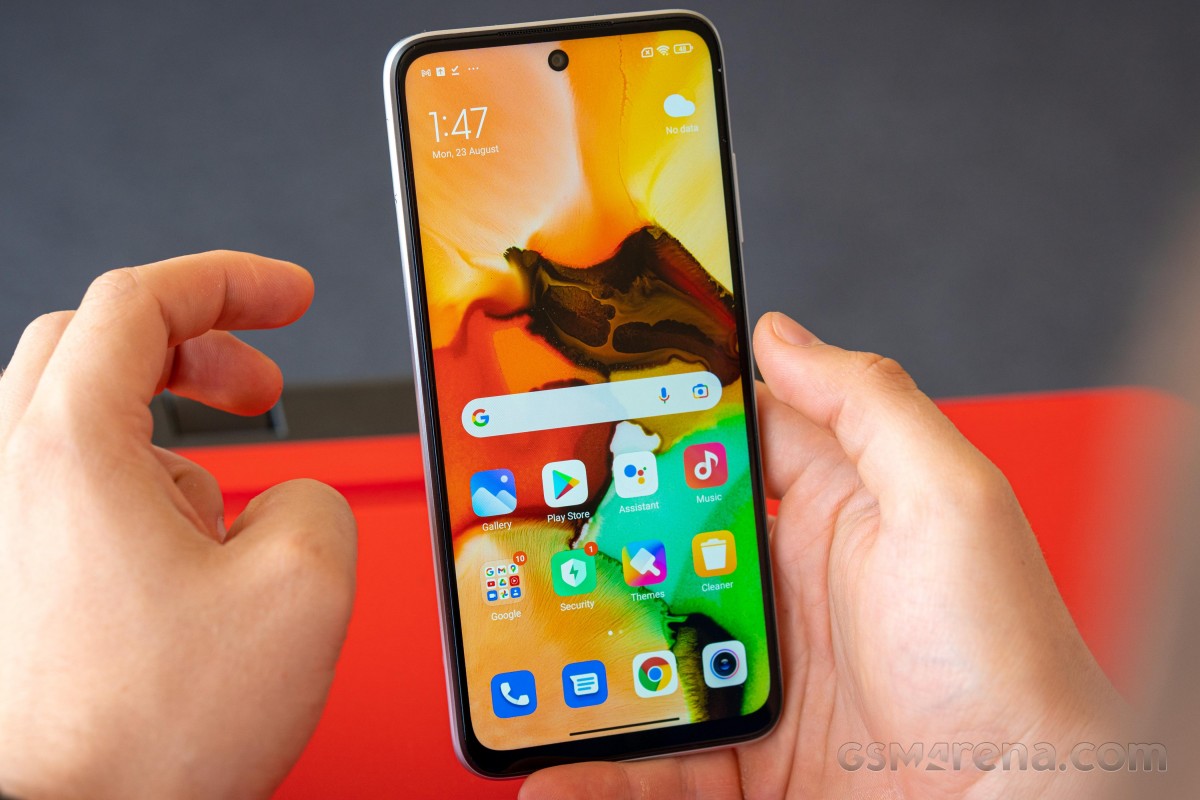 MIUI is far from a pure Android experience, but Xiaomi's skin has matured quite a bit over the years. The software runs smoothly, offers an abundance of settings and customizations, even on a low-end phone like the Redmi 10.
One big change with MIUI 12 is the notification shade. Now divided in two, all your notifications can be seen by swiping from the left half of the screen while the revamped quick toggle buttons are summoned with a swipe down from the right half of the screen. The most commonly used ones are highlighted with different colors and bigger icons. The rest can be re-arranged, and, of course, the brightness slider is where it should be.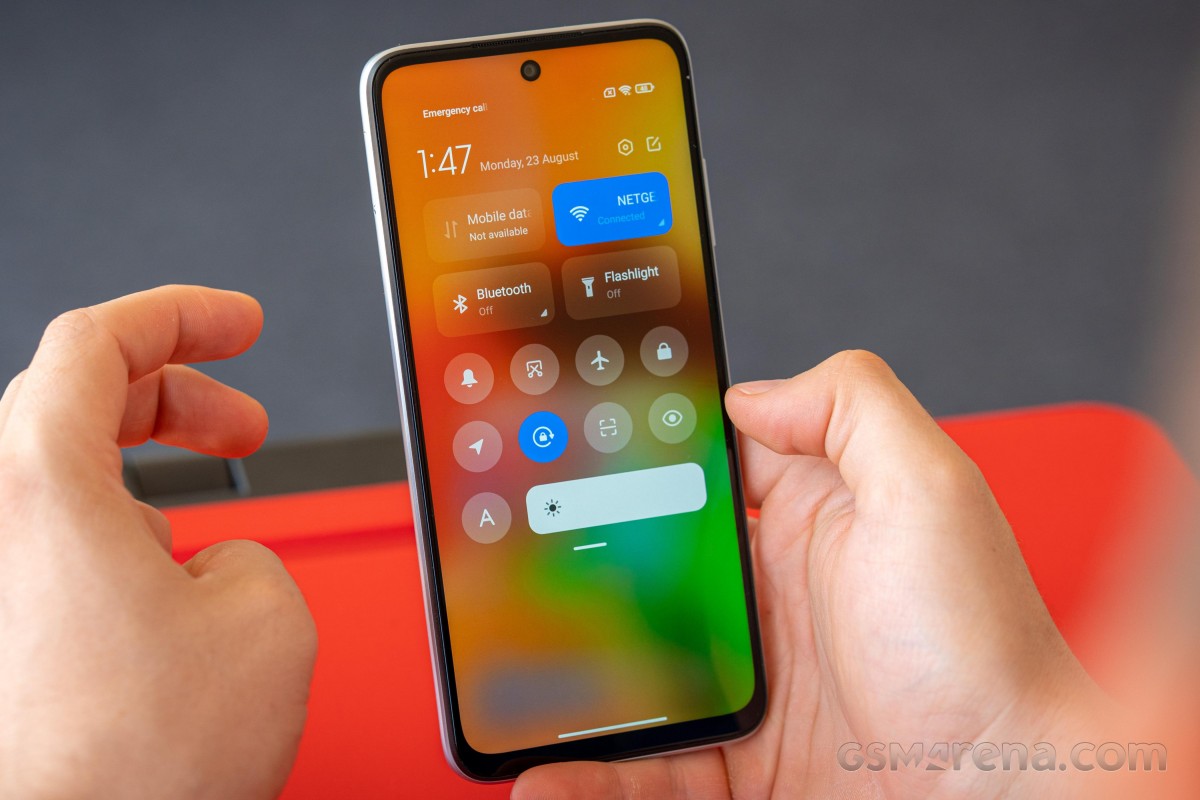 The notification panel offers you a choice between standard Android notification cards and the revamped MIUI ones that go better with the overall MIUI aesthetics.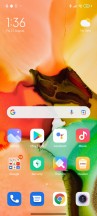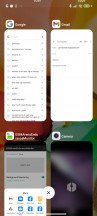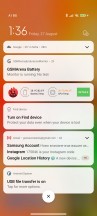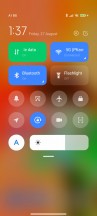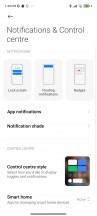 Home screen, notification shade, quick toggles, recent apps menu
And even though MIUI 12.5 sounds like a minor update over the MIUI 12, it's actually a bearer of a slew of new features. Some of them are security and privacy-related. You can prevent apps from accessing your personal information such as location, private data, clipboard and even won't save passwords.
Secondly, Xiaomi has worked on transition animations as well as overall design and compares the smoothness and simplicity of those to Apple's iOS. And we must say, we definitely do see the resemblance, for better or worse, that's for you to decide.
The system comes with fewer pre-installed apps, streamlining the system app experience. Additionally, there are several under-the-hood changes thanks to the revisited back-end code. Allegedly, the OS now draws 25% less power, and background memory usage has been decreased by 35%.
Xiaomi has introduced a new dynamic wallpaper of the Four Sisters Mountain in China, so your phone is in line with your environment. The picture adapts to your current location's weather report while new sounds for notifications are added to better suit your surrounding. Multiple notifications will come in different tones.
Themes have been an integral part of the MIUI experience, so Xiaomi has once again provided an insane amount of themes in its store.
As far as fingerprint reader performance goes, we have little to complain about. The scanner is blazing-fast, responsive and accurate too. For those accidental misreads that often happen with phones carrying a side-mounted fingerprint reader, MIUI has a solution. You can set the unlock method that requires you to press down on the power button. It only then starts to read your fingertip.
The new memory extension feature is on by default, and perhaps, it's advisable to keep it that way. The base Redmi 10 memory configuration is 4GB, so allocating just 1GB of your internal storage (64GB without the microSD), is a fair trade-off.
The Redmi 10 sure is on a tight budget, but that doesn't mean it can't support some advanced features such as Floating Windows. The name of the feature is pretty self-explanatory - it allows you to open an app in a floating window, which will appear on top of everything else you open, even a full-screen app. The feature is now more easily accessible via the recent apps menu. Which, by the way, offers deep memory clean that wipes off the apps that are loaded into the RAM.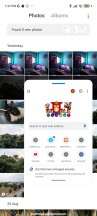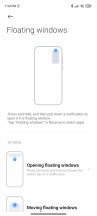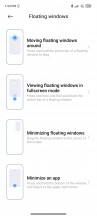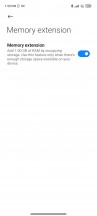 Floating window and Memory extension
You've probably already picked it up by now that we liked the way MIUI 12.5 turned out. It's well-designed, it offers an abundance of cool features, and it runs great, for the most part. We did notice some minor slowdowns and hiccups here and there but that's to be expected given the modest hardware the Redmi 10 has to work with. Otherwise, day-to-day performance is really good.
Performance
The Mediatek Helio G88 that the Redmi 10 is rocking seemed like a new chipset, but it turned out it's the well-known Helio G85 with a few new features.
The Helio G88 can now officially support 90Hz at 1080p+ and can work with 64MP main cameras instead of 48MP. This wasn't possible without OEM customizations. The rest of the specs are identical, though - octa-core CPU with 2x Cortex-A75 cores ticking at 2.0 GHz and 6x Cortex-A55 clocked at 1.8 GHz. The GPU is Mali G52 MC2 working at 1 GHz.
The handset can be found with various memory configurations - 4GB/64GB, 4GB/128GB and 6GB/128GB. The storage is expandable via a dedicated microSD card, while the internal storage chips are eMMC 5.1, not of the UFS kind.
Unfortunately, though, most of the benchmarks we've tried on our unit were blocked, so we only have the Geekbench 5 results listed below. The good news is that the Helio G88 performs just as expected, and there's no difference between the G85 and G88 performance-wise. You can expect identical performance to the Redmi 9 in all scenarios.
GeekBench 5 (multi-core)
Higher is better
Realme 8
1690
Xiaomi Redmi 9T
1400
Poco M3
1398
Realme Narzo 20
1328
Xiaomi Redmi 9 (Prime)
1325
Xiaomi Redmi 10
1294
Redmi Note 9
1292
Samsung Galaxy A32
1277
GeekBench 5 (single-core)
Higher is better
Realme 8
533
Realme Narzo 20
385
Xiaomi Redmi 9 (Prime)
362
Redmi Note 9
361
Xiaomi Redmi 10
361
Samsung Galaxy A32
361
Poco M3
308
Xiaomi Redmi 9T
307
Why is such a tiny 50MP sensor even manufactured.
Since this Redmi supports 22.5W fast charging, it caps at 18, what USB type-c 2.0 fast charge cable should I get in case the original cable wore out? How many Amperes is the minimun and maximum for a fast charge typ c cable?
Did you solve this issue with what's app