Xiaomi Redmi 8a hands-on review
GSMArena team, 27 Dec 2019.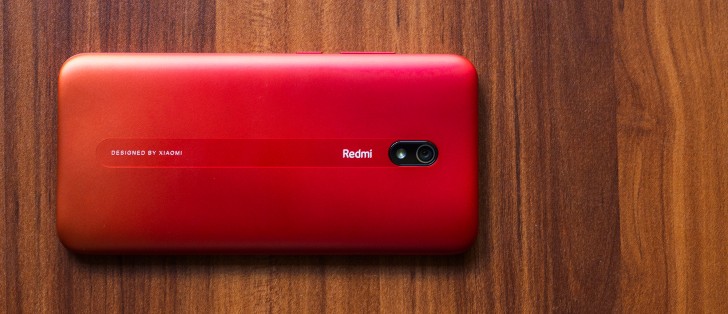 Software
The Redmi 8A runs on MIUI 11 on top of Android 9. Our review unit was running the November 2019 security patch, which isn't too shabby.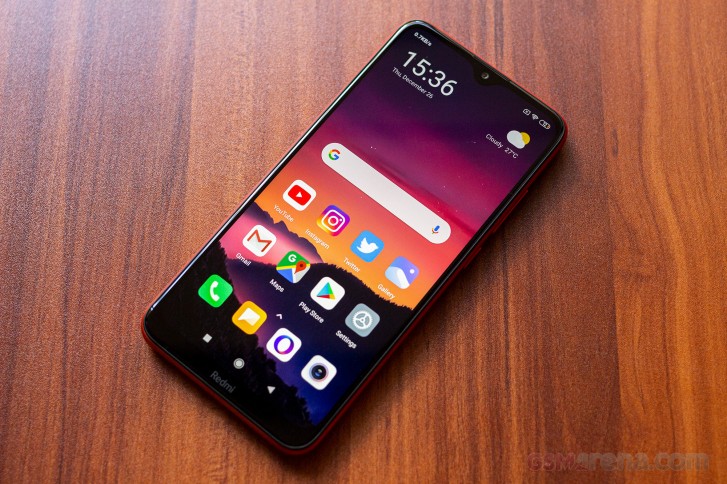 In terms of software experience, this is pretty much the same MIUI experience that you find on any other Xiaomi phone. Starting with the launcher, the Redmi 8A ships with the standard MIUI launcher and not the new Poco launcher that comes by default on the K20 series of devices. While this is easily rectifiable by a swift download from the Play Store, we think it's a misstep on Xiaomi's part to not make this their default launcher and continuing to ship the now thoroughly outdated and frankly annoying MIUI launcher.
The navigation gesture implementation is good. Xiaomi was the first to implement a system of this type on Android after Apple did, it and their implementation has been the best. So much so that the one used in Android 10 by default is basically identical. You can still use the navigation buttons and thankfully, even switch the buttons around if you prefer the back button closer to your right thumb.
The notifications are finally good in MIUI. This isn't necessarily a new thing in MIUI 11, but it was an issue with older versions of the OS and just one of the weird things about it but the notifications in MIUI 11 work just the way you expect them to and are perfectly normal now for Android.
The app switcher is an improvement over stock Android implementation. Xiaomi is the only one to have this lay,out and it presents many more windows at once, making it more practical. You just have to get over your muscle memory now if you're coming from another brand as here, swiping sideways closes the app and up moves down the list, pretty much the exact opposite of how it is on other phones.
There's a good bit of features here, includia ng system-wide dark mode that is honored by all third party apps that support it. A second space feature creates a second profile on your device to have a second account for certain apps like WhatsApp. There's also an FM radio app that works without plugging in headphones.
However, some of the features don't work all that well. The face unlock feature is a bit of a hit or miss. In some situations, it's quick to react and unlock and other times it will take too long and eventually ask for the passcode. The phone does not have a fingerprint sensor, so the face unlock is the quickest way to unlock the phone if you have enabled a screen lock and unfortunately, it's just not that good.
There are some things that still haven't been implemented in MIUI. The OS still does not have a DPI scaling feature. You can control the size of the font, but that doesn't change the size of the UI by much. By default, the OS ships with a rather large DPI size, which makes everything huge and feels like a waste of space on such a big display. A simple scaling feature could fix this, and it has been part of Android for years now, but Xiaomi refuses to implement it. Similarly, there are some other annoyances, such as no option to set Bluetooth on and hidden at the same time, which means if your Bluetooth is on, it will continuously broadcast its presence, wasting power in the process. There is also no Bluetooth absolute volume feature still, which means the OS volume does not adjust with Bluetooth audio device volume.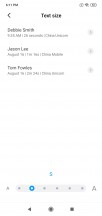 Font size setting without DPI scaling option
Then there are also features that are just unnecessary. Xiaomi still ships a ton of security features out of the box with its phones, even though their utility is dubious at best. This includes antivirus features that scan your phone and also every new app that you install. Then there is the memory cleaner utility that constantly nags you to clean unnecessary files the moment a few MB of data is collected. None of these add genuine value to the user experience and are relics of the past when Android was a malware infested platform with memory management issues.
The situation only gets worse from there. We have written about this multiple times in the past, but it bears constant repeating, just the way Xiaomi loves repeating its apps. The Redmi 8A, like most other Xiaomi phones, comes with a version of Xiaomi apps that basically mirrors the functionality of the pre-installed Google apps. This means you have two browsers, two galleries, two music players, two video players, and even two app stores. Xiaomi insists on having its own app store on the device, even though everything available there is already on the Play Store. All of this makes sense in China, where Google's apps and services aren't present, but make no sense in other markets.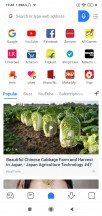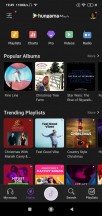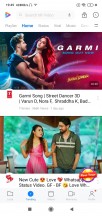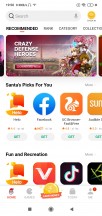 Promoted and sponsored content
Of course, they do start making sense when you consider what Xiaomi mostly uses all these duplicate apps and services for, and that is to show you ads and promoted content. All Xiaomi apps on this phone have some form of advertisements or promotional material. Most apps will straight up show you ads, including stuff like the virus scanner that runs every time you install a new app and then shows you an advertisement. Others have a more subtle form of advertising in the way of promotional content, which is mostly found in the default browser, Xiaomi's app store, and the media apps. And if you aren't tired of that, the phone will also ask you to follow Xiaomi on Instagram after you install and open the Instagram app.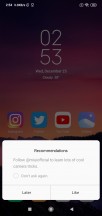 Would you care to follow MIUI on Instagram?
The company has long since admitted that it does this to make up the cost for selling its phones dirt cheap. This obviously takes away some of the appeal of purchasing these phones at their prices. Sure, you can disable most of the advertising on this device if you have the patience and know where to look, however, you can't hide any of the promotional content in the apps, and neither can you disable any of the system apps. MIUI will also not let you hide notifications from certain apps, which it of course uses to spam you all day for things you don't need.
It's possible some people aren't bothered by all this, especially at the price the phone is sold at. Also, if you're outside of India, you might be wondering what the big deal is as a lot of the advertising is only visible for devices in India. However, despite all of that, we don't think such blatant and incessant advertising is a good consumer experience at any price point, and will keep harping on until Xiaomi does something about it. We'd like to point out that other companies like Realme also offer competitive pricing, but none of them have advertising on their devices like Xiaomi, so maybe it's time consumers start voting with their wallets.
Performance
The Redmi 8A has a Snapdragon 439 chipset, which has an octa-core CPU with eight Cortex-A53 cores, four of which run at 1.95Ghz and four at 1.45GHz. The GPU is the Adreno 505 clocked at 650MHz. You get a choice of two memory options between 2GB and 3GB, and both come with 32GB expandable storage. Our review unit was the base 2GB model, which allowed us a chance to see how the cheapest model performs, in case anyone chooses to go that route.
Admittedly, we had very low expectations from this hardware. We knew going in that the 2GB memory will likely be the weakest link in the performance chain. Predictably, that's pretty much what happened.
In terms of day to day usage, the phone is reasonably peppy and usable. Apps do take a smidge longer to launch, but once opened, there isn't any stuttering or undue sluggishness. Unfortunately, the memory really limits the performance in a big way. Switching between multiple apps or opening an app you had accessed a while back and having it be in the same state you left it is not a luxury this device offers. The memory is sufficient to keep the current task running smoothly, but when you swap applications back and forth there is not enough memory for all of it.
Gaming is another thing that isn't really a practical use-case for this device, at least 3D gaming with titles such as PUBG or Fortnite. Even at its lowest settings and the 720p resolution, PUBG was still largely unplayable due to constant hitching and objects loading extremely close to the camera due to low memory. Of course, this doesn't mean you can't play games on this phone at all, but your tastes need to gravitate more towards casual 2D titles. It's also worth noting that the phone doesn't come with a ton of storage space so it's best not to load it up with games you can't really play on it.
Anonymous
01 May 2023
gML
I had played Call Of Duty, PUBG Lite, BGMI, Free Fire and Free Fire Max in this device (2GB Ram-32GB ROM varient) in low settings. Overall experience is good.
Anonymous
21 Jan 2023
j9J
You usually get what you pay for if this phone is a basic one then don't expect a lot
This phone is way too bad for it's price. The touch screen is unresponsive to a point where you can't even use the phone, unbearable! THIS IS NOT A GAMING PHONE! This phone cannot handle such graphical intensive games like LOL Wild Rift it&...