Xiaomi Redmi K20 Pro/Mi 9T Pro review
GSMArena team, 26 Aug 2019.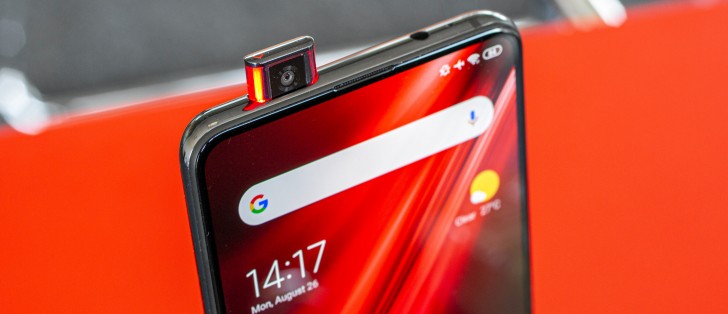 Android 9 Pie, MIUI 10.3, and Poco launcher 2.0
Both the Xiaomi K20 Pro and Mi 9T Pro boot the latest MIUI 10.3 ROM based on Android 9 Pie. There is one difference though - the K20 Pro comes with Poco launcher 2.0 pre-installed, which adds a feature-rich app drawer, while keeps the rest of the MIUI 10 intact.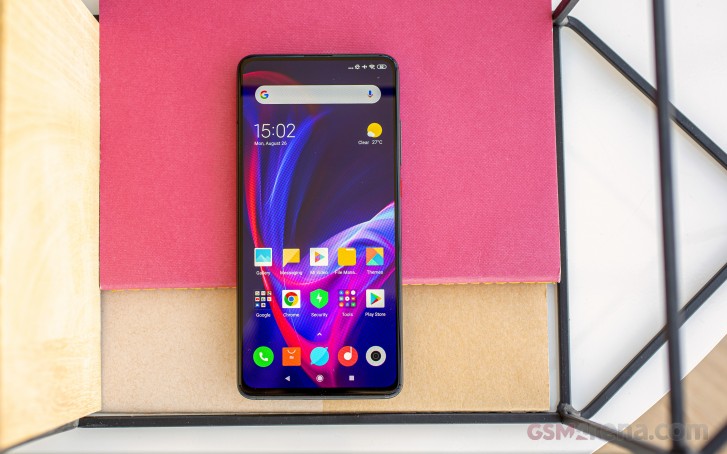 The Redmi K20 Pro supports Always-on display and you can schedule it or leave it on/off all the time. There are various themes you can choose from and make it yours.
You can unlock the screen via the latest-generation under-display fingerprint scanner. The reader is very easy to set up and works surprisingly fast. The accuracy is superb, too, and overall, it's great for your daily unlocking.
You can also set up face unlock in addition to it - it's equally fast as the Redmi K20 Pro wakes up the moment you pick it up. Note that the face unlock option may not be available in all regions.
The Xiaomi Redmi K20 Pro has a Dark mode - it will switch all system colors from white to black and this way you can save some battery juice by making the best use of the power-efficient AMOLED screen. Note that not all apps support the dark mode, but the majority do.
The K20 Pro also comes with various live wallpapers including the cool 24-hour wallpaper - it changes depending on the time of day and is quite nice, indeed.
Having a Poco launcher means you get an app drawer over the MIUI 10 UI. It is quite powerful and supports automatic categories, you can change backgrounds and transparency, icon arrangement and size, among other things. The thing is we never felt the need for an app drawer on MIUI, but it's on the K20 Pro and it can be disabled, of course, so we don't mind it.
And if you are getting the Mi 9T Pro, which doesn't come with Poco launcher installed by default, but want an app drawer - just go to the Play Store and download the Poco launcher app. It's free, of course.
Here are the default home screens on Redmi K20 Pro. There's a weather widget in the upper right corner across from a large clock widget. There is a Quick Card pane, the leftmost one. It contains different cards with relevant information - recent apps, step counter, notes, calendar events, the weather, and favorites, among others. You can configure what shows up here, or you can disable this altogether.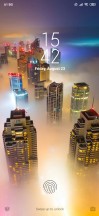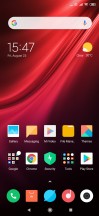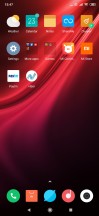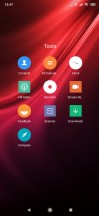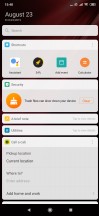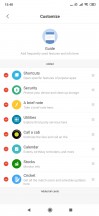 Lockscreen • Homescreen • Homescreen • Tools • • Quick Card • Settings
The task switcher felt a bit awkward at first, but we've grown to like it. It shows all of your recent apps in two columns. Tap and hold on a card for the split-screen shortcut, or just swipe it left or right to close it.
Themes are supported on the Xiaomi Redmi K20 Pro, but the app appears only when the phone is set to a supported region, say India.
MIUI also offers a Security app. It can scan your phone for malware, manage your blacklist, manage or restrict your data usage, configure battery behavior, and free up some RAM. It can also manage the permissions of your installed apps and allows you to define the battery behavior of selected apps and applies restrictions only to the apps you choose.
MIUI also offers proprietary Gallery, Music, and Video player. In some regions, the music and video app include paid streaming options. FM radio app is available, too.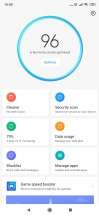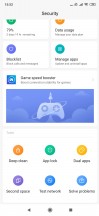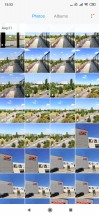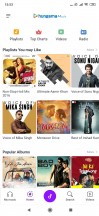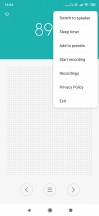 Security app • Security app • Gallery • File Manager • FM radio
Performance and benchmarks
The biggest difference between the Redmi K20 and K20 Pro, as well as the Mi 9T and Mi 9T Pro, is the chipset upgrade. The Pro models are powered by the flagship Snapdragon 855 chip, though it's not the overclocked Plus revision. The SoC employs an octa-core processor with 1+3+4 configuration - there is a single Kryo 485 Gold core (a Cortex-A76 derivative) clocked at 2.84GHz; three more Kryo 485 Gold cores clocked at 2.42GHz and a cluster of four Kryo 485 Silver cores (Cortex-A55 derivative) ticking at 1.78GHz.
The GPU is Adreno 640 and it's Qualcomm's top-of-the-line graphics processor that can handle pretty much everything you throw at it. And it will surely ace every test running at the K20's 1080p screen.
The K20 Pro is available in four different versions - the 6GB RAM model is available with 64GB and 128GB storage options, while the K20 Pro with 8GB RAM can be bought with 128GB or 256GB storage.
The international Mi 9T Pro comes only with 6GB of RAM in either 64GB or 128GB.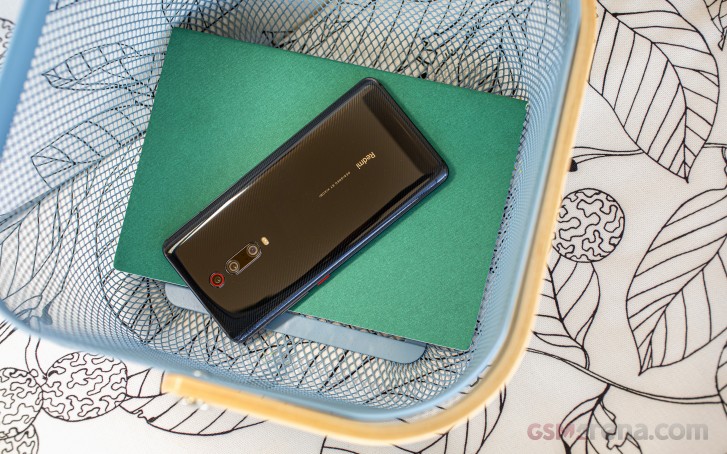 The Redmi K20 Pro has a dual-sided advanced cooling around its chipset. There are 8 layers of graphite and thermal silica just below the screen glass and a copper foil plus thermal silica behind the rear glass. These should allow for a balanced and sustained performance when the phone uses the maximum power of the Snapdragon 855 SoC.
The GeekBench CPU test still paints that Snapdragon 855's processor as the champ for multi-core tasks. But as far as single-core performance is concerned, the newest custom core by Samsung does much better.
GeekBench 4.1 (multi-core)
Higher is better
Lenovo Z6 Pro
11155
OnePlus 7
11075
Asus Zenfone 6 (Zen Power Boost)
10800
Asus Zenfone 6
10721
Redmi K20 Pro/Mi 9T Pro
10684
Huawei P30 (perf. mode)
10114
Samsung Galaxy S10e
10081
Huawei P30
9789
Xiaomi Mi 9T
6863
Xiaomi Mi 9 SE
6017
GeekBench 4.1 (single-core)
Higher is better
Samsung Galaxy S10e
4518
Asus Zenfone 6
3505
Asus Zenfone 6 (Zen Power Boost)
3499
Lenovo Z6 Pro
3479
OnePlus 7
3461
Huawei P30 (perf. mode)
3351
Huawei P30
3295
Redmi K20 Pro/Mi 9T Pro
3000
Xiaomi Mi 9T
2537
Xiaomi Mi 9 SE
1905
The GPU benchmarks revealed no surprises - the Adreno 640 is among the best GPUs in a smartphone and delivers unprecedent performance under a 1080p screen.
GFX 3.1 Manhattan (1080p offscreen)
Higher is better
Redmi K20 Pro/Mi 9T Pro
71
Lenovo Z6 Pro
71
OnePlus 7
71
Asus Zenfone 6
71
Asus Zenfone 6 (Zen Power Boost)
71
Samsung Galaxy S10e
67
Huawei P30 (perf. mode)
56
Huawei P30
54
Xiaomi Mi 9T
27
Xiaomi Mi 9 SE
26
GFX 3.1 Manhattan (onscreen)
Higher is better
Redmi K20 Pro/Mi 9T Pro
57
Lenovo Z6 Pro
57
Samsung Galaxy S10e
57
OnePlus 7
57
Asus Zenfone 6
57
Asus Zenfone 6 (Zen Power Boost)
57
Huawei P30
48
Huawei P30 (perf. mode)
48
Xiaomi Mi 9T
24
Xiaomi Mi 9 SE
24
GFX 3.1 Car scene (1080p offscreen)
Higher is better
Redmi K20 Pro/Mi 9T Pro
42
Lenovo Z6 Pro
42
Samsung Galaxy S10e
42
OnePlus 7
42
Asus Zenfone 6
42
Asus Zenfone 6 (Zen Power Boost)
42
Huawei P30 (perf. mode)
33
Huawei P30
29
Xiaomi Mi 9T
16
Xiaomi Mi 9 SE
15
GFX 3.1 Car scene (onscreen)
Higher is better
Samsung Galaxy S10e
40
Redmi K20 Pro/Mi 9T Pro
36
Lenovo Z6 Pro
36
OnePlus 7
36
Asus Zenfone 6
36
Asus Zenfone 6 (Zen Power Boost)
36
Huawei P30 (perf. mode)
28
Huawei P30
26
Xiaomi Mi 9 SE
14
Xiaomi Mi 9T
13
Finally, the Redmi K20 Pro aced the compound AnTuTu benchmark furthermore cementing its flagship narrative.
AnTuTu 7
Higher is better
Asus Zenfone 6 (Zen Power Boost)
377024
Redmi K20 Pro/Mi 9T Pro
368846
OnePlus 7
367812
Asus Zenfone 6
361679
Lenovo Z6 Pro
357672
Samsung Galaxy S10e
325192
Huawei P30 (perf. mode)
314595
Huawei P30
287960
Xiaomi Mi 9T
211915
Xiaomi Mi 9 SE
180057
The Redmi K20 Pro delivers similar performance to some of the most powerful smartphones on the market today. We played a couple of modern games on it and we didn't notice any bottlenecks or drops in the games' frame rates.
There is a dedicated Game Boost menu within the Security app, go figure, and it is basically a game launcher that allows for better resource management. We tried it, but we didn't notice any benefits. Maybe when the chipset gets older and more demanding games arise - the Game Boost might be useful, but for now - well, it's there.
Despite the cooling solutions within the K20 Pro - it may get hot at a spot but only after prolonged processor benchmarks. This could lead to some potential drop in performance, but once gain - it happened only while doing multiple runs of CPU stress tests.
So, the K20 Pro is delivers cutting-edge performance on the jaw-dropping price of €399/INR 27,999. That sounds quite Pocophone-ish, doesn't it?
mine also... first of all popup camera started to stuck from time to time, than volume down button, then microphone and speaker started to being to quiet for normal communication, and in a last two days after a slightly hard pressure with my bare han...
My phone display gone defective just after elapse of one year, but it is somewhat uncommon. Approached service centre and they have asked for 9k for replacement. It is a costly affair to buy these chinese cellphones, as it is going to be a disastrous...
k20 pro is best mobile in in just time camara is tooooooo goooooood