Xiaomi Redmi Note review: Warning note
Warning note
GSMArena team, 2 October 2014.
Image gallery
The Xiaomi Redmi Note comes with a custom Gallery app. It defaults to your camera roll with two shortcuts at the bottom that will take you to album view of your local images and album view of your cloud pictures. You can't change this view, nor can you customize the default folders.
The available features when viewing a single image are pretty standard - set image as wallpaper/contact image, share it, delete it, enter edit mode or just get more info.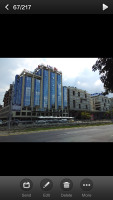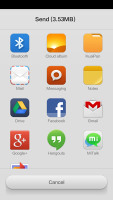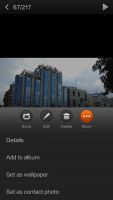 Viewing a single image • options
The integrated editor offers various effects, frames, tools (crop, mirror, straighten, rotate, fisheye, doodle) plus light adjustments that let you bring out the shadows or the highlights.
Music player
The MIUI music player is a custom app with a well-laid out, easy to navigate interface. It has a huge visualization screen doubling as a Now Playing windows. Below you get four non-customizable tabs - All Songs, Artists, and Playlists.
The player has cool 3D effects, transitions and transparent elements, especially on the expandable Now Playing section.
Xiaomi's Music app offers customizable equalizers with a few default presets already available for use. You can also try Xiaomi's MiSound enhancer, which comes into play when you use headphones, and especially, a Xiaomi-branded set.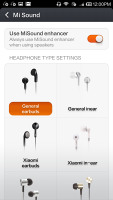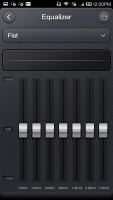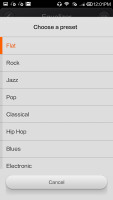 Audio enhancements and equalizers
Finally, you can edit song info and you can also enable automatic song info download in case the ID3 tags are empty. Lyrics can be downloaded, too.
FM radio
The phone has an FM receiver and supports radio recording. There is a sleep timer as well.
Video player
Xiaomi Redmi Note does not feature a separate video app. Instead you have to browser your files via the image gallery or the file explorer app. We suggest using the latter (Explorer), because the Gallery doesn't recognize MKV and WMV files.
The video player interface is very basic interface but there is rich video codec support. It managed to play everything we threw at it (including MKV and WMV files). The AC3 audio codec is supported too.
Subtitles and pop-up play are not supported by the MIUI's video player.
Audio output disappoints
Audio output is the one area of modern day smartphones that Xiaomi is yet to master. Even the company's Mi 3 and Mi 4 flagship didn't do particularly well here, so it's hardly surprising that the Redmi Note is downright disappointing performer when used as a portable music player.
When connected to an active external amplifier the Redmi Note performance is passable at best – it posted a few very good scores (signal-to-noise, dynamic range and stereo crosstalk), but its intermodulation distortion was above average and the frequency response wasn't particularly good. On the positive side, volume levels were well above average.
Plugging in a pair of headphones causes a moderate increase in stereo crosstalk, but that's one of the best things that could be said about the Redmi Note here. Intermodulation distortion went through the roof, while frequency response went all over the place. Volume levels plummeted as well, adding up to a disappointing overall performance.
And here go the detailed results so you can check them out for yourselves.
| | | | | | | |
| --- | --- | --- | --- | --- | --- | --- |
| Test | Frequency response | Noise level | Dynamic range | THD | IMD + Noise | Stereo crosstalk |
| Xiaomi Redmi Note | +0.09, -1.23 | -88.4 | 88.4 | 0.056 | 0.252 | -85.2 |
| Xiaomi Redmi Note (headphones attached) | +0.83, -6.73 | -84.0 | 86.7 | 0.196 | 2.354 | -63.5 |
| Xiaomi Redmi 1S | +0.08, -0.02 | -95.4 | 88.4 | 0.0045 | 0.028 | -82.3 |
| Xiaomi Redmi 1S (headphones attached) | +0.03, -0.07 | -95.3 | 88.2 | 0.0090 | 0.032 | -52.8 |
| Oppo R819 | +0.04, -0.09 | -92.4 | 92.3 | 0.017 | 0.045 | -87.9 |
| Oppo R819(headphones attached) | +0.58, -0.13 | -91.0 | 90.9 | 0.015 | 0.438 | -48.7 |
| Nokia Lumia 625 | +0.13, -0.10 | -90.3 | 90.3 | 0.013 | 0.355 | -82.5 |
| Nokia Lumia 625 (headphones attached) | +0.24, -0.00 | -90.2 | 90.2 | 0.014 | 0.460 | -83.8 |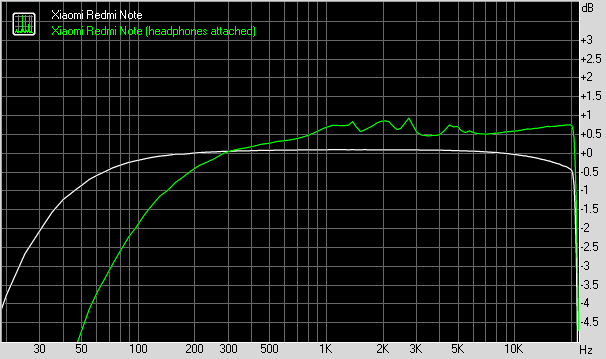 Xiaomi Redmi Note frequency response
You can learn more about the whole testing process here.
Very bad quality I request to all of u plz don't buy any MI mobile It reduce net speed after few days. An also having very poor net speed. So never buy any MI mobile.
Hell friends, If you have purchased mi phones and planning for MI protection plan for better security of your handset then please stop. dont waste your money. They have end number of reasons to reject your claims. even if you purchased insu...
Buyer beware This phone corrupts your contact data . Xiaomi Accepts the defect but cannot correct the corrupted data .