Xiaomi Redmi Note 10 5G review
GSMArena Team, 29 May 2021.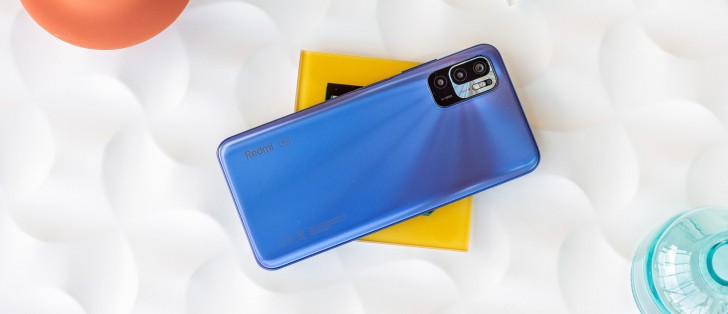 Android 11 with MIUI 12
The Redmi Note 10 5G boots Android 11 with MIUI 12 out of the box. The MIUI 12 launcher has been around for a while, and even if it uses an Android 11 base, you can't really tell that as it skins everything thoroughly.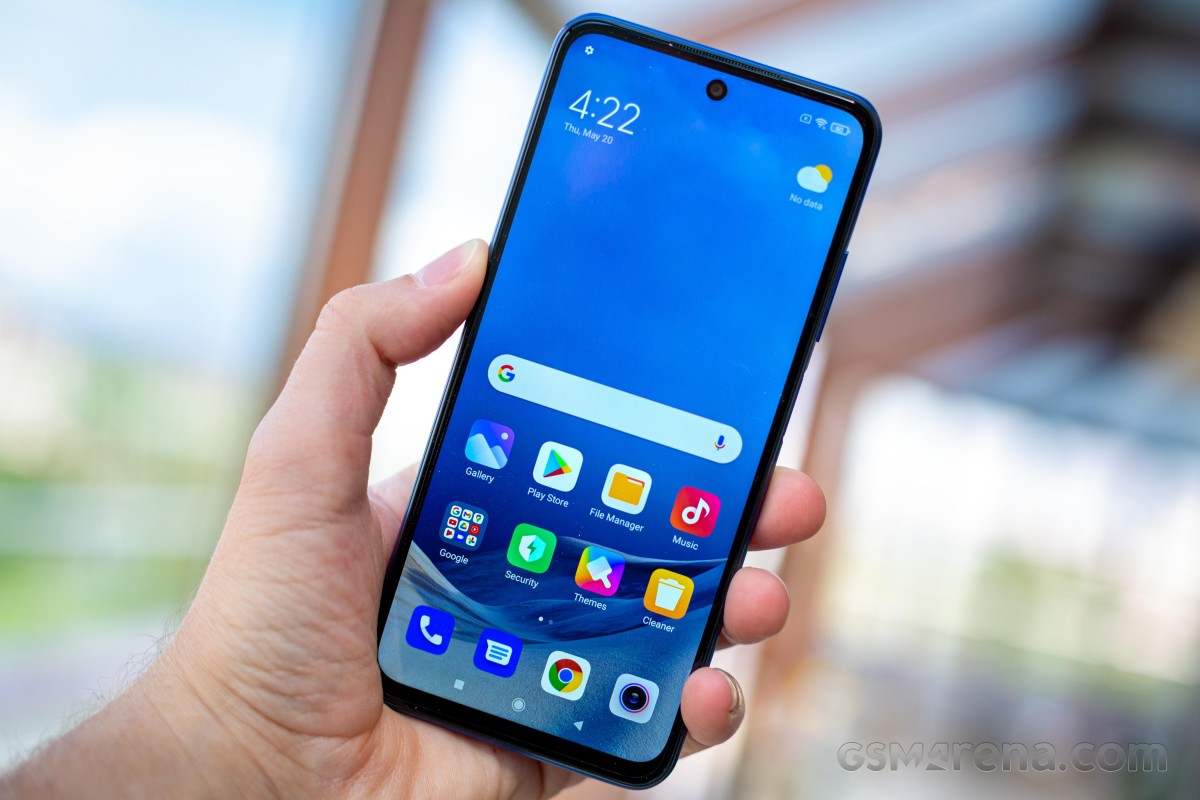 You unlock the screen via the side-mounted fingerprint scanner. The reader is easy to set up, blazing-fast, and the accuracy is superb. We advise you to set the unlock method to 'Press' as the always-on reader will often attempt reading your palm and/or other fingers and eventually disable the fingerprint unlock until you input your PIN. A 2D Face Unlock is available, too, but it is far less secure than the fingerprint option.
The homescreens are business as usual - they are populated with shortcuts, folders, and widgets. The leftmost pane, if enabled, is Google's Discover.
The Redmi Note 10 5G does not support Always-on screen, there are no Super Wallpapers either.
MIUI 12 offers an app drawer, and it automatically organizes your apps into categories. The first is All, meaning it contains all apps. Then follow Communication, Entertainment, Photography, Tools, News, Shopping and Games. You can edit these categories or even disable them altogether.
You can disable the app drawer entirely if that's not your thing.
Another interesting feature is the Notification shade split into Notification Center and Control Center. Indeed, this is precisely what the iPhones do, and you even summon them in the same fashion - pull down from the left part of the screen for the Notification Center, pull down from the right for the Control Center.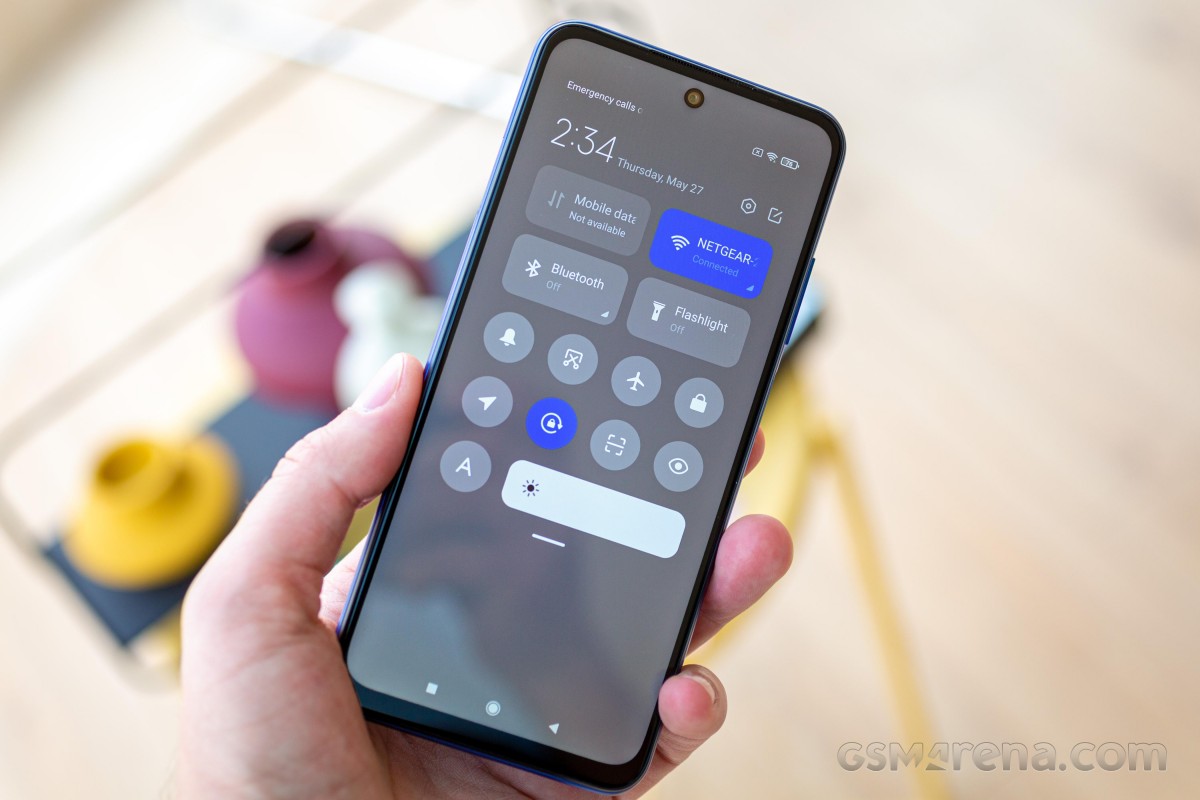 If you are not fond of this new split - you can disable the Control Center, and the shade will revert to its normal looks and operation.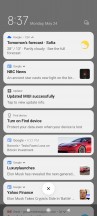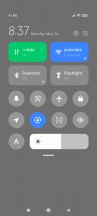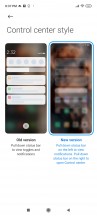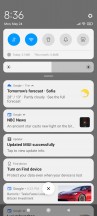 Notification Center • Control Center • Options • The old Notification Shade
The task switcher has not changed much. It shows all your recent apps in two columns. Oddly, the Redmi Note 10 5G does not support split-screen multi-tasking, or at least our ROM doesn't.
There is a Floating Windows button on top, a cool option offered by MIUI 12. You can put a compatible app in a floating state, but you only have one floating window at a time.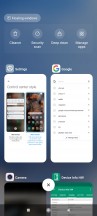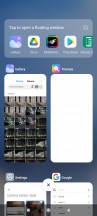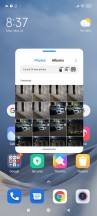 Task Switcher • Floating Windows • Floating app
Themes are a huge part of MIUI, and they are available on MIUI 12, too. You can download new ones from the Themes store, and they can change wallpapers, ringtones, system icons, and even the always-on display style.
Xiaomi enhanced MIUI 12 with a couple of additional privacy options. Now, when sharing stuff, like photos and videos, you can opt to remove location info and/or other metadata (incl. device info) and thus protect your privacy better. Neat.
MIUI also offers a Security app. It can scan your phone for malware, manage your blacklist, manage or restrict your data usage, configure battery behavior, and free up some RAM. It can also manage your installed apps' permissions and allow you to define the battery behavior of selected apps and apply restrictions only to the apps you choose.
MIUI 12 packs proprietary Gallery, Music, and Video player. In some regions, the music and video apps may include paid streaming options. Mi Remote for the IR blaster, as well as an FM radio app are available, too.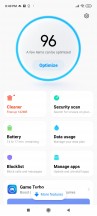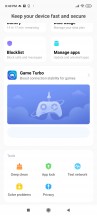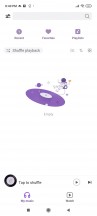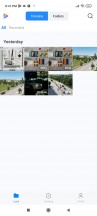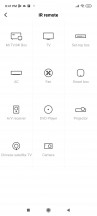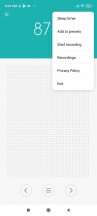 Security • Security • Music • Video • Mi Remote • FM radio
MIUI 12 supports Dark Mode, too, and you can even force it on wallpapers or restrict its application on incompatible individual apps.
MIUI 12 is fully optimized to work on HRR displays, and it looks great on the Redmi Note 10 5G. Everything is smooth and fast; animations are unobtrusive yet impressive, the attention to detail is excellent. We did enjoy working with MIUI on the Redmi Note 10 5G's 90Hz screen for sure.
Some MIUI ROMs include ads in the default apps; it is a well-known thing.
The international ROM version of this Redmi Note 10 5G does come with baked-in "recommendations" or ads, but even if they were enabled by default - nothing appeared through the UI. Still, if your phone does show ads - you can disable those even if it's a bit tedious to do it. For example, if you are annoyed by the app scanner's ads, just hit the settings gear and disable recommendations. Ads in the File Manager - Settings->About should do it. Themes - go to Settings and disable Recommendations. It's not ideal, sure, but at least you can get rid of them all.
Performance and benchmarks
The Xiaomi Redmi Note 10 5G relies on MediaTek's most affordable 5G-enabled chip - the Dimensity 700 - it is the same SoC behind the cheap Realme 8 5G.
The Dimensity 700 5G chip packs a good octa-core processor with 2x 2.2GHz Cortex-A76 and 6x 2.0GHz Cortex-A55. The GPU is Mali-G57 MC2, and, of course, there is a 5G modem.
Finally, the Redmi Note 10 5G is available in three variants, all containing LPDDR4X RAM and UFS 2.2 storage - 4GB RAM + 64GB (global), 4GB RAM + 128GB (global), and 6GB RAM + 128GB (limited markets).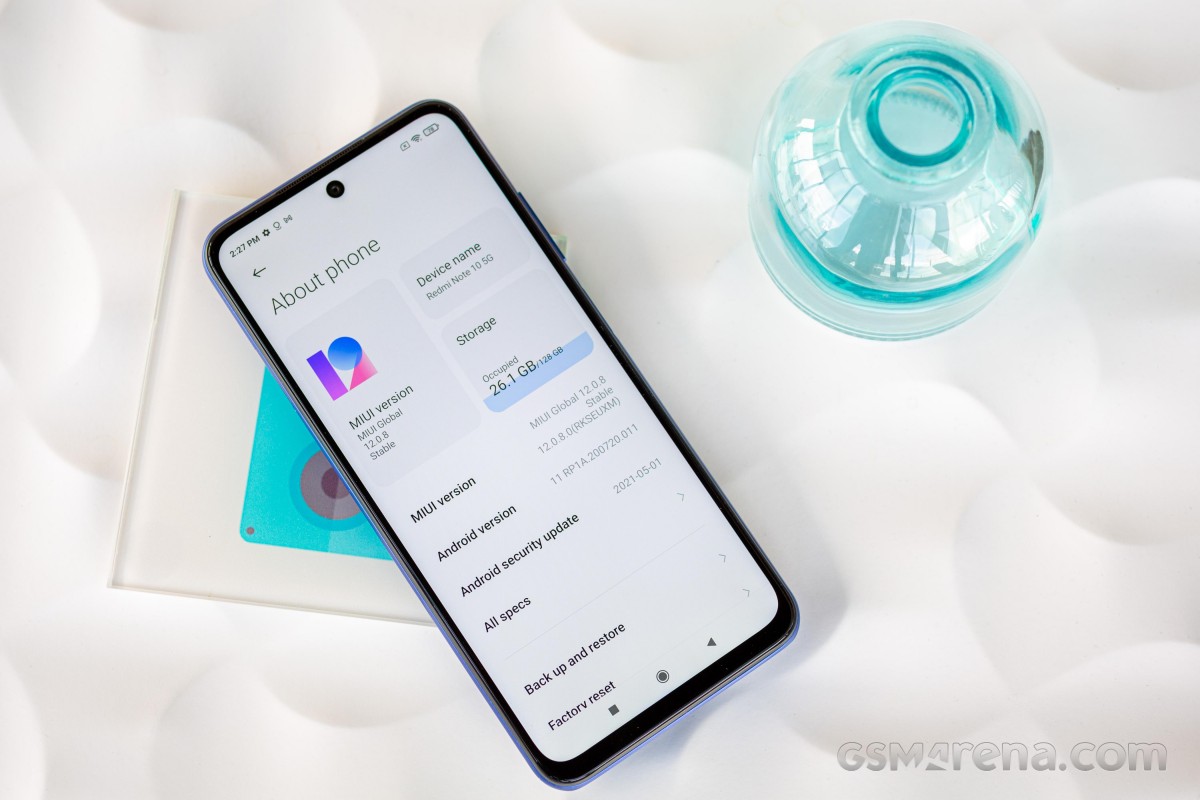 Unfortunately, our Redmi Note 10 5G came with a ROM version that has all benchmark apps banned and we couldn't run even a single test. Still, we've seen the same chip on the Realme 8 5G, working behind a similar 90Hz 1080p screen and we know what to expect from this particular piece of hardware.
The Dimensity 700 chip offers acceptable performance across all apps, including games. The CPU is perfect for this class, while the GPU may be a bit underpowered, but it still handles games pretty well, all things considered. Whether it's a drop in resolution or visual effects, the Redmi Note 10 5G, just like the Realme 8 5G, behaves great most of the time.
The Android OS with MIUI, as well as apps, browsers and even games ran smoothly on the Redmi Note 10 5G and we experience no lag or stutter. And that's more than enough for the asking €229 price.
Is this phone supposed to have gorilla glass?? The spec says it does but you only mention the LCD and from owning the phone it doesn't seem like gorilla glass, I need to know whether I can get my cracked screen fixed with the warranty or not as ...
Incredible camera, that can take nice picture, and also game run smooth without any problem.no overheat, nice phone....
Anonymous
31 May 2022
Sec
Worst phone I ever had, too chunky with a basic LCD screen .