Xiaomi Redmi Note 10 Pro (Max) review
GSMArena Team, 04 March 2021.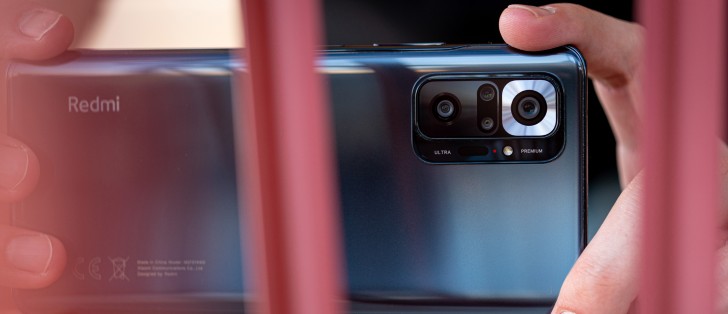 A 6.67" 120Hz OLED screen
The screen has seen the biggest upgrade since the Redmi Note 9 series. The new Redmi Note 10 Pro keeps the size familiar - it's the usual 6.67" we've grown to like on the Notes, but now it features a more premium 120Hz OLED panel.
The screen resolution is the standard 1,080 x 2,400 pixels or 395ppi. There is a small punch-hole cutout for the selfie camera, but the snapper isn't exactly centered in the said hole. Well, it is what it is.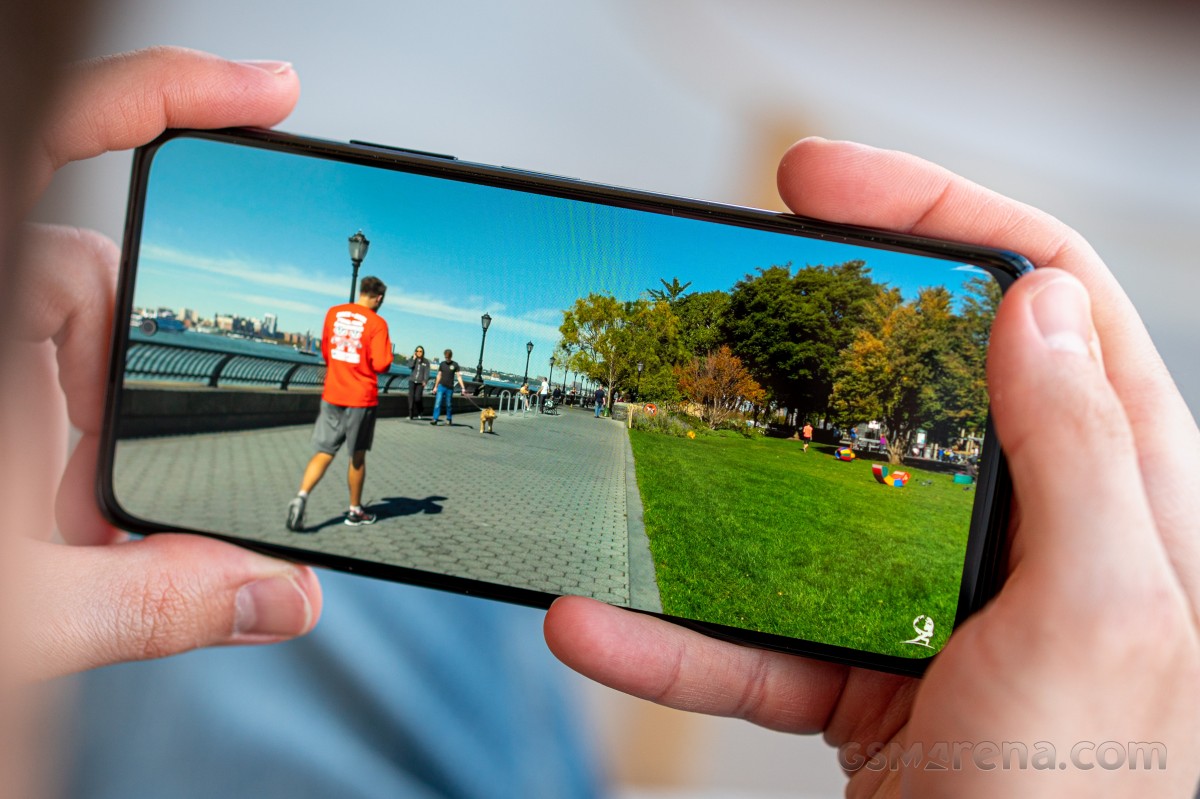 The screen is protected by a piece of Gorilla Glass 5. You also get a thin protective film applied in the factory, although we weren't fond of it as it wasn't aligned that well out of the box.
The new screen supports 60Hz and 120Hz adaptive refresh rate. It also has a touch-sensing layer that works with 240Hz sampling rate, and the screen does feel nicely smooth and super responsive.
There is also HDR10 certification, and combined with the Widevine L1 DRM support, you can squeeze the maximum quality of any streaming service.
Let's talk about the adaptive refresh rate. You can choose between 60Hz and 120Hz screen options called Standard and Medium refresh rates. The 120Hz option works dynamically, but it's not as dynamic as Samsung's AMOLEDs. The Redmi Note 10 Pro screen is always showing 120fps throughout the UI and all system apps, but it reverts to 60Hz when the picture is static for battery-saving reasons.
Other than that - the screen is working in 120Hz for supported apps, and 60Hz in Netflix, YouTube, Prime Video, the default Mi Video player, and some games.
Xiaomi is advertising a maximum auto-brightness of 700 nits (typical), manual of 450 nits, or 1200nits (peak) when watching HDR content.
We can confirm the 700nits brightness, 725 nits to be specific - when the screen is set to Auto-Brightness or when you turn the Sunlight Boost in Manual Brightness Mode. Otherwise, the maximum brightness at the end of the brightness slider is 457 nits - once again, as promised.
The mentioned peak brightness of 1200 nits is just that - peak brightness - with just a small part of the screen occupied by content - likely when you are playing back HDR video.
We also measured the minimum brightness at point white, and it is just 2.3 nits!
Display test
100% brightness
Black,cd/m2
White,cd/m2
Contrast ratio
Xiaomi Redmi Note 10 Pro
0
457
∞
Xiaomi Redmi Note 10 Pro (Max Auto)
0
725
∞
Xiaomi Redmi Note 9 Pro
0.355
456
1285:1
Xiaomi Redmi Note 9 Pro (Max Auto)
0.487
616
1265:1
Xiaomi Redmi Note 9T
0.337
413
1226:1
Xiaomi Redmi Note 9T (Max Auto)
0.412
471
1143:1
Xiaomi Redmi Note 8 Pro
0.347
460
1326:1
Xiaomi Redmi Note 8 Pro (Max Auto)
0.486
640
1317:1
Xiaomi Poco X3 NFC
0.354
460
1299:1
Xiaomi Poco X3 NFC (Max Auto)
0.515
631
1225:1
Realme 7 Pro
0
459
∞
Realme 7 Pro (Max Auto)
0
585
∞
Realme 7
0.31
457
1474:1
Realme 7 (Max Auto)
0.374
526
1406:1
Realme 7 5G
0.376
484
1287:1
Realme 7 5G (Max Auto)
0.667
571
856:1
Xiaomi Redmi 9
0.202
328
1624:1
Xiaomi Redmi 9 (Max Auto)
0.253
426
1684:1
Samsung Galaxy A51
0
413
∞
Samsung Galaxy A51 (Max Auto)
0
636
∞
Samsung Galaxy A51 5G
0
410
∞
Samsung Galaxy A51 5G (Max Auto)
0
642
∞
Xiaomi offers three predefined Color presets - Auto, Saturated, Standard - each representing a specific color space.
The Auto option is tuned to reproduce Wide Color Gamut content faithfully, but it also adjusts the colors to correspond to your current lighting (like Apple's True Tone). In normal daylight conditions in our office, we measured an average deltaE of 4.1 and a maximum deviation of 7.7 against the DCI-P3 color space - meaning a good calibration though with bluish-white and gray hues. If you opt for the Warm color temperature preset when in Auto Mode, you'd get an average deltaE of 2.4 and a maximum deviation of 4 - and that's an excellent calibration.
The Standard setting corresponds to sRGB, and we also recorded an average deltaE of 1.3 for the color accuracy - a perfect one.
Finally, the Saturated mode makes the colors pop, and they are no longer as accurate to DCI-P3.
Battery life
The Redmi Note 10 Pro is powered by large 5,020mAh battery - more than enough for a device of such caliber and hardware, and we expect it to ace our tests.
And it did! The Redmi Note 10 Pro posted an excellent battery endurance rating of 118 hours. It did great on both screen-on tests. We ran the video test at 60Hz as it turned out that all popular video apps, including the default Mi Video app, use 60Hz refresh rate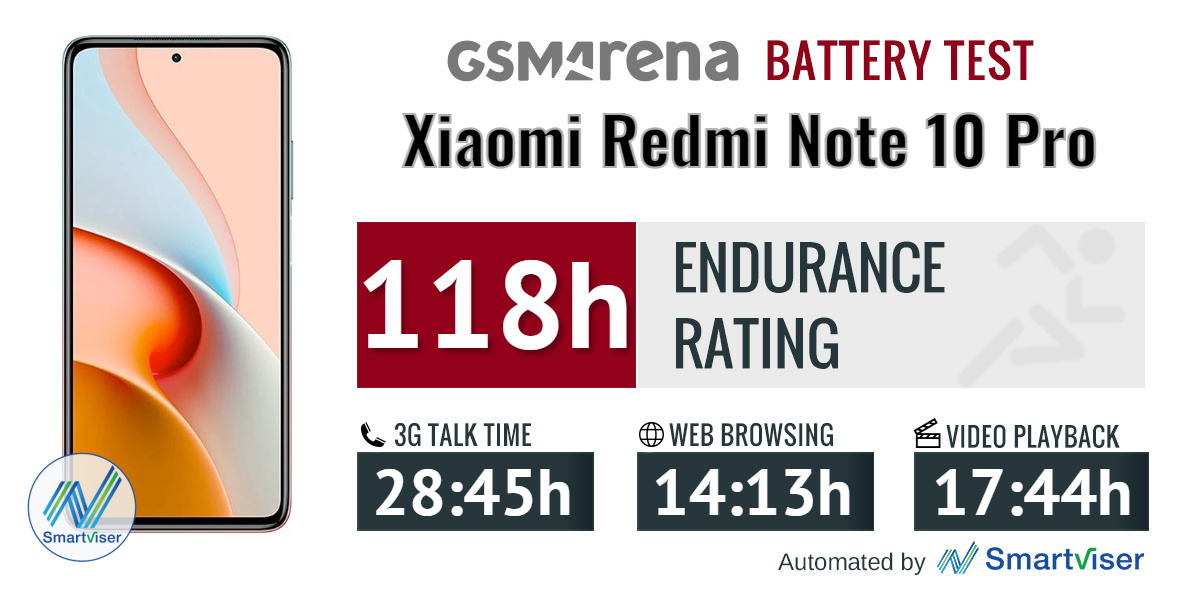 Our battery tests were automated thanks to SmartViser, using its viSerDevice app. The endurance rating denotes how long the battery charge will last you if you use the device for an hour of telephony, web browsing, and video playback daily. More details can be found here.
All test results shown are achieved under the highest screen refresh rate mode. You can adjust the endurance rating formula manually so it matches better your own usage in our all-time battery test results chart where you can also find all phones we've tested.
Charging speed
The Redmi Note 10 Pro ships with a 33W adapter and a 3A-rated USB-C cable. We've seen this combo on the Poco X3 NFC already, so we know it is indeed a fast one.
So, the bundled charger gets you from flat to 50% in exactly 30 minutes.
30min charging test (from 0%)
Realme 7 Pro
94%
Xiaomi Mi 10T Lite 5G
68%
Xiaomi Redmi Note 9 Pro
63%
Realme 7
58%
Poco X3 NFC
55%
Xiaomi Redmi Note 10 Pro
50%
Xiaomi Redmi Note 8 Pro
39%
Xiaomi Redmi Note 9T
33%
Xiaomi Redmi Note 8
30%
Samsung Galaxy A42 5G
27%
An hour on the charger replenishes 89% of the battery, while a full charge requires exactly 81 minutes.
Time to full charge (from 0%)
Realme 7 Pro
0:37h
Xiaomi Mi 10T Lite 5G
0:58h
Realme 7
1:05h
Xiaomi Redmi Note 9 Pro
1:11h
Poco X3 NFC
1:15h
Xiaomi Redmi Note 10 Pro
1:21h
Xiaomi Redmi Note 9T
1:50h
Samsung Galaxy A42 5G
2:01h
Xiaomi Redmi Note 8
2:15h
Unfortunately, there is no option for reverse battery charging.
Stereo speakers
The Xiaomi Redmi Note 10 Pro has what it seems to be a proper stereo speakers setup. There are two grilles on the opposite ends of the phone, and we can hear balanced sound from there. We can't be sure if the top speaker also acts as an earpiece or if there is a dedicated one somewhere in there, but the important thing is that both speakers seems to be equal and they sound alright.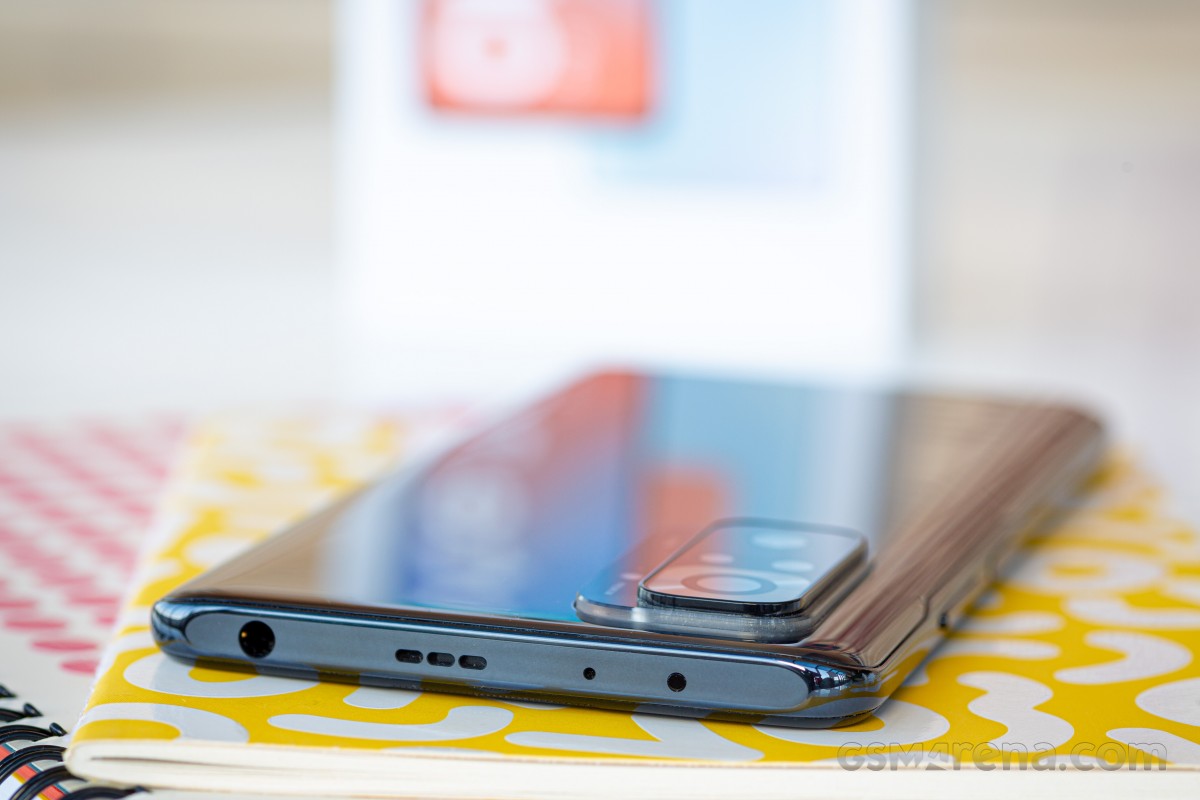 The Redmi Note 10 Pro offers Very Good loudness. The setup provides good enough mid and high tones, but it seems to be lacking in bass.
Use the Playback controls to listen to the phone sample recordings (best use headphones). We measure the average loudness of the speakers in LUFS. A lower absolute value means a louder sound. A look at the frequency response chart will tell you how far off the ideal "0db" flat line is the reproduction of the bass, treble, and mid frequencies. You can add more phones to compare how they differ. The scores and ratings are not comparable with our older loudspeaker test. Learn more about how we test here.
Anonymous
23 Oct 2023
nPv
The poco x5 pro is a very similar phone and it is made by xioami
Anonymous
23 Oct 2023
nPv
I have owned the redmi note 10 pro for about a year now and it is a great phone with the 120hz display and all the other specs I haven't come across any problems with it. As of now I think the phone is cheaper which makes is a bargen for what you a...
Muzz cruz
25 Sep 2023
xjH
I would like to hear more about it's fault cause I am about to buy the phone Am I've been hearing only good things, I would like to hear the side effects of this phone please Nothing is perfect