Xiaomi Redmi Note 10 Pro long-term review
GSMArena Team, 27 August 2021.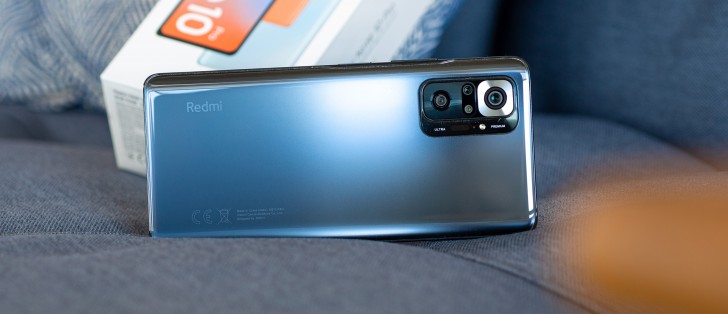 Design, handling
The theme of the Redmi Note Pro line continues with the tenth iteration when it comes to the materials used. The Redmi Note 8 Pro and the Redmi Note 9 Pro both had a glass sandwich construction with a plastic frame, and the Redmi Note 10 Pro is no different - right down to the use of Gorilla Glass 5 on both the front and the back. That iteration of Corning's protective material is really getting long in the tooth these days, but it seems to still be preferred for most mid-rangers (with some notable exceptions in the Poco family where GG6 or even Victus feature).
The size of the Redmi Note 10 Pro is also incredibly similar to those of both of its predecessors, and thus the handling experience is pretty much alike. If you had (or tried) a Redmi Note 9 Pro or Redmi Note 8 Pro and liked the feeling of holding it in your hand, you'll also like this one. There is a welcome change, and that's the fact that the new model is ever so slightly lighter than both of the older ones.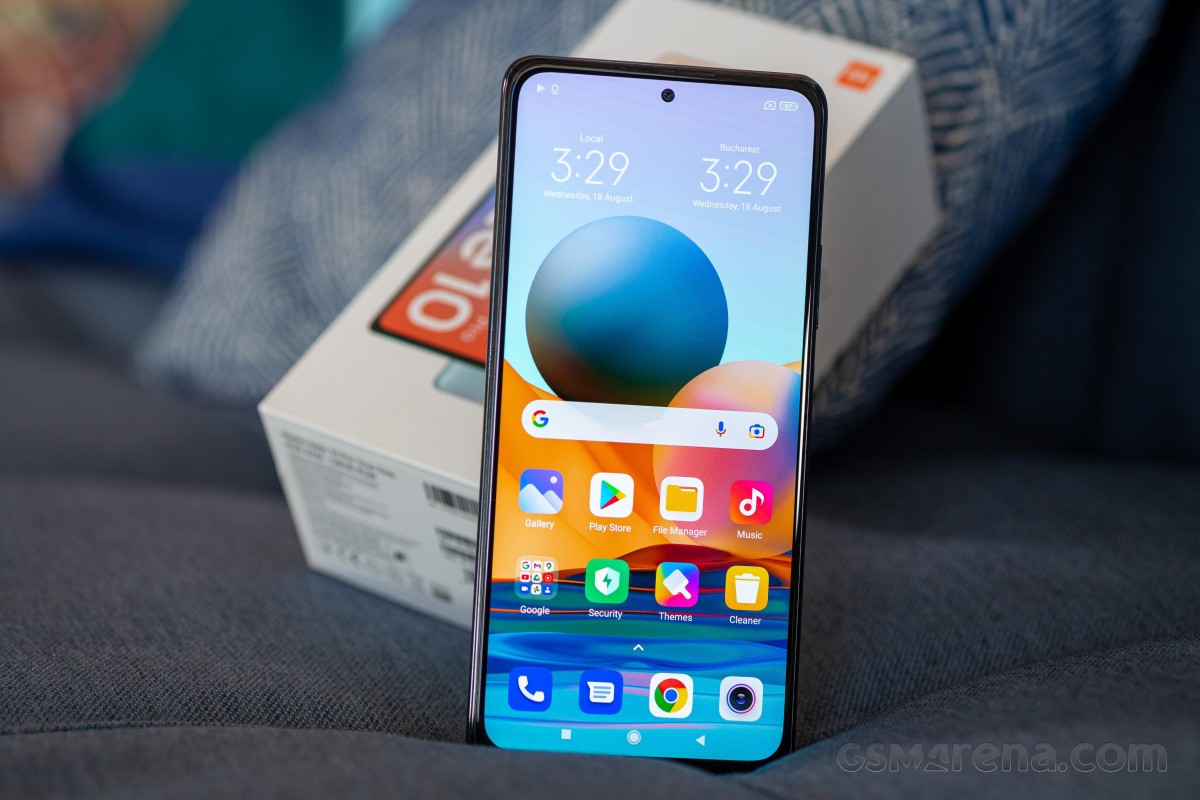 The Redmi Note 10 Pro is a big phone, there's no doubt about that, and if you have small hands you may find you need to constantly use both of them to handle it securely. If you have big hands, handling is a breeze, and while the design is nothing especially groundbreaking, it sticks with what it works and doesn't introduce any weirdness. If you're coming from a previous Redmi Note Pro handset, you'll definitely feel right at home here when you pick this one up.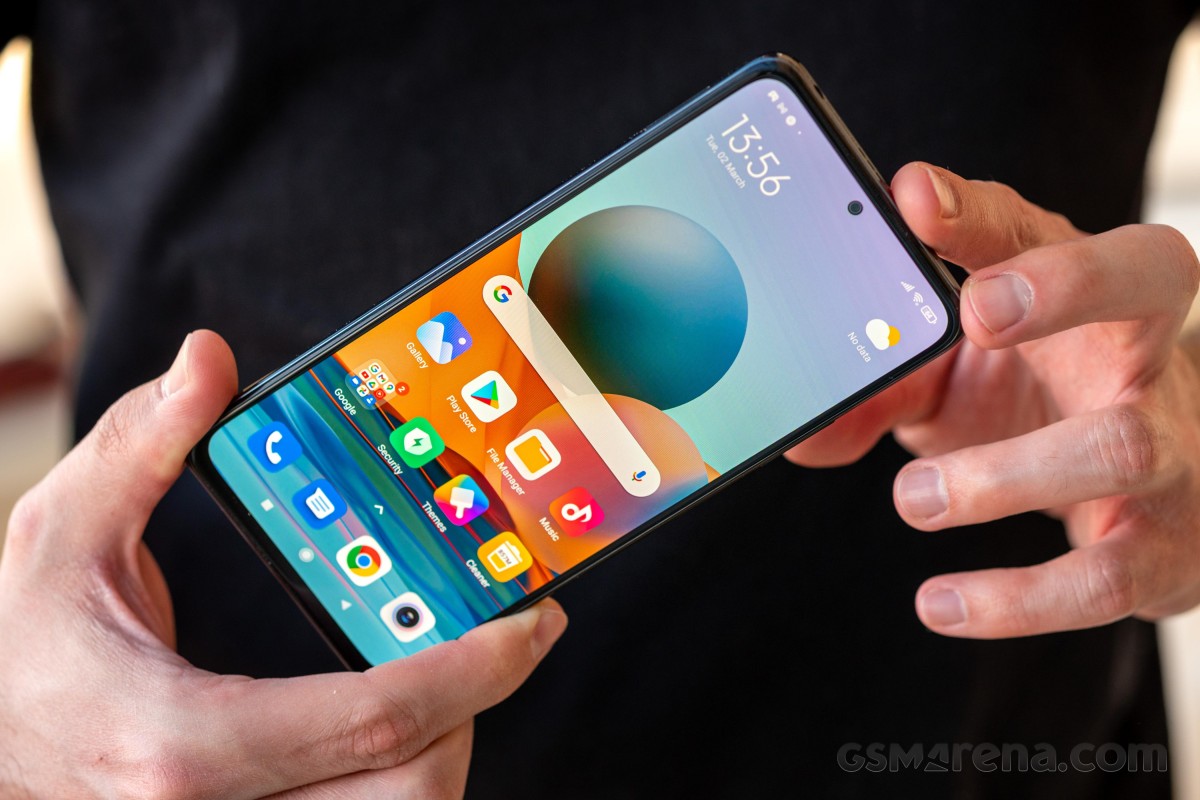 The back glass is a fingerprint magnet on our Onyx Gray review unit, but as usual when that happens there's a funny counterintuitive way in which it helps - namely, the more fingerprints you have on it, the less slippery it is. You thus need to pick between gross and slippery, which is rather hilarious. The frame is slippery too - it's not the most slippery ever, but it's not anti-slip either. On the other hand, it seems to not collect fingerprints at all, not even partial ones, which may be down to the finish of the plastic or just how thin it is.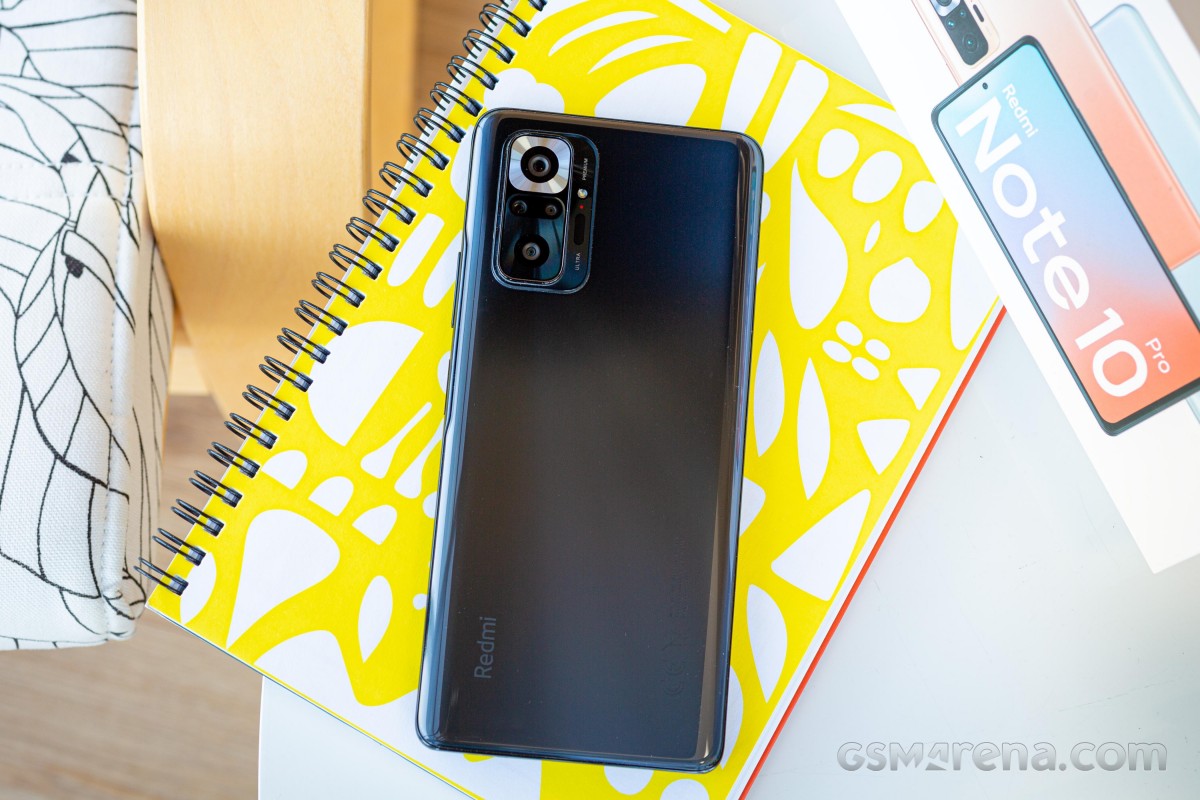 On the back the camera hump is meant to draw in all your attention, and that's probably a good thing because there's nothing else really going on there that would be very interesting. It's just your average glass back that curves towards the frame, we've already seen this a thousand times. Note that the execution is top-notch, with no 'panel gaps' or anything like that. The tolerances are tight, the build quality is right - not that we're surprised, this has been the case for a long time now even at this price point.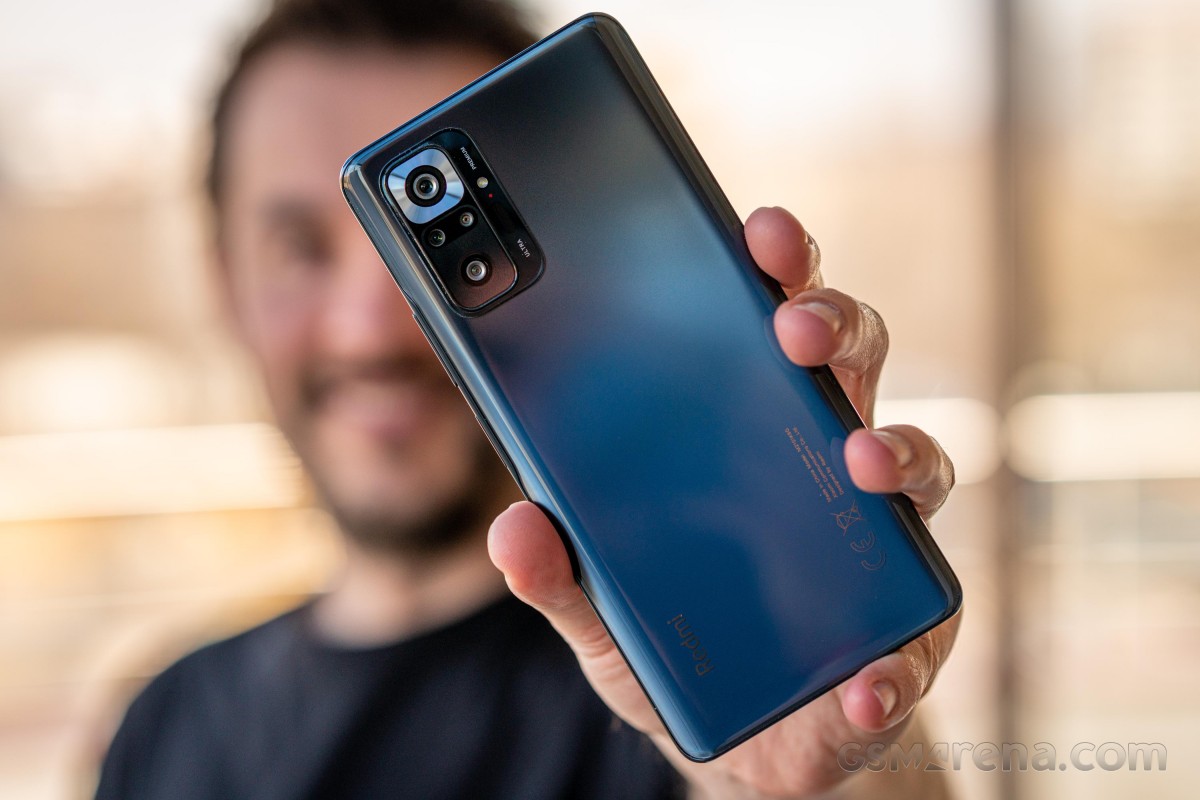 The two-stage stepped nature of the camera bump is interesting, as is the symmetry of the placement of the sensors. We're not sure we necessarily like the fat silver bezel-ring thing which surrounds the main camera, but hey, maybe you need a pointer to tell you which the 108 MP beast is.
We were expecting Redmi to plaster "108 MP" somewhere in there, but instead the brand went with the much more baffling "ultra premium" text, which doesn't make any sense because there isn't an "ultra premium" product in history that would need to tell you it's "ultra premium". That's not how "ultra premium" works, Redmi. Just saying. This clearly gives the Note 10 Pro away as a poser, but thankfully the text is rather small so it won't jump out very much at any onlookers around you.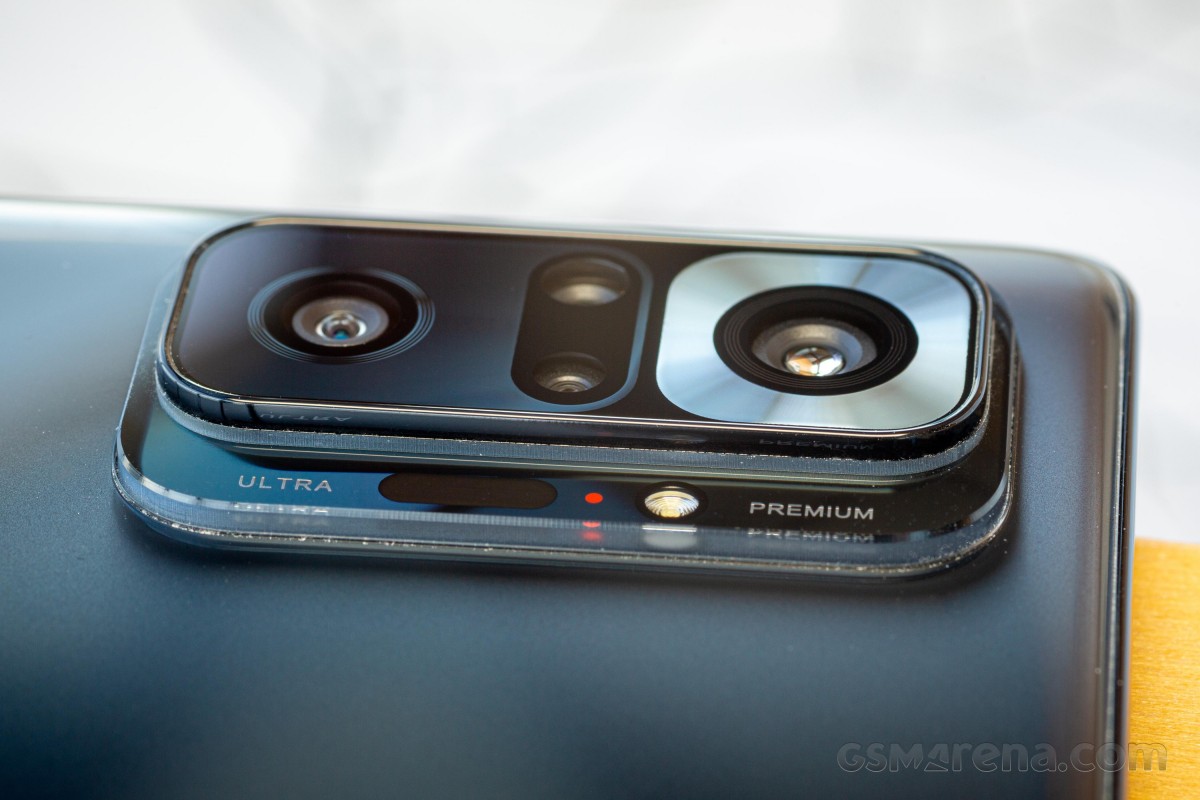 Flipping the phone over there's another design element that's unnecessary, and that's the silver ring around the hole-punch selfie camera. Because it shines when light hits it, this has the consequence of always drawing your attention to it, and we have to wonder - wasn't the whole point of hole-punches that they'd be less "in your face" than notches? So whatever happened to that logic? Redmi isn't the only brand doing this, but we hope it will be a short-lived trend as it makes no sense.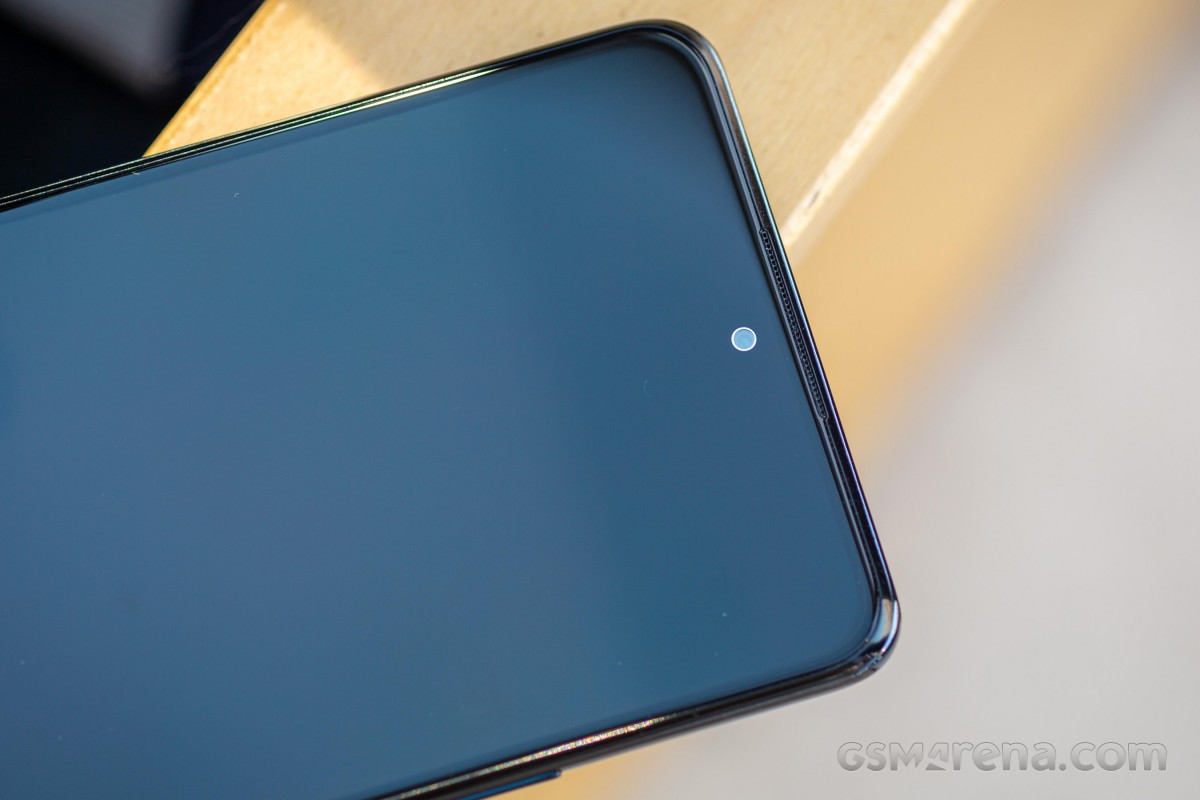 Otherwise, the screen has pretty tiny bezels on three sides and a chin that's among the smallest in this class (while still giving away the fact that you're holding a midranger since it is bigger than what you'd find in a more high-end device). The 3.5mm headphone jack at the top will be welcome news for people who are not into Bluetooth, and the phone overall is a tiny bit top-heavy, but so little that you aren't likely to be put off.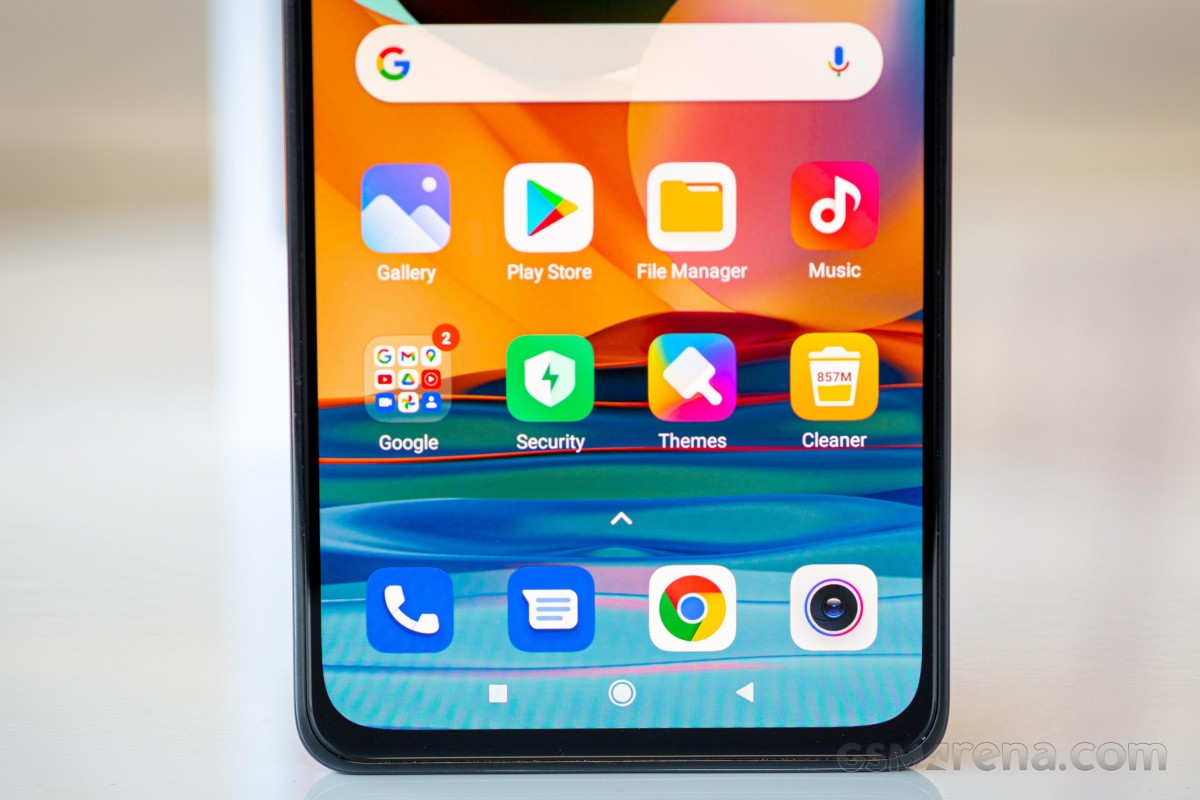 In conclusion, the Redmi Note 10 Pro is a very well-built sandwich of glass and plastic that looks modern and capable without really standing out very much in a sea of lookalikes. If you pay close attention to details, then you may realize that it has a better than usual (for this class) main camera and an AMOLED screen (given the smaller bottom bezel). And maybe you'd also be misled into thinking there's a top of the line selfie camera in there (because the silver ring kind of reminds you of the one on the back), but that's not the case.
Case
Speaking of cases, there's one in the box as usual with Chinese brands, and this one has a matte finish that hides fingerprints well. Unlike the actual back of the phone. This we really like. The rest of it, not so much.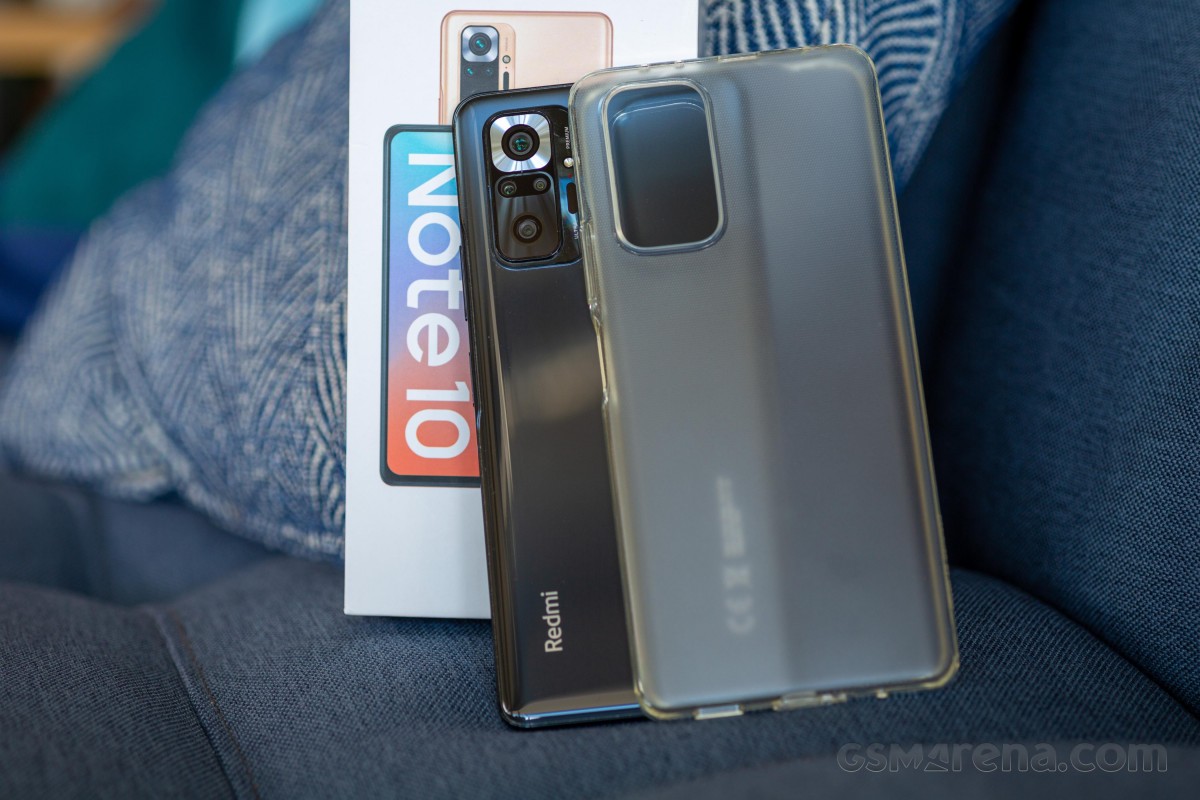 The sides feel incredibly flimsy (it is a gel case after all), while the corners do feel sturdy but so much so that the case is really hard to apply or take off - it's been a while since we've had one that was this rigid in the corners. That's probably good for drop protection, but the right side, where the buttons are, is the exact opposite with a gap forming between the case and the screen between the power and volume keys.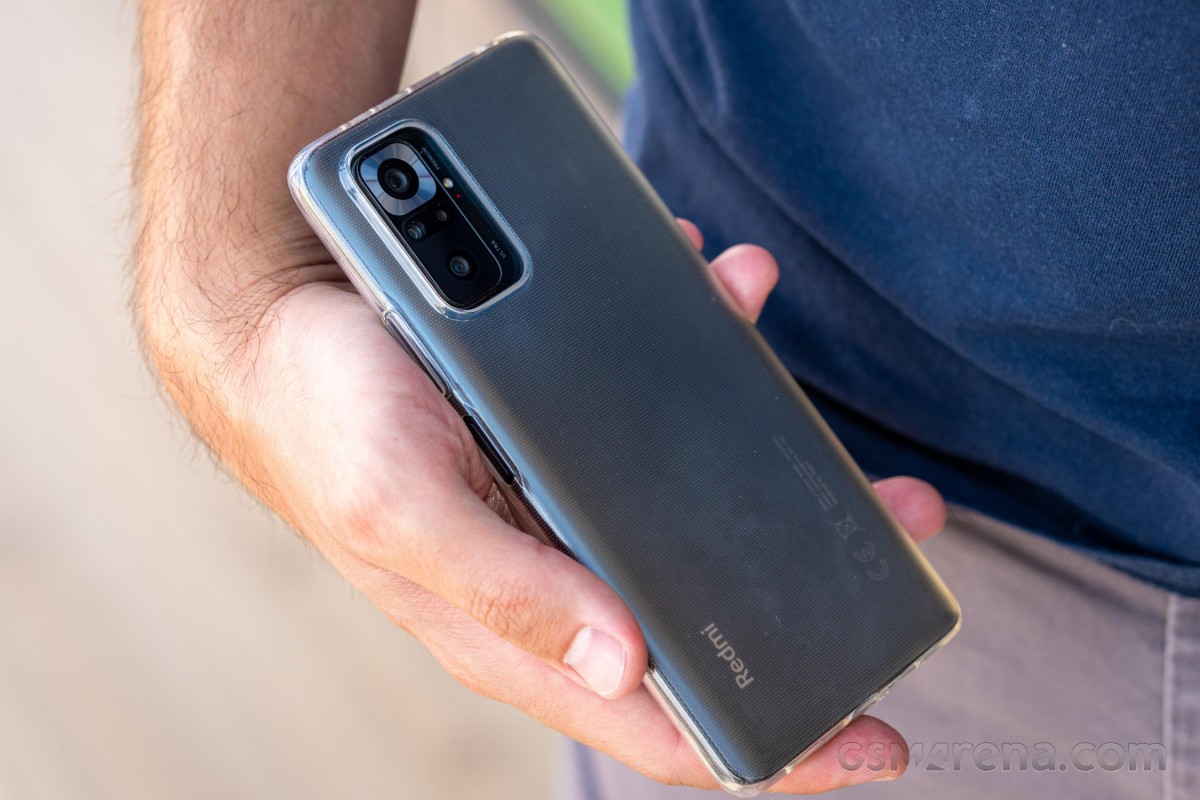 Finally, the most annoying thing about it is the flap that covers the USB-C port. We've seen this before for some Xiaomi (or sub-brand) phones, and we still don't get it. Thankfully this one opens sideways which makes it slightly easier to get loose and insert the charging cable with one hand. But it's still not easy enough, and it's just cumbersome in general, so if this were not a review unit we'd have cut that flap on day one.
This phone reboots itself and switch off by itself Some games like bb racing 2 crashes all the time I bought this phone because of the ratings on GSM arena
I am using the phone for past 15 months. One of the best smartphone under 20000 range. Good display quality. I am using close to 30 apps on my phone no where it's drags. Soild performance till date. Build quality is also decent as per the price...
If you like taking photos this phone is for you but if ypu are a heavy gamer bro im not recommending this for you