Xiaomi Redmi Note 4 review: A hidden gem
A hidden gem
GSMArena team, 06 October 2016.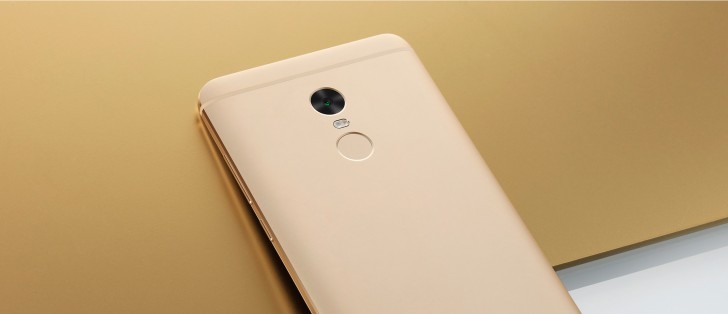 Telephony
The Xiaomi Redmi Note 4 is a dual-SIM phone, but it can work without any SIMs too - the Mi SIM is like a virtual embedded SIM, allowing you to connect to mobile data without an actual card. You need to purchase credit for it, but it works even when roaming - something that can come handy if you travel a lot.
Anyway, you can dial out with either SIM and VoLTE is supported. There's also Mi Voice - a Xiaomi-run VoIP service that calls numbers over the Internet.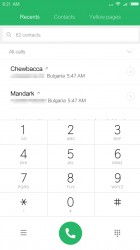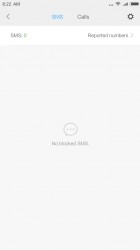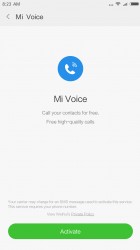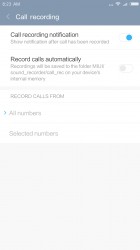 Dialer • Blocklist • Mi Voice • Call recording
More advanced features include a blocklist to fend off pesky robocalls (and texts) and a call recorder (which can work on any number or for specific ones only).
There are even more call settings if you dig deeper into the menu - flip to mute the ringer, turn on/off the proximity sensor, lock automatically once slipped in a pocket, it can even mute calls from unknown numbers.
Loudspeaker
In our loudspeaker test, the Redmi Note 4 scored a Good mark, equaling its predecessor and the Redmi Pro. The phone packs a single speaker at the bottom, but it's quite loud. Our only gripe is that there's not enough bass coming out of it.
| | | | | |
| --- | --- | --- | --- | --- |
| Speakerphone test | Voice, dB | Pink noise/ Music, dB | Ringing phone, dB | Overall score |
| Huawei Mate S | 66.0 | 65.8 | 66.6 | Below Average |
| Meizu m3 note | 66.5 | 64.6 | 71.7 | Average |
| Xiaomi Redmi Note 4 | 64.2 | 67.2 | 76.9 | Good |
| Xiaomi Redmi Note 3 | 66.5 | 66.6 | 75.8 | Good |
| Samsung Galaxy A8 | 66.7 | 66.6 | 75.7 | Good |
| Xiaomi Redmi Pro | 68.1 | 71.8 | 69.4 | Good |
| Huawei P9 Plus (stereo) | 66.9 | 70.0 | 76.9 | Good |
| ZTE Axon 7 | 66.4 | 72.2 | 84.1 | Very Good |
| Meizu MX5 | 75.7 | 73.5 | 79.5 | Excellent |
| OnePlus 2 | 75.7 | 73.5 | 80.7 | Excellent |
Messaging and text input
The Messaging app handles regular text messages, but you get an option to use a Xiaomi service to send cheaper texts (similar to the phone app). The app supports MMS, emoji and even timed messages, but aside from that it is fairly barebones.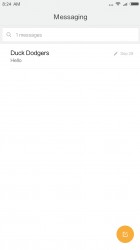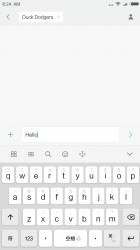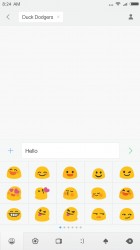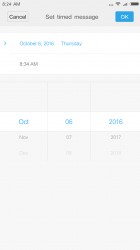 Messaging: Threaded view • Sending a message • With emoji • Scheduling a text
The Baidu keyboard adds the ability to send stickers and has an interesting way to input additional characters (like numbers on the top row). Instead of a long press, you press and swipe up. Once you get used to it, it's very fast.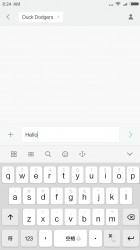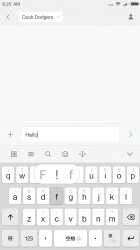 Keyboard: Swipe up to "type" the extra characters
Other pre-installed apps
The Xiaomi Redmi Note 4 comes with the feature-rich MIUI Browser. It has a native ad-block and a data saver. There is a night mode as well, which changes the design of websites to make them darker (white backgrounds are blinding in the dark).
The browser also offers a built-in Reading mode, which isn't available in Chrome. It enlarges the text font and strips away unneeded elements, leaving only the article you are reading in focus.
Finally, the browser supports some very handy features as scrolling with the volume keys, quick tab switching from the edge of the display, you can opt for different search engines, among others.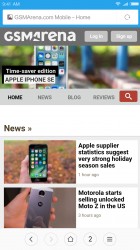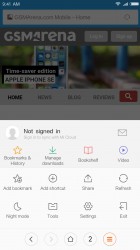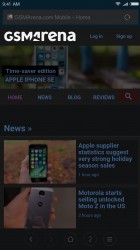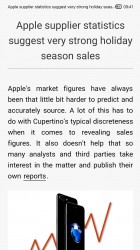 Mi Browser: GSMArena.com • Options • Night Mode • Reading Mode
Explorer is a great file managing app. It can sort files by type and show the most recent files, which makes it easy to find what you need. The Clean-up option seeks to recover wasted space and you can even do a "Deep Clean," which breaks down memory use by file and app, making it easy to find the worst offenders.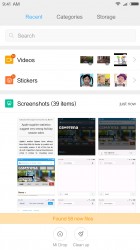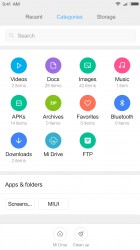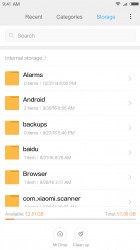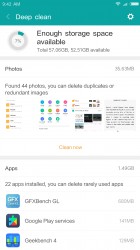 Explorer: Recent files • Files by type • Files by folder • Deep clean
The MIUI v8 also offers a Security app. It can scan your phone for malware, manage your blocklist, manage or restrict your data usage, configure battery behavior, clean some RAM, it can also manage the permissions of your installed apps.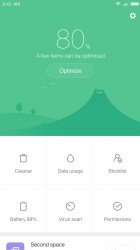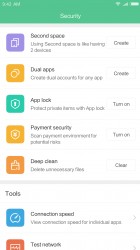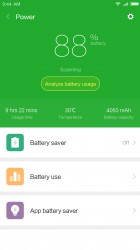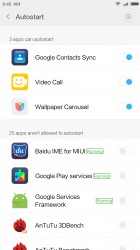 Security app: Main screen • A lot of options • Battery tools • Managing auto start apps
The Mi Remote app is fun for the whole family - literally, it can share remotes you've set up with people on your home Wi-Fi network. The app can control TVs, ACs, set top boxes and even DSLRs.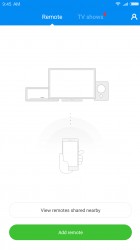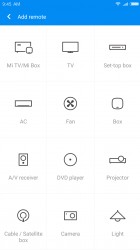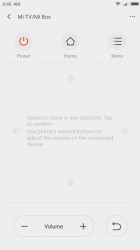 Mi Remote: Adding a remote • Many device types are supported • Mi devices get the best experience
MIUI even has its own voice-controlled assistant, which does a good job of speech recognition for eastern languages.
Still use it for almost 4 years. So this is my honest review so far. Design : Looks outdated now. the display standar 16:9 with thick bezel up and down, but the back design i think it is still looks elegant and great. Display : Wit...
Anonymous
12 Nov 2019
I@H
Can we do anything about the back camera. It is not giving clear picture. from cam is better than back camera.
What is the difference between global and standard version of the redmi note 4 64 gp