Xiaomi Redmi Note 8 Pro review
GSMArena team, 04 Oct 2019.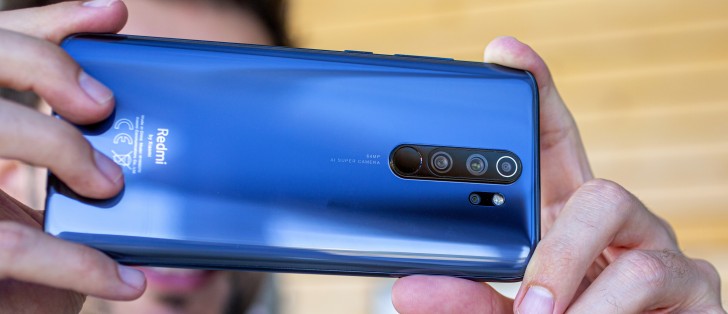 MIUI 10 based on Android 9.0 Pie
Xiaomi's MIUI 10 is in a familiar state, and we've reviewed a couple of phones with the new software so far. Only a couple of new features have been added since then. So without further ado, let's dive in to see what's new and what's not.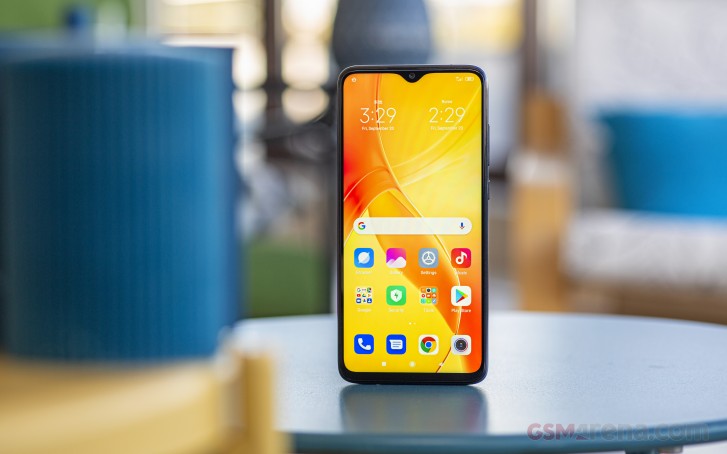 The user interface retains the rather simplistic look and offers system-wide dark mode. But by system-wide we don't mean the Android 10 type of system-wide dark mode as the OS won't force dark mode on apps that don't support but all the system menus and sub-menus will appear in black. Unfortunately, you won't get any of the power savings since the display is LCD and not OLED. It might be easier on the eyes when using it in the dark, though.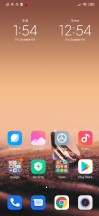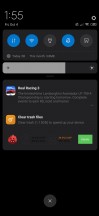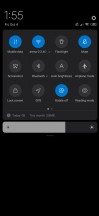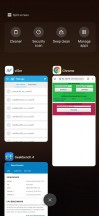 Home screen, notification shade and recent apps menu
While we are still in the Display sub-menu, it also offers a reading mode changing the color temperature to a warmer one for night reading and you can even schedule it. This is where you customize your status bar and also hide the notch. The toggle, however, isn't exaclty hiding the notch - it just turns the status bar into black to blend with the notch. Notification and status icons are still appearing next to the notch - it's just less obtrusive. Interestingly, you can also swap the Settings icon in the upper-right corner of the notification shade with a Search icon. Tapping on the search icon will bring out the Google search bar and it's not a search box for the phone.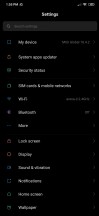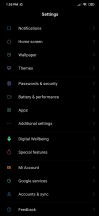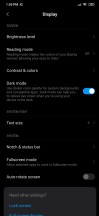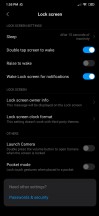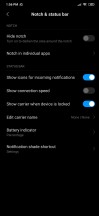 General settings menu, display settings, lock screen, notch and status bar
The Lock screen menu holds a couple of other useful settings like double-tap-to-wake, raise to wake and quick launch the camera when you double press the volume button. The raise to wake function comes particularly handy when coupled with the face unlock.
The facial recognition algorithm is pretty fast and even faster to set it up. The whole training process takes about less than a second as the moment you show your face in the circle, the software is ready. Of course, this means that it's considerably less secure than the standard fingerprint reader but if you don't care as much and speedier unlocks are more important, the phone's face unlock does an excellent job.
The fingerprint reader is just as fast too. Aside from the little stretching and the awkward bump, it's pretty accurate and super fast. Reminds us of the times when capacitive fingerprint readers just worked. No fancy under-display scanners but the Redmi Note 8 Pro's rear-mounted sensor works flawlessly.
A new Notification sub-menu can be found allowing for a more granular control of how notifications appear for each individual app. You can hide the notifications from the lock screen or just control the information that's shown. The pop-up notifications, or as Xiaomi calls them "Floating notifications", can be disabled for some apps and the same goes for the notification dots on app icons.
The Battery and performance menu doesn't offer anything out of the ordinary, though - just the usual battery stats and the usual battery saving mode. There's also the adaptive battery setting that comes along with Android Pie.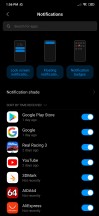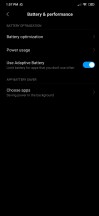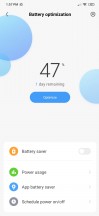 Notification settings and battery menus
Something else that comes with Android Pie that wasn't available in the first iteration of MIUI 10 is Digital Wellbeing. It's now available and gives you tons of information regarding your app usage.
Since the phone packs a gaming-ready Helio G90T chipset, Xiaomi has included a couple of gaming-related features baked into the MIUI 10. The features in question are Game Turbo and Quick replies. The latter sends out quick replies to the supported apps when you receive a notification while gaming. The former is pretty self-explanatory, too - optimizes the phone for fluent gaming performance over time and you can disable this for some games if you want to. For your convenience, you can disable software buttons and gestures during gaming and also disable system features like auto brightness, reading mode, etc.
There's also the performance mode ramping up touch response time and sensitivity of the touch panel and give more bandwidth to games during gameplay for more stable Internet connection.
The bottom line is that the MIUI 10 is as customizable as ever and runs great on the provided hardware. We didn't notice any hiccups, hangs or lags. In fact, it ran very smoothly and all animations ran at buttery-smooth 60 frames per second. Now it's time to see how the chipset fares in our tests.
Performance
The recently announced MediaTek Helio G90T is a gaming-centric SoC on the cheap, at least compared to its rival Qualcomm. It's based on the 12nm FinFET manufacturing process from TSMC. It's a small jump over the 14nm chips but it's still more energy-efficient and more cost-effective compared to the current 7nm and 10nm solutions.
It packs an octa-core CPU with two large Cortex-A76 cores ticking at 2.05GHz and six smaller, energy-efficient Corext-A55 cores working at 2.0GHz. The Mali-G76 MC4 GPU takes care of graphically-intensive tasks. The so-called HyperEngine technology should ensure smooth gameplay and also improves on connectivity by combining WiFi and LTE for more stable and faster connection. It can also connect to two WiFi routers at the same time for the same benefits.
In this case, the chipset can be paired with 6GB/64GB or 6GB/128GB memory configurations on the Redmi Note 8 Pro.
So without wasting any more time, let's put the MediaTek G90T to the test and see how it stacks to the competition in CPU and GPU-intensive tasks.
AnTuTu 7
Higher is better
Google Pixel 3
233699
Redmi Note 8 Pro
224759
Realme XT
185193
Xiaomi Redmi Note 7 Pro
180754
Samsung Galaxy A60
170102
Oppo RX17 Pro
154861
Samsung Galaxy A50
144574
Realme U1
144436
Huawei P30 Lite (perf. mode)
141600
Huawei P30 Lite
129887
Motorola Moto G7 Plus
117829
Unfortunately, though, we weren't able to run Geekbench on the phone so we are lacking pure CPU benchmark results for the time being. The AnTuTu 7 test gives us a general idea how the Helio G90T is doing since it combines CPU and GPU workloads. The results are pretty impressive as it tops all of its competitors and goes as far as competing with Qualcomm's last year flagship chipset - the Snapdragon 845.
GFX 3.1 Manhattan (1080p offscreen)
Higher is better
Google Pixel 3
57
Redmi Note 8 Pro
29
Realme XT
26
Oppo RX17 Pro
23
Xiaomi Redmi Note 7 Pro
17
Samsung Galaxy A60
15
Samsung Galaxy A50
14
Huawei P30 Lite
14
Huawei P30 Lite (perf. mode)
14
Realme U1
13
Motorola Moto G7 Plus
10
GFX 3.1 Manhattan (onscreen)
Higher is better
Google Pixel 3
55
Redmi Note 8 Pro
24
Realme XT
23
Oppo RX17 Pro
19
Xiaomi Redmi Note 7 Pro
15
Samsung Galaxy A60
13
Samsung Galaxy A50
13
Huawei P30 Lite
13
Huawei P30 Lite (perf. mode)
13
Realme U1
12
Motorola Moto G7 Plus
9.7
GFX 3.1 Car scene (1080p offscreen)
Higher is better
Google Pixel 3
35
Redmi Note 8 Pro
18
Realme XT
15
Oppo RX17 Pro
13
Samsung Galaxy A50
9.2
Xiaomi Redmi Note 7 Pro
8.7
Samsung Galaxy A60
8.1
Realme U1
7.9
Huawei P30 Lite
7.7
Huawei P30 Lite (perf. mode)
7.7
Motorola Moto G7 Plus
6.3
GFX 3.1 Car scene (onscreen)
Higher is better
Google Pixel 3
33
Redmi Note 8 Pro
14
Realme XT
13
Oppo RX17 Pro
11
Samsung Galaxy A50
8
Xiaomi Redmi Note 7 Pro
7.9
Samsung Galaxy A60
7.3
Realme U1
7.1
Huawei P30 Lite
7
Huawei P30 Lite (perf. mode)
6.9
Motorola Moto G7 Plus
5.9
3DMark SSE 3.1 Unlimited
Higher is better
Google Pixel 3
3647
Redmi Note 8 Pro
2439
Realme XT
2284
Oppo RX17 Pro
1976
Samsung Galaxy A50
1353
Xiaomi Redmi Note 7 Pro
1220
Realme U1
1133
Samsung Galaxy A60
1123
Huawei P30 Lite (perf. mode)
988
Huawei P30 Lite
985
Expectedly, the Helio G90T falls short to all-powerful Adreno 630 GPU inside the Snapdragon 845 but it overtakes pretty much all of its direct rivals with superior performance in this regard. We are impressed with the overall performance of the Redmi Note 8 Pro and without getting hot too. No matter how many benchmarks we've run in consecutive order, the the body of the phone never got notably hot. Perhaps the vapor chamber inside the phone helps a lot with the heat dissipation.
This phone is best for its prise only problem I can find is that it's software it's not bad but its a little buggy. It's camara is good. It is not a gaming phone but it can play bgm in ultra graphics and irs very smooth with gyroscope....