Xiaomi Redmi Note 9 Pro (Max) long-term review
GSMArena Team, 4 December 2020.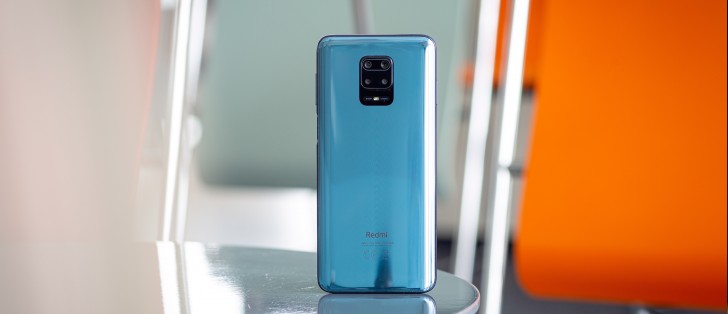 Design, handling
Unlike many of its competitors at this price point, the Redmi Note 9 Pro has glass on both the front and the back. This makes for a more premium feel than if it would have gone with plastic on the rear - or so people say. This reviewer happens to think that the type of plastic used matters, as some are intrinsically more 'cheap-feeling' than others, but we digress.
Speaking of plastic, the frame is made out of that material, and its ever so slight softness to the touch compared to metal does sort of ruin the 'premium' impression somewhat. This is, of course, a moot point if you, like most people, use a case.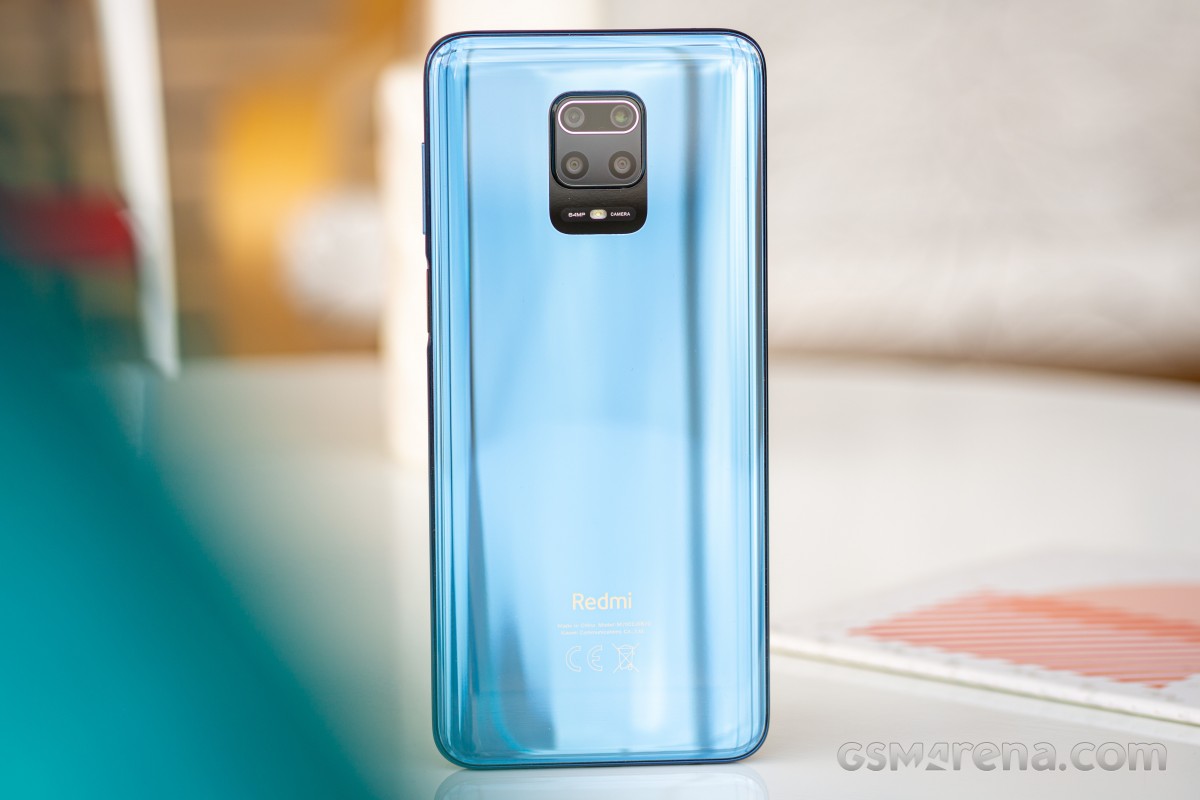 The frame doesn't seamlessly curve into the front glass like you see in most flagships, which is one of the subtle hallmarks of a cheaper phone. This may or may not bother you. We'd wager it's one thing most people wouldn't even notice if it wasn't specifically pointed out to them.
One benefit of the plastic frame is that no visible antenna lines are going through it. The square-ish camera bump on the rear is definitely quite unique among 2020 phones (although it's not like we haven't seen it before), without coming off as particularly great or off-putting. It's just... there, and because it's centered, the phone doesn't wobble when placed on a desk, and you're typing on it. Then again, if you tap anywhere near the top corners, the wobble gets real.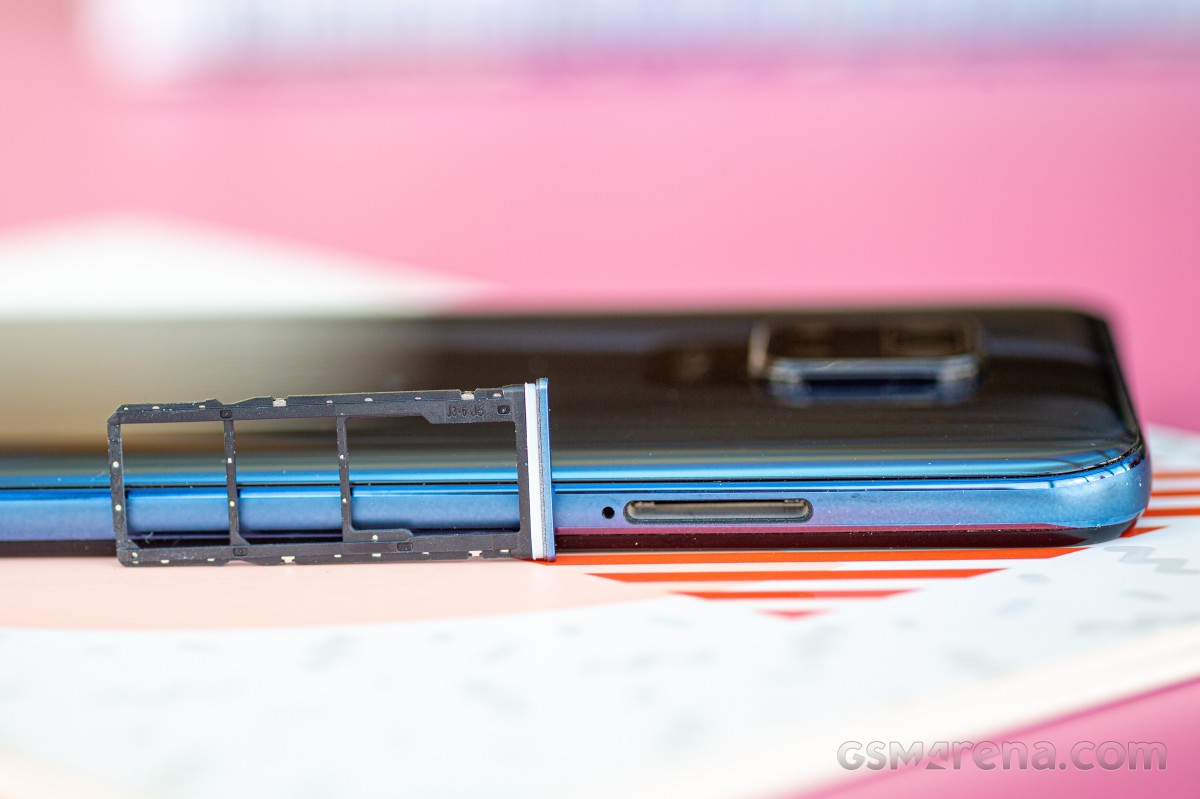 The Redmi Note 9 Pro is a big phone, there's no doubt about that, and it's rather heavy as well. This, combined with the fact that the screen is flat, and the lack of substantial frame curvature, means that handling it won't feel 100% comfortable all the time even if you have big hands like this reviewer. There's something about the size, weight, and frame to glass angles that makes it feel less great in hand than other devices (which, in fairness, are all more expensive). One thing's for sure: you'll never forget you're holding this device. You will also never be confused as to whether it is in your pocket or not. It definitely makes its presence felt at all times.
We're usually okay with big-screen phones, and this is one of those, but handling would have been a lot better in day to day use if it was just a tad smaller and lighter. We're not sure why mid-rangers, even 4G ones, have adopted this "go big or go home" attitude lately - surely they can't blame 5G antennas requiring a lot of inner space, so what is it then? Perhaps an attempt by the manufacturers to make these models feel on par with flagships on the first impression? We don't know, but it's something to note about this Redmi Note (pardon the easy pun).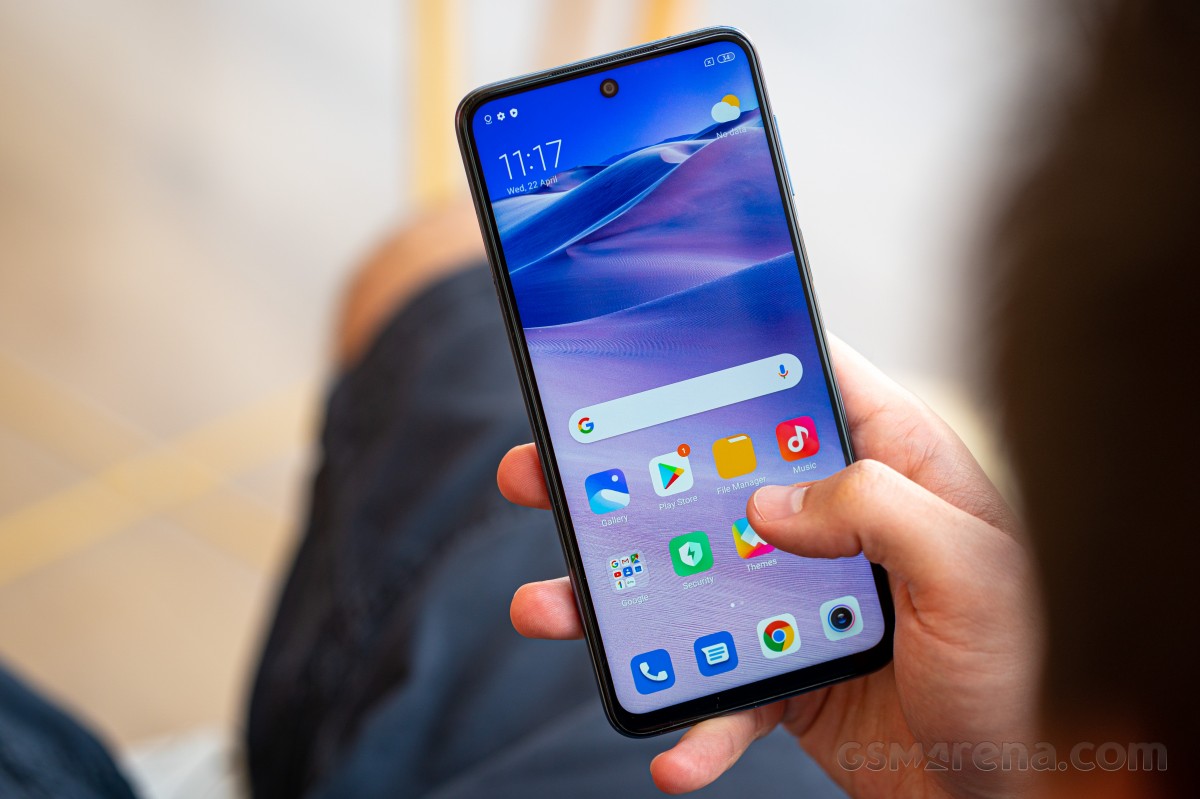 It's also interesting to see that, on average, mid-rangers tend to have bigger batteries than top-of-the-line handsets from the same company. We're not complaining about the added capacity, just wondering whether that's being cynically used as an additional unique selling point. Except it would disappear if flagships would just get similar battery sizes, so that seems, to some extent, like it could be an artificial differentiation. Not that Xiaomi was ever a stranger to this concept.
Biometrics
Because the screen is an LCD, the fingerprint sensor isn't integrated into it like it could be if an OLED would be used, so it's off to the side - part and parcel of the power button.
For us, it's just a bit higher up than where our thumb would naturally rest when holding the phone with the right hand. If your hands are smaller than ours, this may be even more than just a slight niggle for you.
Additionally, because the volume rocker is above the power button, which is already quite high up, adjusting volume while on a phone call always feels unnatural and requires some finger and hand placement gymnastics.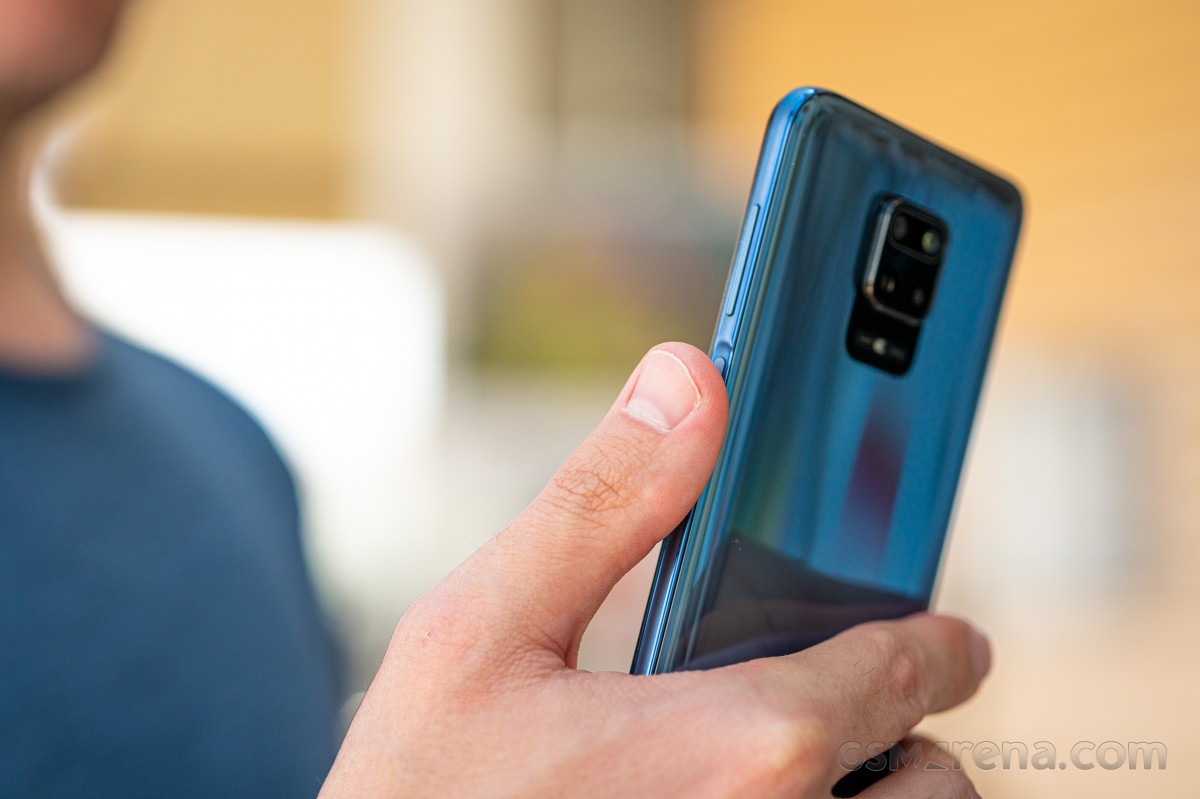 Anyway, the fingerprint sensor can be set to respond either to a touch or a press, and we found the latter variant more enticing. It makes it feel like we're just pressing the power button to wake the phone up, but the biometric authentication also takes place.
When this works as intended, it's incredibly seamless. We'd wager possibly the most seamless way to do fingerprint unlocking. However, while the sensor is incredibly fast, accuracy could be better. We assume it's not the sensor per se at fault here, but how narrow the button is.
This means you need to take extra care when you enroll your prints so that you cover as much area of the finger as possible. Otherwise, a slight variation in how you touch or press the button may result in unsuccessful authentication. Face unlock is an alternative, of course, except that for most Android phones these days, it only uses the selfie camera and is thus less secure than the fingerprint sensor. It is blazing fast, though, and it does check for your eyes being open, even though there's no mention of this in Settings (we tested).
Speaker, Bluetooth, vibration
There's just one downward-firing speaker, and it's profoundly average - average in volume output and average in quality. It will do the job just fine, but prolonged video watching sessions in noisy environments is not fun. And even when there isn't a lot of noise around you, you'll still have to cup it with your hand to make the sound come your way - and be careful not to muffle the speaker by accident.
It goes without saying that we would have preferred a dual setup, even of the hybrid variety that uses the earpiece as the other channel. There's a 3.5m headphone jack, though, which could come in handy if you happen to have a pair of wired headphones lying around.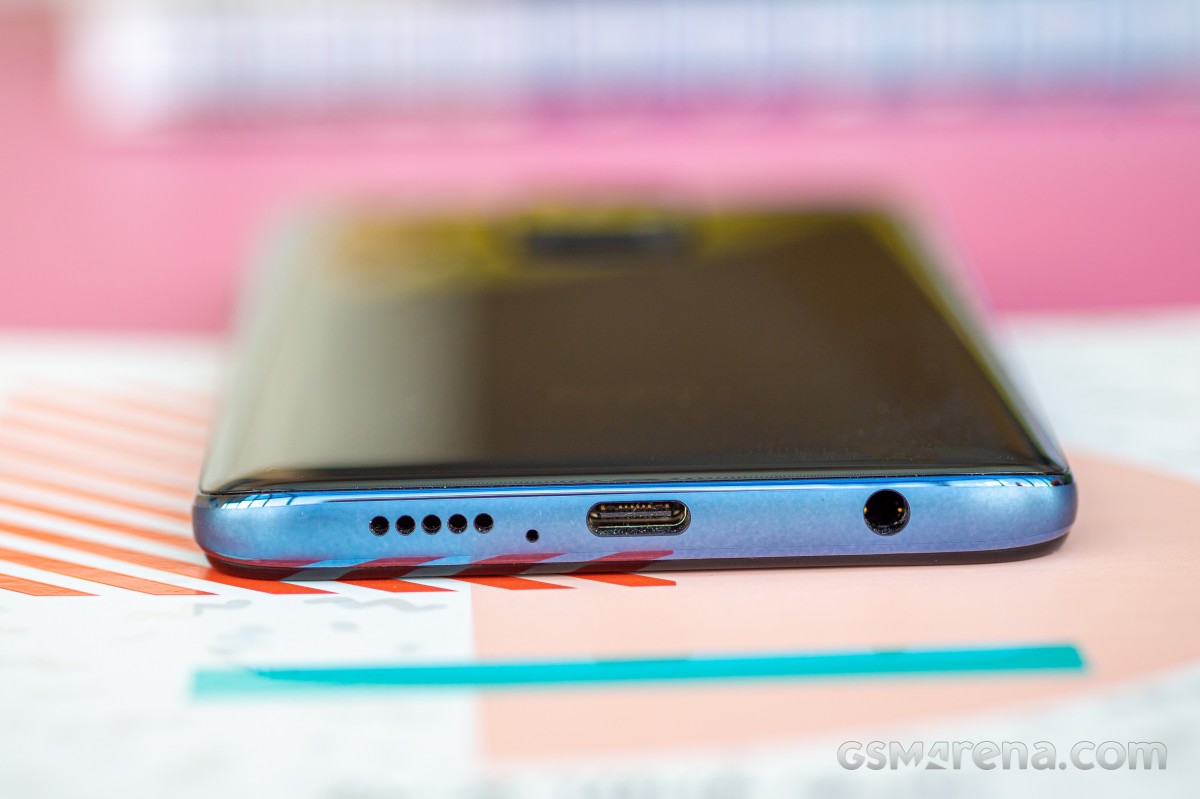 Since we're on the topic of sound, we'll quickly mention that Bluetooth is incredibly unreliable in reconnecting to previously paired audio accessories. As in, nine times out of ten, it doesn't do so automatically, forcing us to go into the Bluetooth section in Settings and manually select the device we're trying to connect to. This behavior is also seen in Xiaomi's Poco F2 Pro, but interestingly not in the Mi 10 Pro. Make of that what you will, we're assuming there may be more attention to (such) detail paid for the most expensive flagships or something like that. If you don't use Bluetooth for this purpose a lot, you won't notice, but we do, and having to manually select an accessory almost every time, multiple times a day, wasn't a great user experience.
The vibration motor is exactly as bad as you'd expect it to be at this price point. While it's a different situation when we talk about flagships or even some flagship killers, mid-rangers unfortunately still have it bad in this regard, which is understandable if you consider the price point and how some compromises are required to reach it. This is definitely one of those things that have been compromised, but we can't single out the Redmi Note 9 Pro here. Most mid-rangers fare the same, with only odd exceptions having vibration motors that punch above their weight.
A bad device and not worth the money, and I do not recommend charging it with a commercial wire other than the original
Pryingbasoon
30 Sep 2022
7t}
I was a Xiaomi user and upgraded to this from my Note 7 two years back. This phone is a beast and running smoothly. Never had any issues. Yes the camera might not be as good as it's Oppo or Vivo counterparts within this range but I'm not m...
I loved this phone for a full year and then it just stopped working after a reboot absolutely no physical damage phone looks pristine Tried factory reset took it to phone pros here in Toronto nobody could fix it warranty is finished I'm out of ...