Xiaomi Mi A2 Lite review
GSMArena team, 15 August 2018.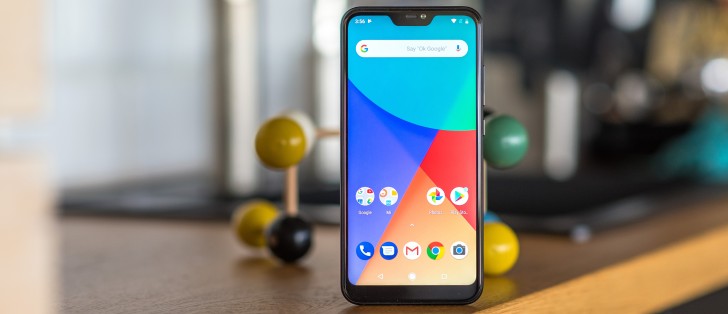 Vanilla Android 8.1 Oreo runs on the Mi A2 Lite
The Mi A2 Lite, just like the Mi A1 and A2, sticks to Android One - meaning pure Android experience with quick updates as soon as Google has them cooked. Sure enough, the Mi A2 Lite we have here is running the latest Android 8.1 Oreo, with the July 1 security patch. We hope Android Pie arrives soon enough.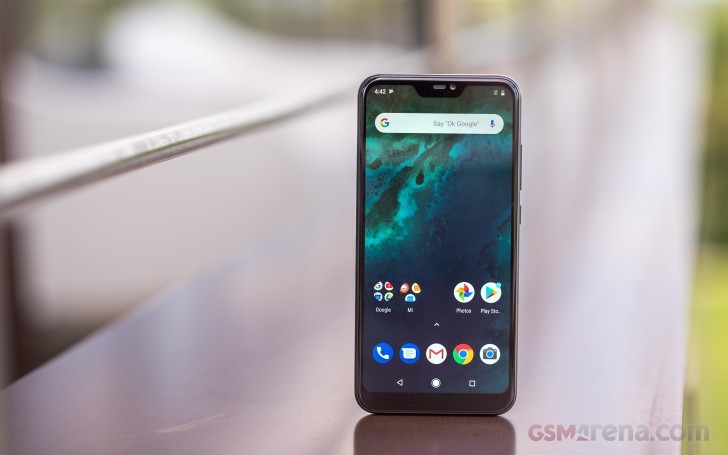 Android as Google intended shows up when you wake up the phone - clock, notification cards, two shortcuts on the bottom. Fingerprint enrollment uses the standard Oreo interface. Unlocking works as advertised and is quick and reliable. Past that is the standard Android 8 homescreen with a pull-up app drawer.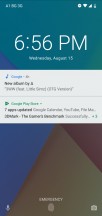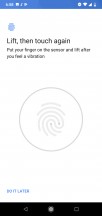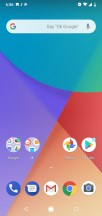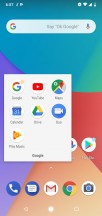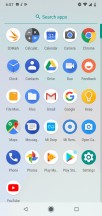 Lockscreen • Fingerprint enrollment • Homescreen • Folder view • App drawer
The quick toggles and notifications shade change color depending on the wallpaper - white for lighter ones, black for darker ones. A setting for that is coming with Android P. The task switcher is the usual rolodex and wouldn't it be great if Google put the 'clear all' button at the bottom instead of up top? Anyway, multi-window is supported natively since Nougat.
As for gestures and shortcuts, there's a single one - double press the power button to launch the camera, if that even counts as a gesture.
There is no option to hide the notch, but most apps won't use it anyway. Also missing is the ability to enable apps to run in full 19:9 mode and as a result most of the third-party apps ran at 1,920 x 1,080 resolution and left some visible black bars at the top and bottom.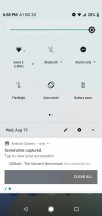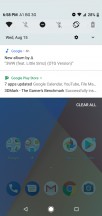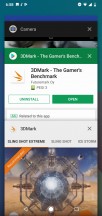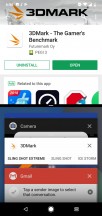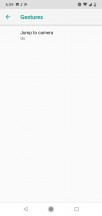 Quick toggles • Notifications • Task switcher • Multi-window • Gestures
As for multimedia, it's all in the hands of Google and its default apps. Google Photos is in charge of gallery-related tasks and video playback, while Google Play Music is the audio player, and Google's Calendar is the Mi A2 Lite's calendar of choice. The default Files file manager with batch actions and Google Drive sync is present, but let's face it - it's beyond basic.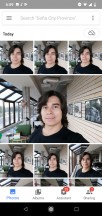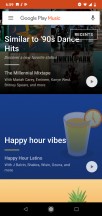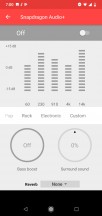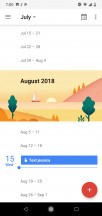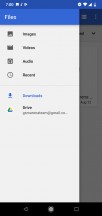 Google Photos • Google Play Music • Equalizer • Calendar • Default file manager
No wonder then that Xiaomi's added its own, with categories and fancier looks. There's also the Mi Remote app which lets you use the phone's built-in IR emitter to control a wide selection of home appliances - Mi TV's included, naturally. The company's in-house file sharing app Mi Drop is also pre-installed.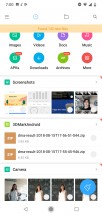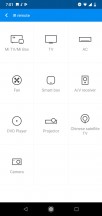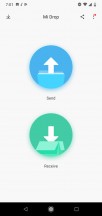 Xiaomi File Manager • Mi Remote • Mi Drop
Benchmarks and performance
Xiaomi Mi A2 Lite is yet another smartphone to utilize the dated but widespread Snapdragon 625 chipset. Xiaomi's first Android One device - the Mi A1 had the same chipset, but it was the popular choice back in 2017. Now, a year later, the 625 model has been demoted to the entry-level class, and we are looking forward to its retiring in 2019.
Anyway, the Snapdragon 625 employs a typical CPU configuration - eight Cortex-A53 cores clocked at up to 2.0GHz. There is also the Adreno 506 GPU, which usually thrives on a 720p screen, but the Mi A2 Lite's 1080p screen would present a challenge.
You can get the Mi A2 Lite with either 3 or 4 gigs of RAM (depending on the storage configuration).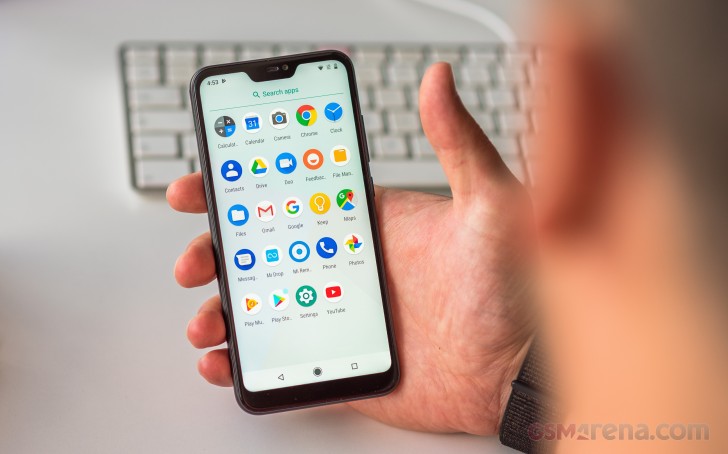 We'll kick off the performance tests with GeekBench. As usual, we got some decent numbers - the A2 Lite's processor is doing a good job for the class, but there are already more powerful offers on the market for the same cash.
GeekBench 4.1 (multi-core)
Higher is better
Oppo F7
5901
Oppo Realme 1
5741
Xiaomi Redmi Note 5 Pro
4696
Xiaomi Mi A2
4625
Xiaomi Mi A2 Lite
4388
Xiaomi Redmi S2 (Y2)
4313
Xiaomi Mi A1
4292
Nokia 6 (2018)
4225
Huawei P20 Lite
3756
Nokia 3.1
2624
Motorola Moto G6 Play
2328
On its own, the A53 core is trailing behind the newer A73 and Kryo cores.
GeekBench 4.1 (single-core)
Higher is better
Xiaomi Mi A2
1617
Oppo F7
1531
Oppo Realme 1
1511
Xiaomi Redmi Note 5 Pro
1327
Huawei P20 Lite
938
Nokia 6 (2018)
882
Xiaomi Mi A2 Lite
881
Xiaomi Mi A1
877
Xiaomi Redmi S2 (Y2)
848
Nokia 3.1
664
Motorola Moto G6 Play
639
The Adreno 506 is probably the bare minimum for a decent GPU performance at 1080p gaming. Recently it's been tasked with handling mostly 720p displays as it's already getting long in the tooth. So as you can imagine, it really needs to give it best on the Mi A2 Lite's 1080p panel.
And indeed, while the Adreno 506 scores some okay points in the offscreen tests, when it comes to real-life onscreen performance - it is bested by every other competitor we've tested but one.
GFX 3.0 Manhattan (1080p offscreen)
Higher is better
Xiaomi Mi A2
22
Oppo F7
20
Oppo Realme 1
20
Nokia 6 (2018)
14
Xiaomi Mi A2 Lite
9.9
Xiaomi Mi A1
9.8
Xiaomi Redmi S2 (Y2)
9.7
Huawei P20 Lite
8.7
Motorola Moto G6 Play
7.1
Nokia 3.1
5.5
GFX 3.0 Manhattan (onscreen)
Higher is better
Xiaomi Mi A2
21
Oppo Realme 1
20
Xiaomi Redmi S2 (Y2)
18
Oppo F7
18
Nokia 6 (2018)
15
Motorola Moto G6 Play
13
Nokia 3.1
10
Xiaomi Mi A1
9.7
Xiaomi Mi A2 Lite
9.4
Huawei P20 Lite
8.1
Finally, we ran the most popular compound benchmark - AnTuTu. The Mi A2 Lite score is what qualifies as mediocre and its score fell near the bottom of the chart. We suspect the below average GPU performance is what's dragging it down.
AnTuTu 7
Higher is better
Oppo F7
139414
Oppo Realme 1
138524
Xiaomi Mi A2
130927
Xiaomi Redmi Note 5 Pro
107737
Nokia 6 (2018)
90918
Huawei P20 Lite
87431
Xiaomi Mi A2 Lite
77964
Xiaomi Redmi S2 (Y2)
77488
Motorola Moto G6 Play
58757
The Snapdragon 625 should have been retired already, but it was repacked and demoted to budget smartphones. And the Mi A2 Lite, even with its trendy notched screen, is a budget phone and we can't be angry with the choice of hardware.
Despite the uninspiring benchmark scores, the Mi A2 Lite is a smooth runner in real life, and most of the popular games we tried ran fine, with minor but occasional hiccups occurring though nothing that bad. The 14nm manufacturing process makes the S625 silicon quite energy-efficient and keeps it cool under peak load.
So, as far as the Mi A2 Lite performance is concerned - it's enough for the class and will do even for gaming, you just have to make peace with the minor lag and stutters you may experience with heavier game titles.
I love this phone. At first I felt guilty about using it in public since the price was so low and the quality is incredible! I got the 4mb and added the 64mbmemory. Not just any SD memory but the much faster Sandisk UDMA memory cards which are 5 ...
I'm using mi a2 lite 4/64. For about year and a half and I got no problems everything is fine,the battery is on 93 % health.everything else is great
All you have to do is just download the app "Mi Remote Controller" from the play store, from Xiaomi inc. page