You can now get AppleCare+ for your iPhone up to 1 year after buying it
Ricky, 17 March 2017
As 9to5Mac reports, Apple is now allowing you to purchase its extended warranty/damage protection for your iPhone as long as you've purchased it less than a year ago. The previous window of opportunity that Apple offered was within 60 days of the date of purchase.
Even though it doesn't reflect on Apple's information site just yet, go ahead and give it a try. Head on over to the AppleCare support page and enter the serial number of your iOS device. If you've purchased it within the year, you should be able to see an "Eligible for AppleCare+" notification whose link will lead you to another page where you can purchase the extended protection.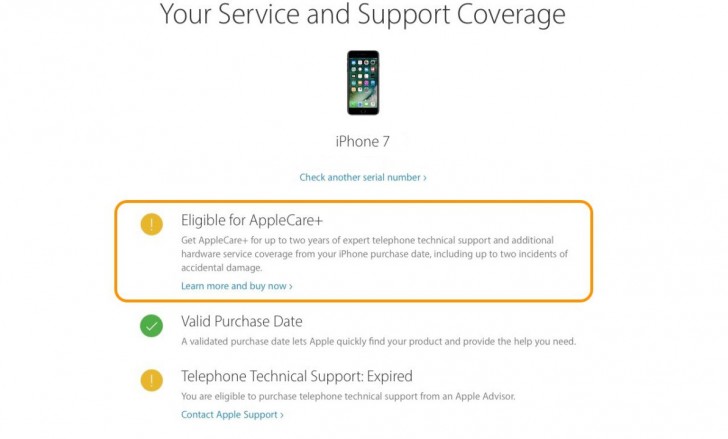 The change only applies to iPhones at this time, so no extra protection for your Apple watch or iPad if you bought it more than 60 days ago.
AppleCare+ starts at $99 for the iPhone SE, or $129 for the iPhone 6S, iPhone 6S Plus, iPhone 7, and iPhone 7 Plus. It covers damage up to two times during the protection period. You'll have priority access to Apple's 24/7 support line, mail-in or carry-in repairs, as well as 'Express Replacement Service'. Screen damage repair is just a $29 service fee, while any other damage is also covered for a higher $99 service fee.
Related
Anonymous
18 Mar 2017
xCD
Some people don't understand the idea of intangibles (like peace of mind), much less their effects. They probably don't grasp the idea of insurance either. Their scrooge mindsets are clouding their judgments.
Anonymous
18 Mar 2017
rvp
That's okay.Here in South Africa,we get ADH coverage when you buy certain Samsung devices.Each device qualifies for 1 incident only for any one of the following three incident scenarios; Screen damage repair only or Rear glass panel repair only o...
B for Bed Laffin
18 Mar 2017
UD{
Hah! I knew it ! I knew Apple was plotting something after Investing that R&D
Popular articles
Popular devices
Electric Vehicles