You can remap the Bixby button on the Samsung Galaxy S10 phones
Peter, 21 February 2019
The Samsung Galaxy S10 phones will let you remap the Bixby button, well, sort of. You can't completely evict the Samsung digital assistant, but what you can do is assign an app of your choice to the button.
Here's how it works. The button can be single and double pressed. You can assign your app to one of those options, Bixby will move to the other option. Note that a long-press always launches Bixby in voice command mode.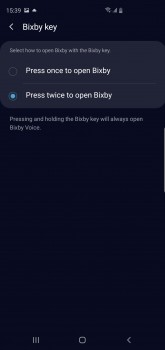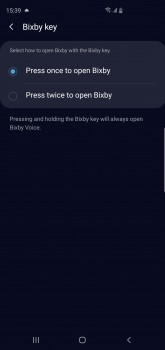 The Bixby button supports single, double and long presses
So, it's not perfect, but those of you who hate the maligned digital assistant can at least get some utility out of the key. It's not clear if the Galaxy S9 and Note9 will get a similar option in a future update.
Related
"I'm not that lazy to touch my phone to set a clock or search an adress" Who's talking of those simple 1 task commands kid? Watch the linked video above and get a clue. For example, I simply say to Bixby "I'm on a Journey" to do ALL of the follo...
Ok seems like there's 1 person between on this planet, that is in LOVE with Bixby. Dude Bixby is a trash, just simply google the reviews about Bixby. I have had S8+ and S9 and the only thing what I can say about Bixby is "IT IS A PIECE OF TRASH SPYWA...
How ironic and hilarious of you to be calling Bixby, which offers the user the choice of personalizing content, a useless spyware. Yet I bet you're proudly using the scroogle assistant or siri, both of which come from organizations that are under scr...
Popular articles
Popular devices