ZTE Axon 30 5G review
GSMArena Team, 17 Sept 2021.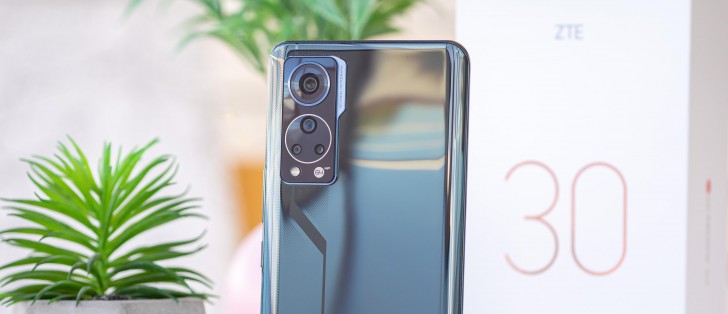 Full-screen OLED clocked at 120Hz
The Axon 30 5G has a large 6.92-inch OLED panel, which is a significant step up from last year's OLED screen in almost every way. It does retain the tall 1080 x 2460px resolution and the 10-bit color depth but bumps up the refresh rate to 120Hz for smoother animations and supposedly smoother gameplay too. More importantly, though, the under-display camera is virtually impossible to spot as opposed to last year's inconspicuous sensor that sits behind the Axon 20's OLED panel. But we will go into detail a bit later.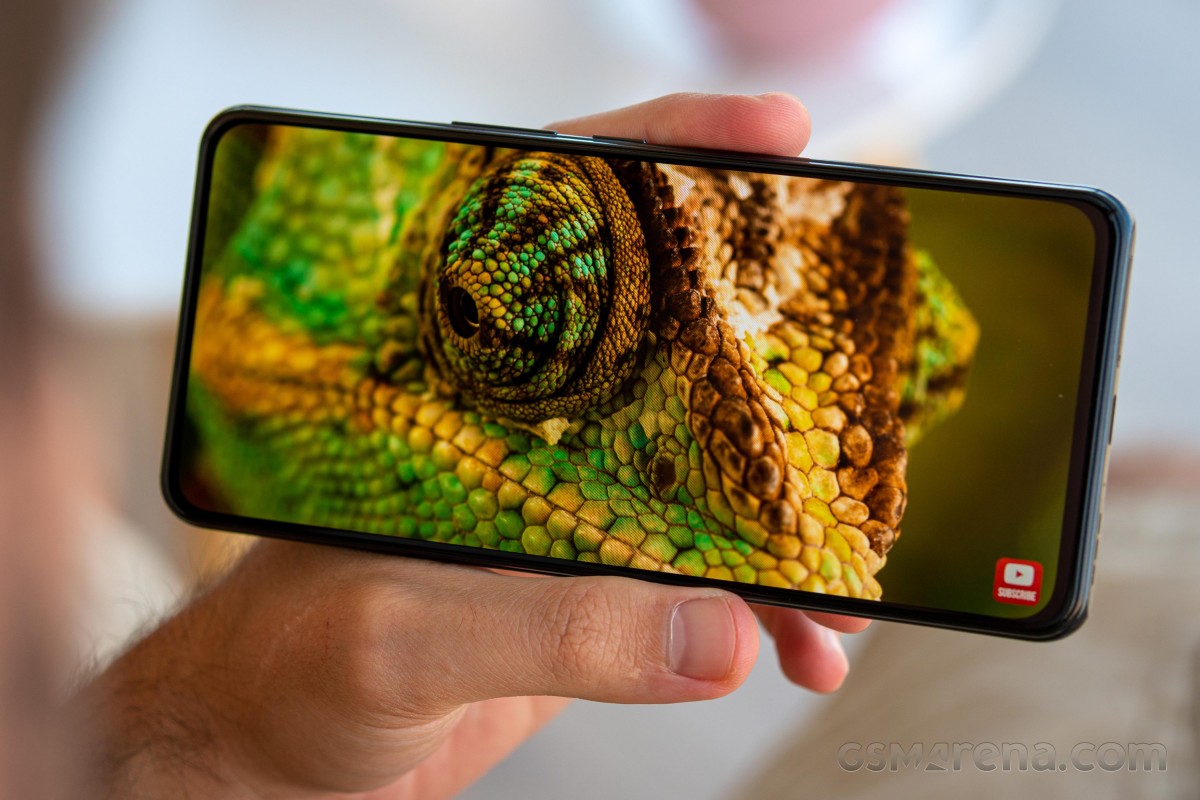 Now, let's take a look at some of the essentials first. Sadly, the Axon 30 lacks a brightness boost in auto mode, just like its predecessor, so you are limited to just 437 nits. And that might not be enough in bright outdoor conditions. Perhaps that's the reason why it's not HDR10-certified, as it can't peak to a sufficient brightness.
Display test
100% brightness
Black,cd/m2
White,cd/m2
Contrast ratio
ZTE Axon 30 Ultra 5G
0
552
∞
ZTE Axon 30 Ultra 5G (Max Auto)
0
698
∞
ZTE Axon 30 5G
0
438
∞
ZTE Axon 20 5G
0
406
∞
Realme GT 5G
0
443
∞
Realme GT 5G (Max Auto)
0
650
∞
OnePlus 9
0
450
∞
OnePlus 9 (Max Auto)
0
821
∞
Xiaomi Mi 11i
0
514
∞
Xiaomi Mi 11i (Max Auto)
0
939
∞
Color accuracy is reasonable with cyan being a little bit over the top and whites and grays looking too blue-ish. Luckily, there are three presets and a color temperature slider below that can easily fix that.
Perhaps the biggest change over last year's Axon 20 is the increase in pixel density of the screen area that sits on top of the under-display selfie camera sensor. Previously the pixel density in this area spanning across the camera was just 200 ppi, making any the content appear pixelated. This year's matrix allows for 400 ppi, which happens to be the native pixel density of the display anyway, so you really can't tell that there's something sitting beneath the screen. Even if you look really close enough, it's virtually impossible to spot it. You can only catch a glimpse of it on a white background.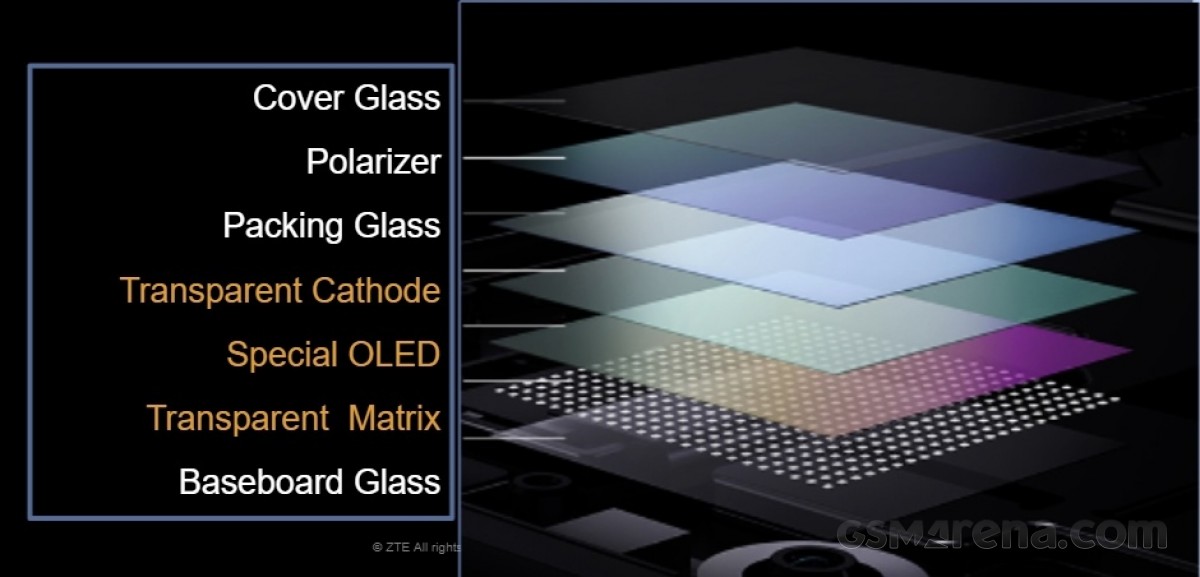 In addition to the said matrix, there's also a smart UDC chip that controls the two portions of the display using advanced algorithms. It constantly records the working time, temperature of each pixel and adjusts the brightness and chromaticity so that the camera area stays consistent with the rest of the display.
There's also the multi-drive ACE circuit that increases the camera's efficiency by 50% (according to ZTE's own testing), which helps with the seamless transition between the two parts of the panel.
Lastly, ZTE's supplier for the OLED panel has worked on improving transparency by introducing a 7-layer solution that consists of a baseboard glass, transparent matrix, special OLED panel, transparent cathode, packing glass, polarizer and cover glass. With the front panel being more transmissive, we expect the selfie shots to turn out less blurry than before, but we will leave that assessment to the camera section.
HRR control, though, is a bit of a mixed bag. There are three settings in the Display menu - 120Hz, 60Hz and Auto. One would assume that they are pretty self-explanatory, but in reality, they do something way different. Leaving the Auto mode would restrict the refresh rate to 60Hz in almost all scenarios. In fact, we couldn't find an app that boosts the refresh rate to 120Hz, even system menus are locked at 60Hz. In other words, the Auto mode does exactly what the 60Hz mode does.
This leaves the 120Hz mode with the hard task to intelligently control the refresh rate, and it appears to do so in a very simple, yet effective way. If you are not touching the display, the software would revert to 60Hz to save on some power. Netflix and YouTube videos also run at 60Hz, which is a good thing. So don't be fooled by the modes, the 120Hz one is the right one for most people.
Battery life
By today's standards, the Axon 20 5G features a slightly below-average battery, especially considering the huge 6.92-inch display that it packs. So it's probably not a surprise that the 4,200 mAh battery scored a sub-average score in our endurance test. The handset does get close to the OnePlus 9, but the latter didn't score all that well in the first place.
Our battery tests were automated thanks to SmartViser, using its viSerDevice app. The endurance rating denotes how long the battery charge will last you if you use the device for an hour of telephony, web browsing, and video playback daily. More details can be found here.
On the other hand, the screen-on tests aren't that bad, at least when it comes to video playback. In fact, the Axon 30 5G scored higher than average on the video playback test, but with the sub-optimal web browsing and standby scores, the overall endurance rating drops significantly.
Charging speed
The Axon 30 may not be impressing us with endurance, but it sure does fare well in our charging tests. That's what you get when you combine a 65W Power Delivery charger and a 4,200 mAh battery. In just 30 minutes, the handset charged from 0 to 76%, while a full charge took just 48 minutes.
However, putting those numbers into perspective, 76% in 30 minutes doesn't seem to be all that fast. It still falls short of the OnePlus 9 and the Realme GT 5G, with both devices carrying bigger batteries. The Mi 11i is slower but also has a bigger, 4,520 mAh unit.
30min charging test (from 0%)
Higher is better
OnePlus 9
100%
Realme GT 5G (65W)
87%
ZTE Axon 30 5G
76%
ZTE Axon 30 Ultra 5G
74%
Xiaomi Mi 11i
69%
Time to full charge (from 0%)
Lower is better
OnePlus 9
0:29h
Realme GT 5G (65W)
0:39h
ZTE Axon 30 Ultra 5G
0:44h
ZTE Axon 30 5G
0:48h
Xiaomi Mi 11i
0:52h
Speaker
Just a single, bottom-firing speaker. It doesn't get very loud and sounds a bit flat, which is expected from a single speaker setup. The good news is that vocals sound clear and there's minimal distortion at higher levels. It's mostly noticeable with the highs.
Use the Playback controls to listen to the phone sample recordings (best use headphones). We measure the average loudness of the speakers in LUFS. A lower absolute value means a louder sound. A look at the frequency response chart will tell you how far off the ideal "0db" flat line is the reproduction of the bass, treble, and mid frequencies. You can add more phones to compare how they differ. The scores and ratings are not comparable with our older loudspeaker test. Learn more about how we test here.
I just got it for 240E. For this price it's a great phone. I almost never use the selfie camera and battery life is also not that big of an issue for me so all good.
Anonymous
08 Apr 2022
xkS
the main camera has 64MP 0.8um , so the digital zoom should be fine