ZTE Axon 40 Ultra review
GSMArena Team, 11 June 2022.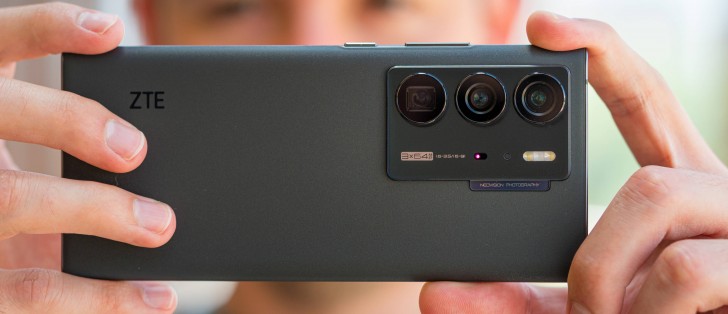 MyOS 12 on top of Android 12
The Axon 40 Ultra runs Android 12, enhanced by a layer of in-house MyOS, also labeled 12. In most visual respects, MyOS 12 is identical to the previous iteration that we saw on the Axon 30 Ultra.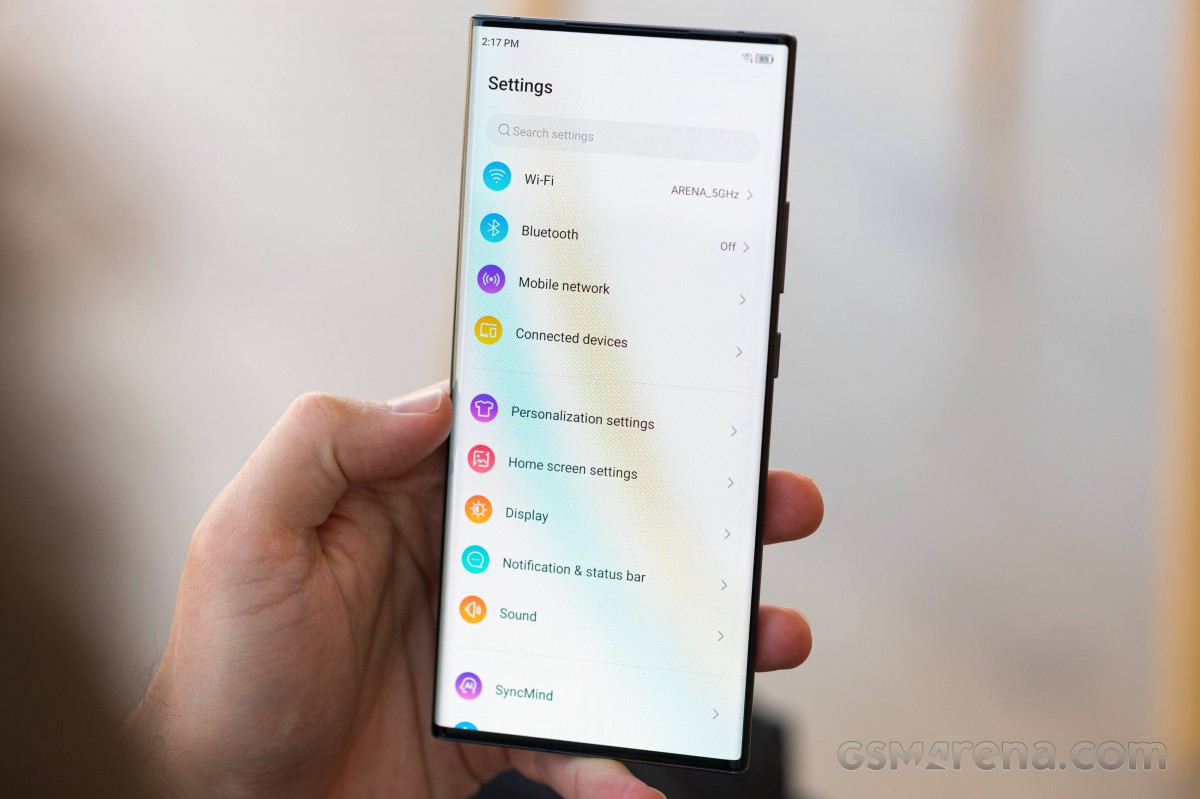 One of the most prominent ZTE interventions that used to differ from stock Android and other makers' overlays were in the quick toggles area, where the initial swipe would get you 4 large bubbles for Wi-Fi, Bluetooth, mobile data, and flashlight (of all things). That's still the case on MyOS 12, but whaddayaknow - now that's the 'default' Android 12 look, too.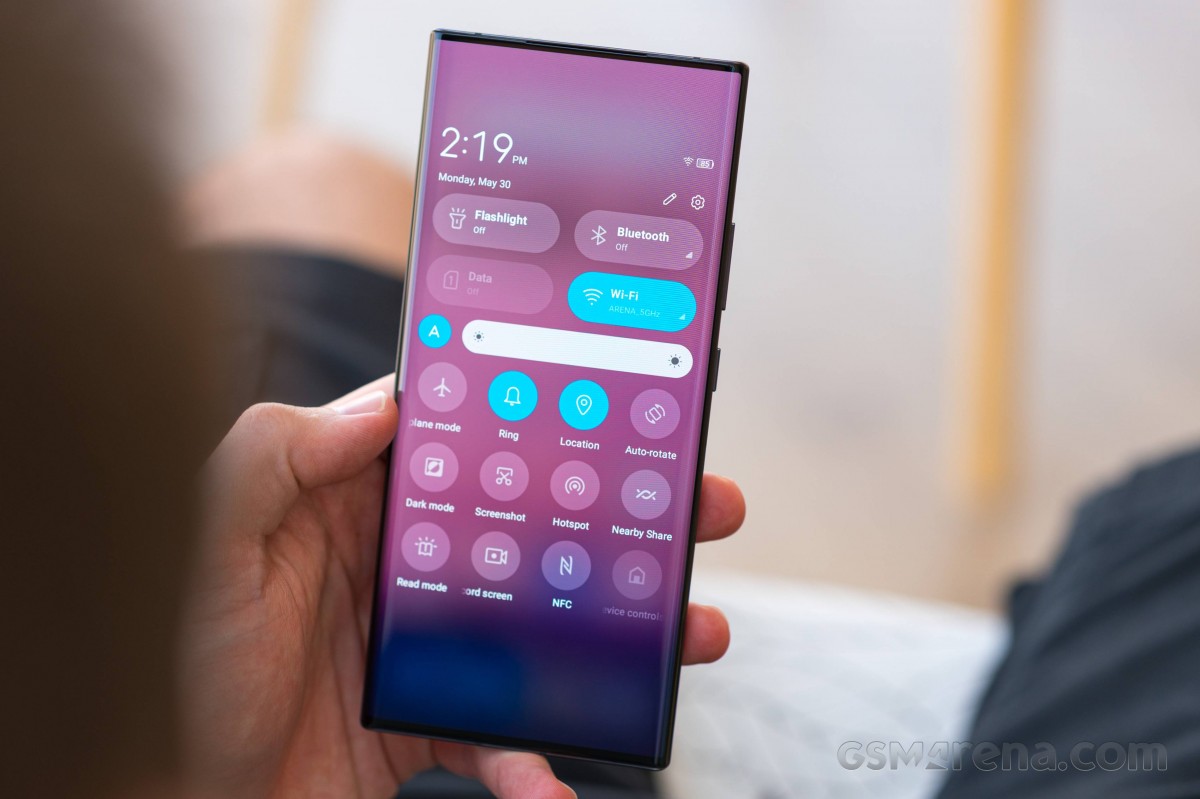 There's also a large brightness slider with an Auto toggle. You still can't change the four bubbles, but you can rearrange the regular-sized toggles that appear on the second swipe.
The settings menu is also custom, with ZTE opting for their own iconography and colors and a menu system that's different from Google's but still entirely logical. The About screen is ZTE's own and is pretty nice.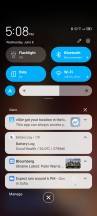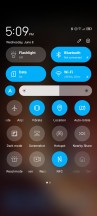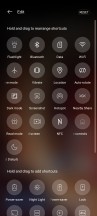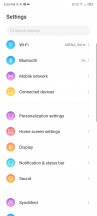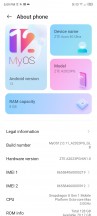 Quick toggles • Quick toggles • Quick toggles • Settings • About screen
ZTE has enhanced the customization options for this version, and all of them are grouped in the Personalization settings submenu. That's where you'll find the Always-on display settings - the feature can be that can be set to show all the time, according to a schedule, or just for 10 seconds after a tap - standard stuff. You get a host of different clock styles, which you can further customize. The fingerprint recognition animation is also customizable.
Also, here you'll find the themes of which there are three pre-installed and no obvious way to get more. You can change app icon shapes and the shapes and colors of other UI elements independently; you can choose between different clock styles for the lockscreen. There's an easy way to set the animation speed without going into developer options.
Fingerprint recognition is the obvious way to unlock the Axon. It uses an optical sensor, and we had no unusual run-ins with its operation - it unlocks quickly and virtually every time. We appreciate the relatively high position, even though it may require some getting used to.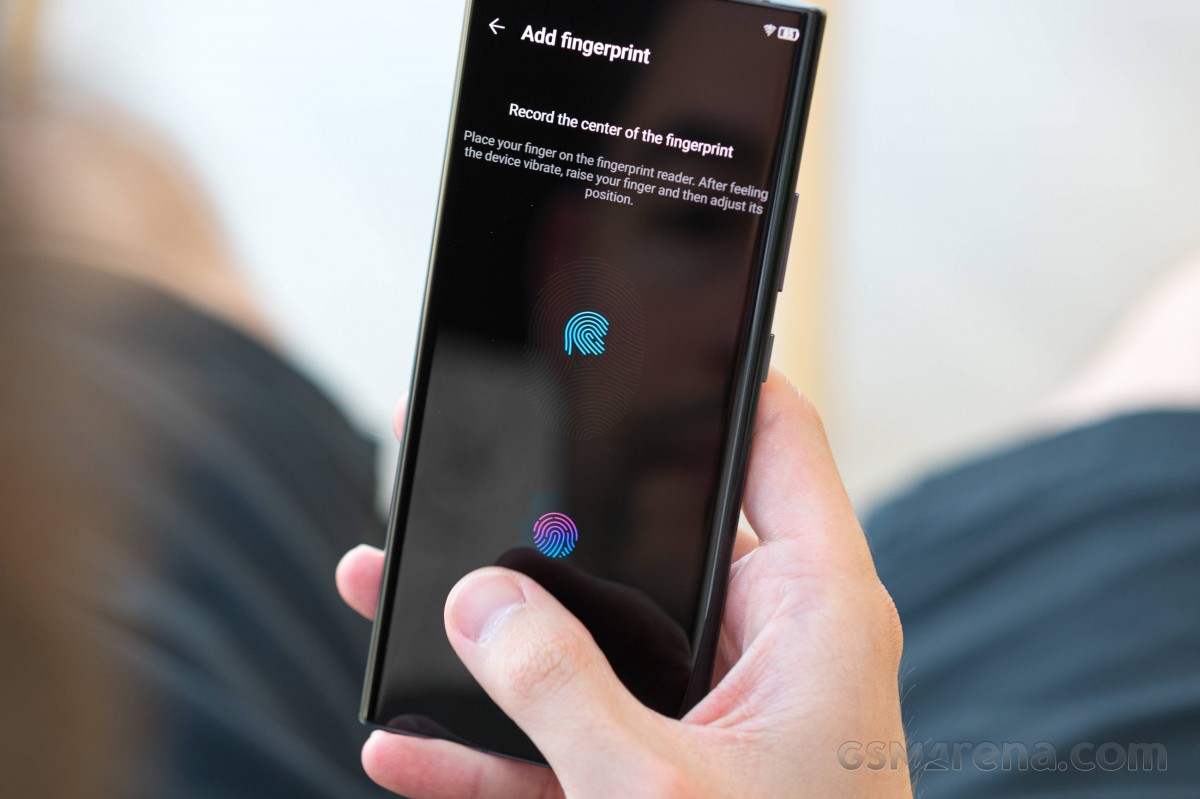 There's a feature that lets you assign up to 5 app shortcuts that will be available directly after unlocking when you press and hold the fingerprint sensor. It's somewhat quirky because the phone unlocks and takes you to the homescreen for a brief instant first and only then shows you the shortcuts, but it could be handy for the right situations.
You can also set up face recognition as the sole authentication method or have it work in conjunction with the fingerprint reader - whichever works first. Of course, this being a simple 2D camera-only face recognition, it's less secure than the fingerprint option.
The lockscreen has a clock-style setting of its own and offers standard functionality, including a camera shortcut in the lower right corner. In the lower left, there's a pull-up tab of sorts, which gives you shortcuts to the flashlight (again) and a voice recorder, but no dialer or a way to change these.
The homescreens are simple, and the leftmost pane is the Google feed which you can disable. ZTE hasn't implemented the Android 12 enhanced widget interface. You can choose whether to have all your apps on your homescreens or take the two-tiered approach with homescreens for shortcuts and an app drawer to keep all apps. The app drawer does none of that MIUI category sorting, nor is there a row of frequently used apps, but you can sort it by frequency of use.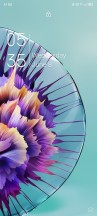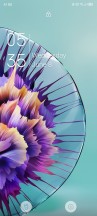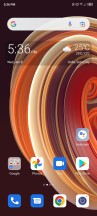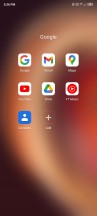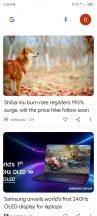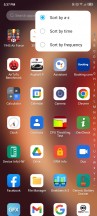 Lockscreen • Lockscreen shortcuts • Homescreen • Folder view • Google feed • App drawer
The task switcher is nothing out of the ordinary, and neither is the notification shade (when it comes to the actual notification cards, that is). Notification history has made an appearance, a native Android 11 feature, which ZTE hadn't implemented in the previous MyOS release. They've been speedier with the introduction of the Android 12 Privacy dashboard, though, which is nice.
There are few in-house apps on the Axon. Most key functionality is outsourced to Google's apps, including Photos, Contacts, and Messages, but the File manager is custom.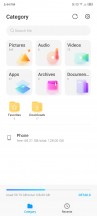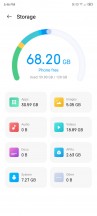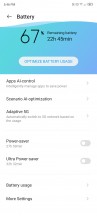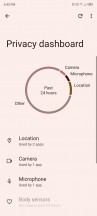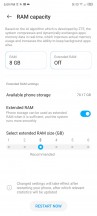 File manager • Storage settings • Battery settings • Privacy dashboard • RAM expansion
There is a fair number of proprietary features in the Features menu in Settings. That includes the Z-POP arrow shortcut that gives you access to some actions from the sides, but we found that to clash with the back gesture for navigation, plus it feels like a fairly niche feature to begin with.
A standard set of gestures is available, including raise to wake, and flip to mute. There's also a double-shake to start the flashlight from the lockscreen, and that's the third way to access the flashlight so far. This one is kinda picky though because it only works on the lockscreen - not on the always-on display and not with the phone already unlocked.
There's a mistouch prevention setting, too, if you're one to have trouble with the display's curved edges. There are three pre-set levels and a 0-10 slider but going too far to the right is counterproductive - it's almost enough to make the end keys in the keyboard inoperable. The default 'Light' setting (which corresponds to a 1 on the slider) worked fine for this reviewer's palms.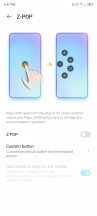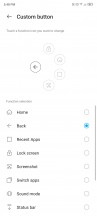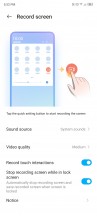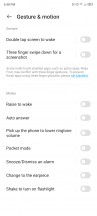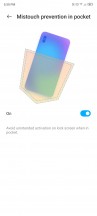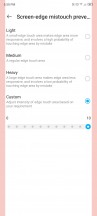 Z-POP • Z-POP settings • Screen recorder • Gestures • Mistouch prevention
Performance and benchmarks
The Axon 40 Ultra is using the Snapdragon 8 Gen 1 as most high-end Android phones this year. There's hardly anything we can tell you about Qualcomm's chip that you don't already know, but we'll rehash the specs - octa-core CPU in a 1+3+4 configuration with the prime core topping at 3.0GHz, Adreno 730 GPU.
RAM and storage configurations span a wide range, starting from our 8GB/128GB review unit, and going all the way up to 16GB/1TB, though the global version may only get 12GB/256GB in addition to our review spec, while the rest will probably remain confined to China.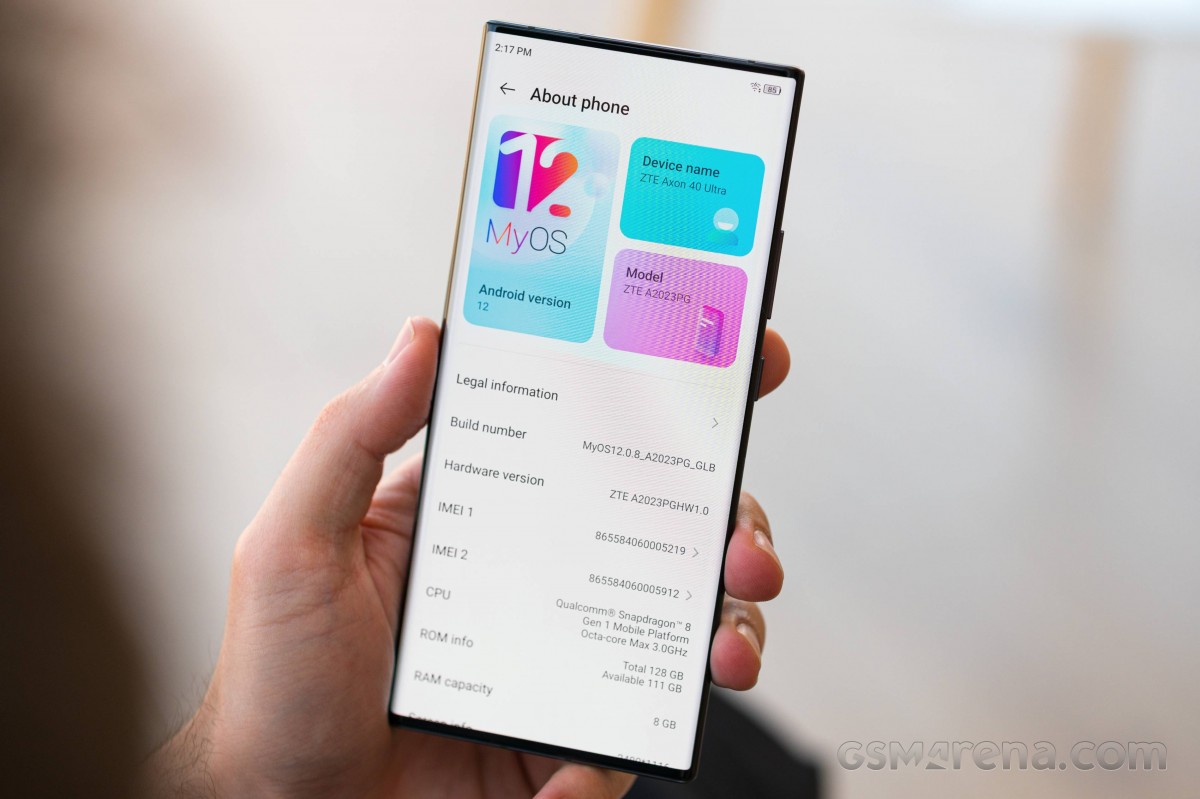 The Axon 40 Ultra posted somewhat inconsistent results across the benchmarks we threw at it. A fairly high single-core score in GeekBench came together with a noticeably low for its chip multi-core result.
GeekBench 5 (single-core)
Higher is better
Poco F4 GT
1244
Realme GT2 Pro
1238
iQOO 9 Pro
1231
ZTE Axon 40 Ultra
1207
Motorola Edge 30 Pro
1196
vivo X80 Pro
1184
Xiaomi Black Shark 5 Pro
1176
Xiaomi 12 Pro
1169
Samsung Galaxy S22+
1165
Honor Magic4 Pro
1127
ZTE Axon 30 Ultra 5G
1124
OnePlus 10 Pro
975
Realme GT Neo3
968
OnePlus 10R
881
GeekBench 5 (multi-core)
Higher is better
Realme GT Neo3
4079
iQOO 9 Pro
3708
Xiaomi 12 Pro
3682
Xiaomi Black Shark 5 Pro
3665
Motorola Edge 30 Pro
3658
Poco F4 GT
3637
ZTE Axon 30 Ultra 5G
3582
OnePlus 10R
3564
Samsung Galaxy S22+
3528
Honor Magic4 Pro
3512
vivo X80 Pro
3505
Realme GT2 Pro
3501
OnePlus 10 Pro
3447
ZTE Axon 40 Ultra
3189
The Antutu result was similarly one of the lowest ones we've gotten out of an SD 8 Gen 1 handset, though still better than what we squeezed out of the Dimensity 8100 inside the Realme GT Neo3.
AnTuTu 9
Higher is better
Xiaomi Black Shark 5 Pro
1007133
vivo X80 Pro
1002570
iQOO 9 Pro
997948
Xiaomi 12 Pro
985226
Honor Magic4 Pro
980755
Realme GT2 Pro
966251
Poco F4 GT
952124
Motorola Edge 30 Pro
941895
Samsung Galaxy S22+
886916
OnePlus 10 Pro
886248
ZTE Axon 40 Ultra
884923
Realme GT Neo3
819348
ZTE Axon 30 Ultra 5G
804626
OnePlus 10R
759929
Graphics benchmarks paint a similar picture - the Axon 40 Ultra is underdelivering for what its hardware suggests it should be capable of. Others seem to be more adept at extracting higher results from similar bits.
GFX Aztek ES 3.1 High (onscreen)
Higher is better
Xiaomi Black Shark 5 Pro
61
Motorola Edge 30 Pro
59
Samsung Galaxy S22+
50
ZTE Axon 40 Ultra
46
Realme GT Neo3
42
Honor Magic4 Pro
40
ZTE Axon 30 Ultra 5G
39
OnePlus 10R
39
OnePlus 10 Pro
37
Xiaomi 12 Pro
36
Realme GT2 Pro
36
iQOO 9 Pro
36
vivo X80 Pro
34
GFX Aztek ES 3.1 High (offscreen 1440p)
Higher is better
OnePlus 10 Pro
43
Realme GT2 Pro
42
Xiaomi Black Shark 5 Pro
41
vivo X80 Pro
41
Xiaomi 12 Pro
41
Honor Magic4 Pro
40
iQOO 9 Pro
40
Motorola Edge 30 Pro
39
ZTE Axon 40 Ultra
35
Samsung Galaxy S22+
31
ZTE Axon 30 Ultra 5G
27
Realme GT Neo3
27
OnePlus 10R
26
GFX Aztek Vulkan High (onscreen)
Higher is better
Xiaomi Black Shark 5 Pro
61
Motorola Edge 30 Pro
60
Samsung Galaxy S22+
51
ZTE Axon 40 Ultra
45
Honor Magic4 Pro
45
Realme GT Neo3
43
ZTE Axon 30 Ultra 5G
41
OnePlus 10 Pro
41
Realme GT2 Pro
39
OnePlus 10R
39
Xiaomi 12 Pro
37
iQOO 9 Pro
37
vivo X80 Pro
34
GFX Aztek Vulkan High (offscreen 1440p)
Higher is better
OnePlus 10 Pro
48
Realme GT2 Pro
46
Motorola Edge 30 Pro
45
Xiaomi 12 Pro
45
Xiaomi Black Shark 5 Pro
44
iQOO 9 Pro
44
ZTE Axon 40 Ultra
42
vivo X80 Pro
37
Samsung Galaxy S22+
34
Honor Magic4 Pro
32
ZTE Axon 30 Ultra 5G
29
Realme GT Neo3
28
OnePlus 10R
26
GFX Car Chase ES 3.1 (onscreen)
Higher is better
Xiaomi Black Shark 5 Pro
82
Motorola Edge 30 Pro
78
Samsung Galaxy S22+
68
Honor Magic4 Pro
59
ZTE Axon 40 Ultra
58
ZTE Axon 30 Ultra 5G
54
Realme GT Neo3
53
OnePlus 10 Pro
48
Realme GT2 Pro
48
Xiaomi 12 Pro
46
iQOO 9 Pro
46
vivo X80 Pro
44
OnePlus 10R
42
GFX Car Chase ES 3.1 (offscreen 1080p)
Higher is better
OnePlus 10 Pro
97
Xiaomi Black Shark 5 Pro
96
Xiaomi 12 Pro
96
Motorola Edge 30 Pro
95
Realme GT2 Pro
95
iQOO 9 Pro
95
vivo X80 Pro
90
ZTE Axon 40 Ultra
80
Samsung Galaxy S22+
76
Honor Magic4 Pro
72
ZTE Axon 30 Ultra 5G
69
Realme GT Neo3
60
OnePlus 10R
48
3DMark Wild Life Vulkan 1.1 (offscreen 1440p)
Higher is better
Honor Magic4 Pro
10183
Xiaomi Black Shark 5 Pro
10008
vivo X80 Pro
9778
iQOO 9 Pro
9673
Xiaomi 12 Pro
9664
OnePlus 10 Pro
9610
Realme GT2 Pro
9487
Motorola Edge 30 Pro
9406
ZTE Axon 40 Ultra
8670
Samsung Galaxy S22+
7405
ZTE Axon 30 Ultra 5G
5714
OnePlus 10R
5600
Realme GT Neo3
5428
For what it's worth, the Axon 40 Ultra showed remarkable stability under prolonged maximum CPU load - an 88% result in the CPU throttling test with no significant dips in performance is not a trivial achievement for a top-end chipset. More in line with other SD 8 Gen 1 flagships were the 64% stability rating from the 3DMark Wild Life stress test - not great, not terrible.
With that said, the Axon ran super hot in these sustained load benchmarks, reporting temperatures in excess of 60 degrees. It was also so hot on the outside that it was impossible to hold in your hand. You could argue that it's the thermal dissipation solution doing its thing to the max and getting heat away from the components that generate it, and that's evidently the case, but that doesn't change how hot the handset got to the touch. On the flipside, 100% CPU and GPU loads are not what a phone normally experiences in real life, so you shouldn't actually be worried about skin burns.
why does the audio suck on gsm review for video tests but not on techtablets or bens gadget review?
I just recommended to activate developer mode and kill all background processes which works for me but for me this will affect notifications from social media apps. To avoid this, do not follow that recommendation and instead allow the apps to run in...