ZTE nubia Red Magic 3 review
Hristo Zlatanov, 26 July 2019.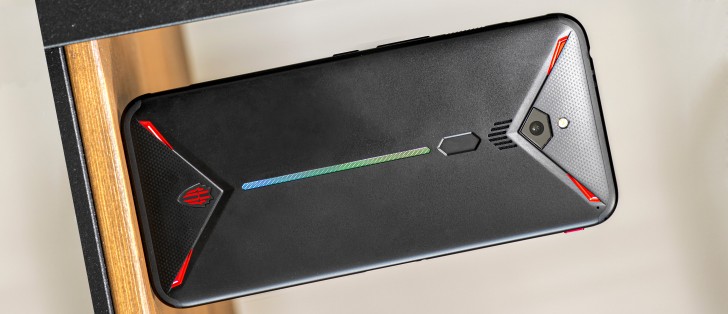 Design and build
By their very nature looks are a subjective topic. However, this time we have a pretty clear "gaming" angle to judge things from. And credit where credit is due, nubia has arguably been putting out the most aggressive and "gaming" designs out of the smartphone bunch. The latest Red Magic 3 is no exception and an incremental step ahead of its predecessors. Sharper lines, more pronounced accents, a strong background for the logo on the back. All and all, the "pop" has been increased even more for this generation.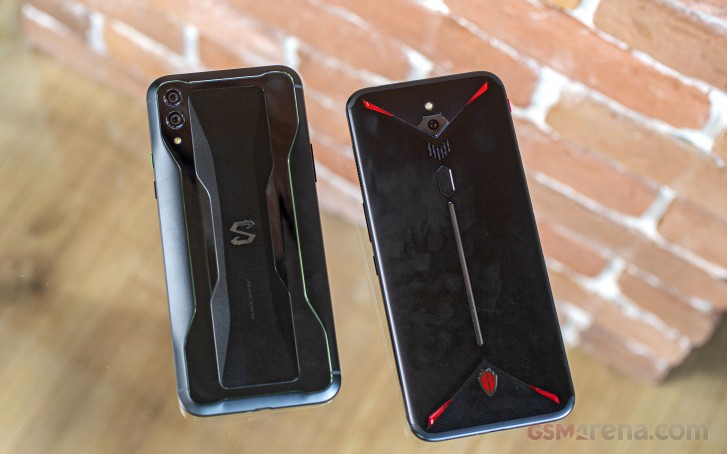 Left: Xiaomi Black Shark 2, Right: ZTE nubia Red Magic 3
Since we are already on the topic of the backside of the phone, all the familiar bits and pieces from its predecessors are there - the RGB LED strip and the intriguing geometric fingerprint reader cut-out. The most notable new bit, of course, being the exhaust grill for the tiny built-in fan. It looks very slick and flows into the overall design quite seamlessly. Or rather, provides yet another accent that is well in tune with the other small bits and pieces that make up the pretty strong and recognizable nubia gaming design.
Despite its futuristic design, build-wise, the Red Magic 3 is a "blast from the past" as it employs a metal unibody backside. That's actually a good thing in our book since less glass and curves generally translate to a more robust handset. And the Red Magic 3 feels very well built and solid, with its hefty 215 grams. We can't really complain all that much seeing how there is a 5,000 mAh battery inside, as well as that world-first built-in active cooling solution.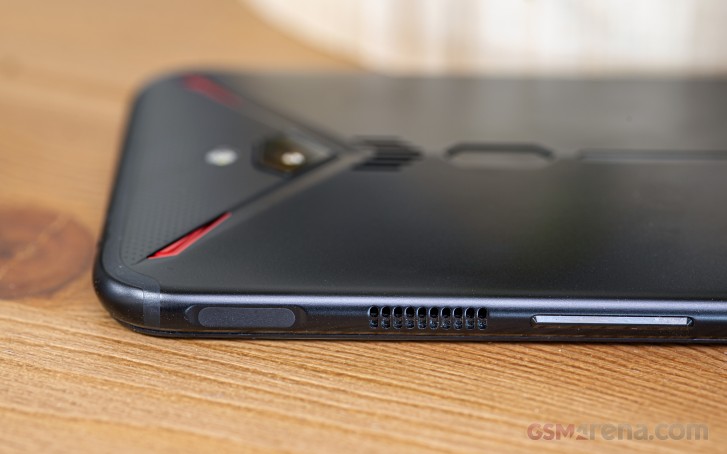 Speaking of which, that fan needs a good air intake as well. Nubia decided to house in on the right-hand side bezel on the Red Magic 3. The spot is pretty good since you are unlikely to cover it with your hands by accident. Consequently, the grill itself does not affect handling in any notable way.
However, unlike the exhaust on the back, it appears to lack any dust and particle protection, at least none immediately visible. And a phone is meant to spend most of its life stuffed in a pocket full of small bits and pieces, dirt, lint and such. We hope this does not turn out to be an issue over time since there is no real easy way to take the Red Magic 3 apart and clean the insides, as you would on a computer.
Well, there are a pair of iPhone-like screws on each side of the Type-C port, which is a good indication of a potentially easy disassembly process. However, we would advise against taking it apart willy-nilly, since such a tiny fan is likely quite fragile. And the last thing you want is messing it up ever so slightly that it starts to rattle or scrape while on.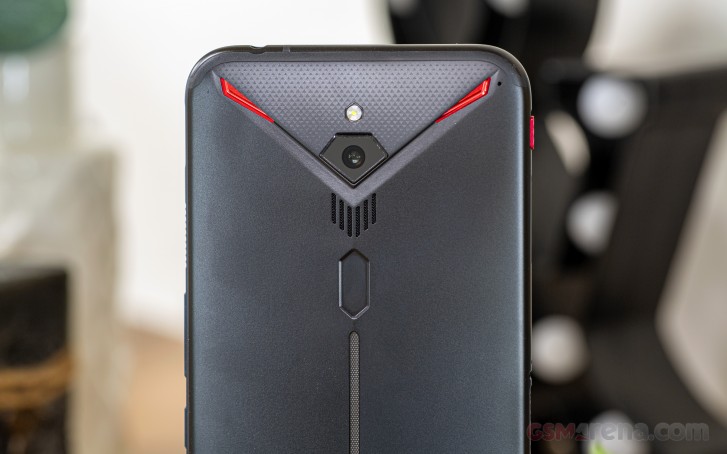 However, like we already eluded to, we can't imagine the whole active cooling system is particularly sturdy or fault-proof. Hopefully, regular every-day use won't damage it, since your phone does have to deal with plenty of elemental torture and things like heat and pressure. The Red Magic 3 lacks any official ingress protection and taking into account the fan; we feel like we need to be even more careful with how we handle it compared to a regular, no-moving-parts smartphone "slab".
Controls
The Red Magic 3 controls are quite busy. You won't hear us complain since that is kind of what you want to see on a "gaming" device - versatility.
Similarly to the ROG Phone, the Red Magic 3 has a pair of capacitive shoulder triggers on its right frame. These are shaped and positioned pretty well and rather convenient to use. They also feature haptic feedback. Overall, pretty awesome from a hardware standpoint.
However, on the software side, they are rather disappointing in their current state. You can not adjust the feedback or the touch sensitivity like you can on the ROG Phone, which might be part of the reason why they fall a bit short of Asus' implementation.
The issue of poor software powering otherwise nice hardware is, unfortunately, a running theme throughout the Red Magic 3 experience, as you will see as we dive deeper.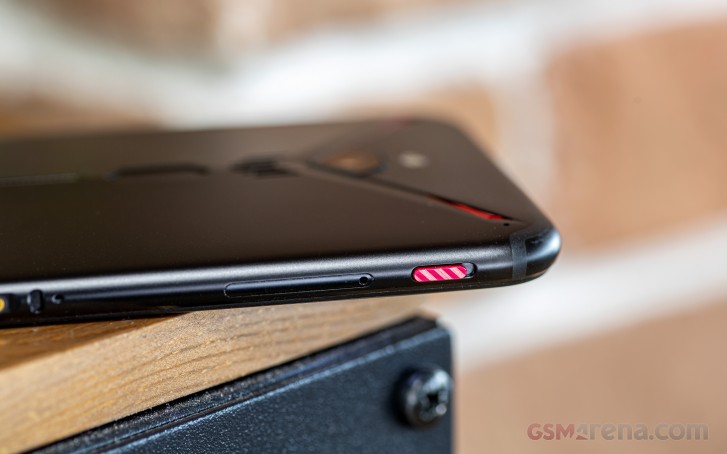 But back to the layout of the controls. The volume rockers and power button are both nice and clicky and well-positioned - no complaints there.
On the opposite side we find a rather OnePlus-like slider key near the top. It feels really solid and its purpose is to trigger nubia's game launcher and game mode, called Game Space 2.0. Unfortunately, it can't be remapped to anything else. At least not with the current unmodified state of the OS.
Slightly below that are seven pogo pins. These are currently only used to connect the Red Magic 3 to the E-Sports Box dock. The optional controllers use Bluetooth instead of a hard-wired connection. That's not overly convenient for charging reasons, as well as because of the inherent latency of the wireless connection and it feels like nubia could have found a way to connect these to the pogo pins instead. But even if that were the case, we still find these underutilized. Perhaps some more accessories are in the pipeline?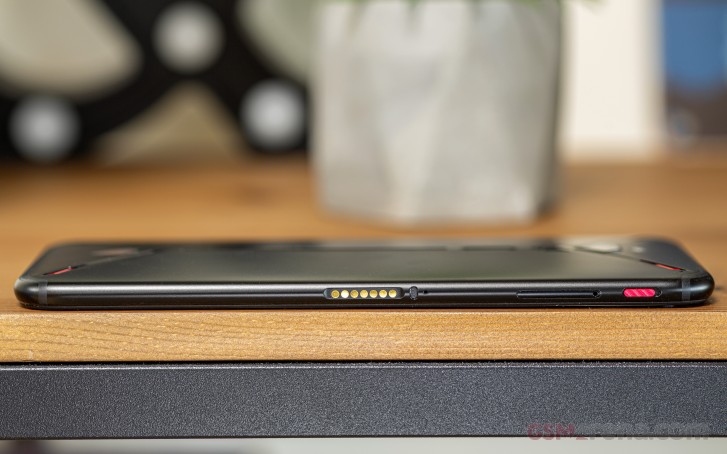 The top and bottom sides of the Red Magic 3 are a little less busy than the sides, housing just the right things in their proper places. That includes a 3.5mm jack on top and a microphone on the bottom, right next to the USB Type-C port. In case you were wondering why the microphone is there seeing how there is a perfectly good grille tugged away at the very bottom underneath the display, the reason is simple - the on-board stereo speakers.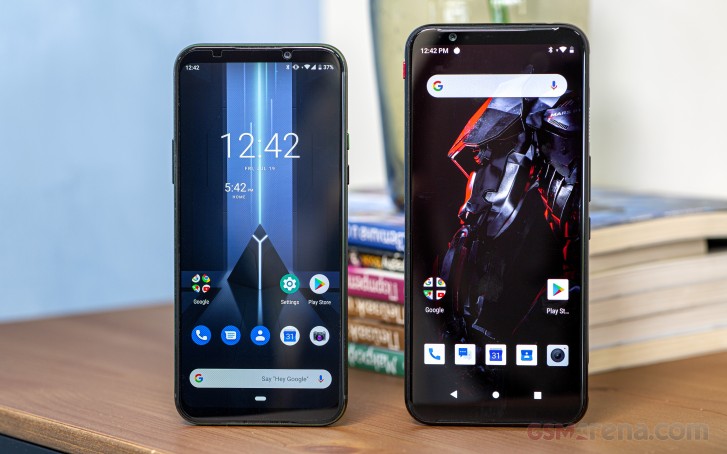 Left: Xiaomi Black Shark 2, Right: ZTE nubia Red Magic 3
Yes, a great addition on any phone, especially one flaunting its high-end gamer swag and style about. Like we already said, the DTS:X enabled speakers are nicely hidden from sight, making for a very slick and clean view on the front. That, by the way, is covered with Gorilla Glass (an undisclosed generation).
And last, but not least, finishing up the controls and hardware tour is the RGB notification LED, sitting above the display. And since some of you asked earlier on - no, there is no selfie flash.
Connectivity
We often tend to glance over this aspect of modern flagships since most of them share the same overall connectivity load-out, typically dictated by their chipset. Standout features, like an IR blaster, are getting increasingly rare and don't really merit an entire section anyway. Still, since many of you seem to have questions regarding connectivity on the Red Magic 3, we decided to give you a small rundown. Plus, there are actually quite a few cautionary bits that need to be mentioned.
As far as the basics go, the Red Magic 3 has two nano SIM slots, with a max theoretical network speed of Cat20 2000/150 Mbps. There is dual-band Wi-Fi and a full-featured Bluetooth 5.0 radio. The basics are clearly covered. Beyond that, however, the Red Magic 3 is frankly a bit disappointing.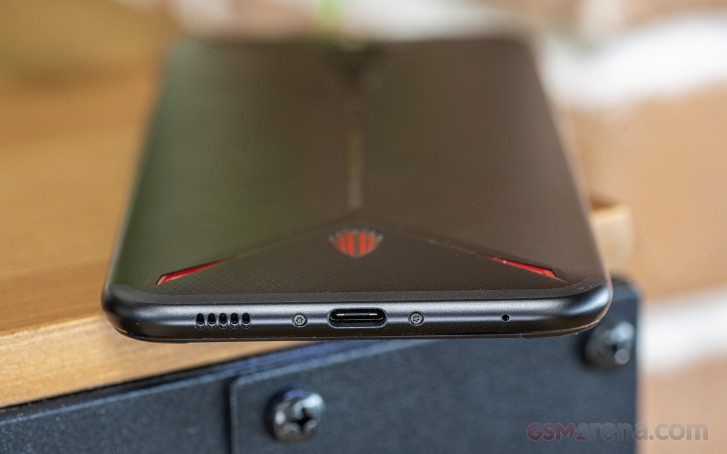 Since some of you asked, there is no dual-frequency GPU support nor is there NFC on the phone. Perhaps worse of all, however, is the lack of any video output from the Type-C port, which, by the way, is also capable of only USB 2.0 speeds. Nubia's optional dock accessory has no video output either, so it's not just a case of requiring a proprietary connection via the pogo pins. It is simply not there. Searching around online reveals quite a few disgruntled fans and owners and even some alleged promises to potentially include video out support with a future software update. Frankly, we aren't really sure the latter is even possible, depending on the hardware implementation of the Type-C port and USB controller.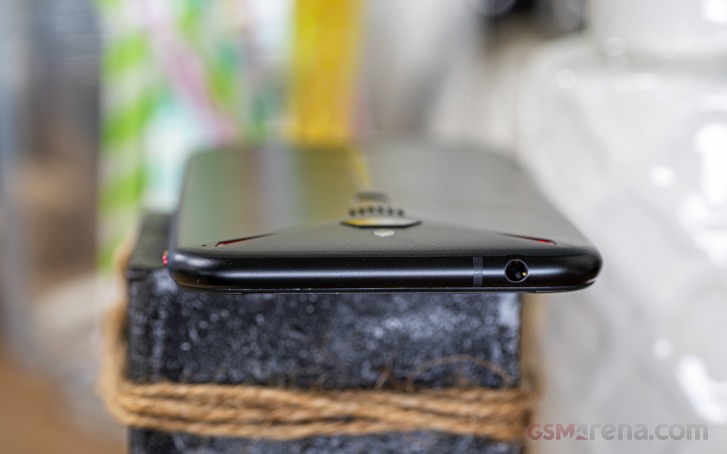 And in case you find yourself wondering why video out is important on such a device, the thing is "gaming" phones are geared towards a more professional mobile gaming crowd. A major part of competitively playing any game is the ability to stream and share your gameplay online. The lack of native video out is a serious hindrance in this regard.
Hi guys! I just want to ask. Is it worth to buy Nubia Red Magic 3? I am planning to buy for myself. So i just need your advice if it is worth or not before getting one. Thank you for those who will answer. Have a good day everyone.
Hi! I don't know if anyone experienced this on their red magic 3 yet but mine's showing a pink line. Any ideas on how to remove it?
Can GSMArena or anyone here confirm if the phone supports LTE Carrier Aggregation? I can't seem to get it to work on this phone. I know the Snapdragon 855 and X24 modem support it. I fear that Nubia has intentionally disabled this feature on the pho...