A short, unofficial video shows Samsung Galaxy S8's fingerprint reader
21 March 2017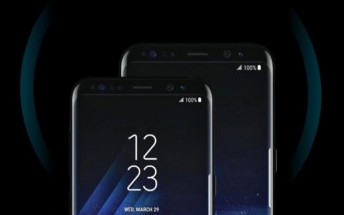 The Samsung Galaxy S8 is impatient - its official debut is on March 29, but the flagship frequently visits the rumor mill. In another short video, the S8 shows off its fingerprint reader.
It relocated from the front (which no longer has a front button) to the back, very near the camera. Thereís a good chance that youíll smudge the camera when you unlock the phone, which isnít ideal. Initially, the fingerprint reader was meant to be under the screen, but (allegedly) the engineers ran out of time.
Have a look at the lockscreen at the beginning of the video - is it just us or does that white square in the center remind you of a certain rival (which no longer has that square, but still)?
Thanks for sending this in, Mikke!
Related