HMD releases an infographic to mark the launch of Nokia 105 (2019)
Yordan, 08 August 2019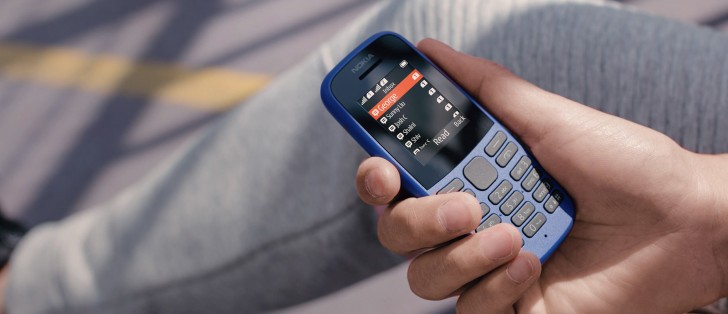 The small yet sturdy Nokia 105 (2019) was announced two weeks ago by HMD Global and it's finally out today in select markets costing just €13.
Juho Sarvikas, Chief Product Officer at HMD, posted a neat infographic, revealing some quirky details about the phone. It can be Pink as a flamingo but is also available in Black or Blue. With its storage for up to 2,000 contacts and 500 SMS, this is enough room for a short novel with about 80,000 words.
The Nokia 105 (2019) is also drop-tested, weight-tested and the battery can take you through 9 consecutive festivals if you want to do that for some reason.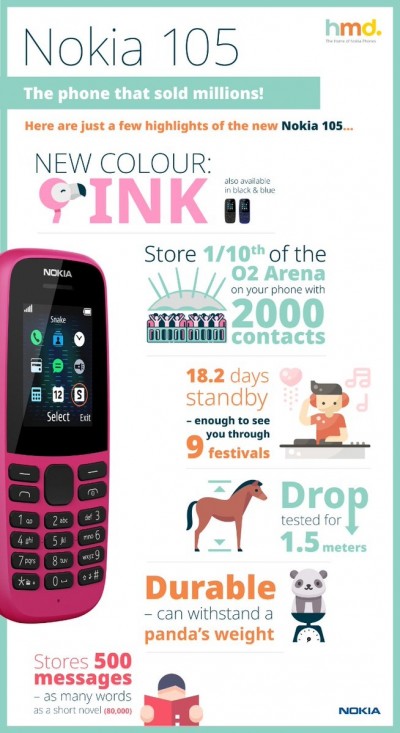 Specs-wise, the Nokia 105 (2019) is exactly what you'd expect from a feature phone at this price, which is to say nothing impressive. You have a compact 1.77" screen, 4 MB RAM and Nokia Series 30+ software. The phone has 4 MB storage, no camera, but comes with a 3.5 mm audio jack and FM Radio.
Bear in mind that the phone runs only on the GSM 900/1800 network, so it may not work in many countries.
Related
Sorry sir, we don't do that here. Here's a phone with no camera.
With a poor 2 mega pixel camera
Why are manufacturers not making slide phones any more? These dumbphones are a little boring now. I bought a Nokia 6288, great screen with a spring-assisted slide mechanism, feels satisfying.
Popular articles
Popular devices