Amazfit T-Rex review
GSMArena team, 25 May 2020.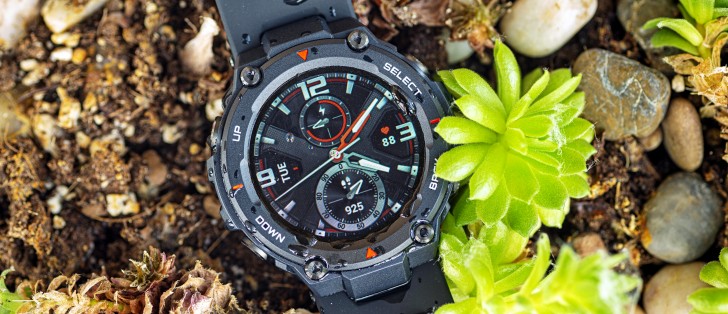 Design and materials
The Amazfit T-Rex is unapologetic in its rugged look. The G-Shock design inspiration is apparent. But that just means that the T-Rex is following a particular ongoing wearable and watch fashion trend. That is to say that this look has now become iconic and transcended the G-Shock brand. It is very particular in its styling and by design polarizing. Make of that what you will.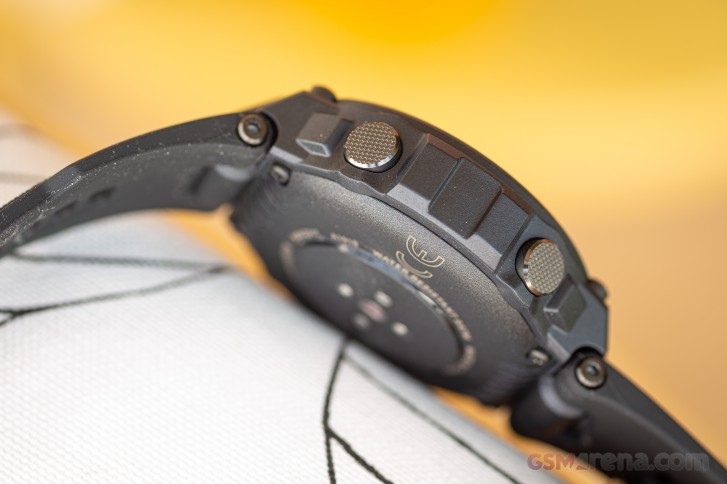 We think that Huami nailed the look they were going for. Weight, however, is a different subject. The Amazfit T-Rex is really light for its size and design. Again, whether this is something that would appeal to you is a matter of personal preference. Objectively, though, even the smaller traditional G-Shock and similar watches tend to be over 70 grams in weight. Often times, hovering around the 100-gram mark. If you expect a familiar heft to go with the familiar rugged design, then the T-Rex might fail to deliver.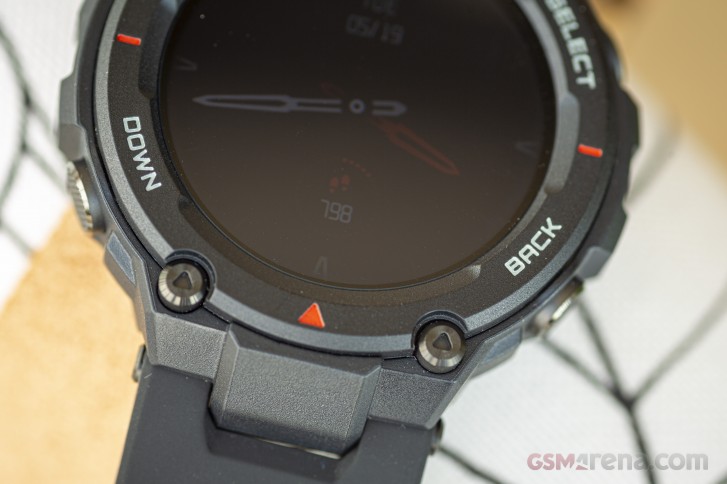 Light as it may be, the Amazfit T-Rex does live up to its name in terms of build quality. It can definitely be considered "tough", depending on your understanding of the term. Like we already said, its polycarbonate body is light. In fact, surprisingly so on the first impression.
Fancy material names aside, it is also essentially plastic. It will undoubtedly scratch and scuff over time. But, so will most metals and their finishes. In fact, you can often see us stand behind a good plastic build. This is one of those cases.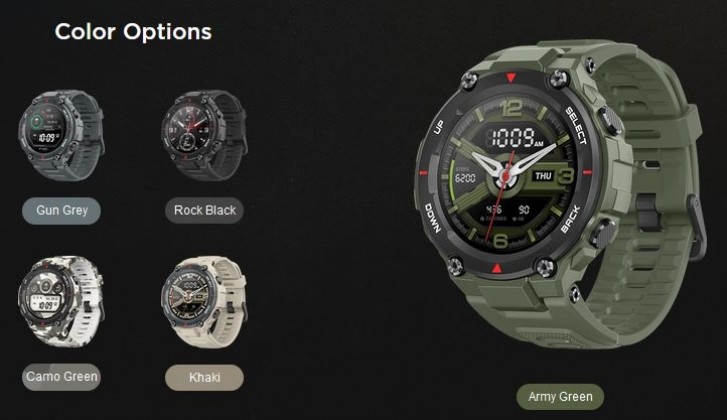 A tough watch like this is meant for a tough life. And the fact is that a solid black plastic shell is going to show a lot less signs of the inevitable scuffs it will pick up than a painted metal would. We can only assume that the other color options are made of uniformly colored polymer, as opposed to being applied as a top finish.
The markings and text on the front of the watch are also not going anywhere any time soon since they are deeply indented into the plastic and also painted-in using a careful ink-filling process. As it currently stands, the only visible metal bits on the T-Rex are the four screws on the front, the four buttons, and the studs, holding the strap in place.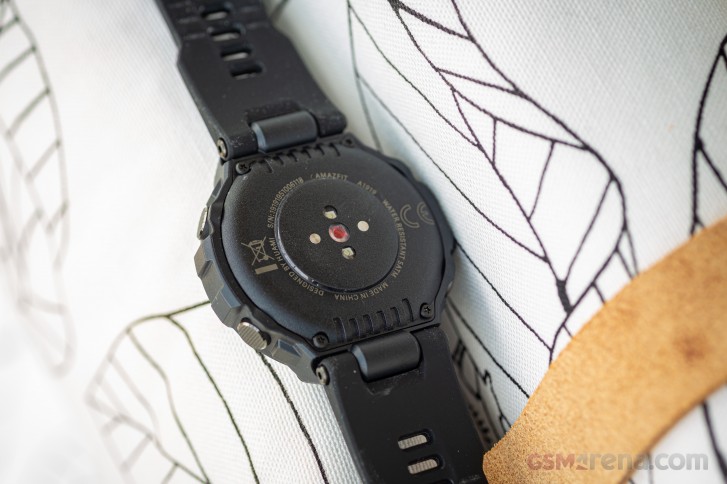 The simpler plastic construction probably helped Huami with the impressive ingress protection ratings of the T-Rex. It is not only rated for up to 5AT of water resistance, but also covers the STD-MIL-810G certification. The T-Rex is validated to last up to an hour and a half at -40 degree temperatures, and its heat resistance should go up to a whopping 70 degrees. The MIL-STD testing also validated it for 240 hours of humidity resistance and 96 hours of salt spray. Even though Huami makes it pretty clear on its website that some of these conditions can still damage the T-Rex and are not recommended, these figures are mighty impressive.
Our point here being that polycarbonates were probably the only option that would manage to cover all of these standards, within the price point of the Amazfit T-Rex. The material is also easy enough to mold to keep the actual parts list down to a minimum. This makes the protective convex design easier and cheaper to pull off and also leaves fewer gaps to seal for water resistance.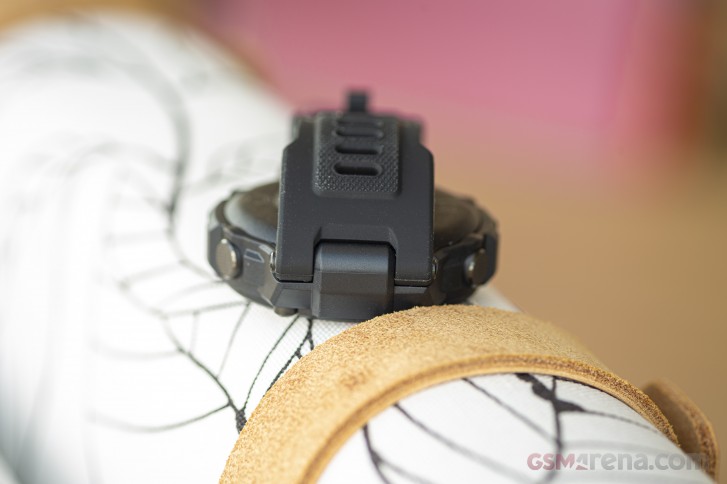 The display of the T-Rex is covered with Gorilla Glass 3, which is confidence-inspiring. Especially seeing how an Amazfit GRT, daily-driven for over a year, currently shows no damage on its Gorilla Glass 3 front glass. The advertised oleophobic coating on top, though, could use some more work. The T-Rex gathers plenty of grease and dirt. Though, its particular shape is clearly aiding the process, as well. You can expect plenty of lint to get trapped all over the place on its sharp shapes and angles. Just par for the course with a rigged wearable design.
Display and controls
The Amazfit T-Rex is equipped with a 1.3-inch AMOLED panel. With a resolution of 360 x 360 pixels, it delivers a perfectly sharp picture. It is also bright enough to remain perfectly usable outdoors, even under direct sunlight. Automatic brightness adjustment is handled by an under-display light sensor. It is responsive and works well. Unfortunately, the display is too small to properly measure with our equipment and validate our praise with numbers.
It is probably the same panel that Huami is also using in the Amazfit Verge - a more versatile device, a bit closer to the "smartwatch" end of the wearable scale, which is considered a "flagship offer". It should be noted, though, that the Amazfit GTR offers a bigger 1.39-inch, 454x454-pixel OLED in its bigger 47mm variant. That's good to know, if a bigger display is higher on the priority scale for you than the T-Rex's rugged exterior. Since feature-wise, as well as price-wise, the T-Rex and GTR are not far apart. We'll definitely be bringing that comparison up again throughout the review.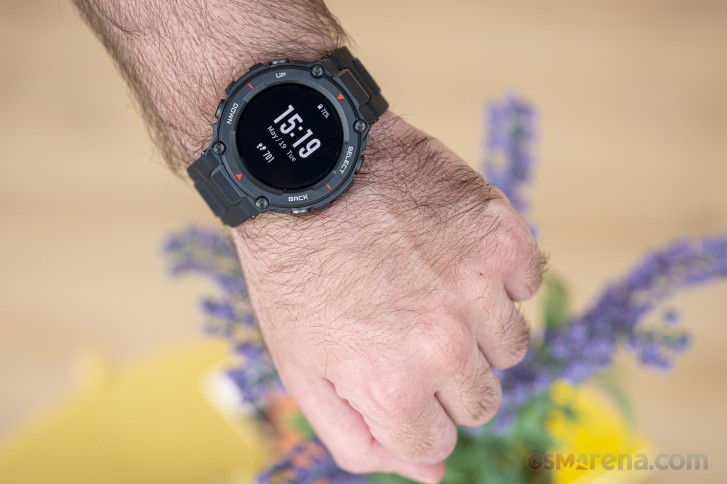 We only have good impressions from the T-Rex's display, aside from the criticism we already offered for its oleophobic coating. It not only looks good, with punchy and vibrant colors, thanks to its OLED nature, but is also easy on the battery. Of course, Huami could have gone for something more "unconventional", like the transflective LCD on the Amazfit Bip for even better power-savings. That would have meant sacrificing on color and the overall premium look of the panel. We are glad the T-Rex got the flagship treatment instead.
Touch accuracy and sensitivity on the display are a touchy subject on a wearable that, by design, is more likely to be used with some kind of gloves on. Silly puns aside, this is another hard-to-test aspect and our experience was a mixed bag. Individual elements on the display are kind of hard to accurately press, mostly due to its size. Thankfully, most of the UI is big enough and swipes are the main method of operation. Hence, with a bare finger, we have little complaints. Introduce some moisture into the mix, like sweat or water and it basically becomes unusable. Same goes for most gloves. We did get away with using thin rubber ones. Winter or professional work gear is a no-go.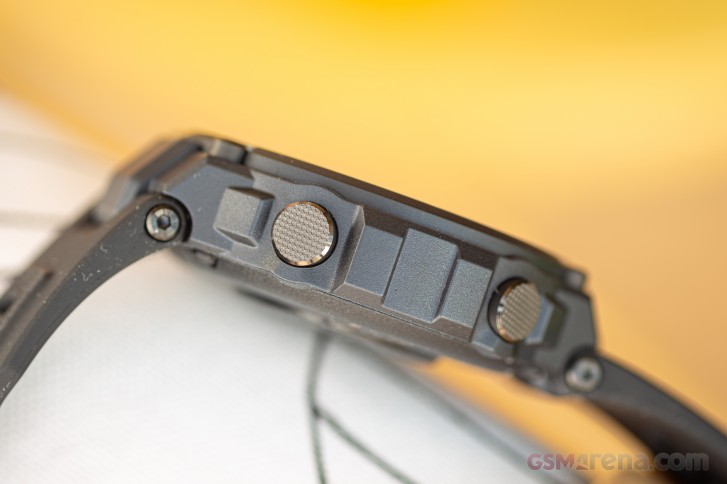 Thankfully, the T-Rex also has four physical buttons to fall back on. We really appreciate their inclusion. Not only do they allow access to most of the UI elements without using the touchscreen, but they also add to the rugged look of the wearable.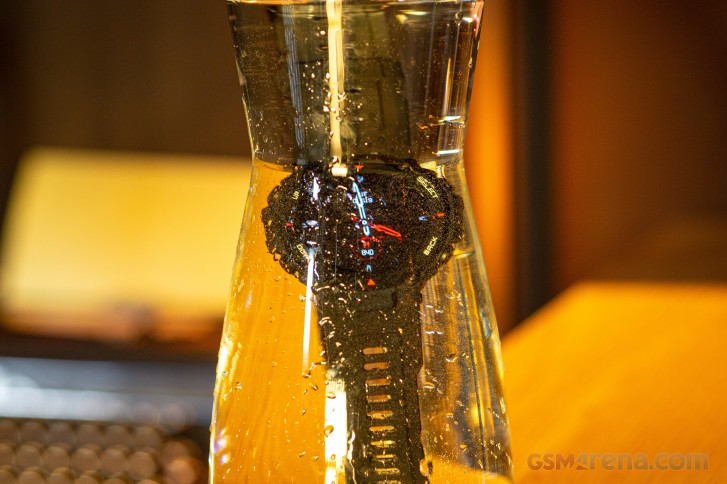 The buttons are big, easy to find and feel-out, thanks to a textured finish and, like we already said, manage to substitute most touch operations. Only a few things, like the quick toggles in the drop-down shade and the occasional oddly-positioned button inside a sub-menu or feature, can not be triggered by the physical keys. That's one of the only issues we have with them. The other being their mushy feel. A more positive tactile feedback when clicking would be appreciated.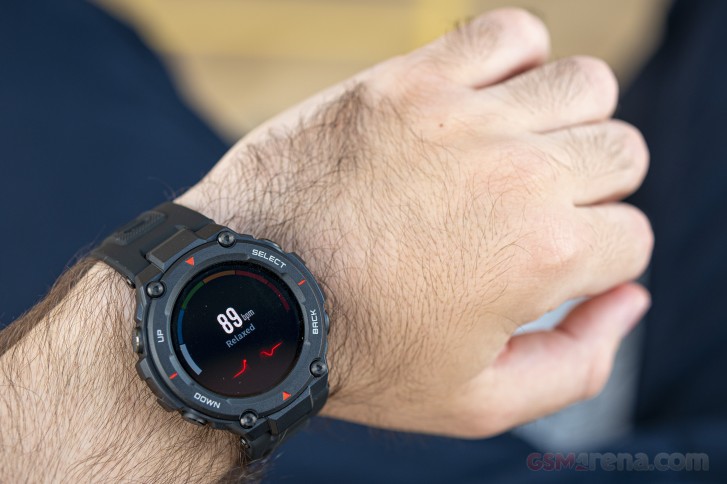 Finishing off the list of controls on the T-Rex, we have the BioTrackerTM PPG Bio-Tracking Optical Sensor on the back of the unit. It is a familiar sight for Huami wearables and is somewhat reliable in action. Physically, the decision to mount it on a separate protruding surface of its own on such a thick wearable as the T-Rex seems a bit weird. However, that's a functionally optimal choice, since it keeps the sensor itself as close to your skin as possible for proper measurements.
Comfort
A very subjective topic for sure. This will come down to personal preference. Here are the realities of the Amazfit T-Rex though: At 13.5 mm, it is very bulky. It can't really fit comfortably, or often at all, under a shirt sleeve and wearing it while sleeping can be unpleasant. Upper body sports or activities often result in bumps and snags.
On the flip side, it is very light. Both a potential plus and a minus, depending on your expectations. Due to its low weight, it does not strain the wrist even with active movement. It does cover a very large surface area, though and can retain moisture and aggravate sweat.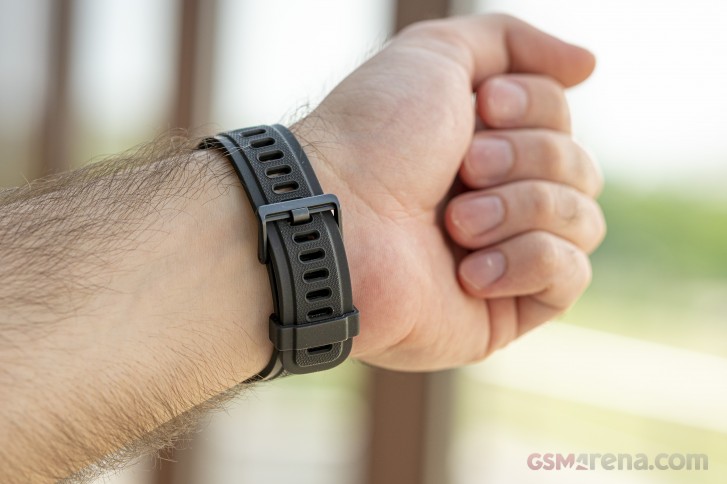 The included strap is very soft and elastic, has practically no weight to it, yet feels quite sturdy. It is a highlight feature of the Amazfit T-Rex. It feels super comfortable to wear. It can also cause a lot of sweating due to its wide profile. However, it's grooved inner surface goes a long way in preventing the strap form sticking to your wrist and creating unpleasant drag.
The one major downside of the T-Rex strap is that it uses a non-standard attachment design to the main body of the watch. Hence, you can't swap it out or replace it in the event of damage with a generic alternative.
23 Mar 2021, Huami already informed that a new version has come, Amazfit T-Rex Pro. Can Gsmarena do comparison between Amazfit T-Rex Pro vs Honor Watch GS Pro. Regards and thank you.
It is a problem with your watch. On mine I just waved my hand a few time and it calibrated.
The section on Features and UI mentions that T-Rex is a lot smoother than when GTR was first released. I'm considering a GTR over a T-Rex and wonder if this has improved with the release of newer firmware? Appreciate any inputs.