Android P beta is out today for Pixels as well as Sony, Xiaomi, Nokia, Oppo, vivo, OnePlus, and Essential phones
Vlad, 08 May 2018
At Google IO today, the search giant has detailed more aspects of Android P, the upcoming release that got its first developer preview in March and should be finalized in late summer.
New gesture-based navigation
Perhaps the most obvious new feature in Android P will be the new navigation system. This employs a pill-shaped Home button, and an on-demand Back button which doesn't show up on the home screen, for example.
Swipe up from the pill and you'll enter Overview mode, with your apps scrolling horizontally this time around, and a set of predicted apps at the bottom. Swipe up again and you'll access the app drawer. So the Overview / multitasking view has been combined with the app drawer, interestingly.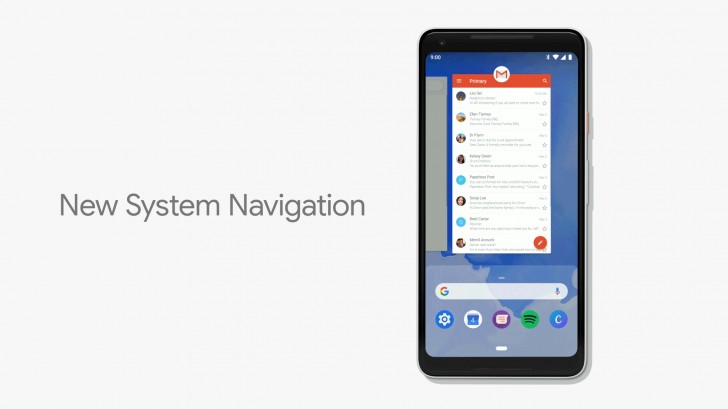 Swiping up works anywhere, and you can even slide the pill horizontally to quickly go through your recent apps. What's more, smart text selection (which recognizes the meaning of the text and suggests relevant actions) works in Overview, so you don't have to tap to enter an app in order to select some text from it and act upon that.
A new rotation button will show up on the navigation bar, to the right, when you rotate your phone despite it being set to stay in portrait mode. This lets you quickly enable rotation on the spot should you need it.
Adaptive Battery
Android P comes with Adaptive Battery, which uses machine learning to figure out which apps you use most, and which you're likely to use in the next few hours. It then prioritizes battery power only for those, and prevents other apps from using up your precious milliamps. This apparently results in a 30% reduction of CPU wakeups for apps in general.
Adaptive Brightness
Another place where machine learning is employed is brightness. Google has finally decided to do something about its appalling Adaptive Brightness. In Android P, it will be called the same but will work like Samsung's auto-brightness, in that when you manually adjust the slider it will remember your setting for that specific lighting situation and then automatically re-apply it in the future.
Predicted actions
Previous versions of Android had app predictions, in a dedicated top row in the app drawer, but P takes things to the next level, adding predicted actions inside apps. You'll see two of those underneath the suggested apps row. They can be things such as calling a specific contact, starting a workout inside a fitness app, or resuming your favorite Spotify playlist when you've connected your headphones.
The suggestions are based on your usage patterns, and app actions will show up everywhere, including in smart text selection, the Play Store, Google Assistant, and search results, with deep links inside apps that support this. Additionally, a new Slices API enables developers to show interactive snippets of their app's UI, in Android P this will work in search at first.
Digital wellbeing features
A new Dashboard will show you how much time you've spent in apps, how many times you unlocked your handset, and how many notifications you received. Developers will be able to link to more detailed breakdowns of what you've been doing inside their apps. So YouTube, for example, will give you the total time you've spent watching videos.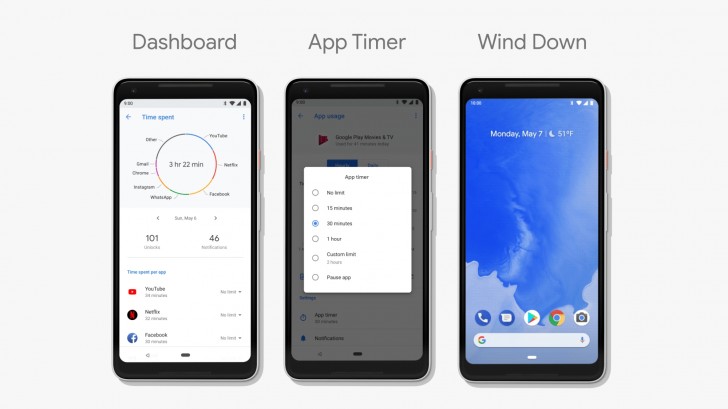 You can set an app timer, and you'll get a nudge when you're close to your limit. After you've crossed the threshold, that app's icon will be greyed out for the rest of the day.
A new gesture called Shush will make the phone enter Do Not Disturb mode when you turn it over on a table. This will result in no pings, no vibrations, no interruptions, except from your starred contacts.
Wind Down mode will automatically switch the screen to grayscale when it's time for you to go to bed. You just tell the Google Assistant when you want this to happen, and it will make it so, every single day.
Download
The first Android P beta will be out today, but there's a twist. It won't just be available on Pixels as you'd expect. You'll also be able to try it if you have a Sony Xperia XZ2, Xiaomi Mi Mix 2S, Nokia 7 plus, Oppo R15 Pro, vivo X21, or Essential Phone.
That's an interesting development made possible by Project Treble. Additionally, the beta will be waiting for you to install it, should you choose to, when you unpack your brand new OnePlus 6 that's due to launch later this month.
You can enroll your handset in the beta at this website, and within a few hours (or days) you'll receive an over-the-air software update which will install it. Note that you can unenroll at any time, but you will then be sent a rollback update to Oreo which will wipe your data, so make sure to back things up before taking this step.
Related
vivo x21 has upgraded to android 9(pie).tnx
Anonymous
03 Sep 2018
Dk0
Oppo f7 update to android p
What about samsung j6 2018?
Popular articles
Popular devices
Electric Vehicles