Android global market share now exceeds 80%
13 November, 2013

According to the International Data Corporation (IDC) Worldwide Quarterly Mobile Phone Tracker, the Android platform just crossed 80% marketshare in the third quarter of 2013. With 211.6 million smartphones shipped in this quarter, Android continues to maintain its dominant position in the market, this time reaching an all time high with a 51.3% growth over last year. Samsung singlehandedly contributed to almost 40% of the total shipments this quarter.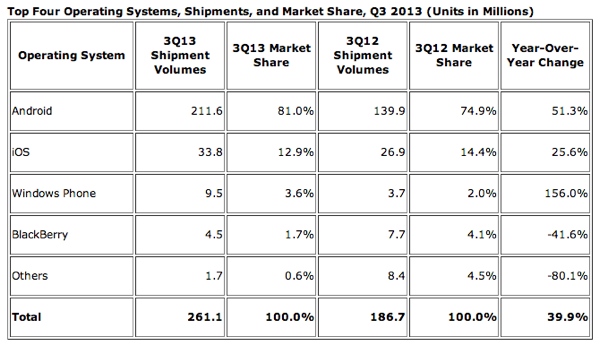 Android is not the only platform doing well. Although not quite there yet in terms of total marketshare, Microsoft's Windows Phone platform grew by 156% year-over-year, reaching 3.6% marketshare in the third quarter in terms of shipment. Nokia alone contributed to 93.2% of the total shipments.
iOS also continued it's slower but continued growth, with a 12.9% marketshare that is 25.6% over last year.
One thing to remember that these numbers only take into account shipments and not actual devices sold or actually being used, which could paint a different picture.
Related
yEah..off all the pr0blems in the world
this is matter of pricing . Android phones sell because of lower price than iphone. if android phone should have a same avarage price as iphone , people will buy more iphones.
obviously, living in a first world country makes it easy to get the latest phones on contract. In other countries whereby contract buy of phones are not possible you have to buy the phones without contract, and buying a phone for over a $...