Apple confirms iPhone 13 series lacks noise cancellation during phone calls
Michail, 17 January 2022
Apple Support officially confirmed iPhone 13 series lacks call noise cancellation, a feature that has been available on past iPhones for over a decade. A new 9to5Mac report details the accessibility feature that reduces ambient noise on phone calls when you are holding the receiver to your ear is no longer supported on the iPhone 13 series.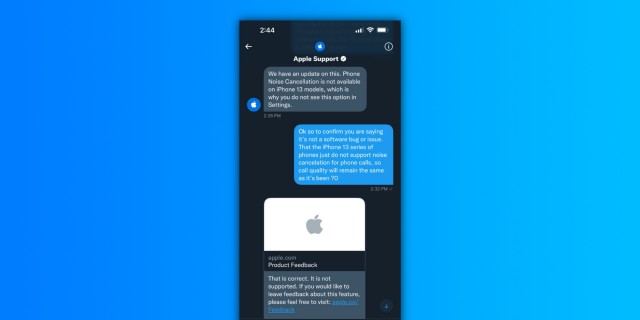 Apple Support chat confirming absence of noice cancelation on iPhone 13 series (via: 9to5Mac)
There's no further explanation as to why the feature is removed and it means all phone calls will remain without noise cancellation unless you have other hardware devices like headphones that come with built-in noise cancellation.
It's curious to see why Apple is not offering phone noise cancellation on its latest devices despite the fact that the phones have the hardware in the form of a multi-mic system. We'll keep you posted on any new developments regarding this case.
Related
Anonymous
23 Jan 2022
70d
Employees can be fired any time. I don't see how where they live is relevant. Employees in the US can be fired any time. Engineers can be fired any time. The point is that if you accuse anyone of providing inaccurate information, it's on yo...
It's not delusion when a customer service rep may not be fully aware of the engineering and software development. These people are outsourced and may not even be living in US. They can be fired anytime without major consequences to the client, t...
Anonymous
22 Jan 2022
70d
You're so delusional. You're accusing the representative of providing false information. It's on you to prove it, not the other way around. Also, the iPhone 13 was release on September last year. It has already been about 3 months. If ...
Popular articles
Popular devices
Electric Vehicles