Apple iOS 6 review: Moving forward
Moving forward
GSMArena team, 26 September 2012.
Introduction
The next iOS version has never been as big a deal as upgrades to Android or Windows. If it ain't broke, don't fix it, must've been the line of thinking and it's up to you to replace broke with fragmented or catching up, as needed. On the other hand, with the rather rapidly improving hardware, fragmentation is becoming a bit of an issue for Apple to address too.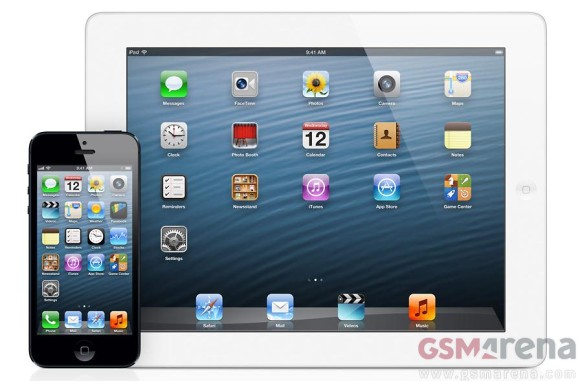 Anyway, we're now at number 6, along with 5 million (and counting) iPhone 5 users. Now, what follows may seem as a mere prelude to our iPhone 5 review but people only now considering the iPhone 4S may find it quite helpful. By the looks of it, there may be some people considering keeping the iPhone 4S but we're yet to see about that.
Let's focus now on the key additions and improvements to the Apple iOS instead.
Key features
Faster and more stable all around
Siri available on iPad 3, wider language support with Canadian English, Spanish (Spain/Mexico), Italian, Italian (Switzerland), Korean, Mandarin (Chinese/Taiwan),Cantonese (Hong Kong)
Siri now serves sports info, movie and restaurants reviews. It can launch apps and do status updates
System-wide Facebook integration: Facebook contacts and events appear in the phonebook and calendar
Notification center gets quick Facebook/Twitter update keys
New Maps app with TomTom data, turn-by-turn voice navigation and 3D/Flyover view mode
Better Safari browser with iCloud tabs, full-screen mode, offline reading and faster performance
Passbook e-ticket app handles loyalty coupons, boarding passes, tickets
Photo Stream can share photos with other iOS users. Likes and comments are supported
Updated Mail app with VIP and Flagged mailboxes
Unified FaceTime/iMessages ID. FaceTime works over the cellular network
New UI for the App Store, iTunes Store, iBooks Store, Music, Weather apps
You can set songs from your music library as alarm tones
Improved privacy settings
New accessibility options and guided access (single-app mode for kids)
Re-organized settings, various new icons
Panorama mode in Camera
Game Center now supports challenges (achievements)
Reject call with SMS
Do Not Disturb mode
Lost mode
Improved keyboards and auto-correction
Power toggles moved to top of settings menu (Wi-Fi, Bluetooth, Tethering)
Various improvements under the hood
Main disadvantages
No offline maps support and maps are not up to scratch currently
Variable compatibility across the device range
Passbook not on par with Google Wallet, not truly useful
An altogether conservative approach to design and layout
Notification Center could've offered more functionality
No widgets
Underused lockscreen
Limited themes and personalization options
Apple claims that iOS 6 brings about 200 new features but the noteworthy ones are right there in the bullets above. Depending on where your comfort level is, the major feature can either be the new Maps, the improved Siri or the Facebook integration.
Many people expected to see more from Apple this year but few really had a clear idea what that is. Being "wowed" by Apple has been a legitimate expectation for millions of users out there but those who think their creativity peaked in iOS 4 and the iPhone 4, and has been somewhat flat since, may have a point.
The iOS 6 isn't a dramatic rethink of the design philosophy but brings a reasonable level of change, and improvement, to many important parts of the experience, which will be felt in day to day use.
Follow us as we delve deeper into iOS 6 and find out if Cupertino still has its software chops intact.
Note: This is our in-depth review of iOS 6 running on an iPhone 4S. The dedicated iPhone 5 review is coming soon, so stay tuned!
Excel davero
17 Jan 2022
PG0
Excel at work iPhone is so easy and painless to be the most important person to use and the best way to keep up with my friends and I family and cronies iPhone 4
Hello can I have iPhone plss?
Mudalagirin
03 Jan 2017
GQH
I o s9