Apple iPad mini 6th gen (2021) review
GSMArena Team, 10 October 2021.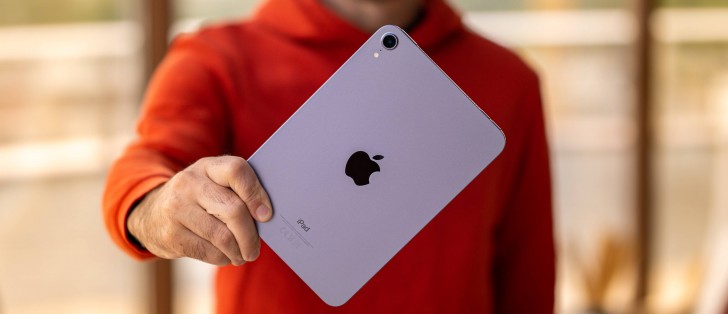 The mini gets an 8.3" Liquid Retina screen
One of the most notable changes on the iPad mini (2021) is the new Liquid Retina screen with a larger 8.3-inch diagonal and wider 3:2 aspect ratio. This is a welcome change, but it is also really great that Apple has managed to keep the size of the iPad mini relatively the same; in fact, it is 8mm narrower.
So, the Apple iPad mini 6th generation packs an 8.3-inch IPS LCD screen of 2,266 x 1,488 pixels or the usual 326ppi "retina" density. The panel is fully laminated and supports wide color, like the iPad mini 5, but it now has trendy rounded corners.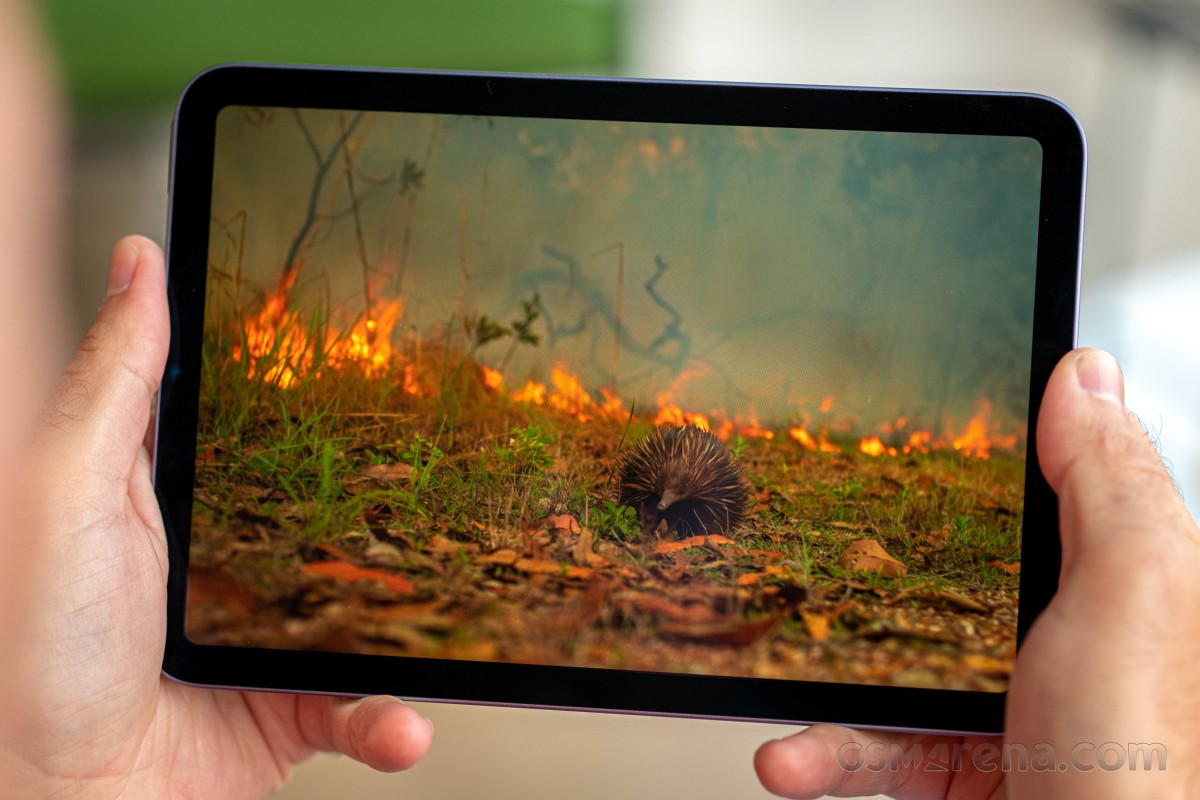 The iPad mini 6 screen also supports True Tone adjustments.
Apple promises 500 nits of typical (max) brightness on the iPad mini 6. We've completed our usual display measurements, and we measured 518nits of max brightness on this iPad screen. Combined with the decent blacks, the overall contrast ratio is excellent at 1325:1.
The minimum brightness is impressively low at 1.9 nits.
Display test
100% brightness
Black,cd/m2
White,cd/m2
Contrast ratio
Apple iPad mini (2021)
0.391
518
1325:1
Apple iPad mini
0.51
458
812:1
Apple iPad mini 3
0.65
515
799:1
Apple iPad 10.2 (2021)
0.457
513
1123:1
Apple iPad Air
0.53
508
964:1
Apple iPad Air 2
0.44
458
1048:1
Apple iPad Pro 12.9 (2020)
0.47
625
1330:1
Samsung Galaxy Tab S7+
0
388
∞
Samsung Galaxy Tab S7+ (Max Auto)
0
484
∞
Samsung Galaxy Tab S7 FE
0.229
432
1886:1
Samsung Galaxy Tab S7 FE (Max Auto)
0.282
522
1851:1
Xiaomi Pad 5
0.376
478
1271:1
Realme Pad
0.26
404
1554:1
Realme Pad (Max Auto)
0.292
455
1558:1
The iPad mini (2021) screen offers excellent color accuracy - we measured an average deltaE of 1.2 against sRGB targets. The screen fully supports DCI-P3, and it automatically switches to this gamma when DCI-P3 content is sent to the screen.
Now, let's talk about the jelly effect when scrolling in portrait mode. It is there, we can confirm that. The left part of the screen scrolls a bit slower than the right one, and this is what many call wavy or jelly-like effect.
Apple says this is normal for LCD screens, here is the company's statement:
"Because these screens do refresh line by line, there is a tiny delay between when the lines at the top of the screen and lines at the bottom are refreshed. This can cause uneven scrolling issues like the ones observed on the iPad."
This is indeed true - the screen works this way, and the jelly effect is a result of that. It's not fixable as that's how the technology works. The question everyone should be asking is if it was avoidable and if Apple decided on cheaping out on display panels. We cannot be sure but it seems so because we haven't observed this behavior on any of the recent tablets we've reviewed.
So, the jelly effect is present on the iPad mini (2021). You need to decide whether it will be an issue for you when browsing sites in portrait mode or not. Some of our editors say they can live with it. Others claim it annoys them big time.
This is not the first large screen with a similar issue, but because it's on such a popular tablet, it's making the rounds across the news sections.
Battery life
The sixth-generation iPad mini has the same battery as the old one - a 5,124mAh cell. It supports fast charging via a 20W power adapter.
Apple promises 10 hours of web browsing or video playback for this iPad mini, the same as on the iPad mini 5 and iPad mini 4 models. Well, our battery life test confirms these are 100% true statements. Indeed, the iPad mini 6 clocked 10 hours and 43 minutes on our web browsing test and 10 hours on the video playback test.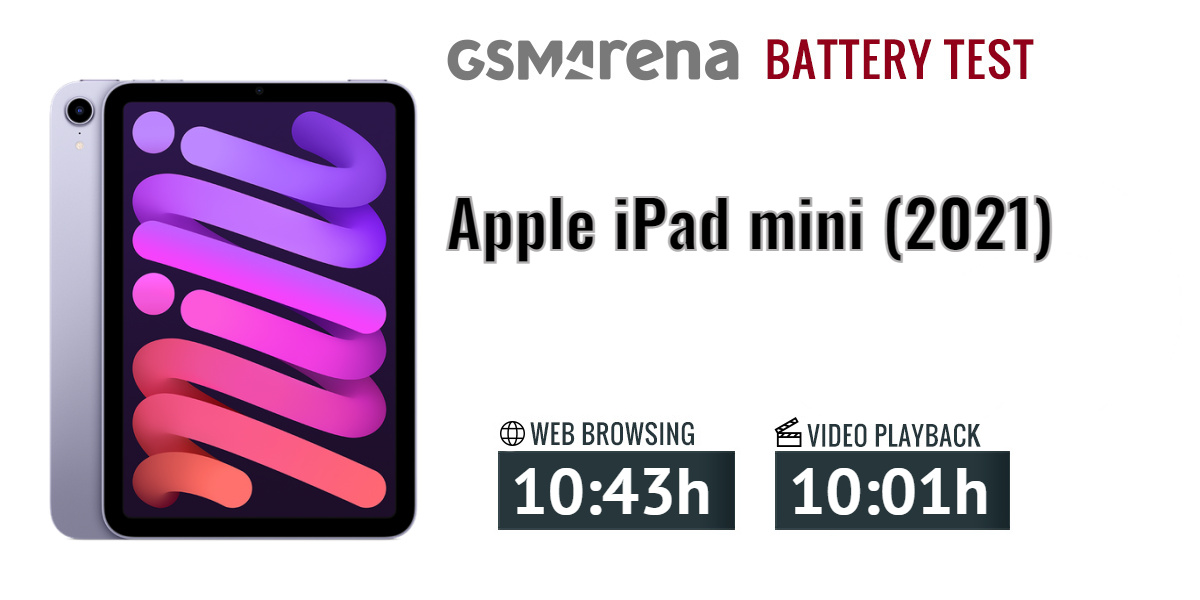 Charging speed
The Apple iPad mini 6 supports fast charging via USB Power Delivery power adapters, with a maximum of about 25W power. Apple is shipping the tablet with its 20W charger, so you don't need to purchase anything.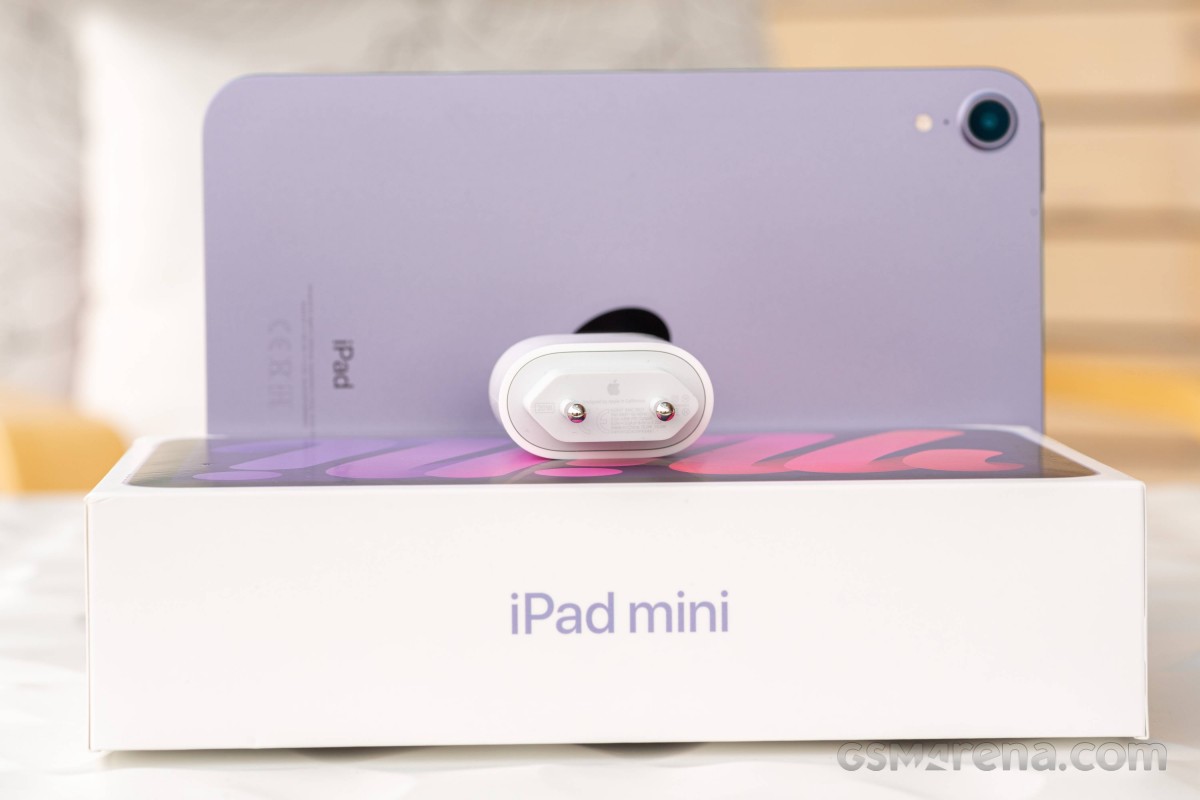 So, if you plug the iPad in Apple's bundled 20W charger, it will refill 35% of its dead battery in half an hour.
30min charging test (from 0%)
Higher is better
Apple iPad mini (2021)
35%
Xiaomi Pad 5
27%
Apple iPad 10.2 (2021)
24%
Realme Pad
23%
Apple iPad Pro 12.9 (2018)
20%
Samsung Galaxy Tab S7+
18%
Samsung Galaxy Tab S7 FE
18%
One hour of charging takes you at about 70%, while a full charge requires a couple of minutes shy of 2 hours - not bad but less than stellar considering the size of the battery.
Time to full charge (from 0%)
Lower is better
Apple iPad mini (2021)
1:57h
Xiaomi Pad 5
2:00h
Apple iPad 10.2 (2021)
2:45h
Realme Pad
2:55h
Samsung Galaxy Tab S7 FE
3:05h
Apple iPad Pro 12.9 (2018)
3:30h
Samsung Galaxy Tab S7+
3:35h
Speakers
The Apple iPad mini (2021) is not the first one with stereo speakers, but it is the first one to position them correctly. See, the previous models had both speakers placed on one side, symmetrically across the USB port. That's not doing much to deliver stereo sound, doesn't it?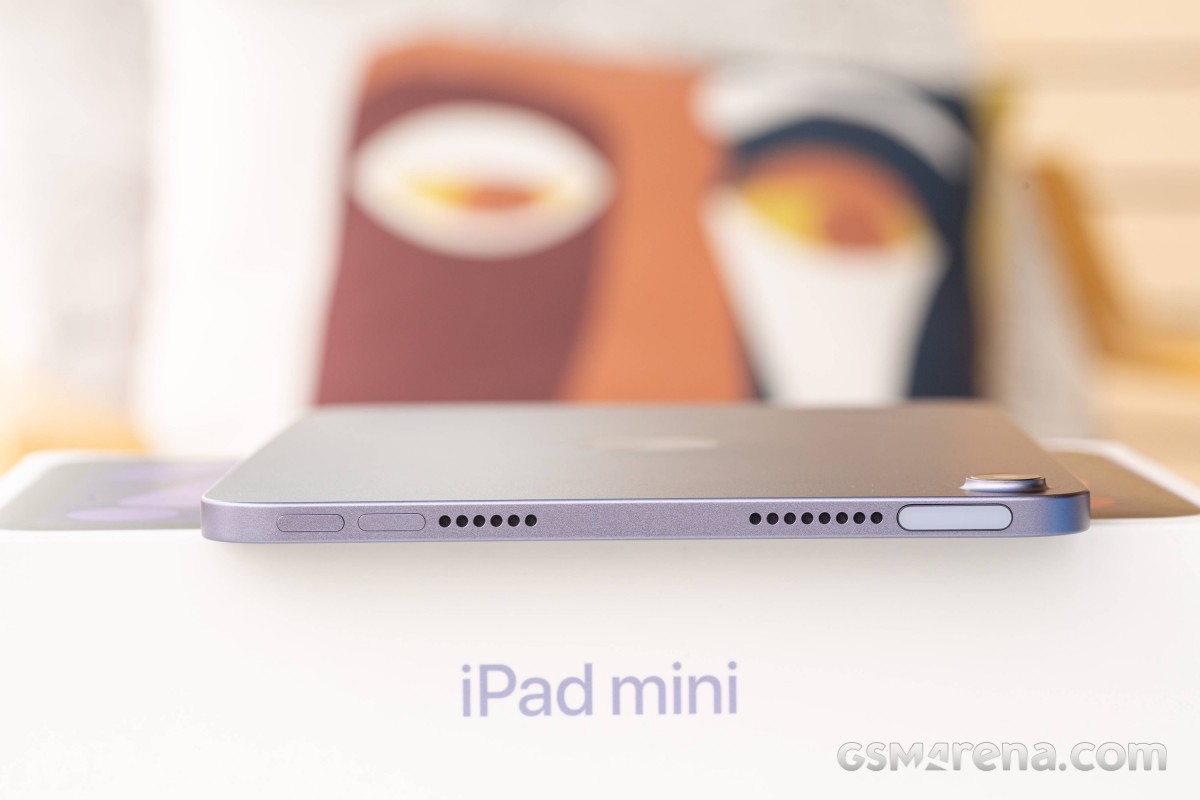 But this new iPad mini finally rectifies this nonsense and has a speaker on each short side, a landscape stereo setup if you will. Both speakers are behind two grilles each and deliver incredibly rich sound.
The setup scored an Average mark on our loudness test, but as with most of Apple's recent devices, the iPad delivers outstanding sound quality with good bass, well-presented vocals and pleasant high tones.
Use the Playback controls to listen to the phone sample recordings (best use headphones). We measure the average loudness of the speakers in LUFS. A lower absolute value means a louder sound. A look at the frequency response chart will tell you how far off the ideal "0db" flat line is the reproduction of the bass, treble, and mid frequencies. You can add more phones to compare how they differ. The scores and ratings are not comparable with our older loudspeaker test. Learn more about how we test here.
i want ue that like phone.I want to use this as a phone because the current keys on the phones are so small and the screen. Can be used instead of the phone. Tired of dialing the phone.
Anonymous
20 Feb 2022
K1L
"There is also bad news with this transition - the 3.5mm jack is now gone for good." I'm sorry, but I definitely cannot take this sentence seriously. "Gone for good" my bottom! The headphone jack is and always will remai...