Apple iPhone 3GS review: Same clothes, new feel
Same clothes, new feel
GSMArena team, 30 June 2009.
Contacts management has seen some improvements
The nice Contacts department in 3GS has got several new features we just take for granted on any other phone: (1) share contact via mail or MMS in the widely accepted .vcf format and (2) call duration notification in the Recents call list.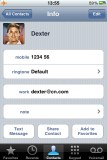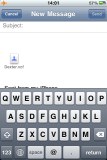 Share contacts via mail or MMS
As it turned out the new calls counter acts rather bizarrely. We tried a call between two iPhones that went on for exactly to 1 min 32 sec. Then it turned out that both iPhones had it differently.
The calling iPhone reported a call duration of 2 minutes, while the receiving iPhone stored that as 1 minute call. It is probably a bug that needs some attention from the Cupertino team and we advise you to take these figures with a pinch of salt for the time being.
The contacts search box or the dialer for that matter still doesn't support Smart dialing (though Spotlight is a good substitute). The phonebook also lacks an interface for deleting contacts en masse or at least the no-brainer slide-to-delete option that is widely available in mail, notes and other third party software and can be easily used for deleting contacts without opening their details.
Telephony
While network coverage of the iPhone 3GS was a bit dodgy in tight urban spots, in most cases in-call quality was just fine.
The really nice news about the iPhone 3GS however is the improved speakerphone performance. The new iPhone scored the Good mark as oposed to the Below average one of both the previous iPhones.
The iPhone 3GS has improved the most in our pink noise test, which means that music playback has been the area that got the most significant volume boost. With the other two tests the improvements were marginal (if any), yet the 3GS jumped all the way up to the Good mark thanks to the fact that the end score is a sum of all sub scores.
| | | | | |
| --- | --- | --- | --- | --- |
| Speakerphone test | Voice, dB | Pink noise/ Music, dB | Ringing phone, dB | Overall score |
| Apple iPhone 2G | 67.2 | 60.2 | 66.6 | Below Average |
| Apple iPhone 3G | 66.1 | 62.1 | 71.7 | Below Average |
| Samsung Armani | 69.7 | 64.6 | 71.0 | Average |
| Apple iPhone 3GS | 69.5 | 69.5 | 71.7 | Good |
| Nokia N95 | 77.3 | 66.6 | 78.0 | Very Good |
| LG KF750 Secret | 75.6 | 72.7 | 82.8 | Excellent |
You can find more information about the test itself and the whole list of tested devices here.
Messaging is finally up to scratch
One of the main features of every phone, the messaging, has been greatly improved in the iPhone OS 3.0
Now the separate msg balloons in a threaded story can be deleted individually or several ones can be picked for en masse deletion.
The other new thing is the option to forward one or several SMS or MMS messages from a threaded conversation. The text is combined in one SMS/MMS.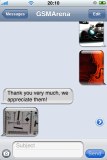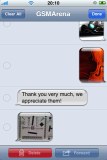 Multiple or single sms/mms delete/forwarding is finally possible
Additionally you can disable text message reminder alerts or disable text message previews.
Besides the SMS improvements, there is now full MMS integration. Interestingly enough, before you set up MMS connectivity, you won't see any signs of it around the general interface at all. And even worse, straight out of the box, the MMS settings are not user configurable either so the only way to set them is to have your carrier supply them to you. We guess that's a way for carriers to restrict MMS usage as they please.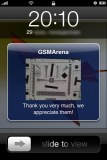 Finally receiving MMS with 3.0 OS
There are workarounds for that of course, but they won't help you with every carrier there is. You can try googling "Enabling MMS on iPhone 3.0" and see what options you get.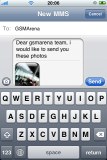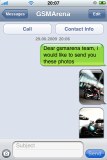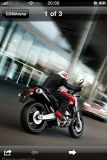 The MMS is nice to have as an option
With the MMS you can receive vCards, audio files and location data. An exclusive for the iPhone 3G S is the option to send video using the MMS, thanks to its ability to record video clips.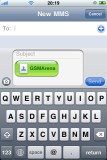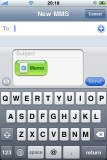 Sending contact or voice memo with MMS
Composing MMS is as easy as it gets. You can choose from existing photo or you can take one with camera just before sending the MMS. One image can be captured or selected at a time. For another, you have to press the camera icon again.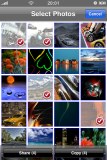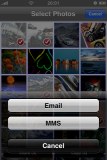 Selecting multiple photos from the Gallery for sending them with MMS
Sending multiple photos, GPS coordinates or clips is initiated outside the messaging department via the respective Share function of those apps.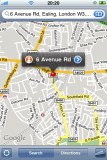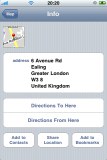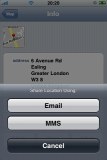 Sending gps coordinates with MMS starts from Google Maps app
Unfortunately, the iPhone 2G has been left out of the MMS equation but as it turned out it's probably Apple trying to get 2G users more reasons to upgrade to 3GS. A fix for enabling the MMS feature on the 3G is available via the unofficial third-party app repository Cydia. To get that, you have to jailbreak your iPhone 2G.
Email is expanded too
The email client has also seen several improvents and upgrades but still misses the most important one - threaded view of a mail. In this aspect, the dedicated mobile versions of Gmail or Yahoo! Mail look quite better.
With OS 3.0 the email has got a Search bar on top which searches in sender, recipient and subject. Unfortunately, it doesn't search in the email body, so we hope too see Apple add that as well in the next OS upgrade.
If you've got a remote syncing setup going on such as MobileMe or MS Exchange 2007 and later, you can continue the search on the server going beyond what's in your local mailbox
Another novelty is the new action button in Photos lets you choose multiple pictures to attach to a mail message.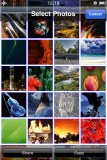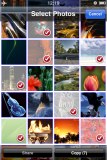 Choosing multiple pictures for mail attachment is easy
You can now even send the full-res 3MP photos made by the iPhone camera via email. To do that you must keep away from the regular email attachment routine and instead you should simply go to gallery, mark as many pics you need, copy them and then paste them in the mail body. If you prefer to attach the images the regular way, they will get downsized.
Curious, what os is it running? iOS 6 wasn't kind to this phone for sure. It works but gets fairly laggy at times
Jaisal Lakum
11 Apr 2022
YQT
I am typing this comment with iPhone 3gs
yes you can .. since they will lag sometimes .. i use to play turning everything off no cellular n it use to work better ..