Apple iPhone 7 review: Time-saver edition
Time-saver edition
GSMArena team, 24 November 2016.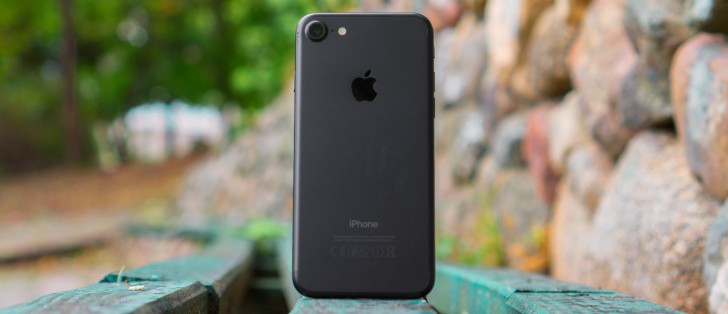 Introduction
On the seventh day the designers rested. In came the engineers. And the master of controversy struck again. Apple is proud of the bold move of removing the audio jack. But in pretty much every other aspect they've seemingly taken the conservative route. On the outside, the new iPhone looks basically the same as the iPhone 6/6s.
Well, it's not as easy as that. The iPhone 7 is in many ways a better phone. We can see some of the issues we had with the last iPhone sorted and, no, we are not claiming credit for it - simply acknowledging the fact.
Waterproofing, stereo speakers and, finally, reasonable storage options - and that's on top of the usual performance upgrades we've come to take for granted every year. Think this is the story of the iPhone 7? Apple's first water-resistant handset, first quad-core processor, first pair of stereo speakers on a phone.
Key specifications

4.7"1334 x 750 pixels

12MP 2160p

2.34GHz Apple A10 Fusion

2GB RAM 256 GB memory

1960mAhLi-Ion
Once you wrap your head around the missing audio jack (it's not the end of it, you can get a designated adapter for your favorite headphones), the Apple iPhone 7 is a major upgrade. IP67-certified water-resistant body. Bigger and brighter camera with OIS. New FaceTime cam. Stereo speakers. Faster processor and 50% GPU performance increase, more RAM. New pressure-sensitive Home key powered by a new taptic engine. Revised storage options are also a novelty.
Design and build quality
At 138.3 x 67.1 x 7.1mm, the iPhone7 is exactly the same size as the 6s. The new flagship managed to somehow lose 5g down to 138g.
The iPhone 7 may look too familiar, but feels different enough and still pretty relevant. A subtle change makes a good enough difference - the antenna strips have been pushed all the way to the top and bottom, following the phone's curvature. They are less intrusive this way and almost invisible on the black and jet black models.
In recent times every new generation of iPhones has introduced a new color option, and the 7th is no exception. Apple has retired the Space Gray paint job in favor of two new Black options. Just Black is the new matte black flavor featuring the same grippy finish as its Space Gray predecessor, while the Jet Black is a true blast from the past.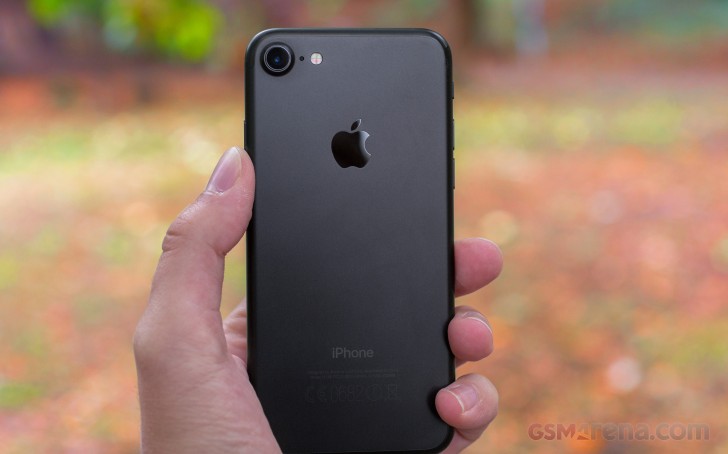 Unfortunately, the Jet Black edition is highly scratch-prone and picks up fingerprints in no time. Even Apple admitted the Jet Black phones are not for everyone as their shiny looks are rather easily ruined by scratches unless protected by a case.
Handling the iPhone 7 is a pure pleasure - it's very thin and lightweight, while the 4.7" screen makes it one of the most compact flagships out there. Even though the iPhone 7 is rounded in shape, the matte finish provides a secure enough grip, while the waterproofing will take your worries away even if you do drop it in water.
Display
While the display may hide an improved panel, it still has the same specs in terms of size and resolution: a 4.7" unit with a resolution of 750 x 1334 pixels (that's 326ppi). It's a LED-backlit IPS LCD screen with RGB matrix. It's also 3D Touch-enabled, a technology we first saw on the iPhone 6s.
The new Retina display is 25% brighter and conforms to an even wider color gamut (cinema-standard) though few users will notice a change. Those are the upgrades over the already excellent screen that the iPhone 6s had.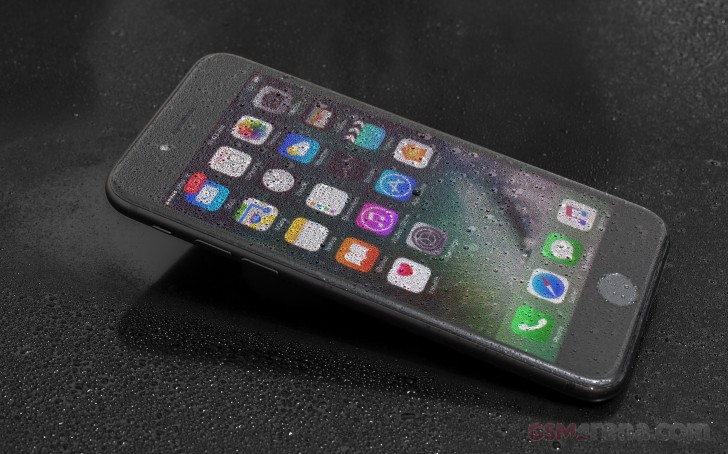 The best part of the new screen is its color calibration. This doesn't have anything to do with the wider color gamut mentioned above but rather the accuracy with which it reproduces the most common set of colors we see in everyday life.
Battery life
The iPhone 7 is equipped with a non-removable Li-Po 1960mAh battery, which is about 15% beefier than the one of the iPhone 6s. There is also the new energy-efficient Apple A10 Fusion chip, which combined with the new battery and optimized iOS 10, should offer a longer battery life than before.
The iPhone 7 posted very balanced scores across the board - it can do about 11 and a half hours of 3G calls or web browsing on a single charge, while you can watch videos for about 9 hours. The standby endurance turned out average and thus the final rating of the average 61 hours.
An interesting point to be made is that on the surface these results may seem like what we got from last year's iPhone 6s. But you also have got to remember that due to the change of the battery testing methodology, we conducted the web browsing and video playback tests back then with a screen brightness of 150nits instead of the 200nits of brightness that we use now as standard. Hence, if screen brightness levels were to be equalized, it would become apparent that the new iPhone 7 indeed offers an improvement in battery life.
Audio
When plugged into an active external amplifier, the Apple iPhone 7 posted mostly excellent scores, but it's the third iPhone in a row that didn't quite deliver perfect stereo quality. The volume which is just above average doesn't really match the best out there either.
Rather impressively, there's virtually no degradation when you plug in a pair of headphones. The spike in stereo crosstalk is so limited that in comparison, the iPhone 7 fares way better here than in the first test.
Photo camera
The iPhone 7 features an updated 12MP camera with a brighter aperture of f/1.8 that should let 50% more light hit the sensor, a six-element lens and optical image stabilization (which was reserved to the Plus model last year).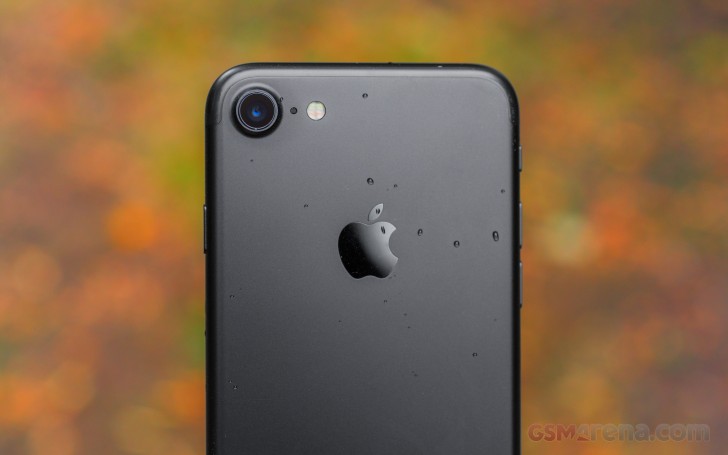 The sensor is reportedly 60% faster and 30% more efficient than the previous camera system, there is also an improved Apple-made image signal processor. The new Quad-LED True Tone flash fires much brighter than the dual-LED unit we had in the iPhone 6s.
We can confirm the camera is blazingly fast. There is no pausing for loading or saving even when taking bursts of photos (even a hundred images or more).
In good light the resolved detail is good, but it's not at all better (or worse) than what the previous iPhones resolved. We spotted some softness in the extreme corners of the images, something we haven't seen on older iPhones - possibly a direct result of the new, brighter lens.
The image processing algorithm doesn't look changed and it's still among the best in the mobile business. Fine detail is nicely represented with good amount of sharpening which looks balanced compared to LG's or Samsung's.

Other than that, the colors and contrast are great and the dynamic range is simply great - probably due to some clever Dynamic Range optimization routine - much like you would get on dedicated big cameras. In any case, the iPhone 7 delivers the most balanced dynamic range from any smartphone at the moment. We do wish the colors were a bit punchier.
Video camera
Apple iPhone 7 is capable of recording 2160p videos at 30 frames in addition to 1080p capturing at 30 and 60 fps. The slow-mo videos can be recorded at 1080p at 120 fps or 720p at 240 fps.There is a time-lapse mode, which works quite well.
The 4K videos carry a bitrate of around 47Mbps, but audio is recorded in mono at 85Kbps in AAC format. The 1080p videos at 30fps have a bitrate of 16 Mbps, keeping the same audio, while the 60fps ones came out with 23Mbps bitrate.
The 4K videos are slightly less processed than still images - there is some noise, but less sharpening while the detail is great if not quite class-leading. Dynamic range is once again impressive and the frame rate is pretty steady, but the mono audio is disappointing. Some corner softness is visible at times, too.
Software
Apple unveiled iOS 10 last June. As part of the new update Apple refined the lock and home screens, the notification and control centers, the 3D Touch experience, Siri, and improved the system apps.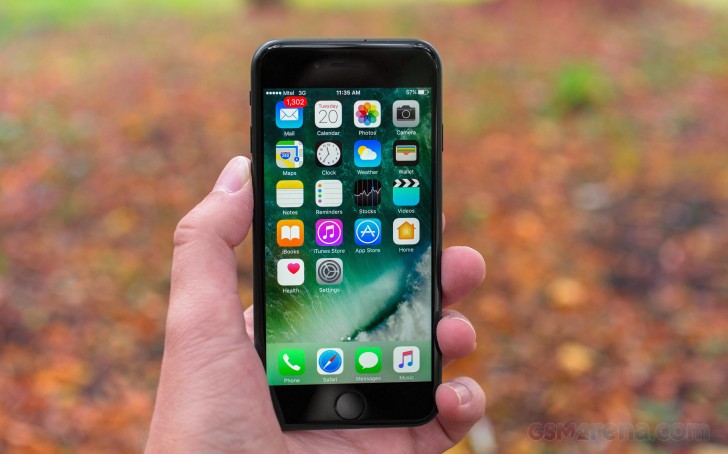 Since the beginning the iOS user experience has successfully revolved around a few basic premises anyone can pick up quickly and iOS doesn't bring any changes in that direction. First - the homescreen. All apps go there and you can group those in folders. There are no widgets on the homescreen, there is no separate app drawer either.
Apple did a good job refining the interface and there are enough new features to enhance the user experience without complicating it. You may never use some of those and you will still get to experience the iOS in its full beauty. But if you do, you may find it easier to just force press on something or ask Siri to do stuff instead of you. It's nothing ground breaking, but it's definitely moving forward.
Benchmark performance
Apple has equipped the iPhone 7 with a new-generation A10 Fusion chip. It has a quad-core CPU, a first for the iPhones, with two high-performance cores running at 2.34GHz and two power-saving ones. The high-performance ones run about 40% faster than the A9 chip and two times faster than the A8. The other two are more power-efficient cores and require only 20% of the power needed for the high-performance cores.
There's a new GPU inside as well. It's a six-core one and is 50% faster than the A9's GPU and draws just 66% of the power. Finally, the iPhone 7 uses 2GB of RAM, while the iPhone 7 Plus will offer 3GB.
Wrap-up
So, is Apple giving haters something else to complain about or is there a hidden agenda? A long-term masterplan that most of us are unaware of? And does the average Joe care enough for it to hurt sales?
But let's not look that far ahead for a moment and forget about agendas. The jack clearly has implications - beyond the pure audiophile qualities and aesthetics - on how music will be consumed and paid for. And that's controversial enough, long-term.
Apple iPhone 7
Pros
Cons

Built to the usual sky-high standards
Class-leading IPS LCD in terms of brightness and color calibration. Less-than-stellar pixel density
The 12MP camera produces solid photos, but its only tangible improvement over last year's camera
Performance-wise, the A10-powered iPhone 7 is the most powerful smartphone in the world right now

No 3.5mm audio jack
No microSD slot
NFC functionality limited to Apple Pay
Scratch-prone Jet Black model
Also consider

If you are still not impressed, though, the iPhone 7 Plus could be your thing, with a bigger screen and a brand new dual-camera setup, involving a regular and telephoto lens. Or, you may want to wait for the anniversary iPhone next year and keep a very capable iPhone 6s around for another year - if you don't insist on water protection and stereo speakers.




The Samsung Galaxy S7 is a water-proofed, brilliantly designed powerhouse. Its Super AMOLED screen is of higher resolution, and its 12MP camera is much better, in fact, one of the best in the market.




Xiaomi also has quite an alternative to the iPhone 7 - the excellent Xiaomi Mi 5. It can be yours for anywhere between EUR 280 and EUR 440 or so and you could potentially get an even better camera experience and a lot more storage for your money.
So, we got ourselves a bag full of various potential rivals and none would mind that its name came up in relation to the iPhone 7. But we have a feeling that the bigger iPhone 7 Plus will get most of the flak from the competition. The user preference is moving towards 5+ inch screens, and there is also the dual camera setup, which would make for an even more intriguing review.
But then... The A10 Fusion chip, waterproofing, stereo speakers and sane storage options - these are some of the things the iPhone 6s didn't have and the iPhone 7 kindly delivers. Are they suddenly irrelevant? All you ever wanted was the jack? Come on. And yet, the iPhone 7 will probably go down in history as the one that got rid of the jack first. Controversy? Yes, Apple loves it.
Apple iPhone 7
Total GSMArena score
0.5 / 5
| | | |
| --- | --- | --- |
| Design and build quality | | 0.5 |
| Display | | 0.5 |
| Battery life | | 0.5 |
| Audio | | 0.5 |
| Photo camera | | 0.5 |
| Video camera | | 0.5 |
| Software | | 0.5 |
| Benchmark performance | | 0.5 |
| Coolness | | 0.5 |
I had my mobile I phone 7 since 2018 December. The batterie need to charge it daily. So disappointed! I always kept clean in a cover charged it when the batterie was low ..... does this means I have to throw away?
No headphones connectivity?
i just got my iphone7 from my cousin in hongkong. she bought it 2nd hand from a store there. then i noticed the batt when i first used it. the batt health said its still 100% but i can only use it for like 2-3 hrs straight in the internet and playing...