Apple iPhone X, I so desperately want to like you
Paul, 28 October 2017
My daily driver is an iPhone 6s Plus, prior to this I've owned every iPhone since the iPhone 3G.
I purchase my phones outright, cascade my old phone to my son and sell his to put towards the cost of my new phone - win win. But, much to the annoyance of my son, I stopped.
Like most of us, my smartphone is an integral part of my daily life, primarily because of the 'smart' part. It controls my home, links with my watch, tracks important family members, streams my music, photographs and videos anything and everything. It links to my smart scales, navigates me around when we're out and about, hails a taxi when we're incapable of driving (if you get my drift) all with great security enabled by TouchID. So, buying a new phone will make all that and more better, right?
Wrong! You see, most of us, even if we don't care to admit it, make emotional decisions first and then we proceed to justify those decisions to ourselves (and to our loved ones) with facts.
When Apple introduced the last major form factor change from the iPhone 5s to iPhone 6 and 6 Plus, I simply had to have one. I desired the latest design because of its looks first and foremost, which was all legitimatized by the "great" specs.
That's the primary reason I've skipped the iPhone 7 and iPhone 8. Build quality aside, it's an aging design, made to look even more anachronistic when compared to its bezel-deprived competition. It stands out for the wrong reasons, akin to "Hagrid" hanging out with Victoria's Secret Angels. The reality is that all those daily tasks I spoke about, apart from the camera, would barely improve with a faster device - for me and what I use my phone for the iPhone 6s Plus is fast enough.
As I've tied myself into the Apple Ecosystem, I waited for the mythical bezel-less iPhone.
For me this would be a slam-dunk purchase, so I got ready thinking about those all so important specifications to help justify spending over $1,000 to my wife! Goodbye Hagrid, hello Victoria's Secret Angel.
Or so I thought, what I got instead was more Cyclops from the X-Men.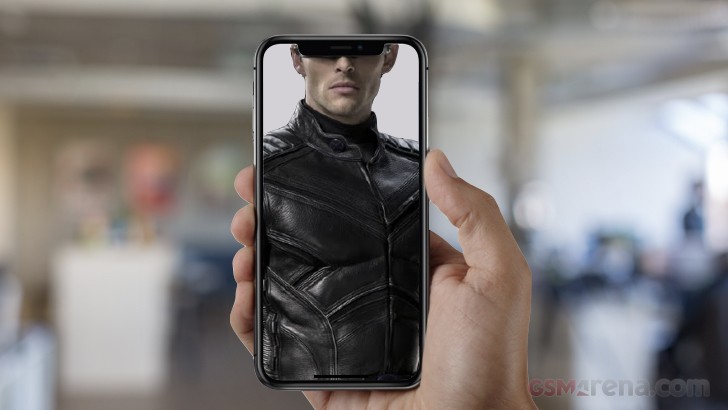 The new iPhone Cyclops or more formally known as the iPhone X
Design
Cyclops Eye or "The Notch" as it's become better known, holds a wealth of existing iPhone technology supplemented by new tech to implement Face ID. Even so, I'm amazed that Jony Ive let this design through. Personally, I can't focus past Cyclops ears. This is exasperated further still in my eyes (pardon the pun) by the numerous animations employed by iOS 11 which constantly draw my eye to "The Notch". I wouldn't be happy with a notch on my TV, which has a much larger display area, let alone my phone which is a far more personal device.
In order to help me allay my doubts I powered up the Simulator that forms part of Xcode to watch YouTube videos, view some pics and navigate around some of iOS 11's features.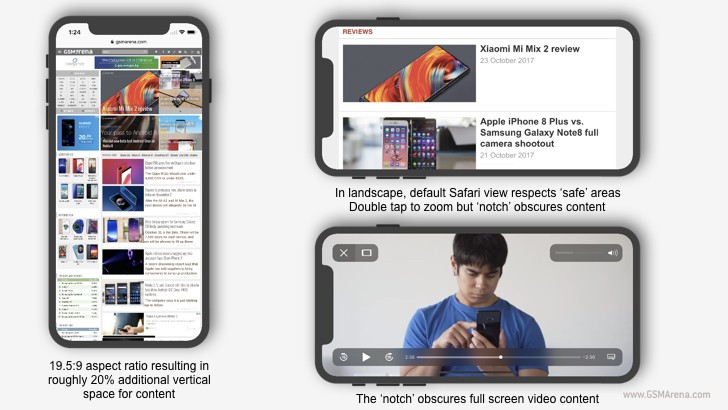 Note : These Apple Simulator images may not be fully representative of released iPhone X
Whilst the notch never truly disappears, it doesn't look to be a show-stopper, though. It's most noticeable when viewing videos and as I suspected when animations are employed. It's akin to when you're in the theater and someone in front is obscuring your view slightly - you don't miss any of the action, as that's front and center, but it's irritating nonetheless.
No Home button means I'll need to re-train my Muscle Memory
Muscle memory may be to grand a term, so let's call it touch memory that is formed through repetition.
The biggest change with the iPhone X comes from the loss of the home button with its Touch ID as a result of the edge to edge display. Now with Face ID we'll need to adapt to a whole new way of accessing existing features that, via touch memory, I literally do with my eyes closed. Let me give you some examples of my usage habits.
Phone Unlock: When I unlock my iPhone, I wake the phone by pressing the home button, Touch ID validates me and then I look at my phone to start using it. This method works whether the phone is sitting on my desk, being removed from my pocket or on my bedside table. The only time this is interrupted is when Apple requires you to enter your pass-code every now and then as an added layer of security.
With the iPhone X, I will now need to wake the phone up by either tapping the screen, pressing the power/sleep button or using the raise-to-wake feature. Once woken, Face ID will validate and then I swipe up from the bottom of the screen to access the home screen.
Apple Pay: I use Apple Pay whenever and wherever I can. I pay for things with my eyes closed, the combination of holding my phone against the payment device and using TouchID ensures that I don't even look at my phone, with the audio prompt telling me all is good.
Now, with the iPhone X I'll tap the sleep/power button twice, let Face ID validate me and then place the phone against the payment device.
Siri, Control Center & App Switching: I find Siri useful, circumstances ensure that it's very rare that I use "Hey Siri", so I access it exclusively via the home button. Now I'll need to access it by pressing the sleep/power button. Whilst not a huge change, I use Siri when cooking (covered in food as I'm not the tidiest around the kitchen) to set a timer or whilst driving to initiate calls. Having to use the side button makes both of those things trickier.
I think the implantation of Control Center in iOS 11 is Apple's best yet and I use it all the time. Yet, my touch memory will need to be re-trained to swipe down from the Cyclops' right ear.
App switching is now invoked by swiping up from the bottom of the display and holding your thumb or finger on the screen part way up the screen until it's joined by your other apps. Let go too late or swipe up too far and you're on the home screen.
These and more, when taken in isolation are subtle and potentially irritating but no deal-breakers. However, I'm concerned that when you combine them all, it will annoy the hell out of me as I have to adapt to the new gestures whilst accidentally using old gestures from my touch memory.
One other consideration for those who also own an iPad. Now when moving between iPad with Touch ID and the new iPhone X, you will be fundamentally interacting with these devices in two different ways. If/when Apple integrates FaceID into iPad, from an ergonomically perspective, I refuse to believe that Apple will make me swipe down from the top right corner for 'Control Center' - will they?
Bigger screen in a smaller body?
| | Diagonal Screen Size | Resolution | Aspect Ratio | Pixels Per Inch (PPI) |
| --- | --- | --- | --- | --- |
| iPhone 6s Plus | 5.5 inches | 1080 x 1920 | 16:9 | 401 |
| iPhone X | 5.8 inches | 1125 x 2436 | 19.5:9 | 458 |
Looking purely at the specs above it looks like a home run but as my colleague Peter explained in his recent article it's not as clear cut as the pure specs suggest.
Some additional insights can be found in Apple's iPhone X Human Interface Guidelines: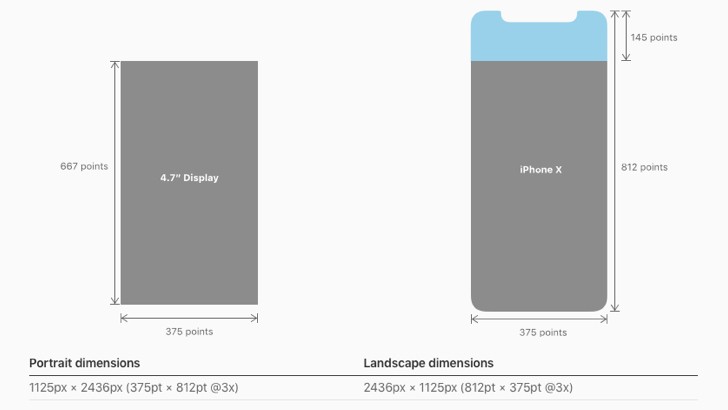 20% more vertical space than the iPhone 8
In portrait orientation, the width of the display on iPhone X matches the width of the 4.7" displays of iPhone 6, iPhone 7, and iPhone 8. The display on iPhone X, however, is 145 points taller than a 4.7" display, resulting in roughly 20% additional vertical space for content.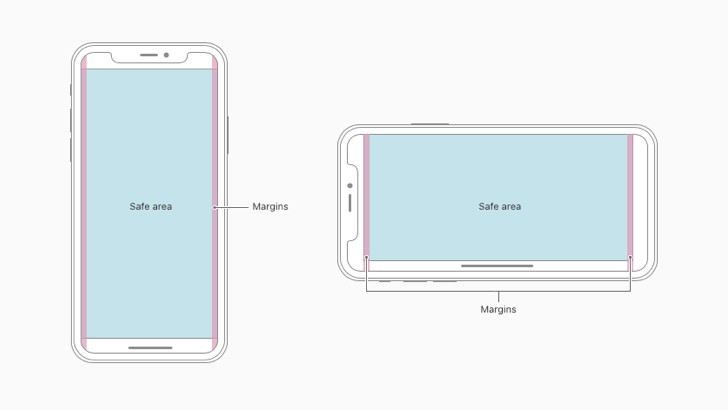 Content safe areas
In general, content should be centered and symmetrically inset so it looks great in any orientation and isn't clipped by corners or the device's sensor housing, or obscured by the indicator for accessing the Home screen.
Whilst also adding that the status bar is taller on iPhone X than on other iPhones.
As a result of Apple guidelines, apps for the iPhone X will be more akin to apps for the non-Plus models of iPhones and will not make use of the extra Plus features - even if some were removed with iOS 11 (widescreen landscape keyboard anyone?). My iPhone 6s Plus will have more physical display surface area than the iPhone X and due to its aspect ratio it will make much better use of it.
The Specs
For all intents and purposes, aside from Face ID and the new OLED HDR Display, we've seen and tested the guts of the iPhone X in our iPhone 8 Plus review. Suffice to say, I've incorporated them into my 'script' for when I'm explaining myself to my wife. I'm still not sure if I can convince her that the A11 Bionic CPU will help us turn the lights on any faster though.
So where does that leave me?
I normally pre-order my iPhone, but surprisingly for me, on this occasion I will not. I've gone from slam-dunk purchase to being on the fence. I'm truly looking forward to spending time with the new iPhone X outside of the lab - in the real world.
Can I look past the 'notch'? Will Face ID work as advertised? And more importantly will the modified ways of interacting with it drive me crazy? My son for one, is hoping that I don't end up waiting to see what Apple does with the 2018 iPhones.
Related
Apple has as many as 9 or 10 models for sale, depending where you live. If you are looking for an iPhone but don't like the X, get one of 5S, 6, 6S/P, SE, 7/P, 8/P instead. If you had no intention of buying an iPhone to begin with..?
But the change gives negligible improvements over something that's worked fine for the consumer market.
And when I asked "isn't it a hassle to do the multi-step unlock EVERY SINGLE TIME"? Meaning wake to face and the swipe up. And I've simplified the wording to a minimum. All the fan boys just say "I'll get use to it".