Apple Music to get lossless audio and Dolby Atmos at no extra cost
Prasad, 17 May 2021
Apple today announced that it will be offering two new features to its Apple Music subscribers, lossless audio and Dolby Atmos tracks. Both features will be available in June at no additional cost.
Apple will be offering its entire library of 75 million songs in lossless. Apple's codec of choice is its ALAC (Apple Lossless Audio Codec), which is open-source and royalty-free. The lossless tracks will start at CD quality, which is 16-bit at 44.1kHz, and will go up to 24-bit at 48kHz based on the tracks. These tracks will be playable on all recent Apple devices and other compatible devices.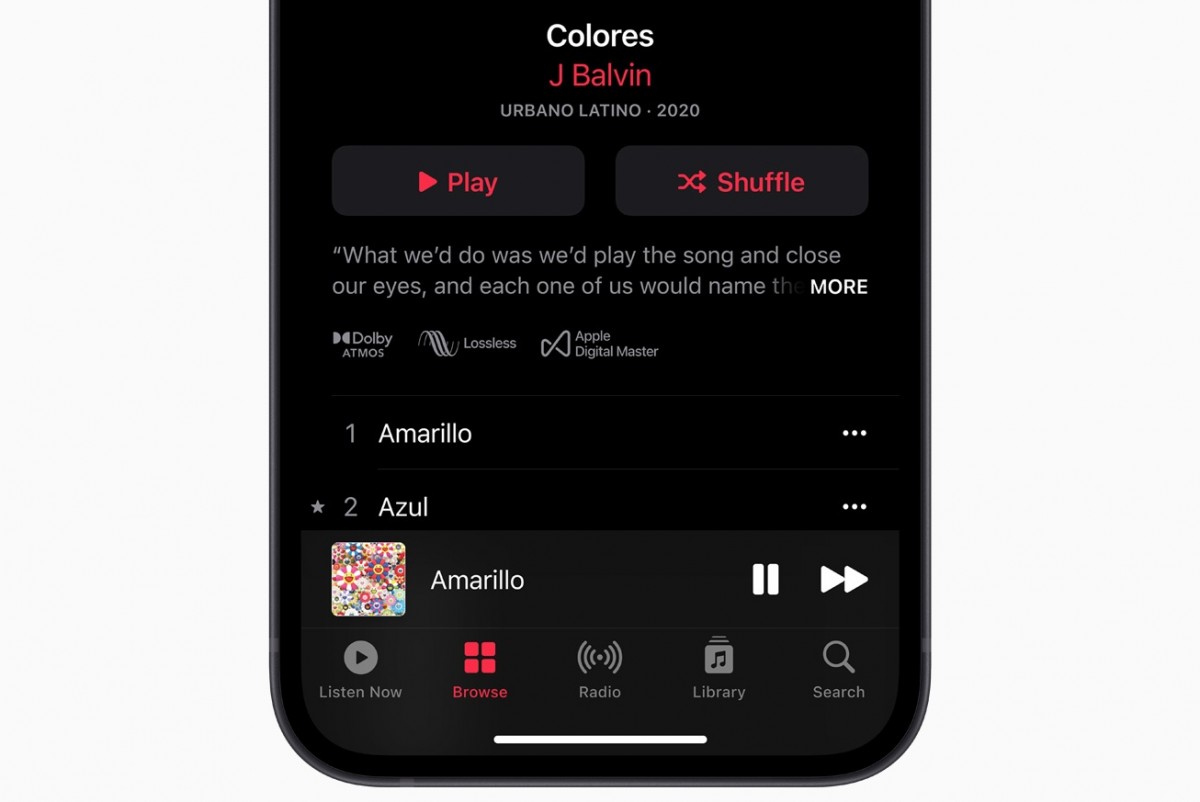 Additionally, there will also be a Hi-Resolution Lossless tier, which will go up to 24-bit at 192kHz. Due to the large file sizes and the additional hardware requirements, the Hi-Resolution Lossless option will need to be enabled separately through settings and will require an external DAC.
Aside from that, Apple will also be offering a select range of tracks in the new Dolby Atmos audio format, in what Apple calls Spatial Audio. Currently, only "thousands" of tracks are available in Spatial Audio but more will be added regularly.
Tracks that are available in Dolby Atmos will play automatically in Spatial Audio mode on all AirPods and Beats headphones with the H1 or W1 chip, as well as on the built-in speakers on the recent iPhone, iPad, and Mac models.
It's not quite clear yet if Dolby Atmos will be available to all Apple Music customers or only those who have Apple devices. While Spatial Audio is an Apple feature, Dolby Atmos has been available on other platforms for a while, including Android devices.
Apple is the latest player to get into the lossless audio and surround format on its music streaming service. Tidal, for example, has been offering both, lossless audio and Dolby Atmos tracks, for a few years now. Others like Amazon, Spotify, and Deezer have also been offering lossless audio. However, all of these services have offered it at additional cost, whereas Apple is the first to give it as part of the base subscription.
Lossless audio is audio that retains all the information of the source file. Most of the audio that we stream or download today has been compressed with lossy techniques to reduce file sizes. These compression techniques strategically remove parts of the audio that the human ear cannot hear easily but depending upon the techniques and equipment used, not to mention the listener, the limitations of compressed audio can be exposed. With lossless audio, there is no quality loss as the files are identical to the source audio.
However, not all lossless audio is created equal. Apple is offering high-resolution audio as well, which is also lossless but features higher bit depth and sampling rates, which preserves even more of the original recording. A lot of this tends to be in the region that is outside of the human hearing, which is why high-resolution audio has often been a topic of debate, as it claims to offer improvements in areas that most humans cannot physically hear.
As for Dolby Atmos, it is an audio format that moves away from typical channel-based audio to object-based audio. While mastering the content, the audio can be mapped to a discrete point in a 3D space around the listener rather than a specific channel. When played back on a compatible Atmos system, the connected speaker automatically approximates and reproduces the sound in that location without being manually programmed to do so. For the user, this means a sound that is more three-dimensional and natural rather than being trapped between your two ears.
Lossless audio and Dolby Atmos will be available to all Apple Music subscribers at no additional cost starting June 2021.
Related
I kinda expected this out come. You are not the first one being angry I speak not kindly of a platform I use. I guess someone is fine with the brand, others simply care for results and facts.
Oh man, you are a joke. You do not know anything about codecs nor their implementation on each platform. I should have known it since you called AAC "low quality". What a waste of time.
Popular articles
Popular devices
Electric Vehicles